Sharjah: Entertainment galore lined up for Mangalore Konkans 'Family Fiesta'
Media Release


Sharjah, 03 Dec 2014: Mangalore Konkans Dubai is all set to celebrate with families and friends, fun lovers and enthusiastic youngsters with 'Family Fiesta 2014', an event that is sure to be cherished by the participants.
The Fiesta will kick off at 10:30 am on Friday December 5. Audience of any age, be it a child, a teenager, an adult or an elderly person will enjoy every bit of it as there is variety of interesting activities happening - tug of war and team games, Kuswar contest, dance contest, novelty dance, live band and DJ music, carol singing, Christmas play, arrival of Santa and gifts to all children, special attractions for children and prizes galore.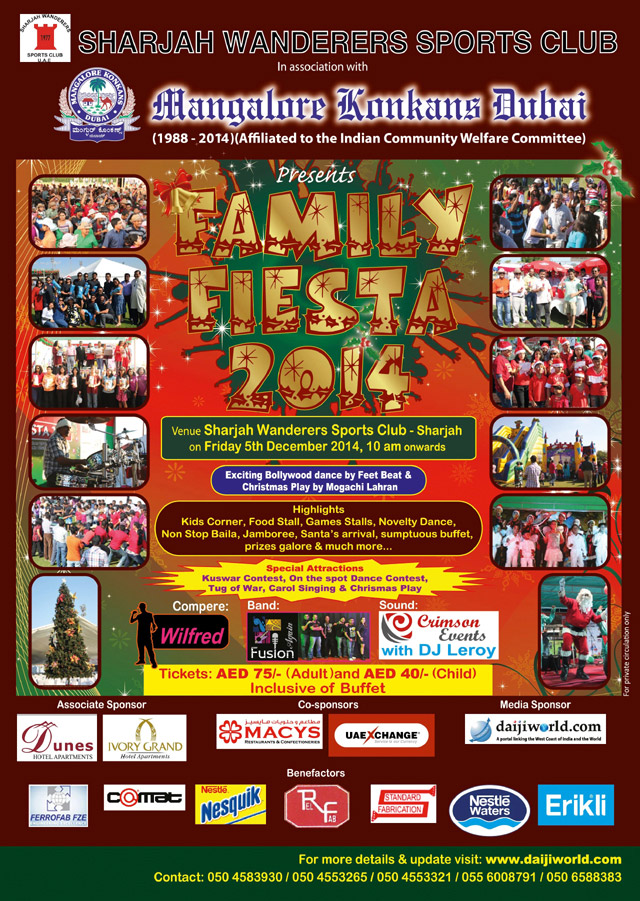 The beautiful ambience of the venue and the pleasant weather of December month will be an added advantage and a bonus to the comfort of the guests.
While the organizers have made arrangements to accommodate the guests to the fullest capacity of the venue, the late comers might be disappointed if they don't make it on time.
The last date to register for Kuswar contest and tug of war has been extended up to Wednesday, December 3. For further details please contact 050-4943295 / 050-4170606.
Mangalore Konkans Dubai is ever grateful to its esteemed sponsors and well-wishers who have been always there for the past 26 years:
Associate Sponsors: Dunes Hotel Apartments & Ivory Grand Hotel Apartments
Co Sponsors: UAE Exchange Centre LLC, Macys Restaurants & Confectioneries
Benefactors: Ferrofab FZE, Nestle Nesquik, Herald Contracting Co.LLC, Comat Industries LLC, Amin Tyre Trading LLC, Shelving Trading LLC, Silvertech Engineering LLC, Johnson Arabia LLC, Condor Building Contracting LLC, Mangalore Hills, Standard Fabrication & Engineering Works LLC, Reliable Fabricators LLC.