Dubai: Mangalore Konkans to host 'Sing Along' gala on Dec 3
Media Release


Dubai, 10 Nov 2015: Mangalore Konkans Dubai is back with a much awaited event of the year 'Sing Along 2015', a Dine 'N Dance event with a twist scheduled to immerse approximately 800 plus people into music, fun and frolic and loads of entertainment on December 3 at the Ice Rink of Al Nasr Leisure Land in Dubai. The event will begin at 9 pm sharp and the gates open at 8 pm.
A spectacular event with a world renowned live band 'Sign' with their scintillating numbers along with popular DJ AKI all the way from Sri Lanka will enthrall everyone present with enchanting entertainment. MC Lloyd D'Souza, fondly and internationally known as 'Fireball', will take the fun loving crowd from UAE as well as other countries in town, through a fabulous evening of their life.
The eminent band features Don Sherman known as a 'Singing Chef' and female singing sensation Judy De Silva. This duo had enchanted the crowd with their charming performance years back in a successful event 'Family Fiesta 2009' at the open grounds of Sharjah Wanderers Club. In spite of heavy rains the duo turned the event into a successful and popular one, even to date remembered as 'Rain Dance'. Here they are back again to fascinate and mesmerize the audience with 'Sing Along 2015'.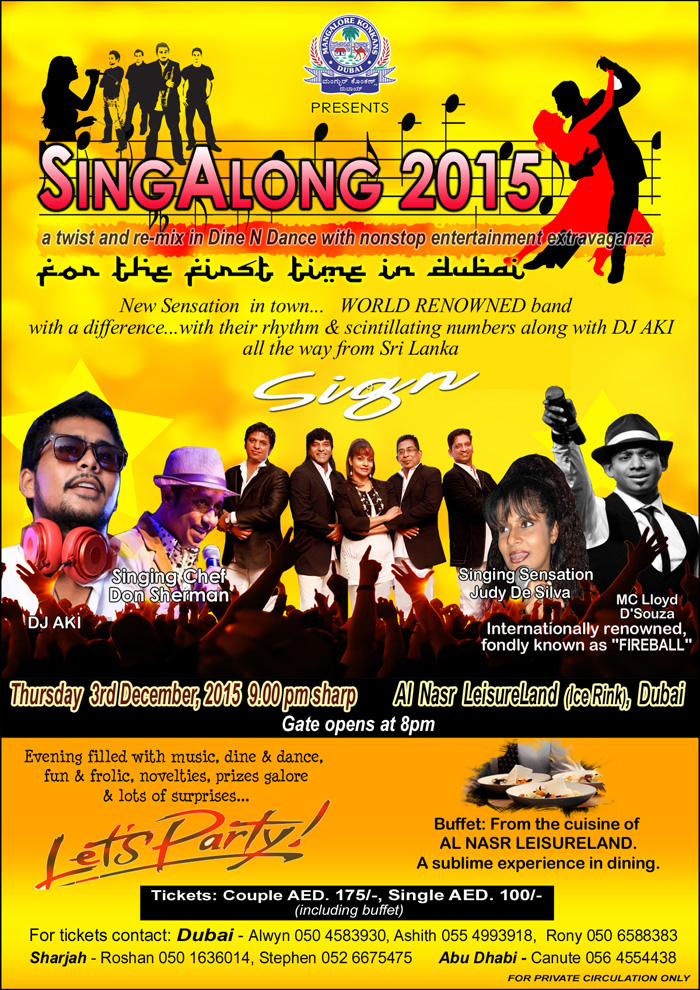 It is time again to be a part of this mega event, a musical extravaganza, dance and masti with galore of entertainment. Tickets to the venue are attractively priced at AED 175 (couple) and AED 100 (single) inclusive of buffet dinner. Reserve yours tickets early to avoid disappointment later, for you cannot miss such a luminous an romantic evening. Mark your calendar and gear up for an experience of life.
Mangalore Konkans Dubai members with president Alwyn Pinto and event committee headed by Santosh Kevin Nazareth, are all set to infuse oomph and vigor into the event and preparations are on to offer yet again another successful event not only to the various crowd of UAE, also expected from other countries as well.
Mangalore Konkans Dubai (established 1988), affiliated to the ICWC, Indian consulate, Dubai, is one of the most prestigious and successful organizations in the Gulf which celebrated its silver jubilee in October 2013 and completed glorious 27 years in October 2015. It has involved itself in numerous noble charity works world wide apart from promoting Konkani language and culture among the Mangalureans globally. The proceeds from the event will be directed towards medical, educational and other benevolent and charitable works.
Visit www.mangalorekonkans.com for more details.
For tickets contact:
Dubai: Alwyn Pinto 971 50 458 3930, Ashith Pinto 971 55 499 3918, Rony D'Cunha 971 50 658 8383
Sharjah: Roshan D'Silva 971 50 163 6014, Stephen Menezes 971 52 667 545
Abu Dhabi: Canute Kelarai: 971 56 455 4438