Squids with Garlic
By Cynthia DCunha

Ingrediants: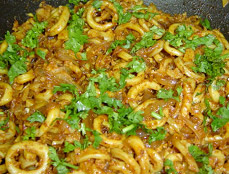 1 kg Squids – Cleaned and cut into rings
2 large onions - chopped
1 cup chopped garlic
2 tbsps tamarind water
½ tsp chilli powder (or bafat powder)
½ garam masala powder
Few curry leaves
1 tbsp cooking oil
½ cup grated roasted coconut
½ tsp pav bhaji masala
Salt to taste
Coriander leaves for garnishing
Description:
Keep a deep pan, heat oil, add chopped onions. Fry till they are soft. Add curry leaves and garlic. Cook for 4-5 mnts. Add squids on low fire; continue adding chilli powder, tamarind water, salt and garam masala. Keep closed and cook till its done.
Add roasted coconut, sprinkle pav bhaji powder and garnish with Coriander leaves.
Conclusion: