A goulash to remember
Swati Sanyal Tarafdar

Ingrediants:
An ancient Hungarian herdsman's stew continues to be a nourishing one-pot meal

My first authentic Hungarian goulash experience was actually in Trondheim, Norway, in the winter of 2007. Back then, I was a student at the Norwegian University of Science and Technology and Klaudia, a PhD scholar, had very generously invited my friends and me to her house for dinner. This was right after we had met for the first time and on hearing that she was from Hungary, I had asked rather presumptuously if she knew how to cook goulash, a dish that I have a particular affinity for. Thankfully, instead of being offended, she had laughed and invited us to her home to try it out.

Goulash is an ancient stew that has evolved over centuries. Etymologically, gulyás (pronounced gu-ii-ash) means herdsman and the dish supposedly came to life as a herdsmen's soup in the ninth century in Hungary. These shepherds travelled long distances, herding their cattle along, and this nutritious, one-pot stew provided them sustenance along the way. Today, in Hungary, goulash is regarded as a soup and is eaten with csipetke or pinched egg noodles.

Winters in Trondheim are quite harsh with temperatures hovering at minus 25 degrees Celsius and by the time we reached Klaudia's house on top of a hill, we were quite frozen. As we huddled around her small fireplace, she doled out steaming bowls of goulash from a giant pot. Much to our surprise, we discovered there was no beef or any other meat in her goulash.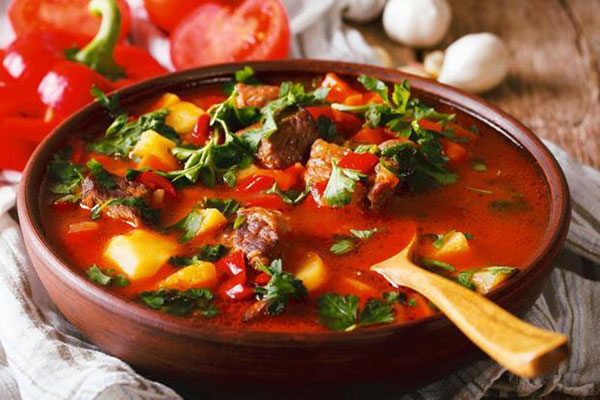 Klaudia was a vegetarian! We hadn't much time to mind though, for the aromas were incredible and the thick and hearty stew with lots of onion, potatoes, green and red peppers looked extremely inviting. Klaudia explained that the stew was based on her grandmother's recipe and its distinct character was because of the Hungarian paprika that she had procured from her hometown Budapest. It gave the stew its fiery red colour and a sweet and smoky flavour and warmed our bodies and filled our hearts.

Over the following weeks, Klaudia and I met often and shared notes on Hungarian cuisine, especially the goulash. She brought me several samples of sweet and hot paprika from Hungary to show me their differences and the correct way to use them without scorching their delicate flavours. She showed me how to cook vegetarian goulash with kidney beans, zucchini and sauerkraut.

She also gifted me a cookbook by Károly Gundel, a legendary Hungarian food writer, titled Gundel's Hungarian Cookbook. According to him, goulash doesn't need meat and there are many vegetarian versions, from the simple bean gulyás with kidney beans to the more refined Székelygulyás that uses sauerkraut and sour cream along with the regular ingredients. For the meat version, he advises cooking the stew in pork fat and braising the meat instead of boiling it—tips that I carefully stored away.

Regarded as the national dish of Hungary, a taste for goulash has, over the centuries, spread to the Netherlands, Belgium and Switzerland. In neighbouring Austria, it has been adapted to the local palate. When I tasted this version of the goulash in a simple wayside café in Vienna, it tasted very different from its Hungarian counterpart and I couldn't tell whether it was a difference in the paprika or a lack of the accompanying csipetke. In America, goulash has been appropriated as comfort fast food and is also called "macaroni hamburger and tomato".

This tomato-heavy version is, however, miles apart from the European goulash. I also marvelled at how similar the dish was in some respects to the Indian lamb curry. Inspired by this connection, I cooked up my version of the Hungarian classic where I substituted beef with lamb and used local paprika. Despite tasting different from the original, I believed it was in keeping with the dish's long tradition of versatility. Through the years, I have eaten many versions of this peasant's stew and yet, the memory I carry is of the heartwarming bowl of goulash I ate back at Klaudia's house on a cold winter evening.
Description:
Conclusion: