Mutter Paneer
By Reshma DSouza

Ingrediants: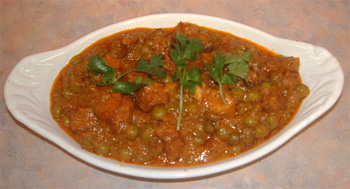 Paneer (cottage cheese) -- 500gms
Green Peas – 200gms
Tomatoes – 4 large (cubed)
Onion – 1 large or 2 small (cubed)
Garlic pods – 4-5 chopped
Ginger – 1 ½" chopped
Green chillies (small) – 3
Red chilli powder – 1tsp
Coriander powder – 1½ tbsp.
Cumin powder – 3/4 tbsp.
Turmeric powder – ½ tsp
Garam masala powder 1tsp
Ghee or Oil – 4–5 tbsp.
Cinnamon (whole) – 2"
Green cardamom (whole) – 4
Pepper (whole) – 4
Cloves (whole) – 5
Salt as per taste
For garnishing:
Chopped cilantro
Julienned ginger
Description:
Grind together the tomatoes, onion, red chilli, garlic, and ginger in a blender into a fine paste. In a frying pan, add 1 tbsp. of oil and fry the Paneer till light golden brown. Keep it aside.
Next, in a deep skillet, pour in the remaining oil, throw in the whole spices and fry it for a minute or two. Pour in the blended puree and continue to saute for approx. 4-5 minutes or till the oil begins to separate from the edges of the gravy.
Now, add in the powders (chilly, coriander, cumin and garam masala) and stir well for further 3minutes (till the raw aroma of spices is taken off). Next, add the frozen green peas, salt and simmer for a while (7min).
You may add half cup of water at this point if the gravy is too dry (optional). Finally, drop in the fried Paneer cubes, give it a nice stir and allow if to blend well for 4-5 minutes.
Garnish it with chopped cilantro and julienned ginger.
Serve hot with roti, chapathies or rice.
Tip: You may add more tomatoes and spices (proportionately) to increase the quantity of the gravy.
Bon Appetite!!
Conclusion: