Dubai: Nama Tuluver, Theater Group to present Tulu play, Dhumbu Pira on Mar 4
By Shodhan Prasad

Bellevision Media Network


Dubai, 28 Feb 2016: Nama Tuluveru, Tulu theater group, in association with Rhythm Events will be presenting 'Dhumbu Pira', yet another hilarious classic drama by the three-time winner of 'Bale Telipale' drama contest - 'Kaup Ranga Taranga' theater group led by Samajaratna Kaup Leeladhar Shetty.
The drama is scheduled to be held at Sheikh Rashid Auditorium of Indian School here on Friday March 4 at 6.00pm with the support of Rythm Events. Many dignitaries and well-known different community leaders will arrive to grace this occasion.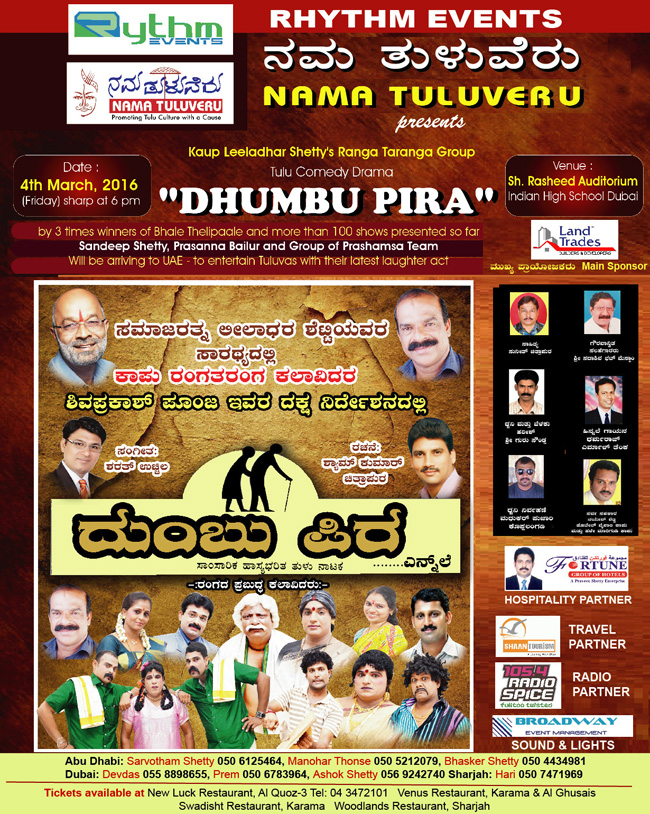 Members assembled recently for the Ticket release function at Fortune Plaza Hotel, Al Ghussais, here on Wednesday February 17. The guests at the event who were present on the dais included Harish Bangara, Praveen Shetty, Deepak S P, Ajmal Sayed, Prabhakar Suvarna, Purshotham and Alwyn Pinto.
Harish Bangera released the drama flyer while Praveen Shetty released the drama ticket. The former president of Sharjah Karnataka Sangha, Satish Poojary purchased the first ticket of the event.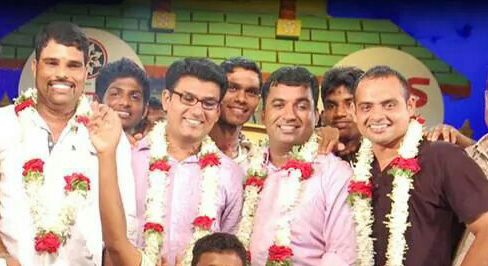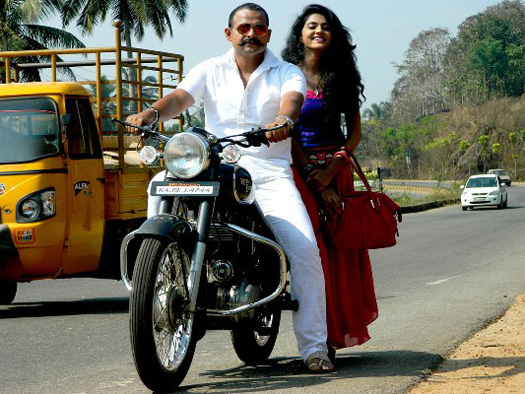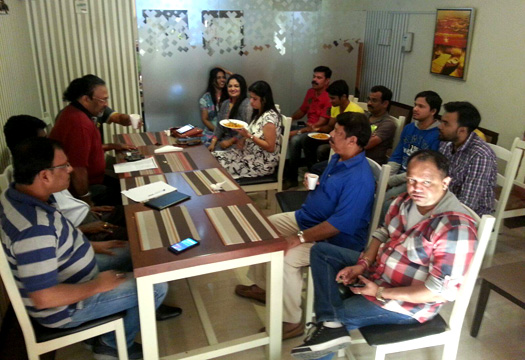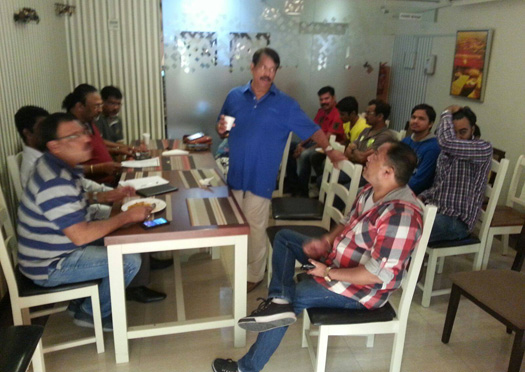 Nama Tuluveru members again met at Alwyn's Restaurant, Karama, here on Friday February 26, to give updates of the scheduled programme. Shodhan Prasad opened up the meeting greeting all the members and informed that the DTCM permission is being granted for the event and that the Visas and Tickets of all the 16 artistes arriving from India has been issued and sent to them to get ready for departure. The whole team will be arriving on March 2 and the Management Team will be going to Dubai Airport to receive the whole team. He also shared that there is good response from the drama lovers from all over UAE as most of the tickets are being booked both from online and restaurants where the tickets have been placed for sale. Good number of well wishers has come forward to support this top acclaimed rib tickling Tulu comedy drama which has to his credit more than 100 successful shows so far. In order to provide drama lovers a good uninterrupted treat, top professionals are being used for the Stage Setting, Sound, Lights, Security and all Logistics requirements.
About the Drama

'Dhumbu Pira' is written by Shyam Kumar Chitrapura, directed by Shiva Prakash Poonja, Music is by Sharath Uchil has Prashamsa Team's 'Kusaldha Birse' Sandeep Shetty Manibettu, Prasanna Bailur, Mervin Aranha, Suchetha, Harisha, Madhukar Amin, Raguraja Paniyadi, Yashwantha, Rajesh Kottari, Shamith Rao, Shrinivas Acharya, Shwetha and Sujith Shetty in their troupe coming to Dubai.
'Dhumbu Pira' has performed more than 100 shows in various parts of Karnataka and has been acclaimed as one of the finest modern comedy drama of the year.
Nama Tuluveru had earlier presented comedy drama 'Aye Subhage' of the same group which was also a successful houseful show applauded by all the drama lovers of UAE. Well-known film Stars of Tulu Cinema, Sandeep Shetty, Prasanna Bailur will be part of the troupe arriving from Mangaluru.
Land Trades Mangaluru will be the main sponsor of the event, supported by Core Elements as Stage Partner, Fortune Group of Hotels (A Praveen Shetty Enterprise) as Hospitality Sponsor, Shaan Tours as Travel Sponsor, Radio Spice 105.4 FM as Radio Parnter, Broadway Events with Sound and Lights.
Nama Tuluveru is an organization that works for the betterment of the society and has successfully hosted several programmes in the past supporting Tulu language and culture in UAE, including one of the best classical presentations of 'Tuluvere Parba 2012' conducted in conjunction with various community groups which proved to be an most extravagant joint community charity event ever presented with many firsts to its record in UAE.
Nama Tuluveru has always presented successful shows and this time too guarantees one of the best shows ever presented. The conveners have requested all the drama lovers of UAE to mark your diaries for this show and make this event a successful one. This will be a unique modern full comedy drama which for sure will tickle your rib bones throughout and make you fall out of your seats with laughter.
Tickets are available at:

Abu Dhabi: Sarvotham Shetty 050 6125464, Manohar Tonse 050 5212079, Bhasker Shetty 050 4434981
Dubai: Devdas 055 8898655, Prem 050 6783964, Ashok Shetty 056 9242740
Sharjah: Hari 050 7471969
New Luck Restaurant, Al Quoz-3 Tel: 04 3472101
Venus Restaurant, Karama & Al Ghusais
Swadisht Restaurant, Karama
Woodlands Restaurant, Sharjah
Tickets can be booked online by clicking https://goo.gl/mY7j4u