Dubai: Nama Tuluveru UAE to present Tulu comedy play, Dhumbu Pira on Mar 4, 2016
Media Release


Dubai, 28 Nov 2015: Nama Tuluveru UAE has successfully hosted several programmes throughout 6 years of their existence supporting Tulu language and culture in this part of the world; including one of the most classical presentation of 'Tuluvere Parba 2012' conducted in conjunction with various community organizations which proved to be an really extravaganza joint community charity event ever presented with many firsts to its record in UAE.
This time, Nama Tuluveru will be presenting 'Dhumbu Pira' yet another hilarious classic full comedy drama by the three times winner of 'Bhale Thelipale' drama contest, the one and only Kaup Ranga Tharanga Group led by Samajaratna Kaup Leeladhar Shetty. 'Dhumbu Pira' had more than 100 shows in various parts of Karnataka and being acclaimed as one of the finest modern comedy drama of the year. Nama Tuluveru had earlier presented 'Aye Subhage' comedy drama of the said group which was also an successful houseful show applauded by all the drama lovers of UAE.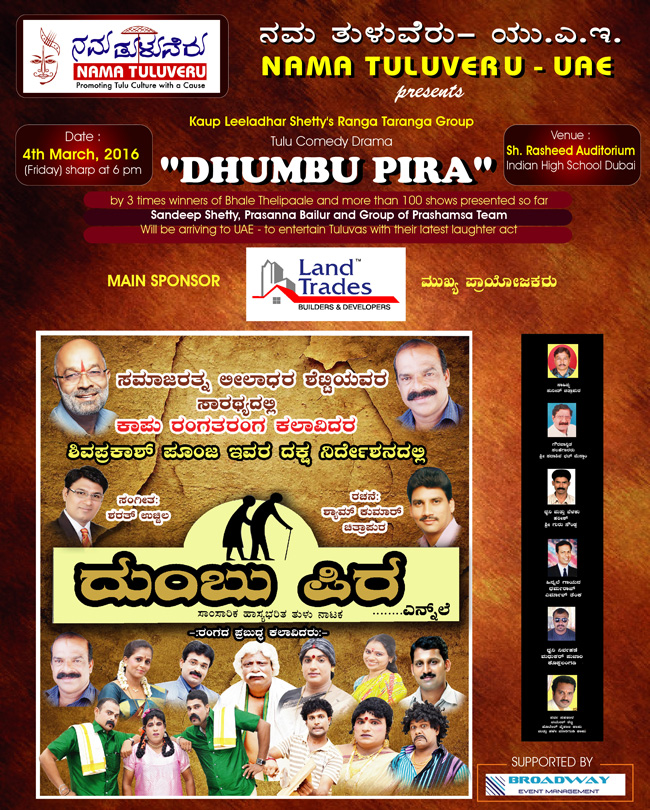 Members of Nama Tuluver concluded this in a meeting conducted recently with the leadership of Deepak S P and Ajmal Sheikh who are the main conveners of Nama Tuluveru for this year. The drama will be hosted at Sheikh Rashid Auditorium, here on Friday March 4, 2016 at 6.00pm. The Indian School Dubai with the support of Broadway Events. Very many dignitaries and well known different community leaders will arrive to grace this occasion.
'Dhumbu Pira' written by Shyam Kumar Chitrapura, directed by Shiva Prakash Poonja, Music by Sharath Uchil has Prashamsa Team's Kusaldha Birse Sandeep Shetty Manibettu, Prasanna Bailur, Mervin Aranha, Geetha Acharya, Harisha, Madhukar Amin, Raguraja Paniyadi, Rajesh Kottari, Rekha Devadiga, Shamith Rao, Shrinivas Acharya, Shwetha & Sujith Shetty in their troupe coming to Dubai.
Land Trades - Mangaluru will be the main sponsor of the event with support from all the media Groups and various Mangalorean Associations in UAE.
Nama Tuluveru has always presented successful shows and this time too guarantees one of the best shows ever presented. The conveners have requested all the drama lovers of UAE to mark your diaries for this show and make this event a successful one. This will be unique modern full comedy drama which for sure will tickle your rib bones throughout and make you fall out of your seats with laughter.