Mangalorean Star Ester Noronha: From Singing and Dancing to a great leap into Multilingual Movies
By Alphonse Mendonsa

Bellevision Media Network


Mangaluru, 08 Dec 2016: Ester Valerie Noronha is a very popular film actress not only in Konkani movie circle but also well-known in Hindi, Kannada, Telugu and Marathi film industries. Besides being an accomplished actress, Ester has proved herself as a great singer and classical dancer as well. At a very young age she has achieved so much success that would make not only her family but every Mangalorean proud of her. Her first Konkani movie was " Nashibacho Khell " directed by Mr. Harry Fernandes, a well-known Hindi and Bhojpuri films director who will also directs her second Konkani film "Sophiya".
Ester Valerie Noronha is the daughter of Valerian Noronha and Janet Noronha originally from Pangla/Shankerpura Parish now residing in Bombay. They also have a flat in Mangalore. I have known Ester from her childhood as her father was my close friend since our CYM days in Pangla. Even in Bombay we spent a few years together residing at the Parish Dormitory of Pangalites known as Kud at Kalina(Santacruz) and Later in Dhahisar West. Thereafter, Valerian went to Bahrain and I moved to Abu Dhabi, U.A.E. in search of green pastures. However, our friendship continued and we were in touch with each other whenever possible, especially during holidays. I remember Ester along with her parents Janet Noronha (Producer of new Konkani movie' Sophiya') and Valerian Noronha visited Abu Dhabi my residence when she was just three years old and spent a few hours with our family.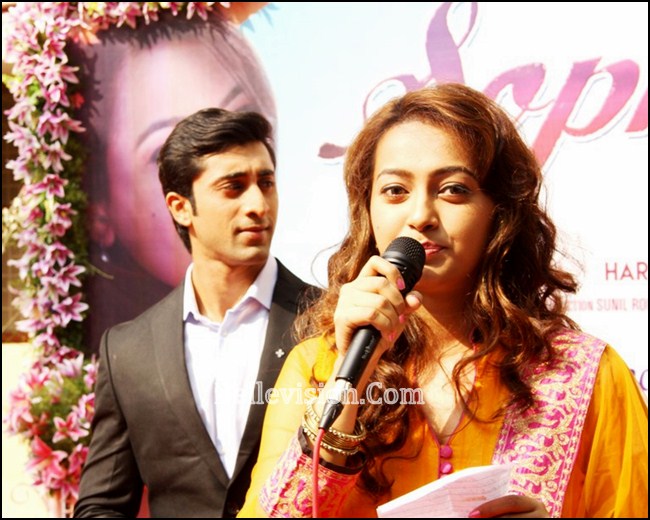 I was following Ester's steady career to start with singing at various competitions and many awards she was winning. Later she joined classical dance and singing classes and mastered them. It was nice to know from the humble beginning she has reached top position in film industry today with her hard work, support from her parents especially from her mother Janet who saw her great potential and talent which finally paid off. Ester has acted in several movies already in Hindi, Konkani, Kannada Telugu and Marathi and has been chosen for a Tulu film as well. She says that she never imagined in her wildest dreams that she would become a film star one day. Ester says that it was on the insistence of her mentor Saroj Khan (Famous Bollywood Choreographer) that she was obliged to join film industry. She just wanted to sing and dance as she was associated with greatest Konkani singer from Goa, Lorna with whom she had sung during many stage and musical programs.
I met Ester last month during the inaugural "Muhurath" Ceremony of her second Konkani Film "Sophiya "- A Dream Girl. As I was keen to take her interview for the benefit of the readers of Bellevision.com, I requested her to spare some time as per her convenience. She agreed to meet me on 16 November 2016 at Palimar, where she would be shooting for her new film "Sophiya". I had a few moments of interaction with her. Although she was extremely busy with her shooting schedule, she made used the free time in between the shoot to answer few questions that I put forward to her.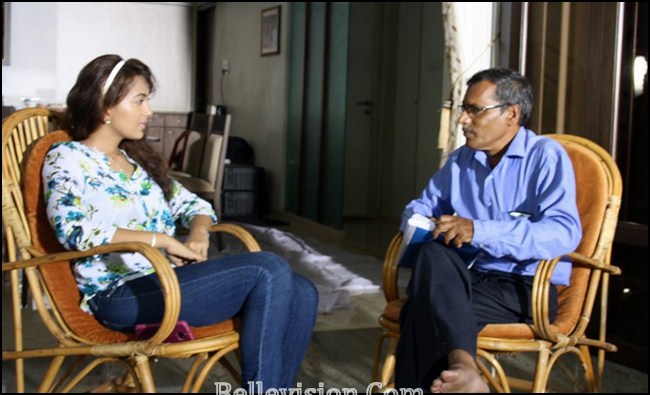 Alphonse: Ester, isn't it wonderful feeling for you and especially to your parents that you have achieved a great success today. First of all to whom you attribute your success?

Ester: Thank you for your compliments. Yes, it was a long journey but worth and today I feel great that all my efforts and determination to succeed paid off. First of all, I would attribute my success to my dear Mom who was my backbone and on her insistence I started my career, first as a singer then as a dancer and finally I ventured into acting that too in movies. Secondly, I thank God for giving me such wonderful parents and the talents that He has bestowed upon me. While Almighty God has given me the talents, it was my mom who groomed me to realize my dreams. Besides, I met a number of artists who have been supporting and encouraging me in perfecting my art.
Alphonse: How did you manage your academic career as you have a Post Graduate degree(MA) and pursuing MBA that too while you have been preoccupied with singing, dancing and acting?

Ester: It wasn't easy to reach this milestone. It was fruit of my hard work and lots of efforts and encouragement from my mother that I could complete the Post Graduate degree and pursue MBA studies. My mom kept me busy all the time. I never felt tired as I was very energetic and super hyper. Initially my interest was in singing which I practiced. Secondly, I learned to devote to one field at a time. When there was singing, I only and totally concentrated on singing and would never think of dancing. Similarly when it comes to dance program, I would whole heartedly practice dance and no other activity until the show would be over. That way I learned to devote my complete attention to a particular activity at a time. I had to devote some months just for my studies and would keep away all other activities so that I get through my exams and that too with good marks. I joined St. Xavier's College, Mumbai for PU studies and completed BA and MA. At present I'm pursuing my MBA studies in Symbioses University, Pune. Yes I have managed well with concentrating on one field at a time. Secondly, whatever I do, I do it happily and not by force that is how I could manage all above successfully.
Alphonse: I remember you won your fist singing competition at Don Bosco Mangalore and you were very sick that day. Tell me more about it.

Ester: Yes, I was really sick that day with high fever. But on mom's insistence and since I had registered for the competition, I had to attend. My mom actually carried me to the stage and I just sang as best as I could and to my surprise I won the first prize. I don't even remember how I felt but I know my mom was the happiest person that day. Since then I never looked back. I participated in almost every singing competition and gradually Inter-school and inter-parish so on…
Alphonse: I remember listening your childhood songs which you initially sang on stage at Wilfy Rebimbus musical shows and then on his CD. How did you get a chance to render your songs on CD?

Ester: Yes, since I got awards in all Inter-parish and Inter-school singing competitions, I was invited by Wilfy Rebimbus to sing on his shows. The first song I sang on the stage for his 60thBirthday program was " Achiko-Ichiko " the same was recorded later in his CD. However, my first song recorded was on Melwin Paris' CD "Salkam" titled " Panchve Chedu". Actually, I was selected to sing in a group chorus for his CD which I was thorough but at the same time I memorized all other singers' solo songs and was singing. It so happened that the girl who was selected to sing the solo song was not able to produce good results at the recording studio and then I asked if it is okay if I could sing as I was thorough and very confident. He agreed and it was up to the mark. That's how I got a chance to render the song on a CD for the first time.
Alphonse: Can you remember how many songs you have rendered for CDs?

Ester: I can't remember the exact number of songs that I have rendered for the CDs. I have sung for CDs of various singers. Initially I used to sing children's songs and gradually I began to sing romantic and other varieties of songs. I have rendered Konkani songs to the CDs of all the leading singers of Mangalore, namel,y Wilfy Rebimbus, Melwin Paris and Claud D'Souza. Besides, I have also few devotional songs.
Alphonse: Your first 'Ester Show' was a super hit. How did you manage to stage your own show? Who were your supporters for that show?

Ester: Yes, The 'Ester Show' was a super hit. Since I was singing in everybody's shows, audience was so impressed that they started asking when would be 'Ester show'? So mom and myself decided to go for it. However, to stage a show you need a purpose as you simply can't have your own show that too first show. Like the saying if there is a will there is a way, an opportunity came forward. I was in 10th standard at that time. I came in contact with Fr. Francis Lewis who was the director of 'Sandesha' at present he is Parish Priest of Mudarangadi Parish. The Mangalore Diocese was planning for Medical Relief Fund and there was a plan to raise a substantial fund for this purpose. He requested my mom to put up the 'Ester Show'. We agreed for his request. I didn't have my own songs as the show required variety of songs. There was ample time for the show anyway. I wanted to write my own songs. One day evening I just sat down and was inspired to write my own songs. Eventually, I managed to complete my first song which I titled as "Dees Budtana". Then I wrote the second song called "Ugdas". Both songs were recorded in my first CD. Anyway, eventually we managed to put up my own show with my own two songs and variety of songs from other singers. Luckily, the show was house full and super hit. We managed to raise around 7 lakhs of rupees which we donated to the Diocesan Medical Fund. After that a few shows followed under my name here in Mangalore and in the Gulf. Under the title of "Ester Show" I have done four to five shows, but I have done quite a few shows with famous Goan singer Lorna.
Alphonse: Oh, that's news to me. Tell me more about your association with Goan Konkani Legend Singer Lorna Corderio.

Ester: I had known Lorna since many years. Actually, her musician, very famous Konkan Goan Music Director Norman Cardozo was known to me since my childhood. Many years ago there was a Wilfy Nite in Al Nasr Land,Dubai . It was half Mangalorean and half Goan musical show. That year Norman saw me first time singing on the stage and after the show he told my mom that I have a great potential and great musical future. After that we met regularly during mixed shows and we were in regular touch. Once again after two years I met him in Abu Dhabi on one of our shows where Lorna was singing. Then I had the opportunity to sing for 'Nachoyam Kumpasar'. Because of 'Nachoyam'Kumpasar' I was exposed to the Goan audience. Once Norman asked me if I'm interested to Join Lorna for which I agreed and that is how we joined together and did some shows in Goa, Mangalore and then U.S.A. Canada, Australia and New Zealand. So in total we did 12 shows together.
Alphonse: How did you get entry into Movies?

Ester: It's quite interesting actually. I never wanted to act in movie or rather that thought never occurred to me as I was only concentrating on singing and dancing. When I was in Second Year PU College, I went to Bangalore for a Bharatnatyam Seminar. There I met famous Bollywood Choreographer Ms. Saroj Khan who was the Chief Guest that day. She was somewhat impressed with my dancing talent and suggested that I could make a career in film industry as I have singing and dancing talent. While thanking for her suggestion, I told her that film industry is not my field and I wanted to devote my time and energy in pursuing my education. However, Ms. Saroj Khan convinced my mom that I would have bright future in film industry and promised her that she would take care of me. She then enrolled me in Anupam Kher's acting school named "Actor Prepares". After my acting training was over there were offers for a few films but I wanted to complete my graduation. However, Saroj Khan used to take me to film sets. Eventually, I got an offer in a Hindi art film named " Baromas" which was nominated for South Asia Film Festival. It was chiefly due to the efforts and encouragement of Ms. Saroj Khan that I got an opportunity to act in Hindi film. That's how I got the break to act in Hindi movies.
Alphonse: I heard that you were more famous in Telugu film industry than Kannada or Konkani… Is it true? Which was the Telugu film that you got an opportunity to act for the first time?

Ester: During making of 'Baromas' movie my unit members of 'Baromas' shared my movie pictures on Facebook. Then a famous Telugu Director Dharma Teja viewed these pictures and when he was in Mumbai he met Madam Saroj Khan and got in touch with me and asked me if I am interested to act in Telugu movies. I was a bit perplexed as I did not even know what is Telugu that time. I asked him what is Telugu and how it sounds? Then he spoke some words and asked me to repeat which I did comfortably. He then told me that I can pronounce Telugu properly and he further said that just looking at me he could feel that I could act in Telugu movies and asked me to choose whether I wanted to act in Telugu movies or not. He was so convincing that I had no other option as he saw great potential in. Eventually I agreed to do his film. Hence, I signed my first Telugu movie "Veyyi Abaddalu". Upon reaching Hyderabad I realized how big is Director Teja was of whom I had no clue at all when I signed the picture. He is one of the top five Telugu movie directors which I realized later. So upon release of my first Telugu movie audience welcomed me and I became quite popular with Telugu Film Industry as well as audience.
Alphonse: You were well recognized in your second Telugu Movie " Bheemavaram Bullodu " as an Heroin? Tell me about the success story.

Ester: While editing of my first Telugu movie in Ram Naidu studios of which half shooting was done the very producer of famous production company in Hyderabad called Suresh Productions saw my acting skills and immediately contacted me and they signed me for their movie "Bheemavaram Bullodu". Famous Film Studio in Hyderabad called "Ramoji Studio" is also belongs to them. It was actually shocking for me to be signed by such a big production company that too a new comer and outsider in Telugu Film Industry. I must say it's a blessing. This film really gave a boost to me and ran in almost all theaters and the movie was a super hit movie. My unit members were very co-operative during the shooting and even helped me to master the Telugu language for which I am very thankful for them.
Alphonse: What about Kannada movies? How many movies have you acted and which are they?

Ester: There was news going on it seems in Kannada Film Industry that Ester is working in Hindi and Telugu Movies but not in Kannada movies. That was when the shooting was going on for my second Telugu movie 'Bheemavaram Bullodu'. Then Mr. Manish of VJ Udaya TV approached me requested to act in his upcoming movie called "Naavika" directed by Mr. Sen Prakash for which I agreed. I worked for 10 – 12 days on the shooting of this movie as the role was not very substantial. I was appearing in the flash back love story so I could finish it quickly and go back to my Telugu film shooting. After that I was asked to act for the team of 'Moongaru'Malle' fame Mr. E. Krishnappa (EK Entertainers) in the movie "Usiriginta Neene Hattira". I acted as heroin in that movie and after that one more movie " Local Train " which is in near completion stage and shooting for the new one is yet to begin. There are offers for more, but at the moment I'm quite occupied and I am unable to sign any more movies. I have also signed for one Tulu movie "Jugari" by Anand P. Raju.
Alphonse: What about Tamil Movies? Have you got any offers?

Ester: Yes, I have been approached but honestly could not concentrate much due to my engagement with other movies at the moment. But I have acted in many ad films in Tamil for Jewelry, saries and sugar brands. In Chennai I'm visible on TV and hoardings. Hopefully, I will be able to do a full movie in Tamil in the future. Since I have so many films in my hands at present I won't be able to give my best.
Alphonse: your first Konkani movie " Nashibacho Khell " was very successful. How did you get chance to act in this Konkani film?

Ester: Yes, thankfully it was successful and I am very glad I got the break to act in the movie of my mother tongue Konkani. I was known to the director of this movie Mr. Harry Fernandes since I have been shooting for the Hindi movie. Since I am a Mangalorean and Mr. Harry Fernandes also being a Mangalorean it was quite natural to meet and know each other. Mr. Harry Fernandes was very close to actor Govinda's family so am I and they told me that there is a Mangalorean Film Director if you would like to meet. That's how I was introduced to him and he promised me that one day if there is a good movie he will approach me to cast in that film.
That was many years ago but we were then in regular touch as we used to meet in Mumbai on many occasions such as functions and in Church. Then I was busy in Hyderabad and he was busy directing Marathi and Bhojpuri movies so we were not in touch for one and half year. Then suddenly when my shooting was going on for Hindi Movie "Nagarik " I received a call from Govinda's driver that Mr. Harry Fernandes was looking for me and later Govinda's nephew too called me and told me that Harry Fernandes wants your phone number. I told him to pass on my number to Mr. Harry Fernandes. After two days Mr. Harry Fernandes called me and told me about the new Konkani movie and told me that he wanted me to cast in the movie as a heroin. I was quite happy about the offer as that was my dream to act in a Konkani movie in my mother tongue. But he told me that there won't be any financial gain but for the sake of Konkani language let us do it. I agreed as I too was more than happy to act in Konkani movie and wanted all my Konkani people to watch it. That is how the journey began in Konkani movie and now I am doing my second movie "Sophiya" A dream Girl with Mr. Harry Fernandes.
Alphonse: Coming back to your current movie " Sophiya " A Dream Girl. How do you foresee the success?

Ester: See, our intention is to be successful. We are putting in our best efforts as actors. Besides, we want to use best music and beautiful locations. We are giving our best and already people here given us lot of love and support and so I'm sure this movie too will be very successful with Mangalorean and Goan community. The response of the people for my singing, dancing and acting has been quite encouraging and over-whelming . I'm very grateful and thankful for them for their unstinted support throughout my life. They have welcomed me in open arms and hearts and I have full confidence this time too they will render their full support to this movie provided we give them the best and quality work.
Alphonse: Can you say something about the star cast of "Sophiya"?

Ester: There are quite a number of actors who are well experienced and also we are giving chance to new talents as well. Our intention is to support new talent. We have two young actors, Elton Mascarenhas and Shelton Crasta in the leading roles supported by Stany,Alvares, Roystan Bolkunje, Francis Oliviera (Padukone) and Floyd D'Mello and very famous Goan comedian Prince Jacob.
Alphonse: Are you going to sing in this movie as well?

Ester: Yes, I'll be singing with Gunvant Sen and Antony Tauro.
Alphonse: What are your future plans? Have you found any real hero in your life so far? Or you leave it to your mom to take care of that?

Ester: Well, I have not planned much. Also from the beginning I have not planned anything. I have taken the life as it came be it opportunity in singing, dancing or acting. I would rather rely more on God's plan for me than my own. I think God has better plans for me.
For your second question on my real hero, well that too I haven't decided. When the right time comes I will see to it. Regarding that decision it will be taken collectively by my family as we discuss a lot in our family whenever I want to take some decisions. I do not take single decision but with the family and finally I leave it up to God.
Alphonse: What about your singing career? Do you want to involve more in singing for other movies rather than your own acting films?

Ester: My singing career is still going on. Recently I did a show in News Zeeland with Ms.Lorna. I distribute my time for both singing and acting. But I have to select appropriate shows or movies. I would like to do selected movies and shows. I can't take all the shows or movies. I also sing as playback singer for Goan and Marathi movies. For Goan movie "Nachoyan Kumpasar" I sang 'Meu Amor' (Portuguese Song) and for Marathi movie 'Maji Ashikialso'.
Alphonse: I compare to you to Usha Uttap when it comes to singing as your voice somewhat similar to hers and also you are multi-lingual (Kannada, Konkani ,Tulu, Telugu and Tamil). What you say about it?

Ester: Yes, I do agree with you. From my childhood everyone said that I sing like famous multi-lingual singer Usha Uttap. I recently sang a Portuguese song 'Meu Amor' which was originally sung by Usha Uttap (By Chris Perry). As my voice is very similar to hers, they selected me to sing that song. Likewise Usha Uttap I can sing in many languages without much efforts. That's why they compare me to Usha Uttap when it comes to singing.
Alphonse: Thank you dear Ester for your time to sit down and answer me the above questions despite your busy shooting Schedule. Wish you all success for the current Konkani movie "Sophia" (A dream girl) and for your future endeavors.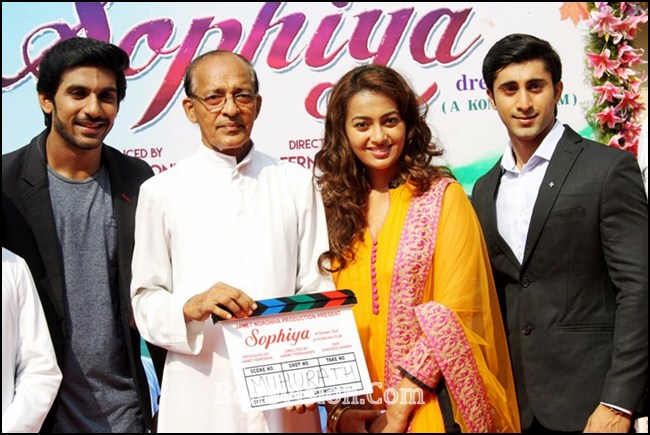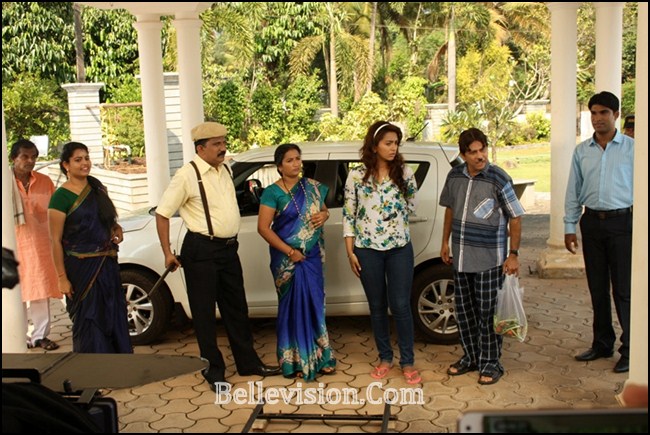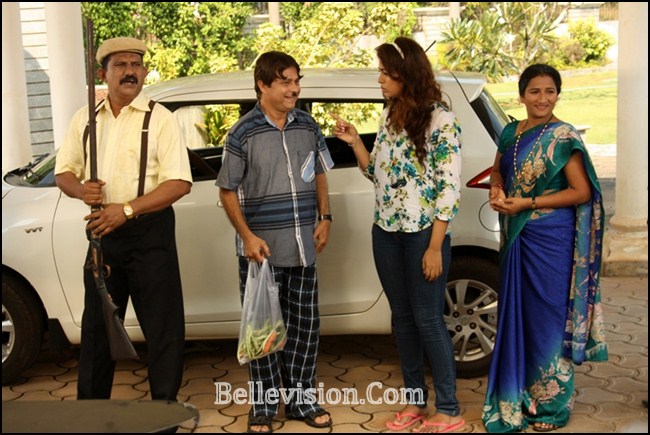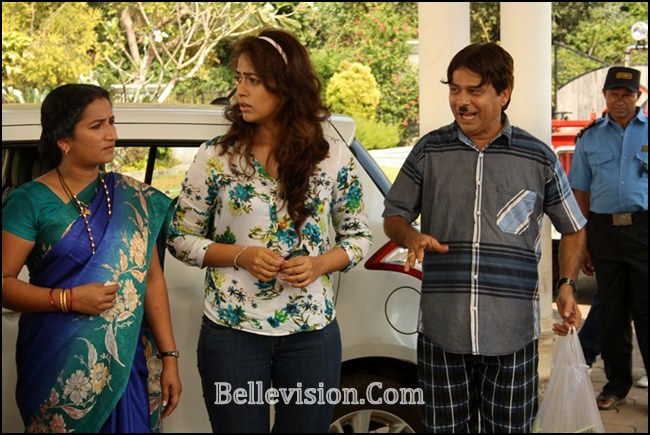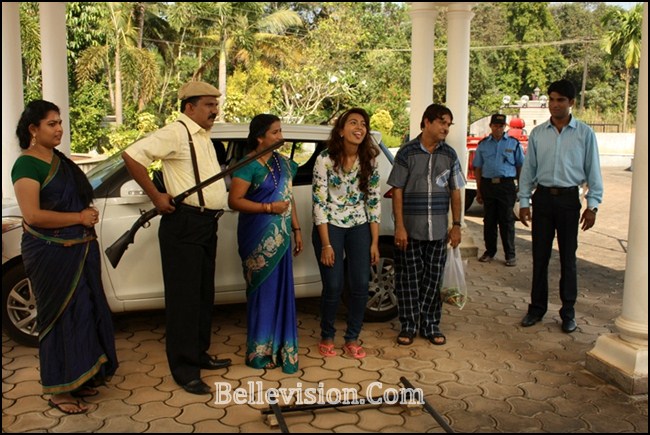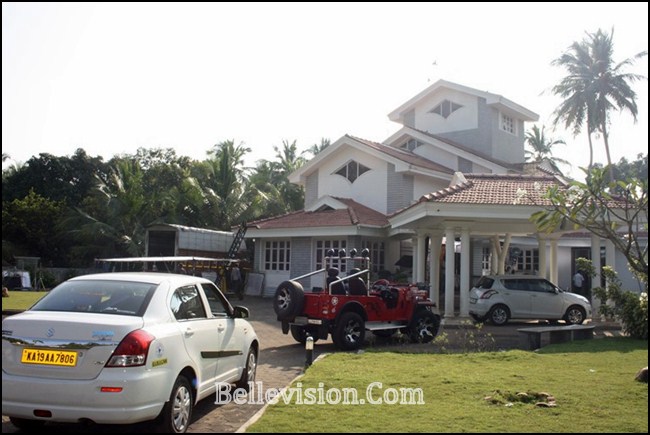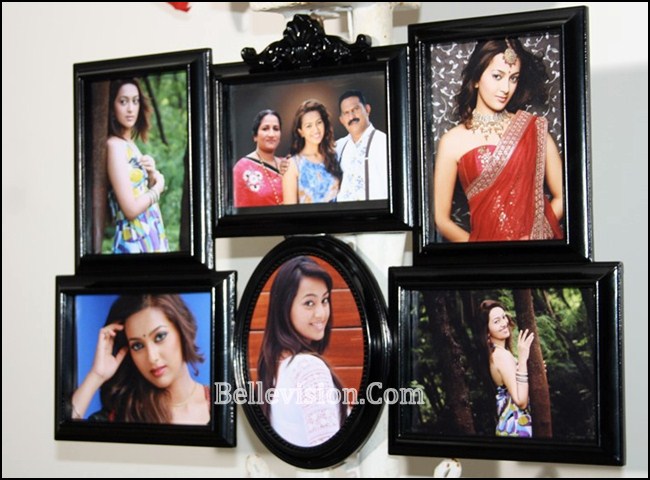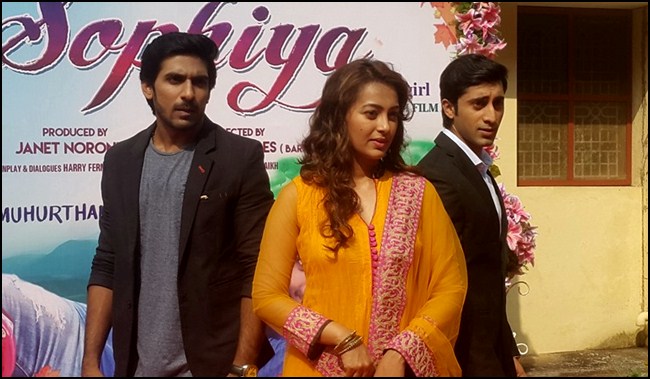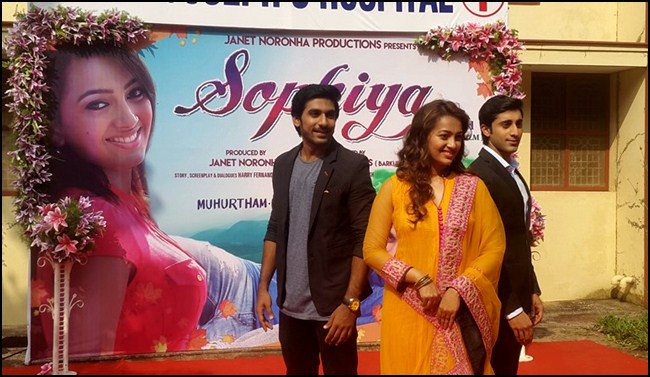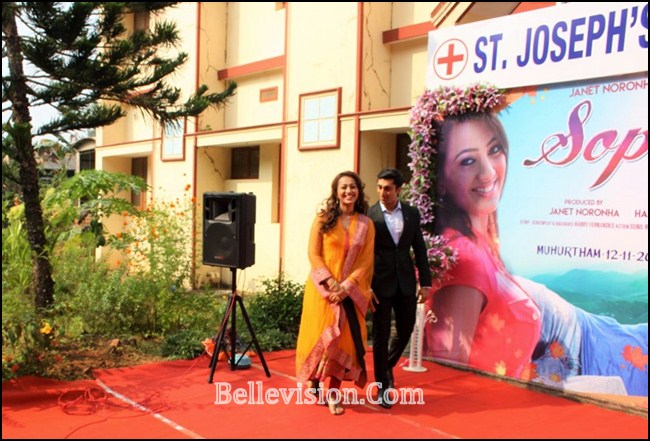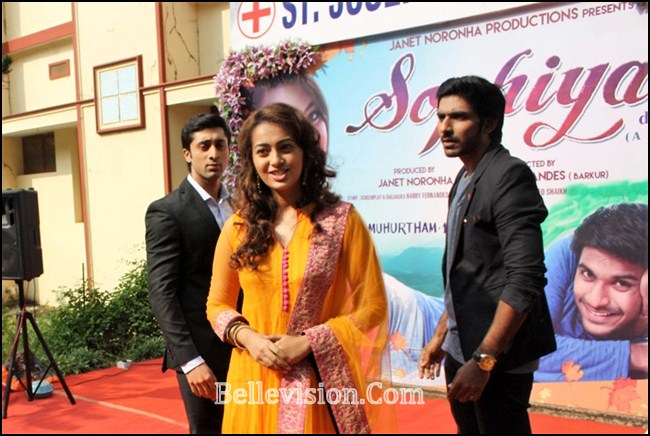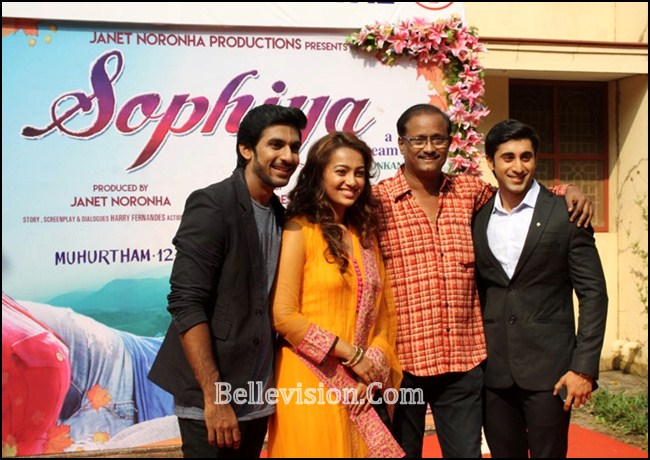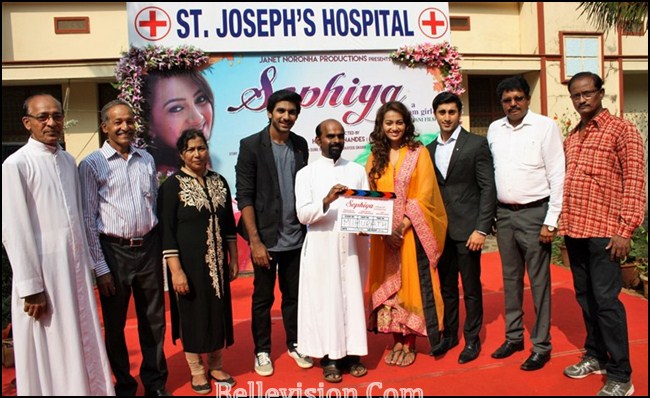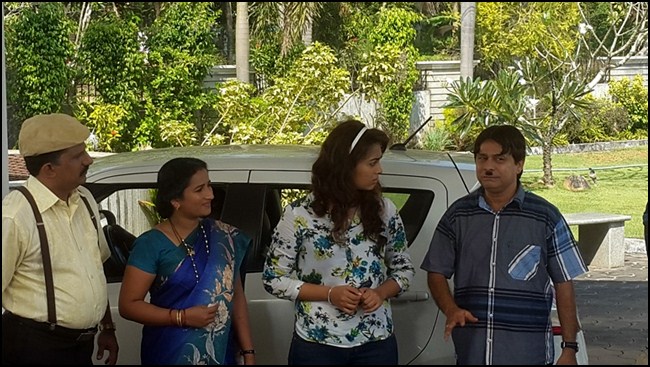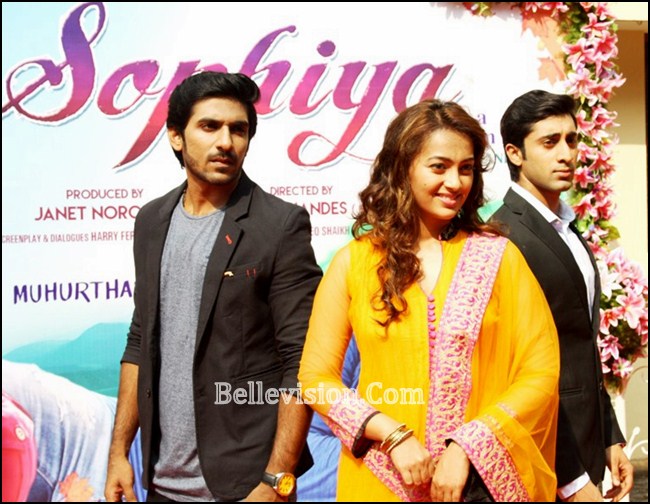 To Conclude….
Ester's second konkani film "Sophia" (A dream Girl) is a Romantic Thriller, story script and direction by Harry Fernandes Barkur. Asst. Director/Actor: Roystan Bolkunje,. Camera Man Mr. Shafeeq Sheikh, Action: Sunil Rodrigues, Music by Gunvant Sen and singers will be Ester Noronha, Gunvant Sen and Antony Tauro.
The movie will be acted by Ester Noronha (Heroin) and supported two young actors Elton Mascarenhas and Shelton Crasta. Other actors are Stany Alvares, Roystan Bolkunje, Francis Oliviera (Padukone), Floyd D'Mello and a famous Goan commedian Prince Jacob.
The movie will be shot in exotic locations of Palimar, Udupi, Kundapur, Manipal, Mangalore and Chickmagalore. Movie will be released in May 2017.