Dr. Gerald Pinto: Serving the Society Through Education, Literature and Social Activities
By Dr. Eugene DSouza

Bellevision Media Network


Udupi, 11 Jun 2018: It is not an easy task for a person coming from a humble beginning from a village to climb the ladder of success and achievement in the long run. It requires a lot of determination, hard work, discipline and focus to achieve the goal that one sets for himself or herself. Those who persevere would succeed in their lives as well as career. Dr. Gerald Pinto, popularly known as 'Jerry Niddodi' in Konkani literary world is such a person who scaled great heights not only in the field of education rising to be the Principal of a prestigious college, but also in the sphere of Konkani and Kannada literature and social work. Recognition, accolades, awards and honour that he received from different organizations manifest the versatility and accomplishments of Dr. Gerald Pinto in different spheres of activities. The journey of Dr. Gerald Pinto through his life and career is an example that would inspire the youth to follow his footsteps.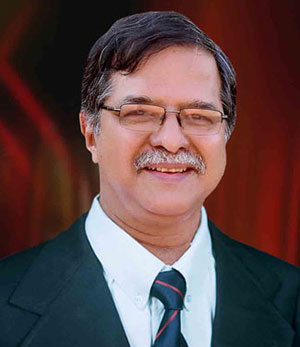 Born on 25 May 1957 as the eldest among four children of late Joseph Pinto and Mary Pinto of Niddodi in Mangalore Taluk, Gerald had his initial education in Niddodi parish school and high school and PUC in Pompei P U College, KIrem. He graduated in the subject of Physics from St. Philomena College, Mysore and acquired M. Sc. degree from Mangalagangotri, Konaje-Mangalore, then part of the Mysore University in 1981.
Gerald Pinto had a dream of becoming a lecturer since his childhood. After acquiring Post Graduate degree in Physics, Gerald got an opportunity to serve as a lecturer in Milagres College, Kallianpur and joined the college on 16 June 1981 as part time lecturer and became the founder member of the Physics department in the college.
With an interest in journalism and having a penchant for writing in newspapers and journals, both in Konkani and Kannada, Gerald Pinto decided to have formal and practical experience and acquired Diploma in Journalism in 1982 from Delhi Institute of Journalism.
With a dream to further his prospects in the field of education and having had an interest in research, Gerald Pinto enrolled himself for Ph. D. degree in Mangalore University. He did his research in Nuclear Physics and having successfully completed his thesis titled "Incoherent Scattering of Gamma Rays at Small momentum Transfer in high Z Elements", under the guidance of Prof. K. Siddappa who was the Vice Chancellor of Bangalore University, Gerald Pinto was awarded Ph.D. degree by the Mangalore University in 1992.
Dr. Gerald Pinto became the Head of the Physics Department in 1983 and Dean of Faculty of Science in 2000.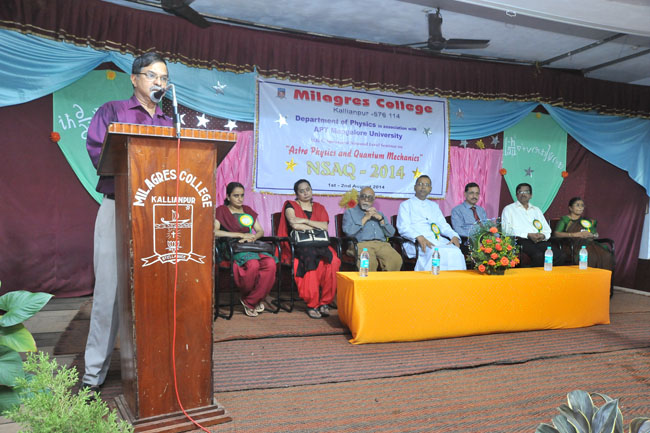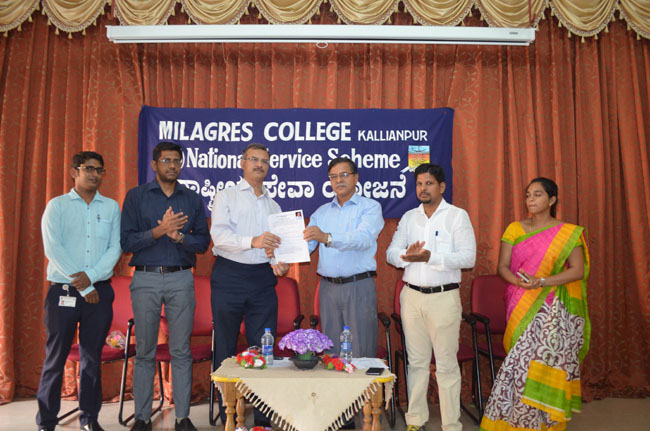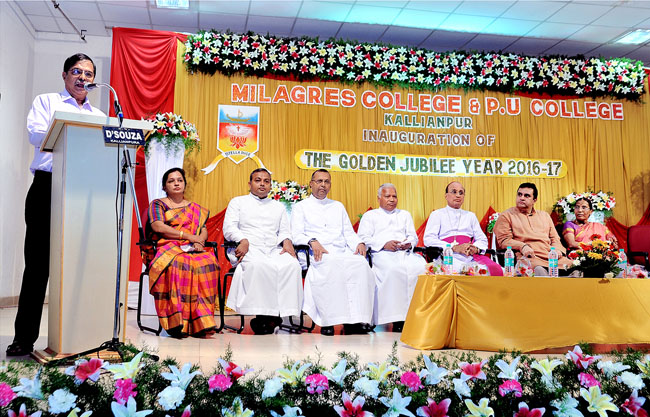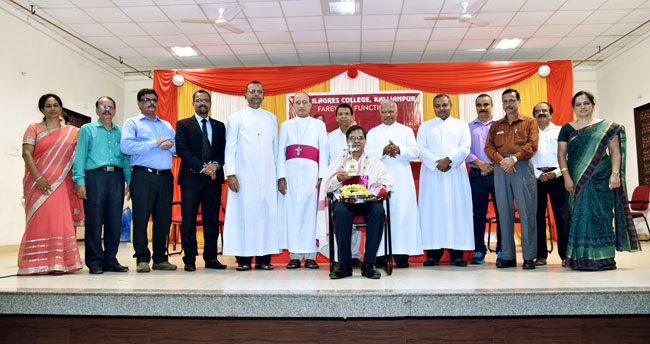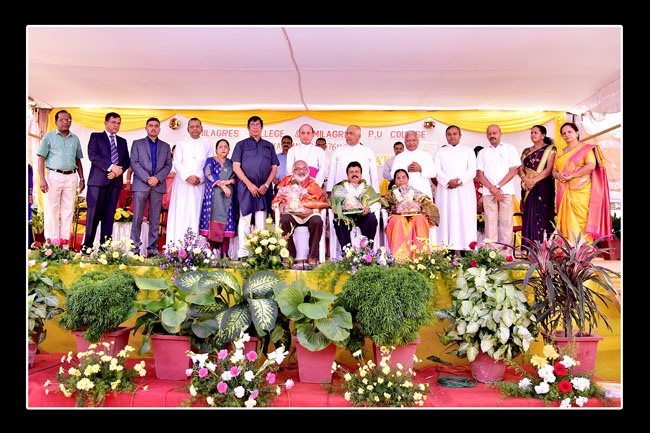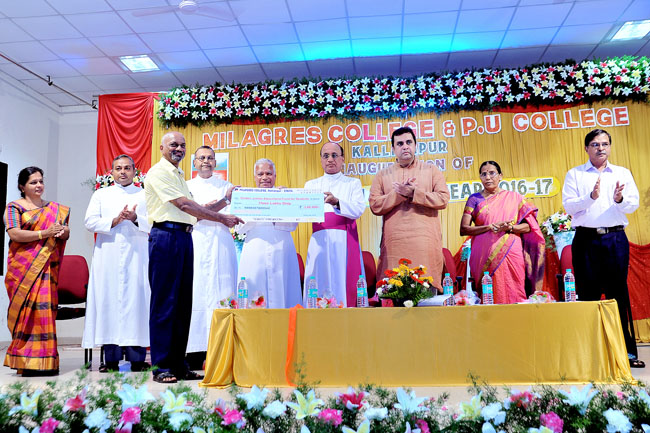 Apart from his teaching career in the college, Dr. Gerald Pinto had keen interest in research. Hence, he utilized his spare time in writing research papers which have been published in some of the reputed foreign and Indian journals. Out of his eight research articles, five have been published in Journals based in England and other three in journals published in India. Besides, ten of his research articles have been published in National Symposia and Seminars in India.
While serving in Milagres College, Dr. Gerald Pinto completed two minor research projects sponsored by the University Grants Commission (UGC), titled "Terrestrial Gamma Radio Nuclides and Radon Concentration around Udupi" (2005-07) and "Radiation Dosage Due to Terrestrial Radio Nuclides Along the West Coast" (2010-11). He also completed another research project sponsored by Konkani Sahitya Academy, Government of Karnataka titled "Great Konkani People of Twentieth Century" (2007).
With additional experience in teaching and administration, Dr. Gerald Pinto was involved in various activities associated with the college. He organized two UGC sponsored National Seminars, one National Assessment and Accreditation Council (NAAC) sponsored Regional Seminar and several seminars and workshops with the help of various agencies. He was the editor of college annual magazine and convener of literary association from 1986 to 1988; was the first faculty member from the Milagres College to avail UGC Faculty Improvement Programme and Minor Research Projects; first NAAC coordinator and Internal Quality Assurance Cell (IQAC) coordinator; founder convener of Science Association, Career Guidance Cell, S.C/S T Cell and Research Committee; Director of Student Welfare Council. Besides these responsibilities, Dr. Gerald Pinto was trained as NSS Programme Officer and was Convener of Association of Mangalore University College Teachers Association(AMUCT).
Besides serving in the Milagres College as a lecturer, Head of the Department and Dean, Dr. Gerald Pinto rendered his service to the Mangalore University in different capacities. He served as Secretary and President of Association of Physics Teachers of Mangalore University. He was the Joint Secretary of Association of Mangalore University College Teachers Association(AMUCT); member of Faculty of Science of Mangalore University and member of Board of Studies in Physics; and member and Chairman of Board of Examinations, Mangalore University. Dr. Gerald Pinto also served as the President of Tenth standard Konkani Text Book Committee, which is the Third Language in SSLC.
The dedicated service as a lecturer, Head of the Department and Dean had its own reward as Dr. Gerald Pinto was appointed as the Principal of Milagres College on 1 July 2016 and retired on 31 May 2017. The college achieved a number of laurels in the fields of education and sports and celebrated Golden Jubilee of the College during his tenure as the Principal.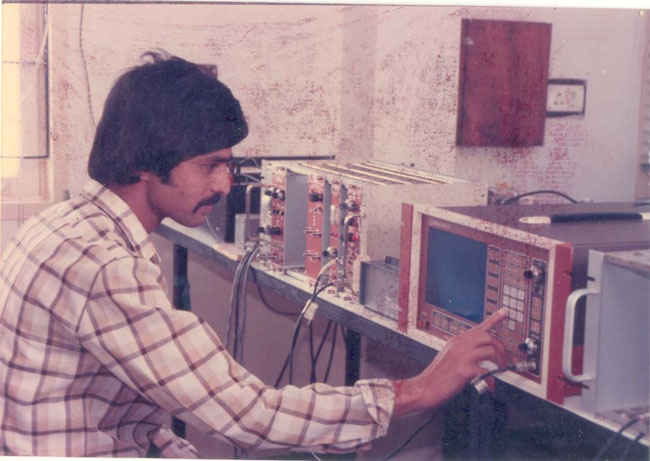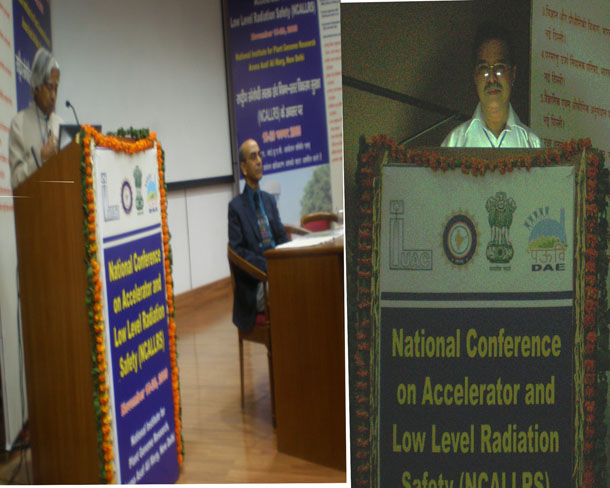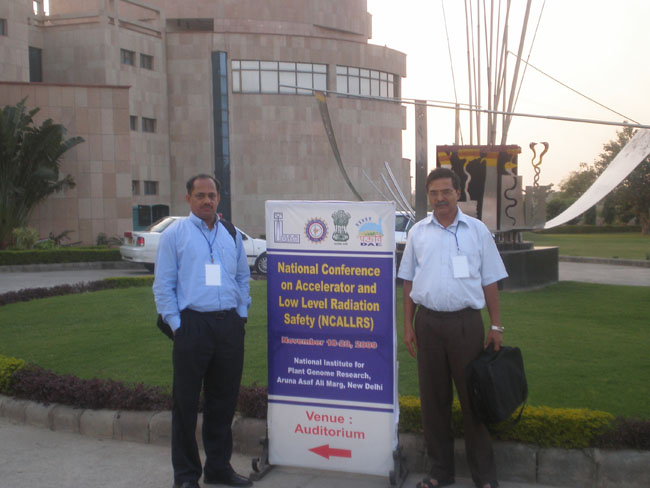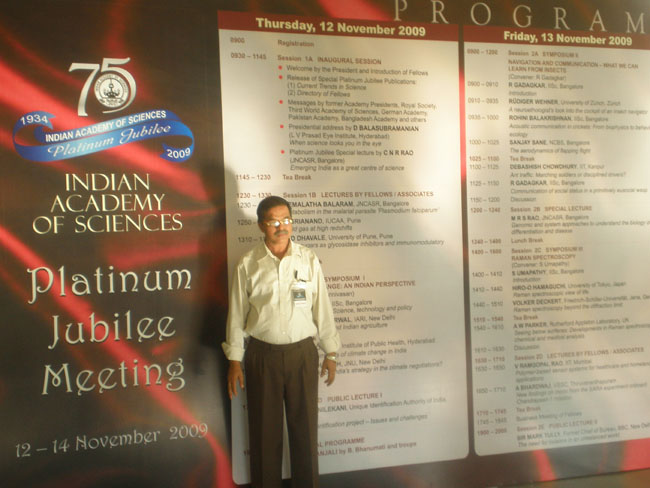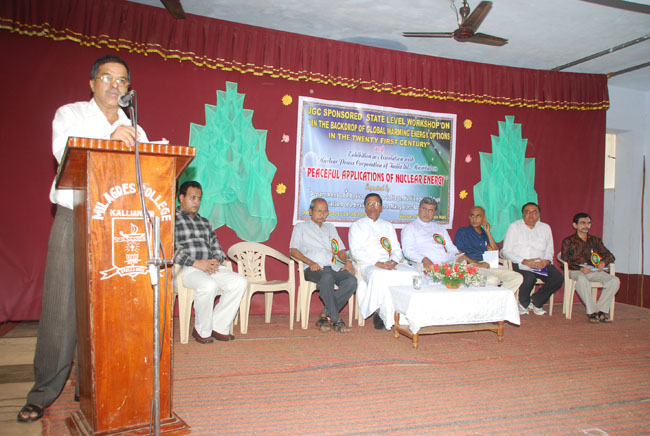 Along with teaching in the Milagres College and undertaking various responsibilities associated with the Physics Department and the college, Dr. Gerald Pinto under the pen name of "Jerry Niddodi" established himself as a writer of short stories, articles and novels. His first story was published in "Sevak" in 1971. Thereafter he had been a regular contributor to Konkani periodicals such as 'Poinnari', 'Mithr', 'Jhelo', 'Kannik'(now defunct), 'Rakno', 'Divo' , 'Dirvem', 'Amcho Sandesh', 'Uzwaad' and website 'maaibhaas.com'.
In order to acquire additional knowledge and mastery in Konkani language, Dr. Gerald Pinto enrolled himself for Konkani Diploma in St. Aloysius College and successfully completed the course in 2000.
Besides writing short stories, articles and poems in different Konkani periodicals, Jerry Niddodi wrote novels which have been widely read and appreciated. His Konkani novels include: 'Ladai' (1986), 'Patim Ghara'(1987), 'Mahatma' (1988), 'Shevot Poryanth' (1999), 'Thisri Thakli' (2007) for which he won Karnataka Sahitya Academy Award and 'Gurkar' serialized 'Rakno' in 2014 and published in the form of book in 2017. His collections of short stories include: 'Fr Tony ani Ithar Katha' (2009) and 'Posko Pothi ani Ithar Katha' (2011). His other books in Konkani language are: Galaxy (Collection of Science articles), 'Kundmi Konkani Lokved' (Research in Folklore) and 'History of the Catholic Sabha'.
Dr. Gerald Pinto also wrote books in Kannada language such as 'Alpasamkyatharige Haagu Hindulidhavarige Sarakari Savalaththugalu' (1986), 'Unnatha Sikshana Matthu Udyogavak Avakashagalu' (1999) and short stories in Kannada ' Amar Umar Mattu Ithara Kathegalu' (2014).
Besides text books in the subject of Physics for PUC and B.Sc, Dr. Gerald Pinto wrote other books in English. These included: 'Opportunities in Higher Education and Employment' (2000), 'Environmental Radio Activity of Udupi District' (2015) and 'Great Konkani People of 20th Centaury' (Published on behalf of Karnataka Konkani Sahitya Academy under Suvarna Karnataka Project).
Besides being an effective and creative writer in Konkani, Kannada and English, Dr. Gerald Pinto's contribution in the field of journalism has been quite impressive. He was the editor of the monthly magazine "Amcho Sandesh" for seven years from 1998 to 2002 and 2007 to 2010. Since 1994 he has been the editor of "Milarchi Laram", quarterly magazine of the Milagres Parish. He also edits 'Samparka', the quarterly magazine of Udupi District Minority Forum. Dr. Gerald Pinto has been the editor of several souvenirs of the Milagres Parish, Kallianpur and Manasa Pamboor.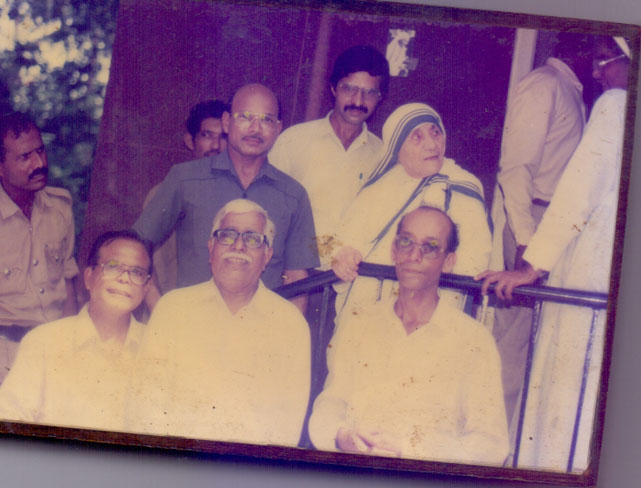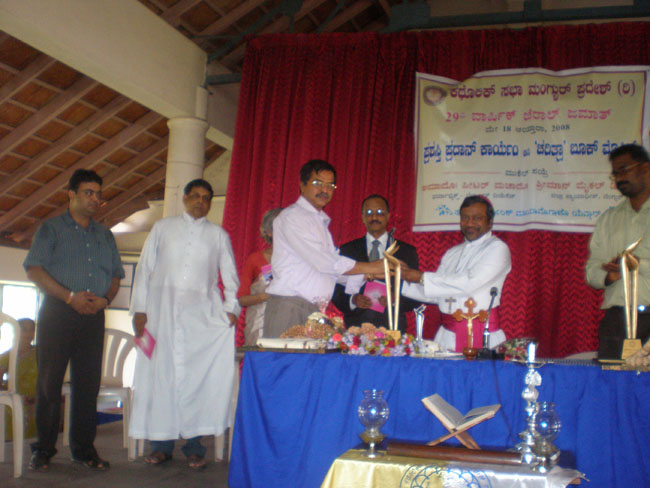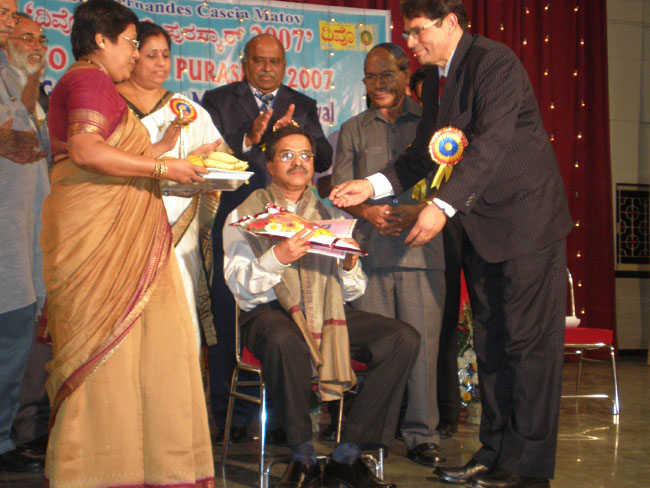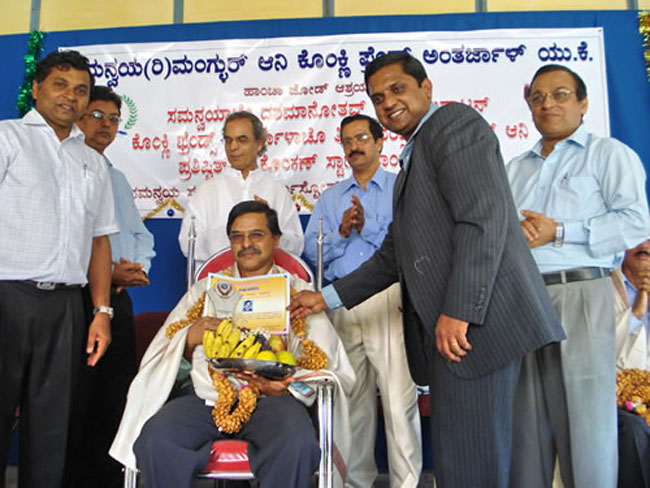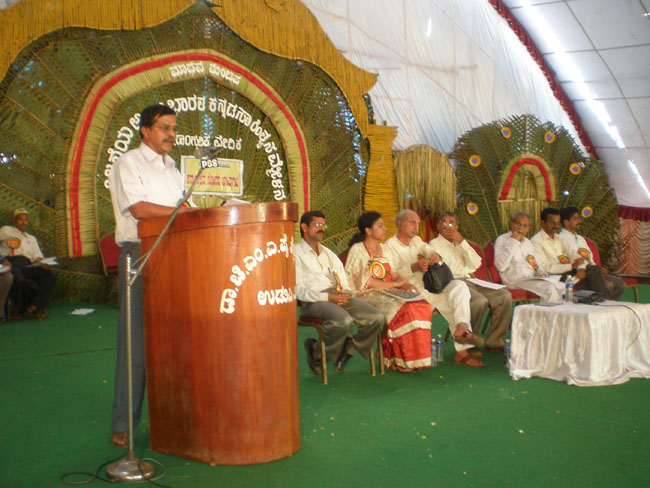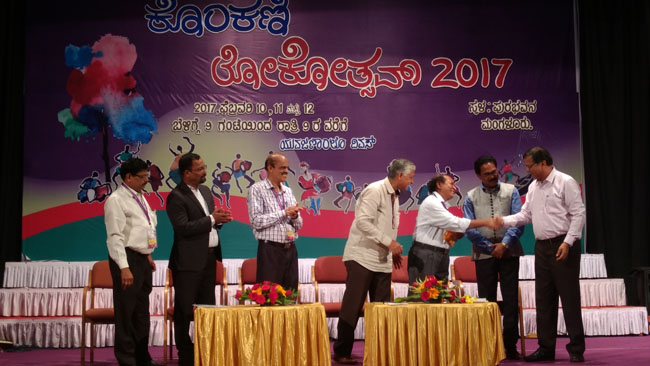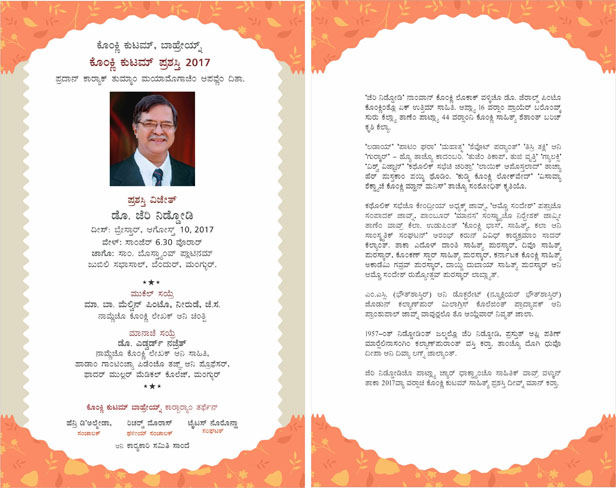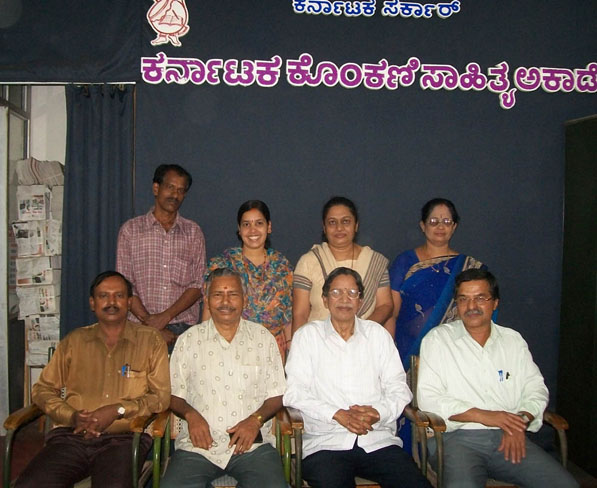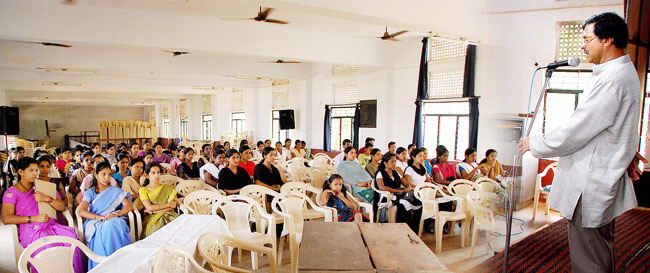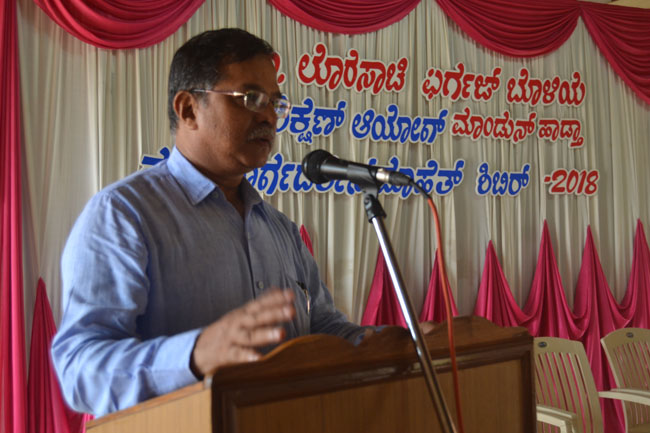 For his great contribution to literature in Konkani language, Dr. Gerald Pinto was honoured with a number awards. These awards include: Divo Literary Award (2007) at Mumbai conferred by 'Divo' Konkani weekly; Karnataka Konkani Sahitya Academy Literary Award (2007); Karnataka Konkani Book Award (2007) for his Novel "Tisri Thakli" (Third Generation); Daiji Dubai Literary Award (2011), Amcho Sandesh Silver Jubilee Memorial Literary award (2017) and Konkani Kutam Bahrain Award (2017). These awards conferred by various literary bodies and cultural organizations manifest the significant contribution of Dr. Gerald Pinto to Konkani literature.
Dr. Gerald Pinto did not confine his knowledge and talents in the fields of education and Konkani literature. Realizing his responsibility towards the community and society he got himself involved in several social activities. Some of his prominent social activities include: Participation in more than 750 seminars and Career Guidance lectures for students and youth as resource person; President of the Catholic Sabha, Mangalore Diocese from 1994 to 1996 during which Manasa Trust and construction of Mansa building started, 'Amcho Sandesh' monthly magazine of the Catholic Sabha got registered, Danti Memorial Trust was registered, three tier elocution competitions for children and youth began at parish, varado and diocesan level and donation coupon system to raise funds for the Catholic Sabha activities started. All these ventures that were initiated during the tenure of Dr. Gerald Pinto as the President of the Catholic Sabha still continue. He was also the Founder Trustee and Secretary of Manasa Rehabilitation and Training Centre, Pamboor; former President of Minority Forum, Udupi District; and President of Konkani Sanghattan, Udupi District.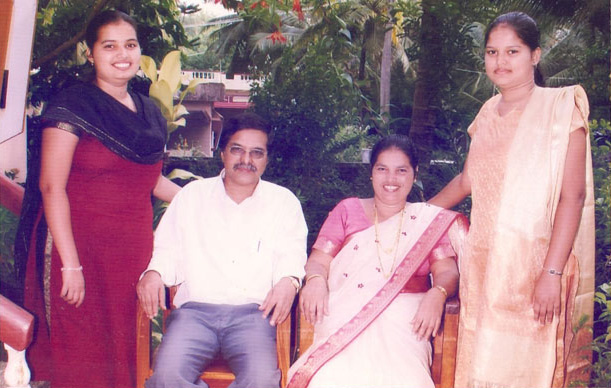 Dr. Gerald Pinto married Marceline Sera from Madanthyar who is a teacher in Milagres Kannada Medium High School, Kallianpur. They have two children Deepa and Divya. Both are engineers by profession, married and well settled.
The above profile of Dr. Gerald Pinto is the testimony of a person whose service and commitment in the field of education, institutional administration, research, literature and social activities are noteworthy and an example to follow. Even after retirement from active teaching profession in the college, Dr. Gerald Pinto has been keeping himself busy in lecturing and advising the students and youth as resource person in choosing their courses and career. He still contributes his time and energy to the activities of the Catholic Sabha and Manasa Rehabilitation and Training Centre at Pamboor, writing articles on various issues and has been quite popular in Konkani literary circuit.