Swami Vivekananda awakened erstwhile India under British rule – Swami Mangalanatananda
Bellevision Media Network


Mangaluru, 17 Feb 2021: Swami Vivekananda awakened the erstwhile India that was in deep slumber owing to chaos created because of imperial rule, said Swami Mangalanatananda of Ramakrishna mutt, Bengaluru.
Swami Mangalanatananda was the resource person delivering first lecture of Viveka Vani series of lecture that was held at Mangalore University auditorium, here on Tuesday, February 16.
It was jointly organized by Ramakrishna mutt, here and Swami Vivekananda Study Centre of Mangalore University.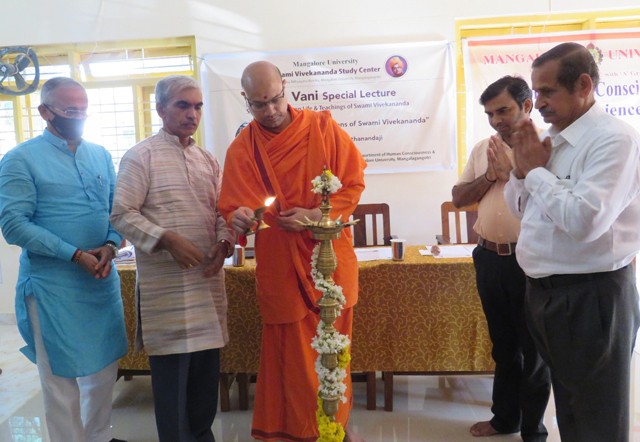 Swami Vivekananda stunned the world by unraveling the splendor of Indian spirituality at Chicago, US, said Swami.
He also delivered a lecture on Swami Vivekananda's depiction of Indian cultural hierarchy.
The humanity and yogic science department head Professor K Krishna Sharma presided the programme.
The former MLC Captain Ganesh Karnic was present.
Swami Vivekanand Study Centre correspondent Prof Sripati Kallauraya P welcomed the gathering. The coordinator Dr Chandru Hegde proposed vote of thanks. Ramakrishna mutt volunteer Ranjan Bellarpady compered the programme.
The teaching staff of different faculties and students were present.