Boyfriend kills DU girl, hides body in shaft
New Delhi, 08 Feb 2016: A 21-year-old Delhi University student was strangled to death by her boyfriend in northwest Delhi. Police said Naveen Khatri kept the woman's body in his house for four days.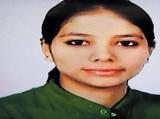 The incident came to light on Saturday evening when the body of Arzoo Singh was found in a shaft in the accused's residence.
The accused, Naveen Khatri, is a property dealer who lives with his family in northwest Delhi. The deceased was a final year student at Lakshmibai College in Delhi University. She lived in the same area where Naveen lives.
Police claimed that the duo knew each other and prima-facie the case suggests that the reason behind the murder was a love affair.
The police said Naveen tried to dump the body somewhere else and attempted to burn it once. But he failed.
The victim's family members said that the woman was missing since February 2. "We last saw her around 8:30 am on Tuesday. She said that she was going to college and assured us that she will return soon," family members said. She did not return home till evening and they filed a police complaint, said the family members.
Sources said the victim's family members was suspicious of Naveen. Naveen was called to the police station on Saturday and his house was searched.