Meet Chandravati, areca plantation owner who found success by drip irrigation system under PMKSY
Bellevision Media Network


Puttur, 15 Sept 2020: Water is natural resource that is essential for living. Although Mother Earth has vast quantity of water, the percentage of potable water is very limited. Pradhan Mantri Krishi Sinchai Yojana (PMKSY) has been launched as a national mission to improve farm productivity and ensure better utilization of the resources in the country. The budget of Rs 2,600 crore in a time span of one year 2015-2016 has been allocated to this scheme. Under the Yojana, the horticulture department offers 90 percent of funds per 2 hectares of plantation per farmer.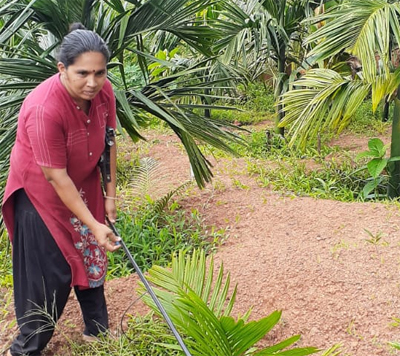 Meanwhile, Chandravati, areca plantation owner and a native of Bettampady village, near here who was fed up with unreliable farmhands and water supply; contacted plantation department officials for their expert advice in this regard. She has installed drip irrigation system in her 0.3 hectares of areca plantation and also got funds under PMKSY.
'Low cost, reasonable water, proper care and higher yield/profit is what a farmer interested in,' says Chandravati. The areca plants get regular supply of water by drip irrigation every day. The weeds do not grow as water does not get stagnated on the ground reducing overheads on labor, she added.
For more info contact Dakshina Kannada district horticulture expert – Rishal D'Souza mobile number 8277806372, as per the media release issued by deputy director of horticulture, Mangaluru.