Dubai: Super-hit Konkani movie, Zanvoy No 1 set to screen in London on Mar 17
By Shodhan Prasad

- Media Release


Dubai, 08 Mar: Sangati Creations' maiden venture, mega super hit Konkani film 'Zanvoy No. 1' script and directed by well-known award winning Bollywood director Harry Fernandes is all set for release in London on March 17, 2019. It will be screened in Safari Cinema, 2 Station Rd, Harrow, HA1 2TU, London. SKA London will be presenting this special show for all Konkani Community living in United Kingdom who can make avail of this opportunity to promote Konkani language. Contact details for ticket booking are in the bottom of this news report.
It had successful houseful shows while released in Goa, Mumbai, Mangaluru, Dubai, Sharjah and Abu Dhabi and received tremendous response all over.
A differently made super combination package of thrill, action, comedy, romance and high voltage drama 'Zanvoy No1' has created a new landmark in the Konkani film industry. In India it was released in more than 13 theatres simultaneously and already completed more than 250 shows. It is great pleasure that younger generation likes the movie. Almost all the Konkani film directors have watched and appreciated the movie. More shows are planned in Pune, Bengaluru, Israel and Canada in coming months.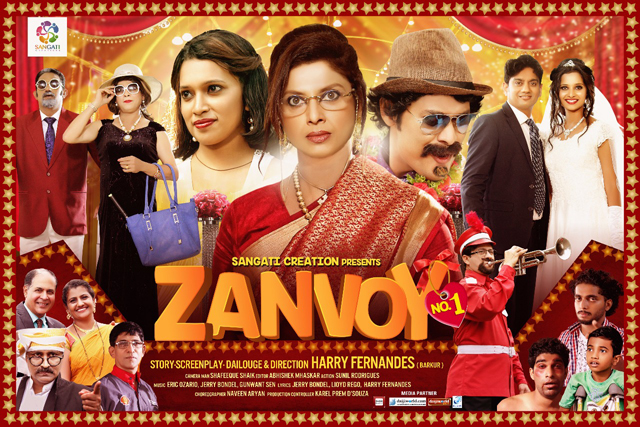 Zanvoy No 1 has the famous actress from Bollywood Varsha Usgaonkar who carries over the entire film with her charming and stunning acting skills in a new role. This is her maiden Konkani Movie and is very happy to be part of this prestigious project. Prince Jacob at his best in this laugh riot comedy and the growing Goan boy Kevin in a hilarious role delivered his best. This project is beautifully designed and presented by Mumbai's well-known theatre and social activists Cyril Castelino, Leo Fernandes and Walter D'Souza of Sangati Creations who has come out with this maiden venture in an attempt to take Konkani language to greater heights. Enabling overseas Konkani Theatre lovers to understand the language, they have come forward to add English subtitle at the bottom so that the current generation of the Community will find it easy to grasp the movie and enjoy the content.
The star cast includes male lead Kevin D'Mello who has worked in various Konkani movies with female lead, an international model Josita Anola Rodrigues who is 'Miss South Asia Teen' and finalist of 'World Teen Super Model of South Asia', supported by 'Comedy King of Goa' Prince Jacob, StanyAlvares, Rons London, Sujatha Andrade, Ranjitha Lewis, Lyshon Fernandes, Cyril Castelino and well-known star actor of Dubai, Deepak Paladka. A perfect mix of Goan and Mangalorean artists made the movie really richer in content.
Camera man Shafeeque Shaik of Bollywood fame has captured the entire movie beautifully which is being crisply edited by Abhishek Mhaskar. Action of the movie is being finely handled by Bollywood fame Sunil Rodrigues. The scintillating Music is being composed by trio Eric Ozario, Jerry Bondel and Gunwant Sen. Lyrics of the songs were penned by Jerry Bondel, Llyod Rego and Harry Fernandes. Entire Music arrangement is beautifully done by Patson Pereira. Choreographer Naveen Shetty of Aryan's has brilliantly done his job while the whole production team was carefully handled by production controller Karel Prem D'Souza, William Padhrengi and Rajesh Kudla. This movie is exclusively marketed by Tony Martins/Deepak Paladka/Shodhan Prasad and team.
Sangati Creations team wishes to thank all for supporting us specially Bishop of Mangalore, Ministers of Goa, priests and nuns, bollywood artists, Konkani directors and producers who have attended the release events, watched and appreciated the movie.
'Zanvoy No 1' created a new generation movie making in Konkani language as well as Coastalwood thus close comparison to Bollywood movies. Sangati Creations are expecting non-Konkani community also to come forward and watch Konkani movies as they plan their next venture in Tulu/Kannada.
Overseas release is being organized by 'Sandhya Creations Overseas Movies' and can contact Shodhan Prasad on +971 52 5569786 for more information.
For booking Tickets in London contact:-
Sunil: 07894995160,
Loy: 07920423947,
Pius: 0707590574429,
Ron: 07735884989