Sister (Dr) Marina: Achieving academic heights and serving educational Institutions in NE India
By Dr. Eugene DSouza, Moodubelle

Bellevision Media Network


04 Sept 2015: It is but rare that some one born and brought up in Dakshina Kannada district joins the religious order of her choice, dedicates her life in the service of the society, achieves academic heights and ventures into unknown and unfamiliar land of North East India and spends most of her life in imparting education to the less privileged tribal communities in various schools. This is the story of Sr. (Dr) Marina belonging to Bethany Sisters Congregation who went on acquiring academic degrees culminating in Ph. D. in History from Mizoram University which was conferred on her recently. The title of her thesis is 'History of Catholic Missions in Northeast India, A Case Study of the Bethany Sisters.' Besides her excellent achievements in the academic career, Sr. Marina has been rendering distinguished service in educational institutions of North East India. On the occasion of the celebration of Teachers Day, Bellevision.com highlights the academic achievements and her service to educational institutions.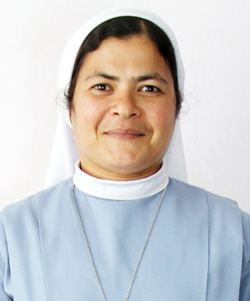 Sr.Marina B.S. is the third of the seven children born to late J.P. Sequeira (Taccode) and Mrs.Mary Mathias (Kinnigoli). She was born on the 12 May, 1967 at Kinnigoli and had her primary education in Taccode. Due to a vast distance to be covered for reaching the school, she was shifted to Kinnigoli along with three of her siblings for high school education. After passing the 10th standard, she joined the Sisters of the Little Flower of Bethany, Mangalore in 1983.
The First Profession of Sr. Mrina was in 1988 and final Profession in 1994 and she celebrated her Silver Jubilee in 2013. Presently she is serving in the North-East Province of Bethany Sisters.
Academic Achievements:

Sr. Marina has distinguished achievements in education. After joining the Bethany Sisters' Congregation. She continued her education and completed P.U.C from St.Joseph's Pre-University College, Bajpe, in 1986 and secured 8th rank in Karnataka; acquired BA degree from the Theresian College, Mysore and secured 3rd rank in Karnataka State and Gold Medal in History from Mysore University in 1990; completed B.Ed., from St. Ann's College of Education, Mangalore, and passed with distinction from Mangalore University in 1994; continued post graduation in History and secured MA degree from Madurai Kamraj University, Tamil-Nadu in 2003 and passed in first division; and recently (2015) she obtained Ph.D. degree in History from Mizoram Central University, Aizawl, Mizoram.
Service in Educational Institutions:

Soon after her final profession, Sr. Marina was appointed as a teacher in Holy Cross School, Silchar, Assam State for one year (1988-1989). Thereafter she was sent to St. Joseph's Higher Secondary School, Viswema in Nagaland State as high school teacher where she served for two terms from 1989 to1990 and from 1996 to1997. Her next appointment was at the Holy Cross School, Agartala, Tripura State as high school teacher from 1997 to 2001. Other schools which she served include St. John's Higher Secondary School, Kolasib, Mizoram State as high school teacher (2001-2003); Good Shepherd Higher Secondary School, Jongksha, Meghalaya State as High school teacher (2003-2005); Vice – Principal: St. Theresa's ICSE School, Bendur, Mangalore (2005-2008); St. Paul's Higher Secondary School, Aizawl, Mizoram as high School teacher (2008-2010); and Mary Mount School, Aizawl, Mizoram. (2011-2013).
After many years of teaching experience, Sr, Marina was appointed as Headmistress of Mary Mount School, Aizawl in 2013, the post which she holds till present day.
The total duration of service of Sr. Marina in the field of education in the North-Eastern States of India is about twenty years. During these years Sr. Marina proved her ability as an excellent and dedicated teacher admired by the students and teachers winning confidence and laurels from her superiors. Her mission has been especially among the tribal communities.
(Thanks to Br. Henry Sequeira,CSC, Holy Cross for additional inputs)