Udupi: Meet simple, humble Bldg Contractor Cyril Quadros of National Repute
By Ashwin Lawrence

Bellevision Media Network


Udupi, 15 Aug 2014: When you personally meet this civil contractor, you would not ever think he has a stature of a nationally accomplished civil contractor who has constructed countless buildings and churches. He is humble and simple who is none other than Cyril Quadros. He is the testimony that one is known by persona rather than status and property.

Mere living is useless, one has to live fruitfully, mere burning light is useless, one got to be light always shining. Volcano - melting lava that can light hundreds of miles, but its indeed destructive, terrifying and sickening. Light that is culture. It's nature. It's sign of harmony. The sea! It's expanse without bounds, tumultuous, ocean currents, glory. River – mild, winding, picturesque ...rare treat. Similarly, he is mild like light, simple like river, never glorified himself and a generous personality that Cyril Quadros is bestowed by Almighty.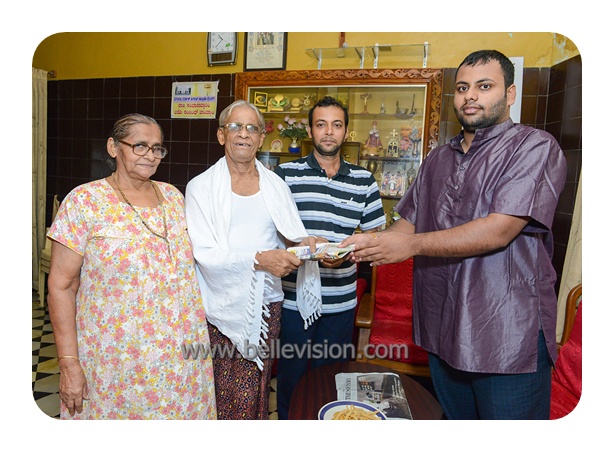 When we went to interview Quadros at his home, he warmly welcomed us. We were Sridar Shettigar Karandady, photojournalist of Moodubelle and Narayana Guru Kannada Medium School alma mater director R D Pamboor gone to interview Quadros. He was ready without any show off, simple and generous. He replied to questions as swiftly and with clarity. He was down to earth, truthful, throughout the interview being rarity.

Welcome tea

We prepare tea that is enough for 150 people at a time. Whoever comes, he / she would be offered tea and snacks. Therefore, you will have to have tea first and later you can go ahead with interview, said Quadros courteously.

Sir, your simplicity is role model for us. What is the secret of your success; Quadros said, 'Honest is everything in life. It's unture that one can make money by cheating. The humanity is important. If one is courteous, money will come following him. The people trust me to award contract to construct a building that costs huge money. I have retained that trust till the completition of work maintaining quality throughout to be a success contractor. I am proud of this,' said Quadros.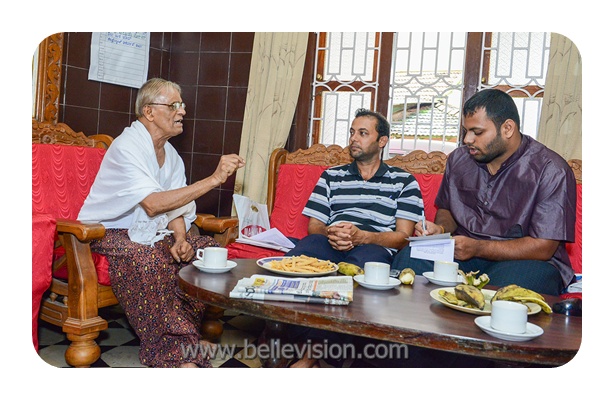 By now, we have realized several books would not be sufficient to record the interview with Quadros. Meanwhile, we have put in here a few interesting aspects that ignited out thoughts. You could also meet him to spend a few memorable moments.

Childhood and studies

He was born in the family of Michael and Sobina Quadros couple, residing at Pajai, in Belle gram panchayat in Udupi taluk on July 25 1941. He had done his early studies at Kunjarugiri School and high school studies at SVH School. He completed senior grade typing at Aza School of Commerce and Progressive School of Commerce, Udupi. Despite poverty in the family, he was determined to study throughout his life. The struggles in life taught him great lessons. He secured MA in political science from Mangalore University in 2000. Despite his advancing age, he still has the jest for life.


Bank employee turned contractor

He migrated to Mumbai and began working as instructor in a typing school run by Bhujanga Shetty, a native of Padubidri in 1963. His elder brother arranged a visiting visa to Quadros who reached Dubai. He tried his luck to find a job, but at last found a job of a stenographer with British Bank of Middle East in Abu Dhabi.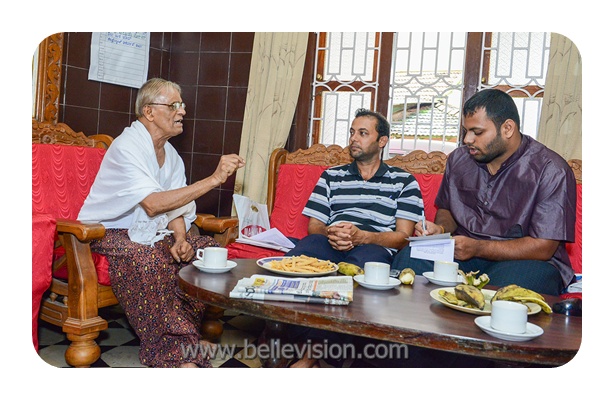 Quadros's father Michael became seriously ill in 1989 and was admitted at KMC Hospital, Manipal. Quadros who was on vacation had cared for his father day and night. The stuck a close bond that became inseparable from each other. His brother sensed their closeness, asked Quadros to stay in native place. Meanwhile, a certain Shetty hailing from Padubidri who was in Dubai, asked Quadros to oversee his building construction at Padubidri, near here. Quadros took the responsibility and completed the task that was his first contract. .

After a while, Quadros's brother Marcel requested him to construct a house for him. So, here Quadros without any knowledge of building construction began constructing one house after the other. He reminded of honesty tht has taken him to this height in life. The humbleness led him to success. He rose to such a stature that there is none equalent to Quadros in building construction. He has constructed countless houses, residential complexes, commercial complexes, schools, colleges, auditoriums, churches, mosques, temples. He is surging as national level contractor in spite of his advanced age.

He has constructed buildings in Agartala, Bidar, Bangalore, Uttar Kannada, Dakshina Kannada and Udupi districts. He has constructed majority of churches, schools and auditoriums in Uttar Kannada and Udupi district. St Lawrence PU College - Moodubelle, St Mary's College - Shirva, Milagres High School – Kallianpur, Narayana Guru Kannada Medium School – Padubelle). He has not retired form his construction business. His son Pradeep is helping him. Karnataka state government awarded Best Contractor of Udupi district award during golden jubilee celebration of statehood.

Home office, wife is administrator

Quadros married to Theresea during 1966. They render hospitality to whoever comes to their home. It was once, someone asked him, where is your office. Quadros seems to have said that he has a huge office at B C Road, Udupi and a clerk works for twenty-four-hours. When someone who knew him, asked Quadros queried where is your office that I have no idea. Quadros quietly told him the fact that it's his home office and full time clerk is none other than his wife. Such was his humor and versatile in human relations.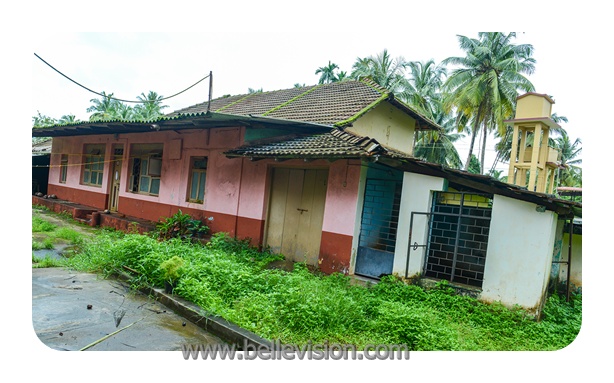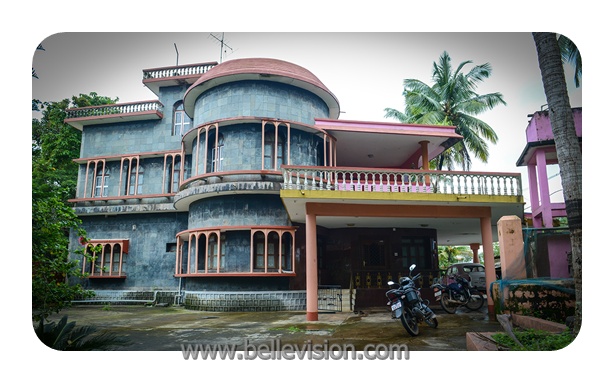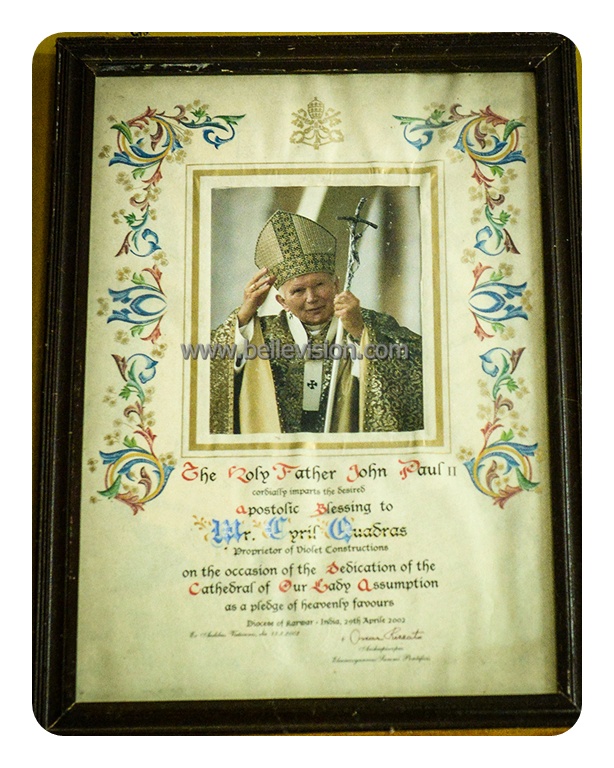 Quadros couple has 5 children. All are settled and inherit the virtues of Quadros in helping others. Their eldest daughter Violet, completed B Com and settled in B C Road, second son Pradip is a civil engineer helping his father in business, third son Dr Dilip is a reader at Srinivas Medical College, Mangalore, fourth one is daughter Charlotte, working in radiology department of King Edward Memorial Hospital, Mumbai, fifth one is Sandeep, employed in Dubai as automobile engineer.

Sans enemies


Quadros has no enemies in business of family, because he does not hate anyone. 'I don't have more ambitions,' quips Quadros which says about his personality traits. It's impossible to have any enemies when one has no great ambitions in life. If one shares whatever he has, there would not be any fights. 'I need to be happy and make others happy also,' believes Quadros.


Money is everything in life, what would you say?

It's untrue. Money is not everything. Honesty is everything. The money earned by honest means last forever. One can make money by unjust means which will not last adn takes away happiness. I have given loans to many, but never bothered to ask them to repay. One who wants to return will repay for sure, while those who never want to repay will not return despite several requests.

What about your workers

I treat my workers as my children and give them what I eat. If I trust them they will lay their trust in me. If we are suspicious then they really cheat. The workers follow the ideals of employer. We share profits equally. I don't make injustice to workers. I believe oppressing workers is oppressing me.


Politics? Voters duties? NOTA button?

I feel miserable when the elected representatives forget about their people once they win. One should not make ill use of an opportunity to serve the people. At least one should trouble people who should not hate politicians, because more they hate they become worse in their nature.

The voters determine the future of nation, by electing their leaders. The enlightened voter is indeed national wealth. There are a few bad politicians, why should I vote. I choose not to vote. It's wrong. One should not generalize all are bad politicians. If that is so, one should choose the one who is not that much bad. The party war should be over once the elections are completed and join together for national building.

What is the Cape of Good Hope in Indian Economy?

The people are the hope of India because they can achieve anything. The optimism leads the nation. It's a fact India would be a powerful nation by the turn of this century.

Education system

The education system had to be practical. The students' does not achieve anything worthwhile from theory. The education should make the students to be self reliant. The need of the hour is to offer info on vocational studies.


Your son is an upcoming civil engineer and contractor, what would you say?

The youngsters are enterprising and face anything because they are qualified in their chosen field. They are adventurous, but one needs experience in contracting business. When one becomes more experienced, beautiful architecture will emerge out of their minds. We have technical differences, because my son views theoretically, but we are practical because of decades of experience. That's it.


Ambassador trusted car

I have an old Amby that can seat more workers and its can hold building materials, cements etc. Its my cherished friend.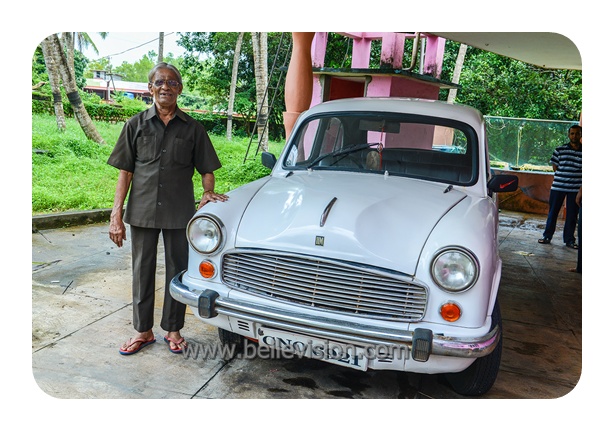 His food habits

We were curious to know what Quadros would eat because he has treated with so many snacks and though his household will have sumptuous food at all times. However, we were stunned by the reply of Quadros who said that he eats anywhere disregarding rich, poor, higher and lower class. To tell you the truth, the food that is being served in poor household is tasty and healthy. My meals are simple, rice gruel, yoghurt, vegetable curry, butter milk, that's my rich food indeed.

Where poor can build a house at affordable cost

Yes, certainly. One has to plan, and its cost effective when many identical houses are built at a time, because one can utilize available area besides take into consideration the needs of family members.

You have been awarded by social welfare and voluntary organizations and also from the government, why you don't display them?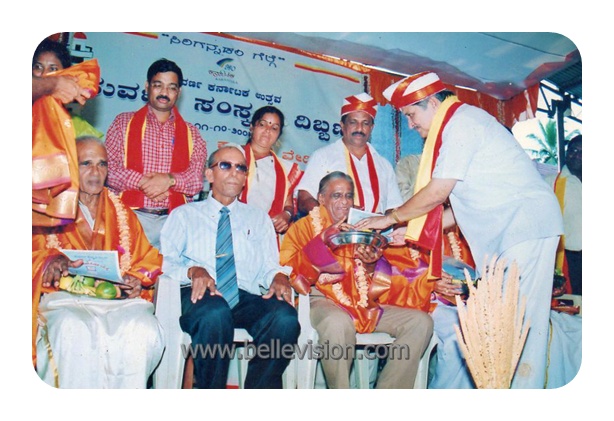 The simplicity is true virtue of an individual. We should not be after award. Karnataka government has conferred Best Builder of Udupi district. I have not displayed it because I don't want publicity. We got to help others as much as we could. I have dumped the trophies, mementoes, citation letters in the loft. I don't bother much about it.

Quick answers

Favorite color: white Favorite statesman: Lalbahadur Shastry
Favorite dress: Safari Favorite animal: Dog
Favorite car: Ambassador Favorite bird: Peacock
Favorite beverage: Tea Favorite radiologist: Doctor daughter
Favorite snack: Idli Favorite doctor: Doctor son
Favorite curry: broccoli Favorite newspaper: Udayavani
Favorite actor: Amitabh Bacchan Favorite wekly: Taranga
Favorite actress: Sarita Favorite hobby: reading
Favorite movie: Cooli (no more TV, Favorite book: Amazing results of positive thinking
more reading)
Favorite cricketer: Sachin Favorite author: William Shakespere
Favorite town: native town Favorite language: English
Favorite hill resort: Nainital


Out of 10 points how much you could give

Indian government: Only appeared for exam Status of woman: 8
Karnataka government: 6 Enlightened people in district: 8
Existing society: 8 to 9 District urban planning: 5
Esisting education system: 6 District government offices: 4
Health facilities: 6 District private entrepreneurs: 8
Political: 6 Your son, modern engineer: 8
Panchayat Raj: 8


The interview that we had with Quadros has deeply influenced us. Despite his achievement, he was down to earth. His last few words made us think about his real virtues. Quadros said, 'You can write whatever you wish, I don't mind if it hurts me, but it should not hurt others. Hope you will take care while publishing.' We had no words to express and tears in the corner of our eyes showed our consent.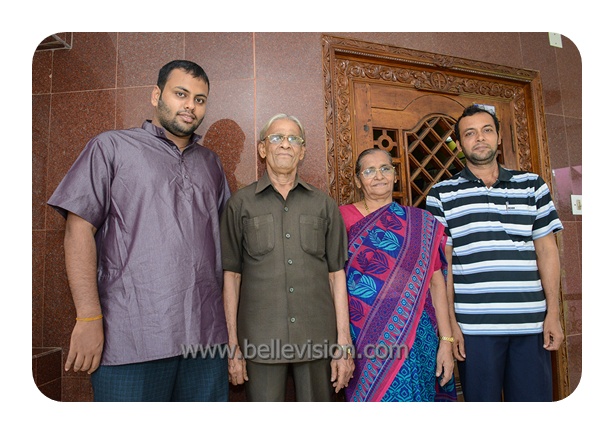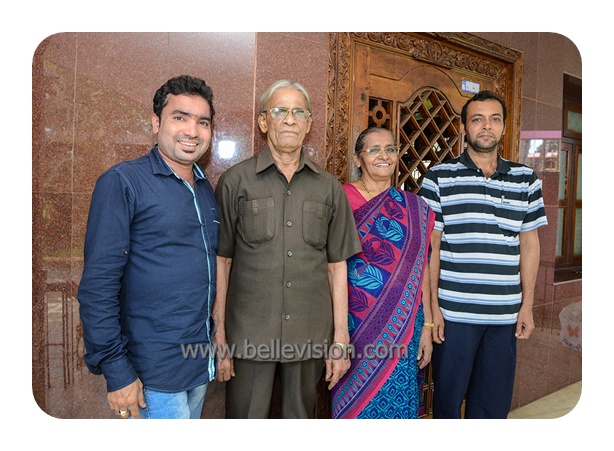 When Quadros in tears

When we asked Quadros what you got to say about caste, religion and God? The communal flare up in the name of religion? Quadros said, 'It is nothing but foolishness. The caste, religion and God – all are one. It's just one humanity. The religion is personal. I have built churches, temples and mosques. All are worshiping the unseen God. If that is so, why we should have differences among us? We had to foster brotherhood in the society. We are unnecessarily fighting with our brethrens and oppressing our sisters and killing for no valid reason,' said Quadros in tears.


When became man....

The individual should be social-centric and not otherwise. Service should be the motto and gain should not be the sole objective. One should try to develop a few divine virtues in life. At that moment, we wondered whether Quadros has done that in life, but he was quick to read our mind. He said, 'Please don't write. I have rescued 25 to 30 accident victims so far and borne their hospital bills. The many of the survivors come back to me to convey their gratitude. I will share a few such incidents with you.

We were travelling to Miyar to attend an engagement ceremony of my relative who hail from Moodubelle. We saw a boy lying unconscious besides the road. I was in a dilemma whether to help or continue our journey. I arranged for a taxi and send my family to attend the engagement ceremony, while I carried the unconscious boy in my car to a nearby health centre who refused to treat because of head injury. I took him to KMC Hospital, Manipal. He was bleeding profusely and needed blood. The doctors consented to give the blood but insisted on replacement. I volunteered to donate my blood because the group of boy matched mine. The boy recovered and came home with his father to convey their gratitude.

I was returning from Mumbai in my car when its tyre burst on highway. There were no tyre repair shops nearby. I was worried for a while, when a taxi suddenly screeched besides my car. The driver came out out and I felt that I met him somewhere. However, I realised its not the time to chat, but that taxi driver removed the punctured tyre and fixed the spare tyre that was in my car. He then said, 'did you recognize me?' You have admitted my son who met in an accident and we have come to thank you. I run my own taxi now. I got a chance to return your favour. What a co-incident!!

I was returning from Mumbai in my car when I saw a person was rolling over in agony. A few people gathered around him. I tried to take him to a hospital, when they objected and said, 'You carry on your journey. If more people gather, they will thrash you assuming that you have caused the accident.' I daringly carried him and dropped in my car and admitted in a hospital. When I was about to come out of hospital, someone approached me and said, 'Thank you. I am a doctor practicing in Satara, Maharashtra. The victim was fully drunk and did not move despite blaring horn. I did not stop my car fearing they would thrash me.' A few days after I have received a letter, saying that the victim is dead but he is grateful and invited me to come to Satara.

I was going to the inaugural ceremony of presbytery in Panja, when I saw 2 youngsters met in an accident. I dropped my onward journey, instead carried them to Father Muller Hospital in my car. Meanwhile, I have realized that they were clergies who were on their way to attend the same event.

When I was driving my car on Bannanje Road, Udupi, I saw one person lying on the middle of the road, where a crowd has gathered around him. None of them dared to take the victim to the hospital, which I have done it. There are such ample incidents in my life. The people avoid attending courts, shelling money and trouble. If suppose if that fate happens to them....what would one feel.