Malpe fishermen to protest on Nov 22
Pic by Snehalatha, Udupi

Bellevision Media Network


'People from neighbouring states violate rules'
Udupi, 19 Nov 2012: The Malpe Fishermen Association has decided to suspend all activities on November 22, demanding strict implementation of the Karnataka Marine Fishing (Regulation) Act 1986 and ban on illegal fishing of cuttle fish (Kappe Bondas) by Tamil Nadu fishermen.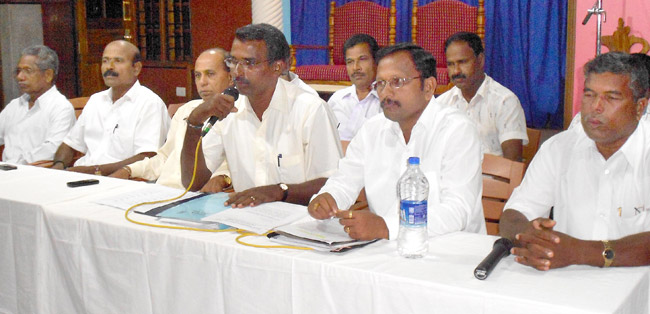 Speaking to media persons on Monday, Malpe Fishermen Association Secretary Vasudev Saliyan alleged that the government has failed to take stringent action against fishing boats from other states that violate all rules and regulations of the Karnataka Marine Fishing (Regulation) Act. The rule prohibiting outside fishermen from fishing within 12 nautical miles is frequently violated by the fishermen from other states, especially from Tamil Nadu.
The Karnataka government is not initiating any stern measure, he lamented.
Salian said on the other hand cases have been filed against state fishermen by Maharashtra and Goa for alleged violations of rules. He stressed that the illegal fishing of cuttle fish by Tamil Nadu should be immediately dealt with. TN fishermen intrude into the banned area and catch cuttle fish. They also destroy the breeds by catching the squids near the boulders. Several attempts to convince them have failed.
The Deputy Commissioner had banned fishing in this area on November 5, 2011 and the state government had issued a notification on unscientific catching of cuttle fish. The deep sea trawlers are fishing off Mangalore and Goa in the entire coast. Hence nearly 1200 fishing boats are anchored in Malpe port that has a capacity for 400 boats. The fishing boats from Tamil Nadu add to the problems. The fishing boats from Tamil Nadu also fish during the 57-day ban period in monsoon , he added.
Salian alleged that the DC is not taking up any initiative to ban these fishing boats. "We have lost trust in all, including ministers and other people's representatives, and they have failed to keep up their promises. Over 15,000 people are expected to take part in the protest. If the authorities fail to act, we will meet on November 23 to chalk out our future course of action," he added.
"The indefinite protest has already begun with many fishing boats in Malpe port suspending their activities from November 12. We have the support of ice plant owners, fish meal owners, fishermen and fisherwomen, tempo drivers and also workers in the boat," he added.