Sharjah: Mayura award conferred on Sudhir K Shetty at the 11th Anniversary grand celebration of KSS
By Shodhan Prasad

Pics by Alvin Mendonca

Bellevision Media Network


Sharjah, 01 June 2013: The coveted Mayura Award has been conferred on Sudhir Kumar Shetty COO (Global) UAE Exchange Centre in a glittering ceremony held at the 11th grand celebration of Karnataka Sangha Sharjah on Friday. The grand event was held at Basma Ballroom, Ewan Hotel, Sharjah on 31st May 2013 under the able leadership of dynamic Satish Poojary.
The programme started at 11 AM with MC Rohini announcing the opening up of the grand programme with hoisting of Karnataka flag by President Satish Poojary along with his Committee Members presence, while 'Jai Bharatha Jananiya Tanujaathe' national song being lively sung melodiously by Sonia Gautham, Sarala Raghuprasad, Yashodha Ganapathy Bhat, Revathy Gururaj Rao, Shuba Arun & Deepa Raghunandan. The background score was played by Rajesh Kuthar & Dhanush Ananth. The audience saluted the national song standing with dignity throughout the song.
V.P. Nityananda of KSS gave a pleasing welcome speech and soon MC's Rohini & Rajesh Kuthar took over the stage welcoming and introducing the third MC who was flown in directly from Bangalore. It was a surprise when they announced her name, RJ Shruthi of Big FM who later popped up to the stage from the audience side and introduced the Nataraja Nritya Shala Team who were also flown from Bangalore especially for this programme.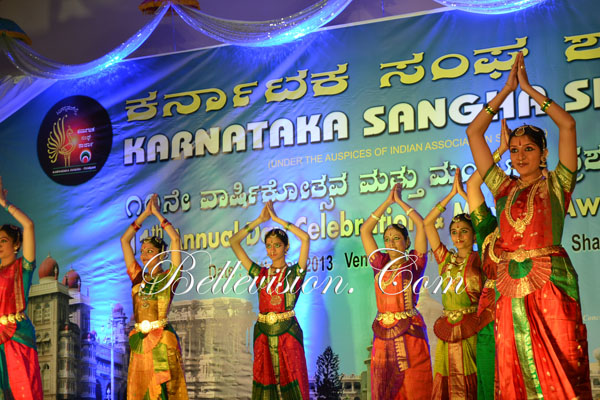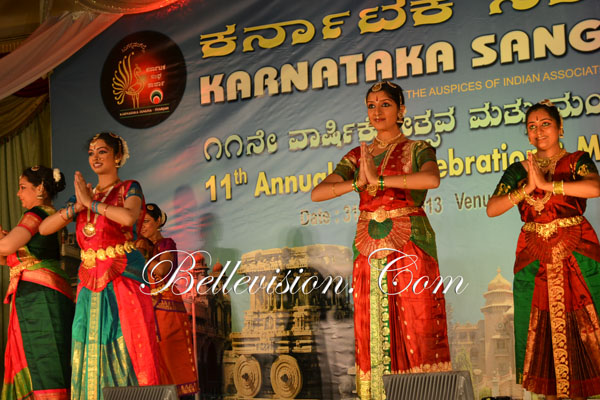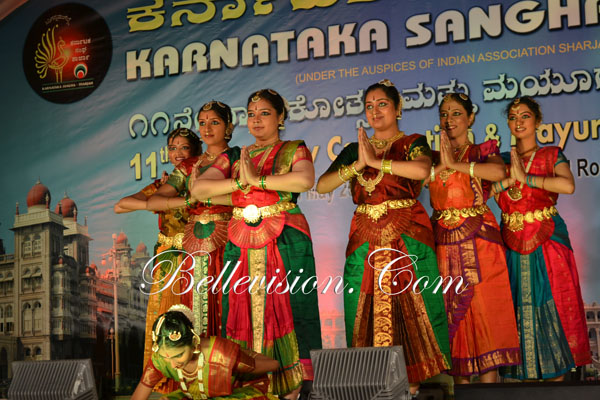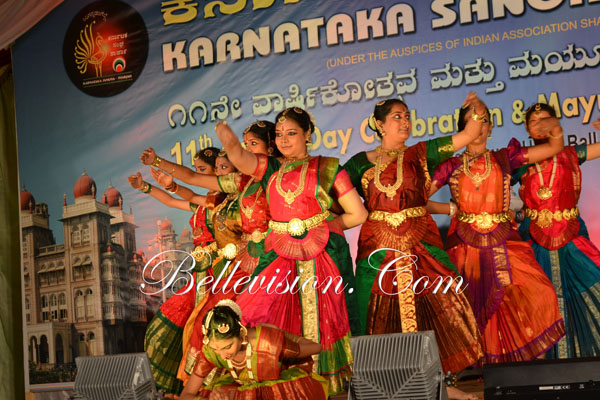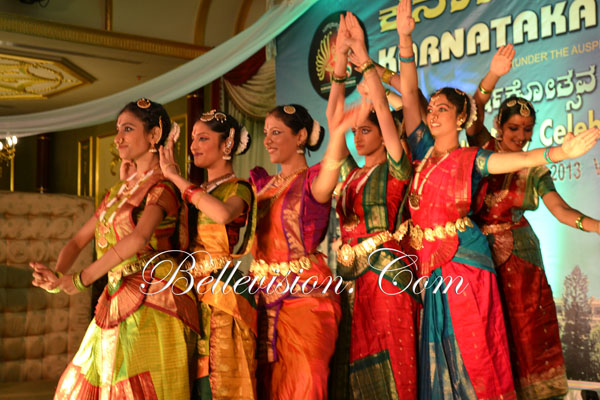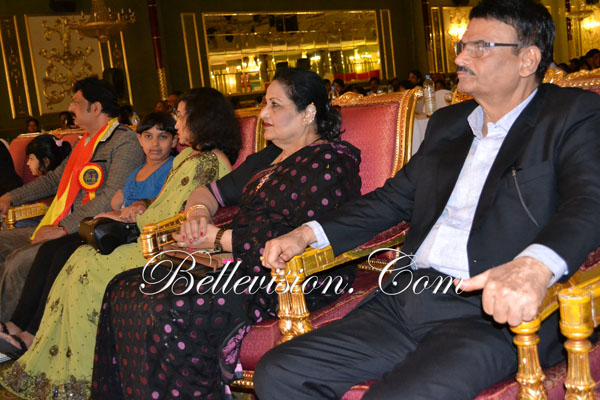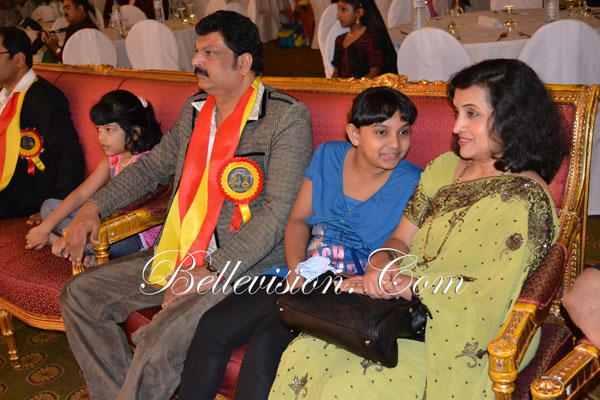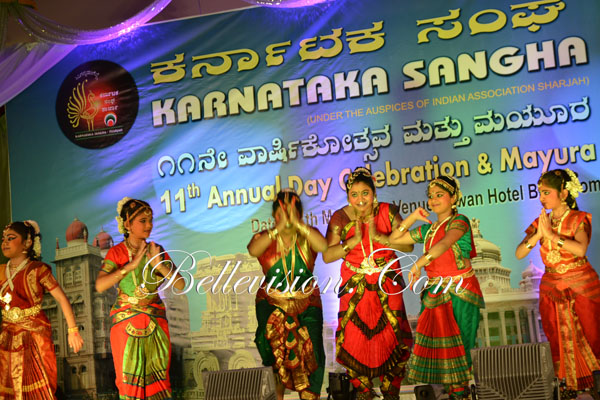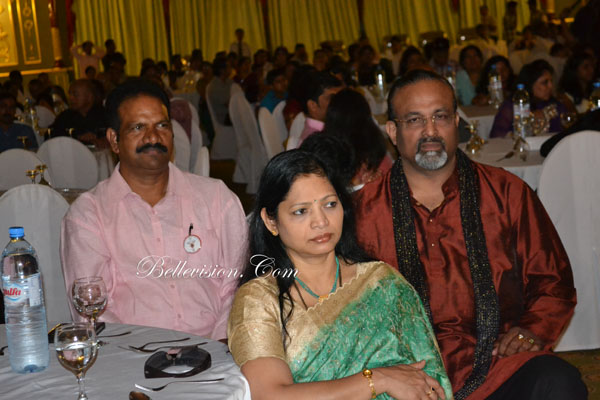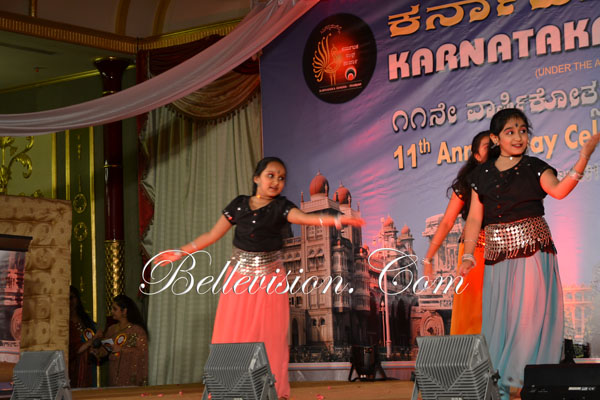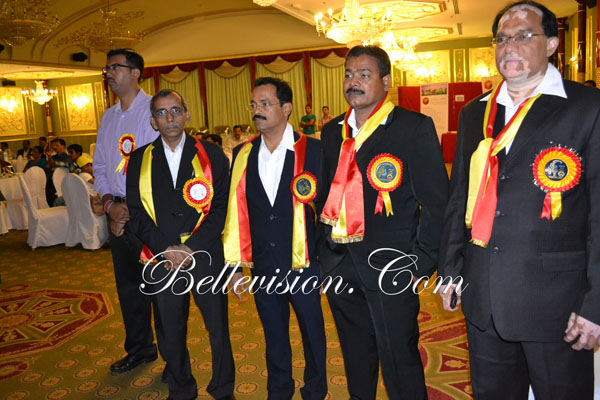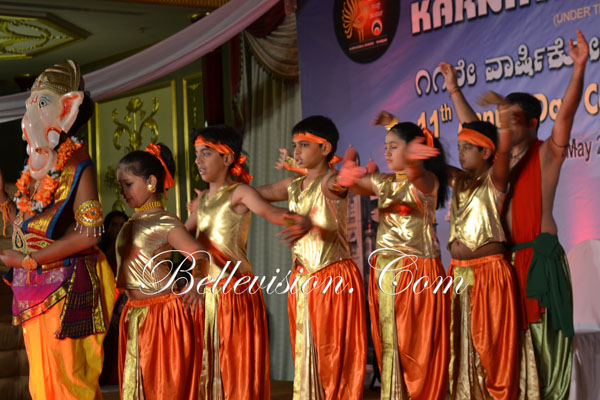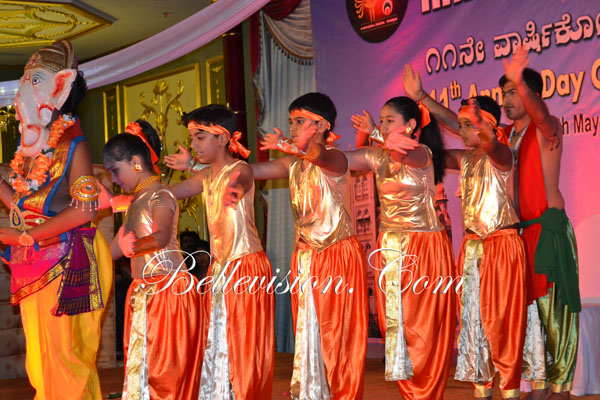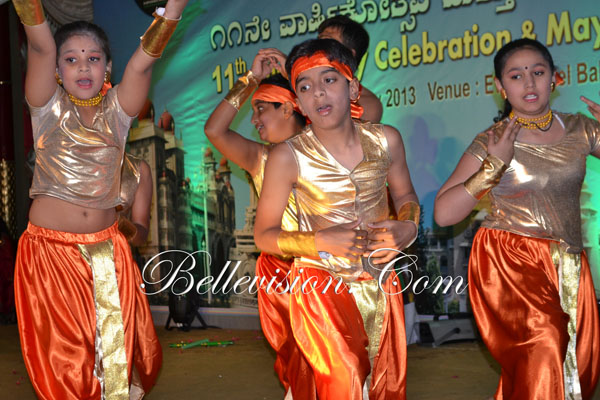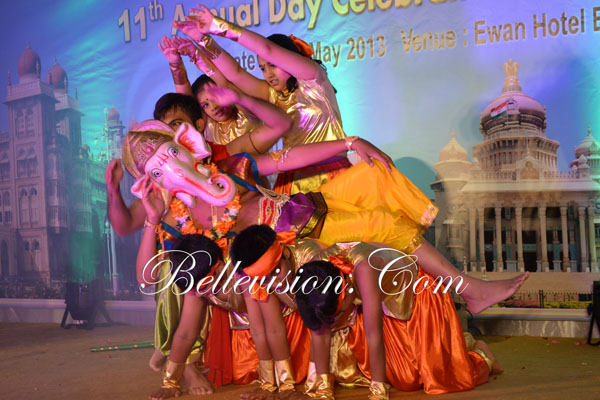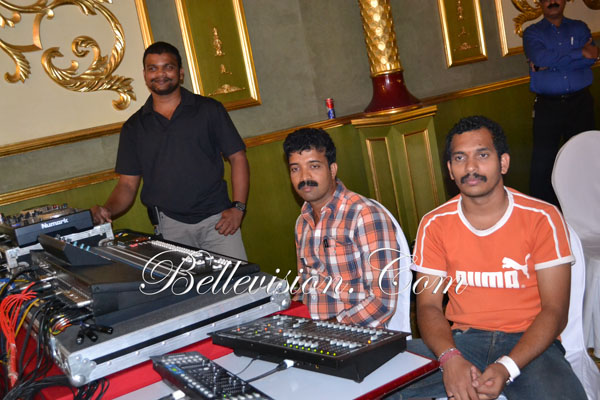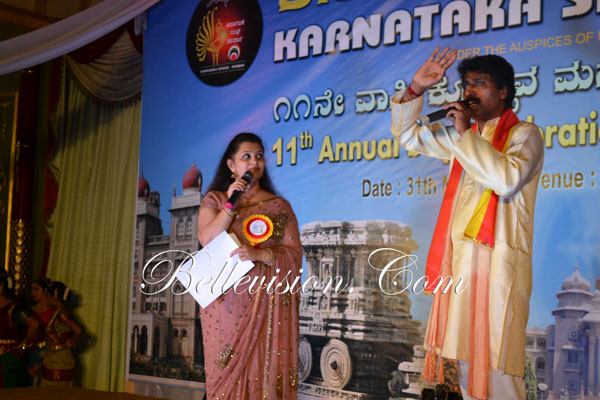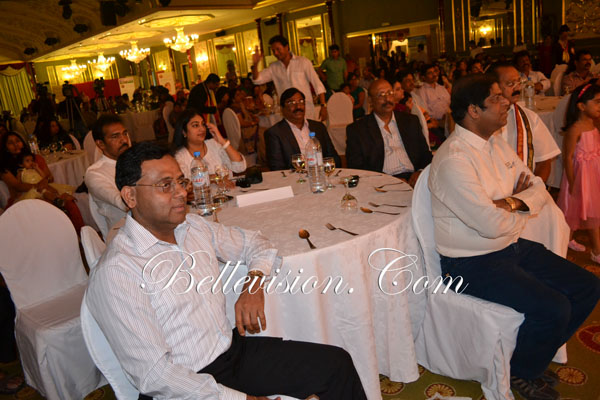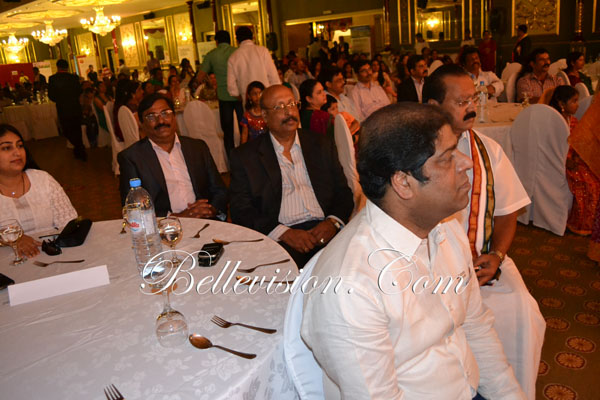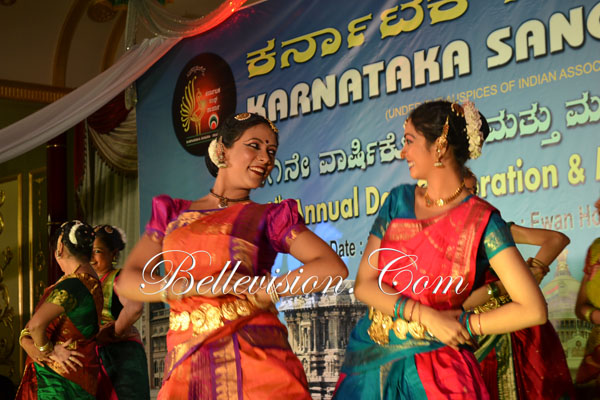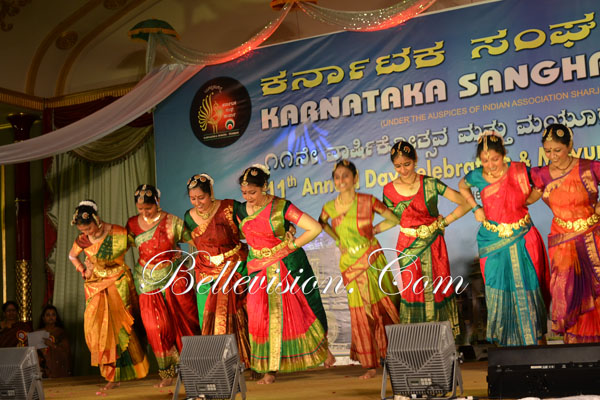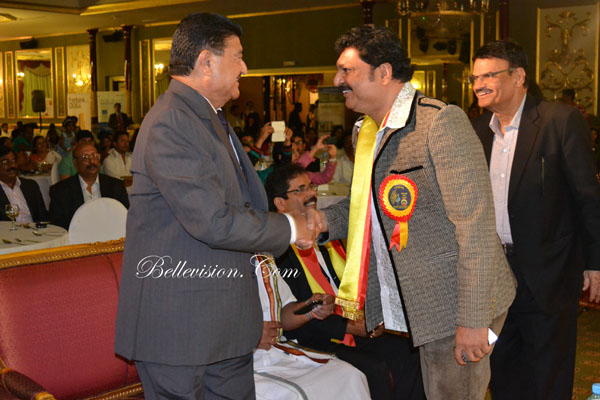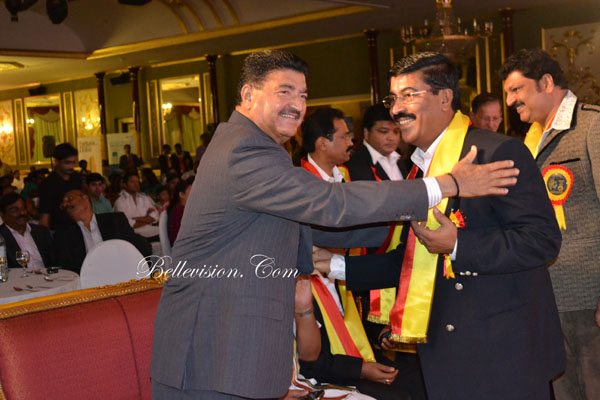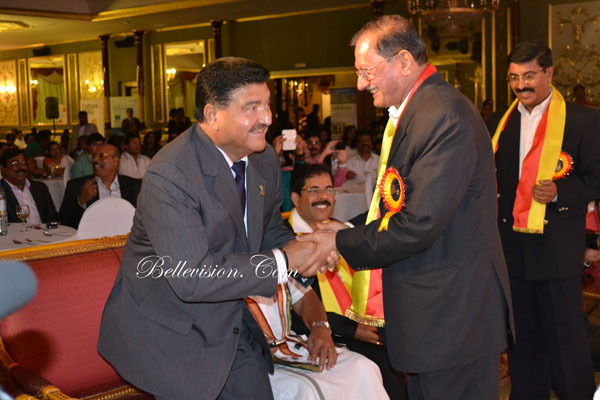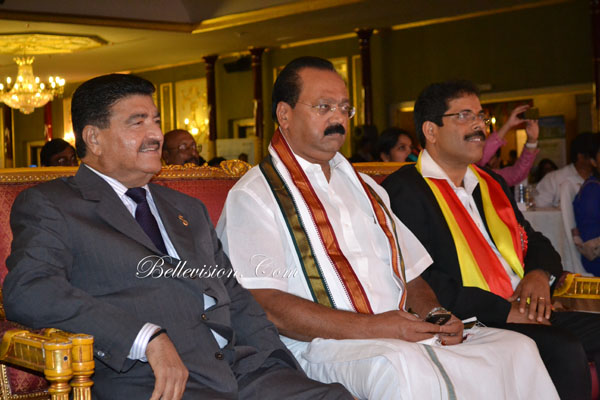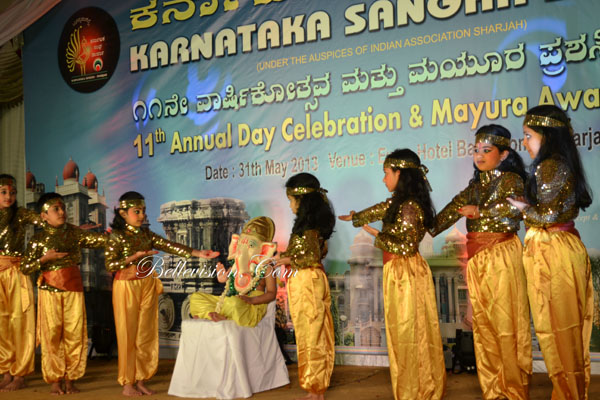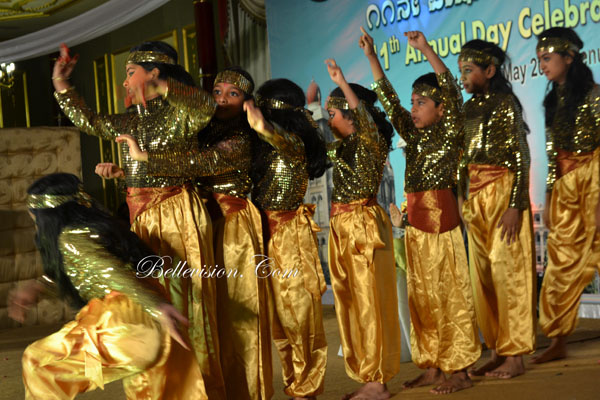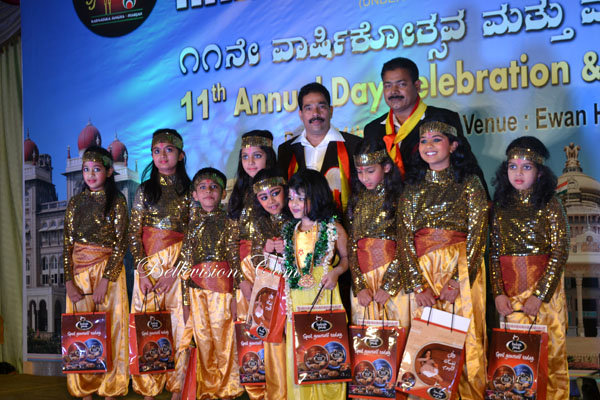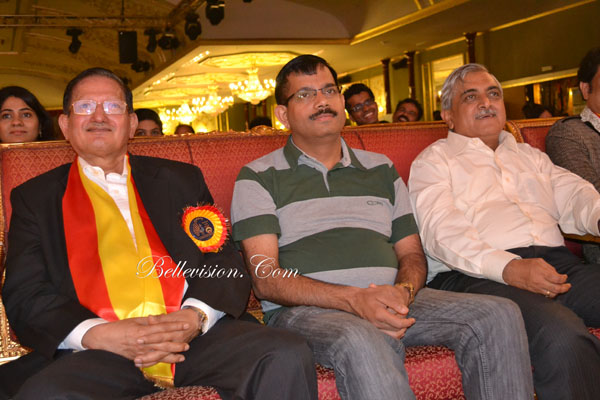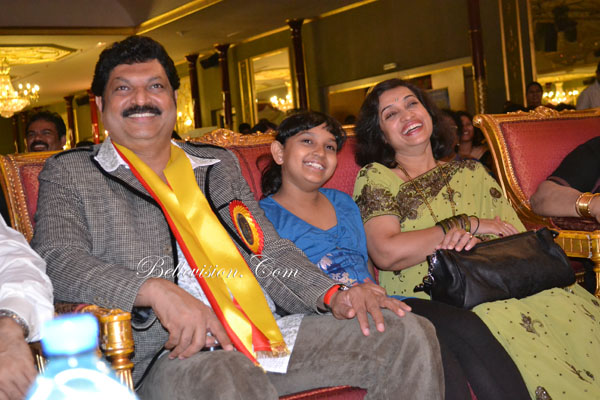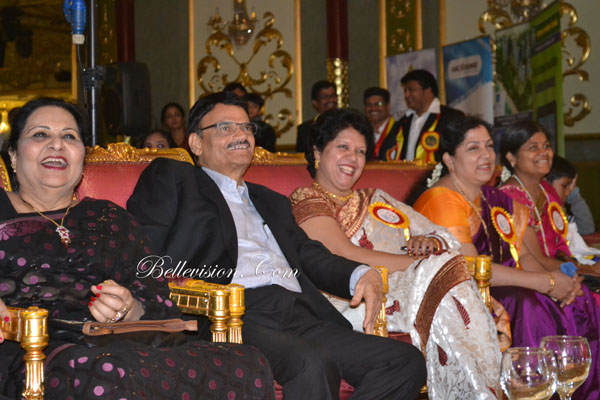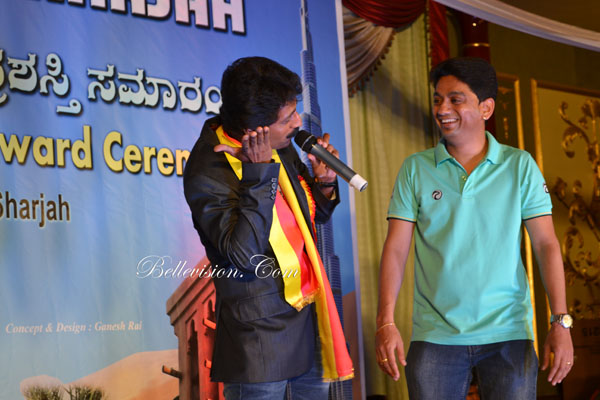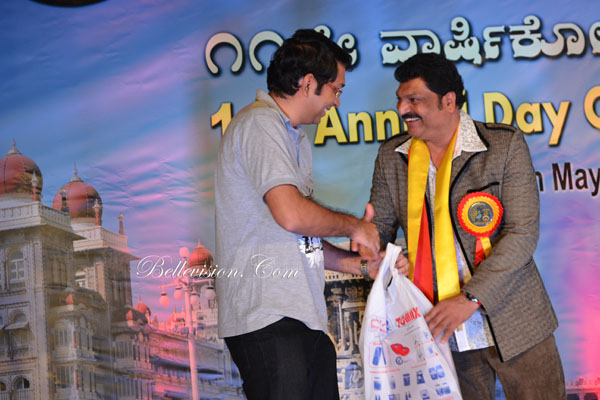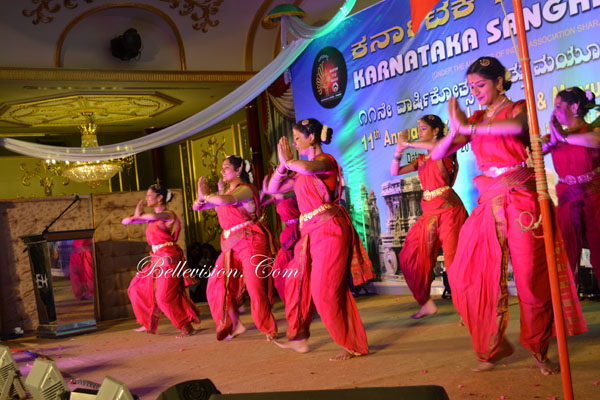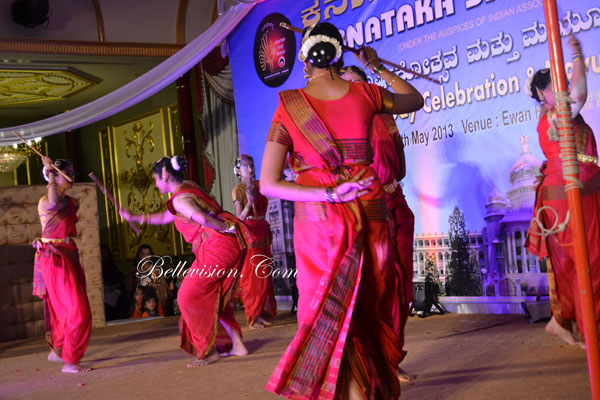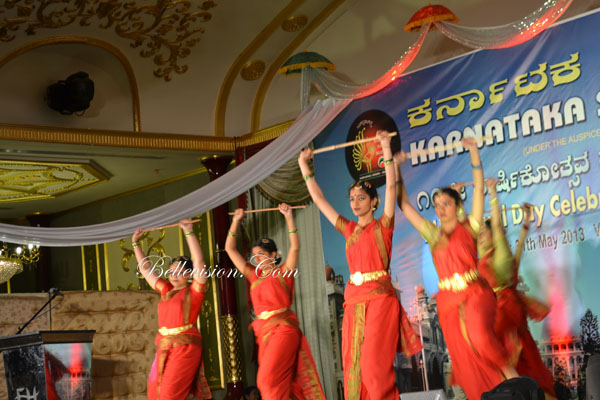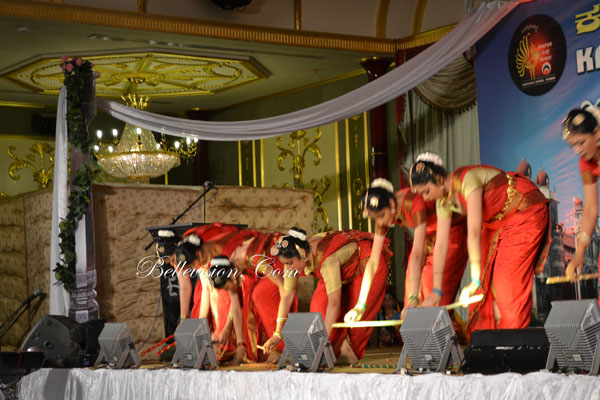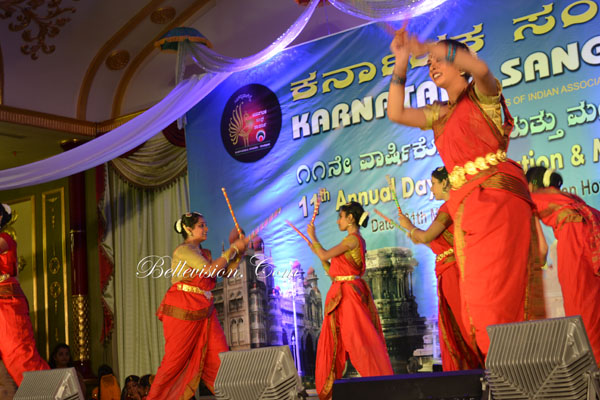 The dance team from Bangalore under the direction of choreographer Vasundhara Sampath Kumar presented 'Pushpaanjali & Ganesha Stuthi' with Pallavi Manjunath, Smrithi Muralidhar, Meenakshi Kishan, Aishwariya Rao, Ashwini Vishwanath, Sahana Rao, Shruthi Srinivasan & Bhoomika Rajkumar which gave a initial classical touch to the programme.
Followed was 'Welcome Dance' by Jasmitha & Group comprising of Prapthi Jayanand Pakkala, Shanil Sharath Shetty, Shefali Laxmidas, Pranamya Prasanna Belvai & Jasmitha herself. The programme got a boost with the electrifying 'Jai Ganesha Dance' by Praveen Shetty & Group comprising of Prarthan Vishwanath Shetty, Bnihal Satish Shetty, Virat Manohar Hegde, Amisha Mahesh Shetty, Adithi Dinesh Shetty, Sahil Satish Shetty & Praveen Shetty himself dancing and choreographing the dance.
'Shambo Tanaya' was later presented by Bunts Dubai with Ananya Naveen Alva, Prapti Jayanand Pakkala, Shanell Sharath, Rithika Rajpal, Rashmika Rajpal, Ashish Harsh, Siya Harsh, Nilesh Narayan, Shreya Prasanna, Ayush Santosh & Prapti Jayanth, choreographed by Jasmitha.
Troupe Nataraja Nritya Shala later presented a 'Suggi Kunitha' a folk of Karnataka with the choreography of Vasundhara Sampath Kumar well presented. Followed was 'Krishna Nee Begane Baaro' a semi classical dance presented by 'Klassical Rhythms' beautifully by Yukta, Tanvi & Smrithi under the choreography of Rohini Ananth. Later again Nataraja Nritys Shala Troupe presented 'Taaye' folk dance under the direction of Vasundhara Sampath Kumar brilliantly.
It was nice to see little feet's of a group of 22 children dancing 'Lambaani' which was again a presentation of 'Klassical Rhythms' under the choreography of Sapna Kiran & Rohini Ananth well presented with Aarushi Santosh, Adithi Kiran, Manasa Venkateshwara, Disha Dinesh, Sharanya Suresh, Ananya Rajan, Abhinav Kiran, Taksha Dinesh, Adithri, Pragna, Divya, Sanjana, Sparsha, Shreya, Shrushti, Yaasna, Tia, Gowri, Adithi, Taaruki, Sannidhi & Anvi smiling shaking their body to the tune of Lambaani song of north Karnataka appreciated by the audience with huge round of applause. This was followed by a skit by Gammath Kalavidaru comprising of Ramesh Suvarna, Sunil, Prakash Shetty, Monappa Suvarna & Rajesh Kuthar.
Next was a very impressive 'Navilu Kunitha' by Nataraja Nritya Shaala students dancing to the tune of the famous instrumental flute music of Remo Fernandes which enthralled the audience. RJ Shruthi beautifully announced this and introduced the choreographer Vasundhara Sampath Kumar. This was followed by a dance to the tune of Hindi mix being presented by Mogaveers UAE comprising of Yukta, Manvi, Tanvi, Hetal, Naisha, Harsha, Laavika & Jathin which was flawlessly, smilingly performed by these little ones and appreciated with a big round of applause.
Before lunch was a brilliant mimicry performance by Prajwal who enacted in dance form the actions of Bollywood's Rajesh Khanna to Hritik Roshan and from Sandalwoods Rajkumar, Vishnuvardhan, Rajnikanth and many, with more than 20 actors steps were shown in non-stop tireless attempt until the organisers stopped it due to shortage of time frame for other programmes.
Sumptuous Buffet Lunch was served to the audience who while savoring were enjoying the live singing in karaoke by many enthusiastic resident as well as visiting singers who kept the programme in continuity.
Soon after the lunch was formal stage programme and Ganesh Rai, Ex-President of Karnataka Sangha Sharjah took over the stage and conducted the programme flawlessly in his own real Kannadiga style.
Mark Denis, Patron of Karnataka Sangha Sharjah along with President Satish Poojary and Committee Members, lead the procession of Guests of Honours with live drums, women associates with flowers and flags leading to the stage. The guests included Padmashree Dr. B.R. Shetty, Mayura Awardee Sudhir Kumar Shetty, Y.A. Rahim, President of Indian Association Sharjah, Paulose of Seon Ashram, Pravin Shetty of Fortune Group of Hotels, Satish Venkataramana of Chilly Willy Trading and other Executive Members of Karnataka Sangha Sharjah who were invited on to the stage who did the lighting of lamp while 'Haccheeve Kannadadha Deepa' was sung live on the stage. Dr. B.R. Shetty & Y.A. Rahim were honoured with shawl and flowers by Mark Denis & Satish Poojary.
President Satish Poojary welcomed the gathering individually mentioning all the Sponsors, Community Organisations, Media Representatives and the audience.
Later Ganesh Rai announced the 'Mayura Awardee 2013' Sudhir Kumar Shetty who was invited on to the stage to receive the award. He briefed the good deeds of Sudhir Kumar Shetty and read out the 'Sanmana Pathra' while inviting Dr. B.R. Shetty to honour him with Shawl & Mysore turban (peta), Y.A. Rahim to present flower bouquet, Shashikant Kannagi with fruits, Mark Denis with 'Mayura Award' and 'Sanmana Patra' with Satish Poojary who felicitated Sudhir Kumar Shetty with all the honours. Sudhir Kumar Shetty in response to the honours spoke nicely and bestowed the award in the name of all those who supported him in his career so far in reaching this stage of honour. He remembered his old childhood days and schooling and thanked B.R. Shetty for keeping faith in him and appointing him to this position with which he sincerely carried on his duties to bring fame to the group company. He also remembered the contribution of the Kerala community, as he comes from the bordering town of Kasaragod district, who has attributed much in his childhood days and also remembered the discipline of his college where he graduated.
Late Umesh Nanthoor, the first President of KSS and who initiated the Mayura Award was remembered during the programme.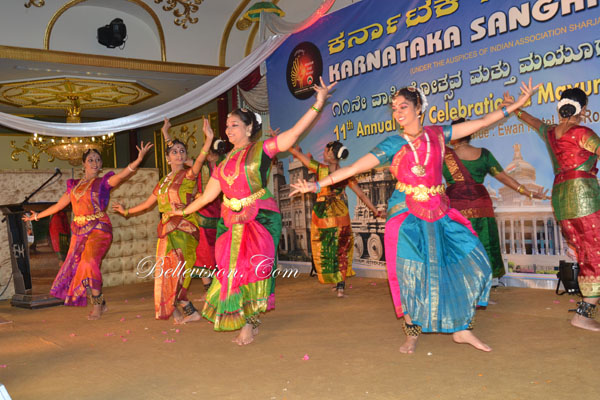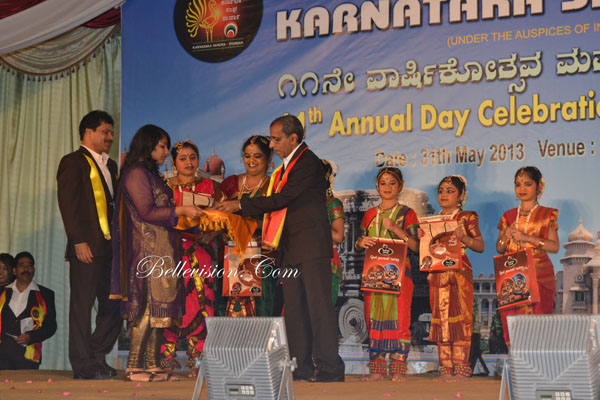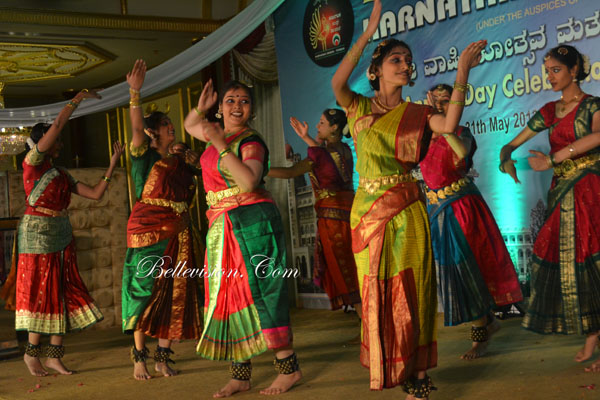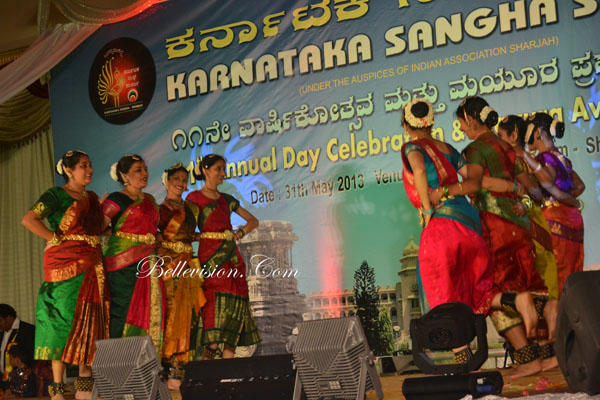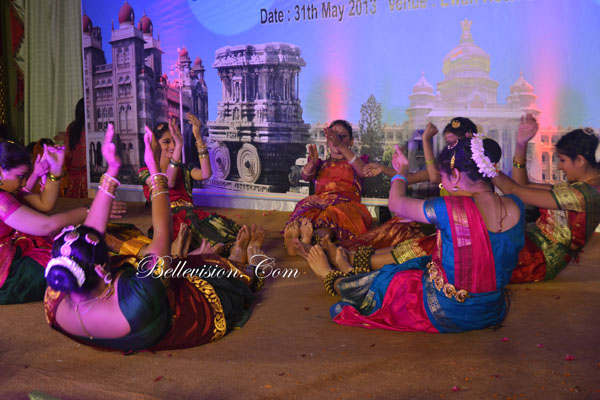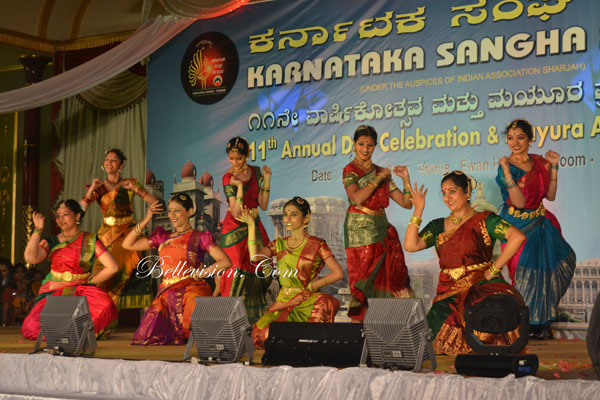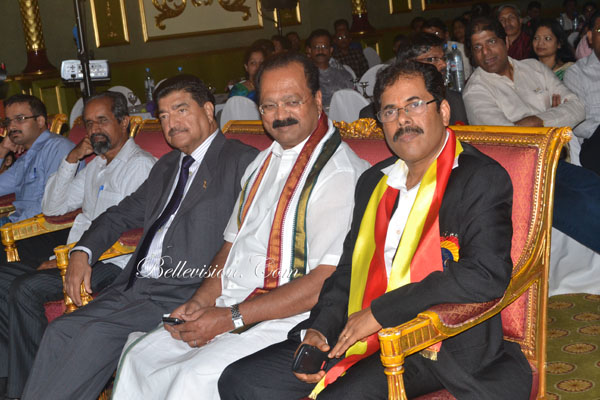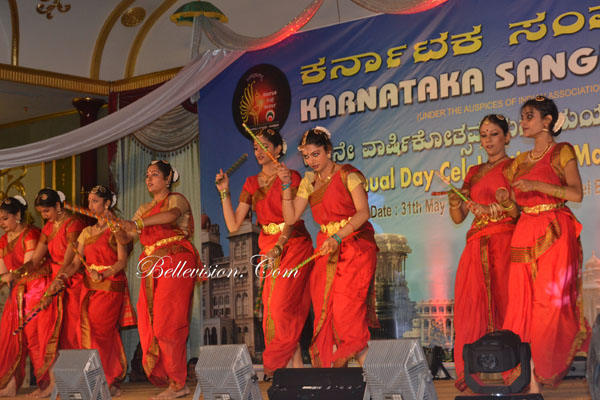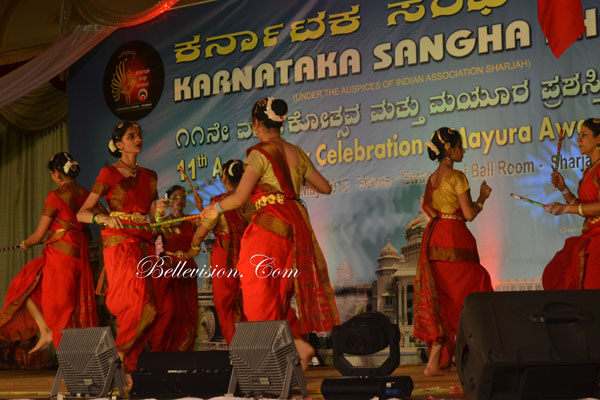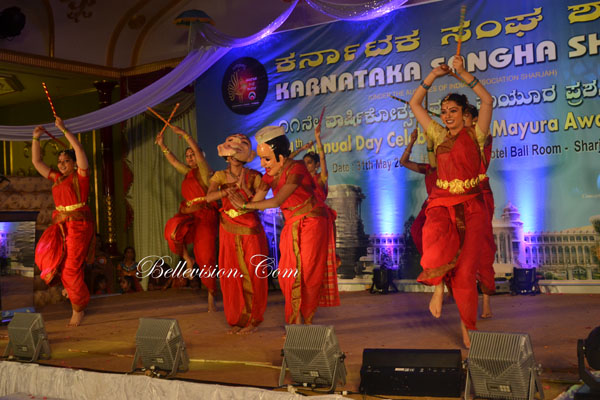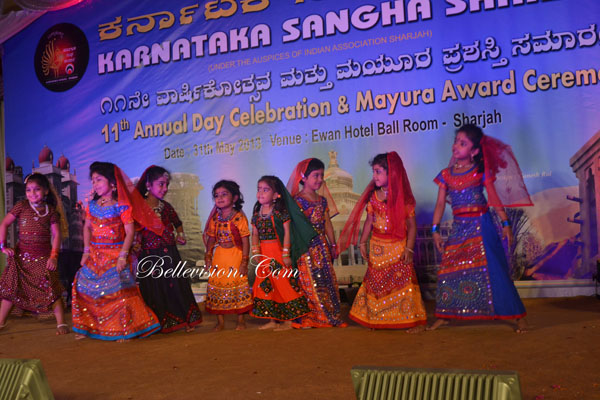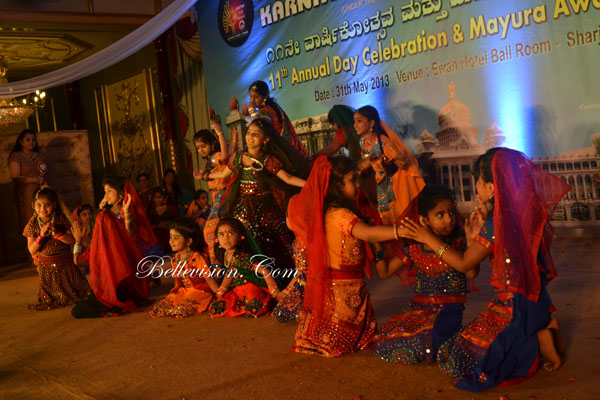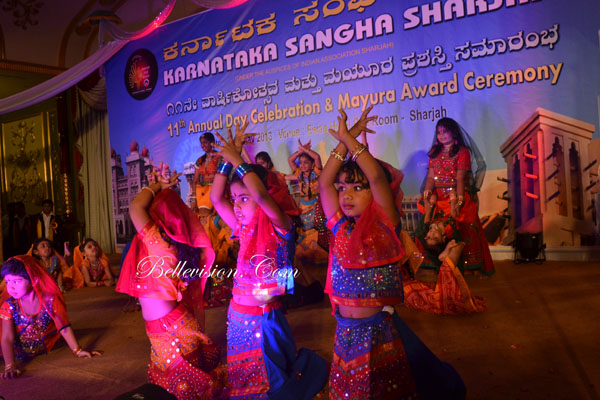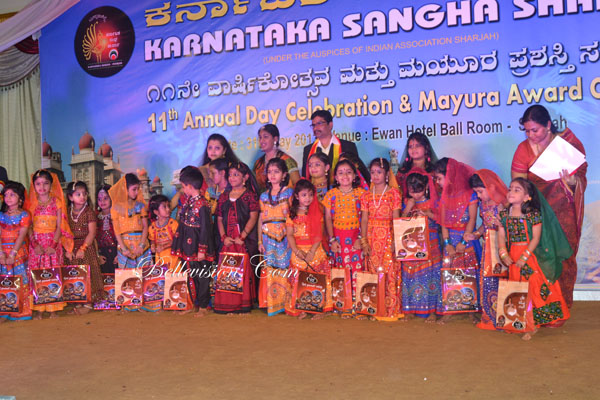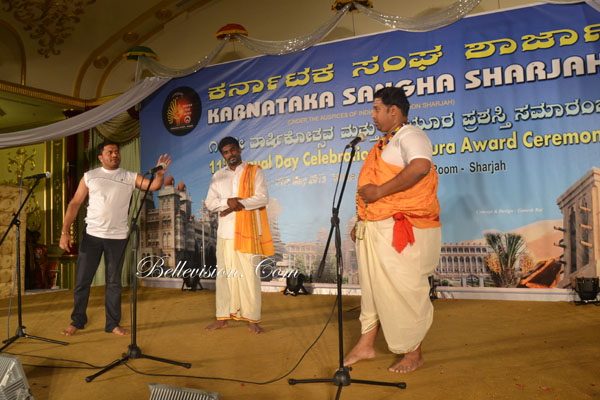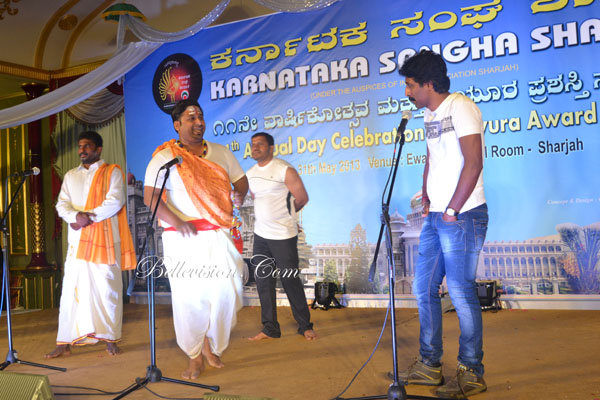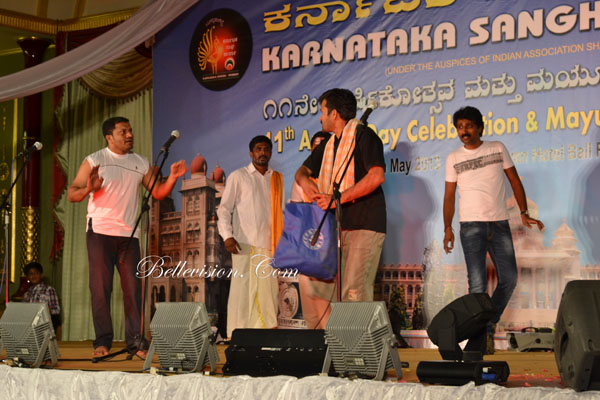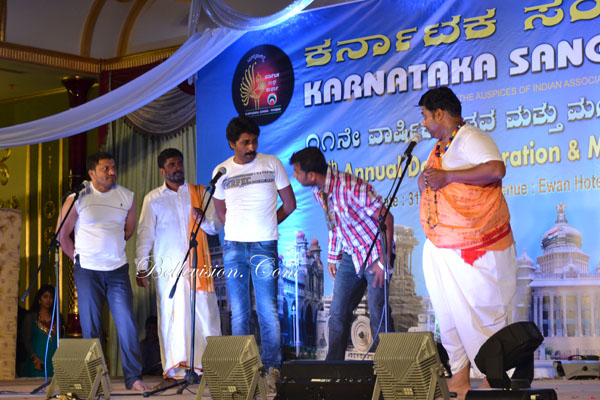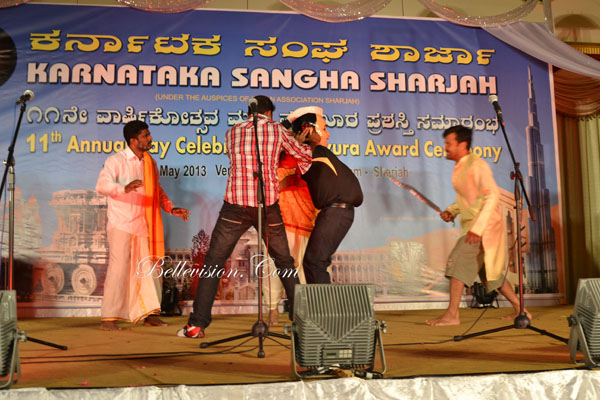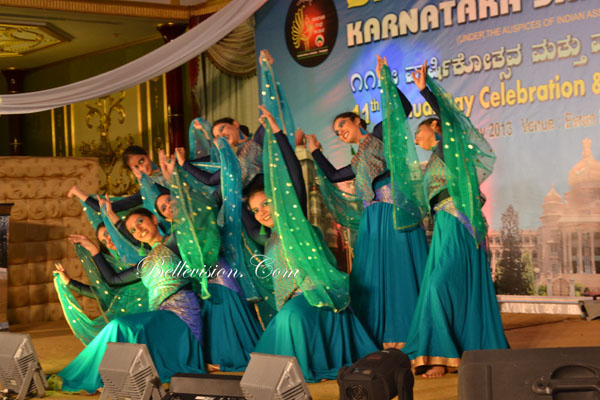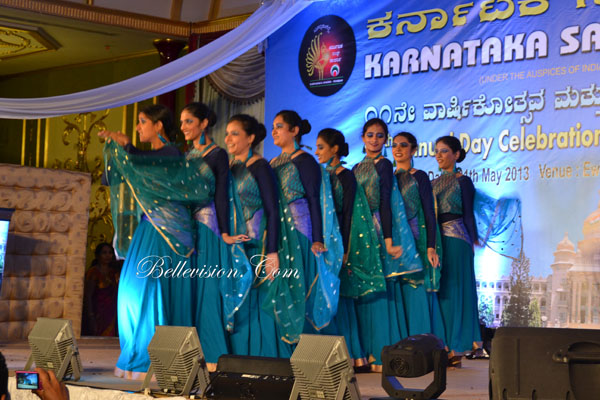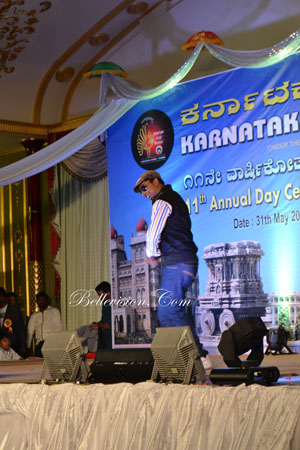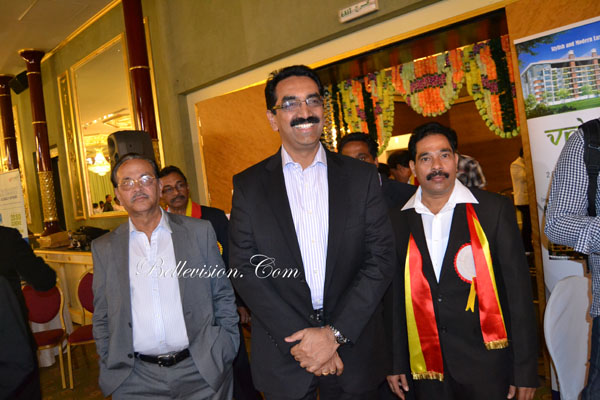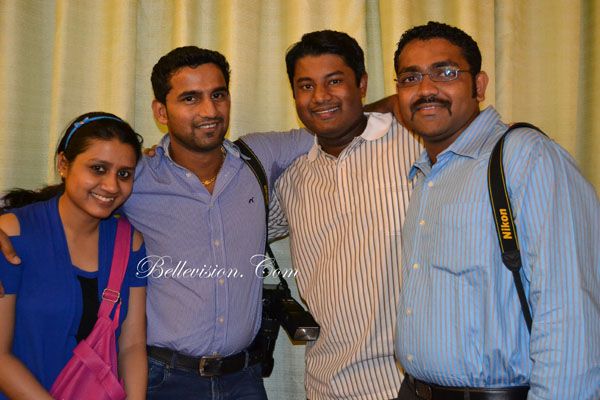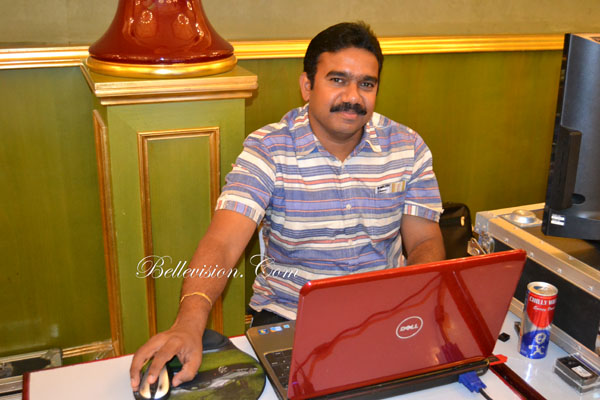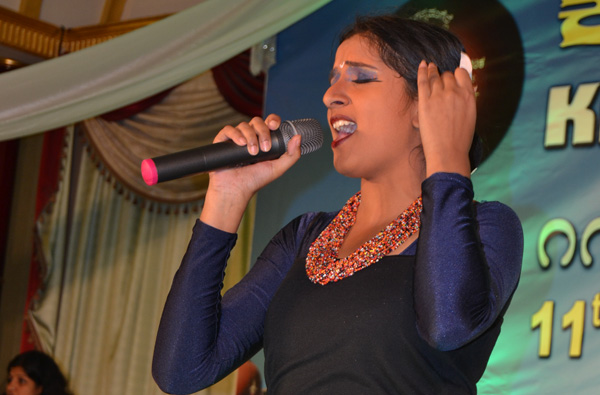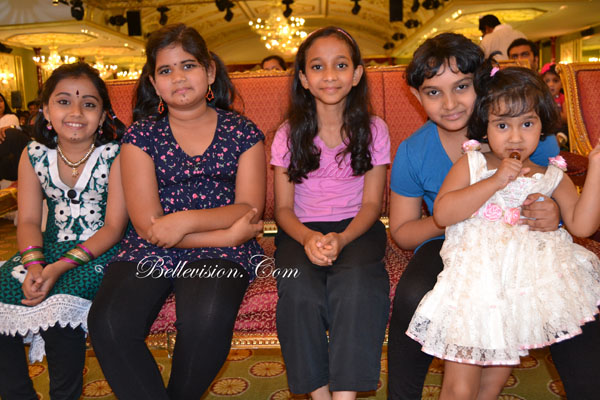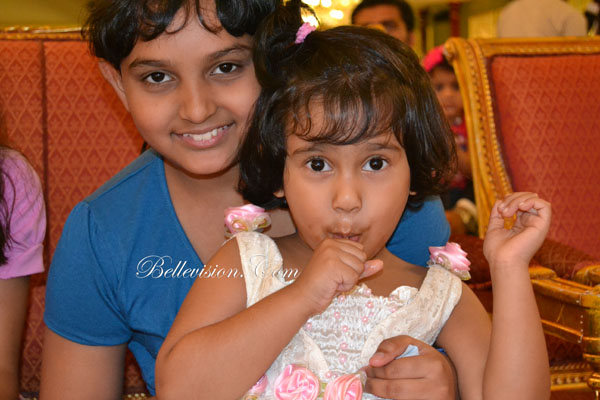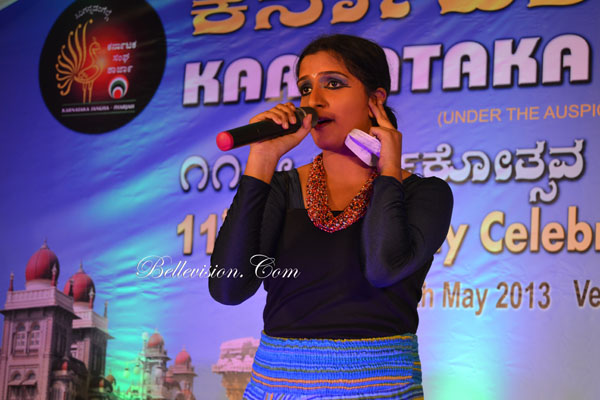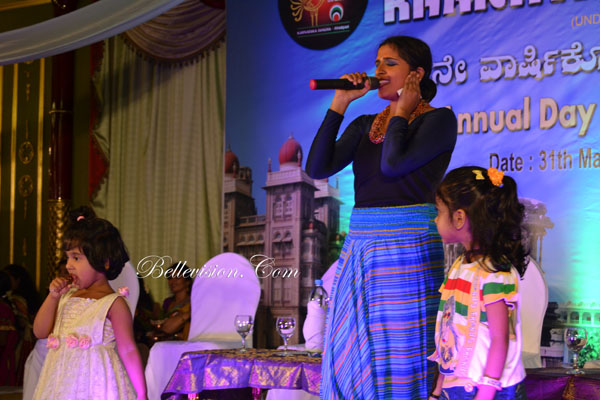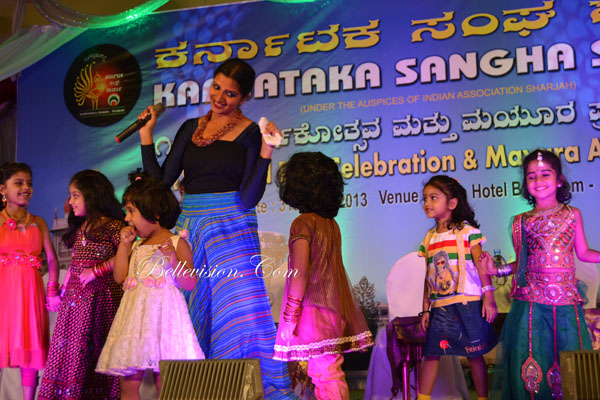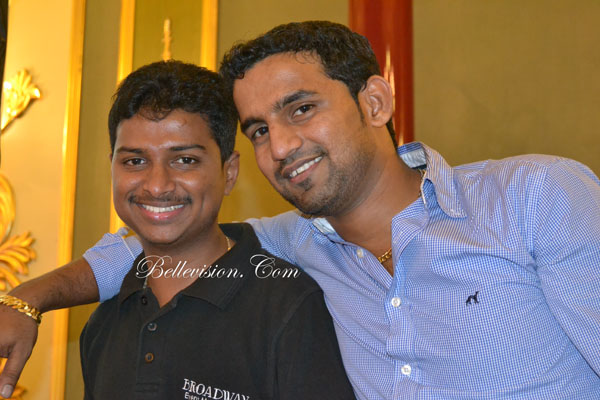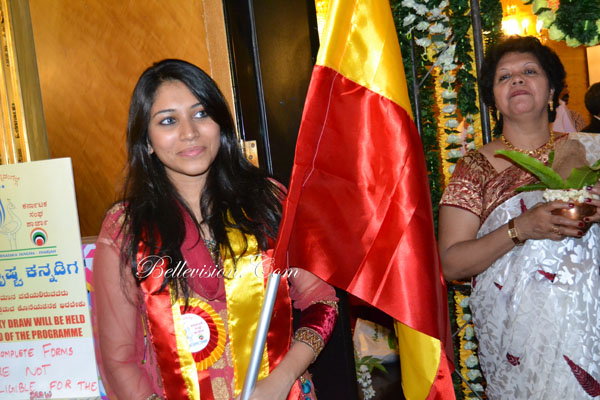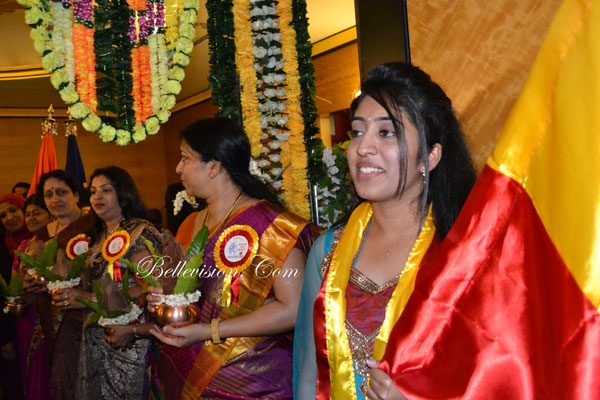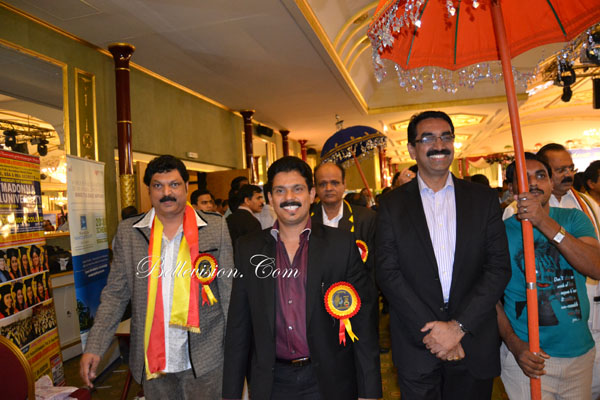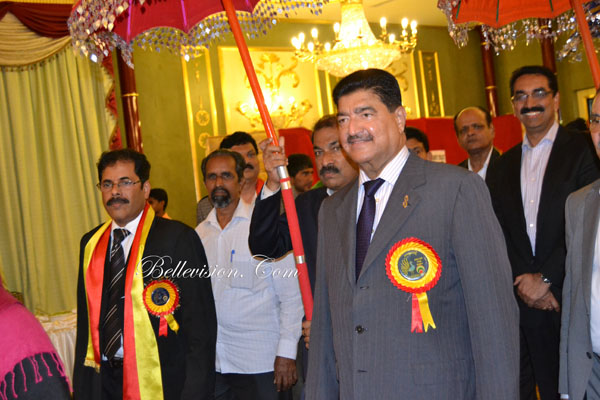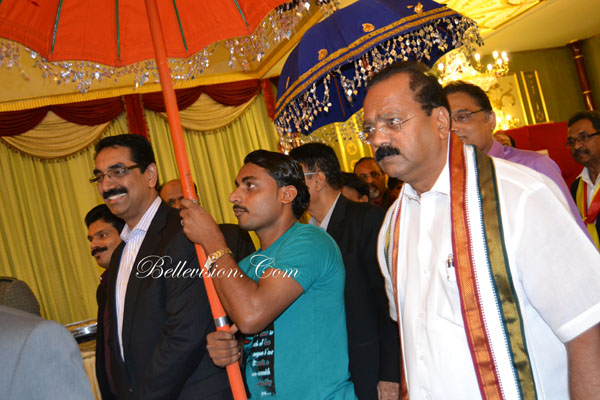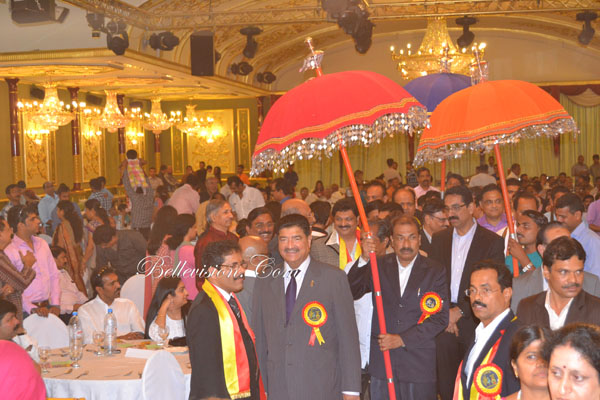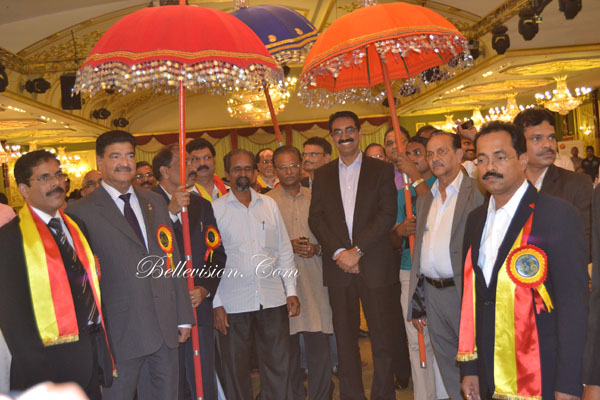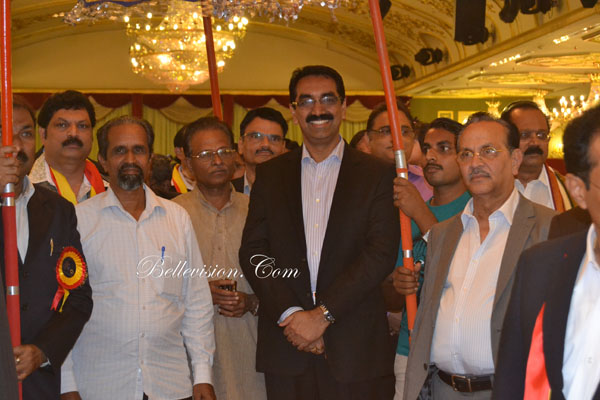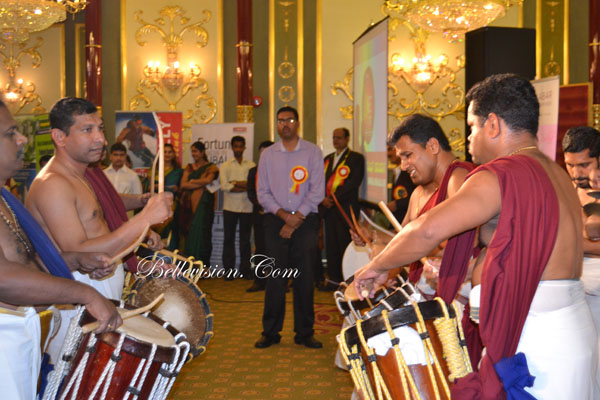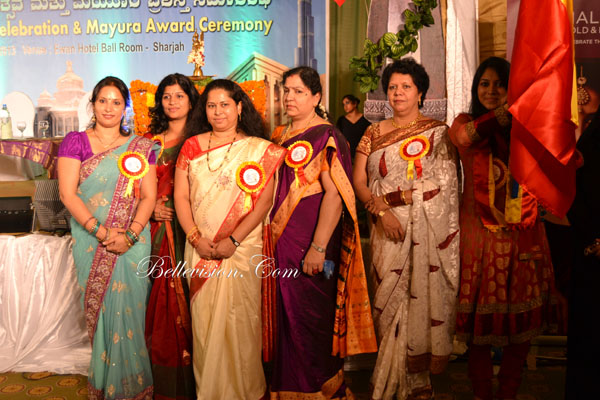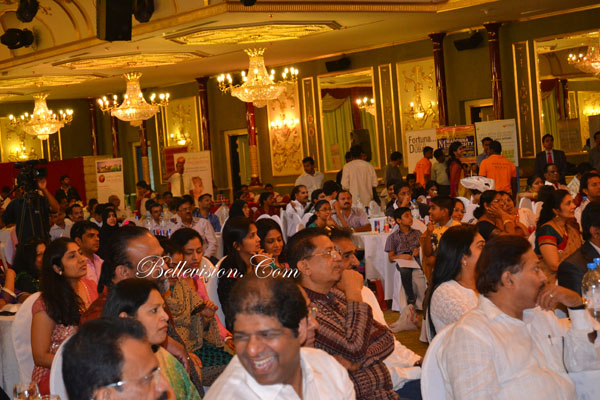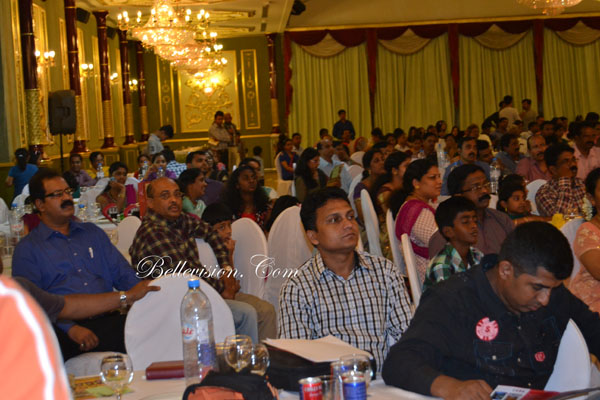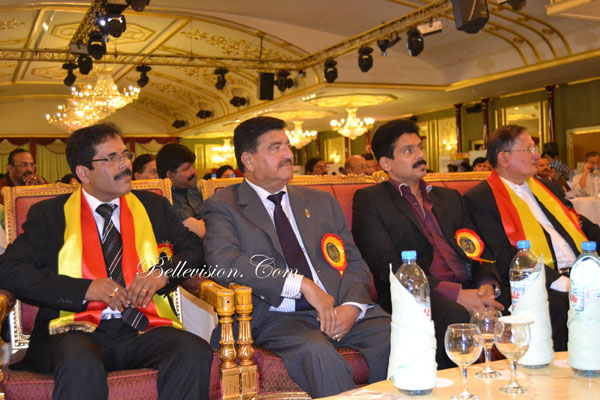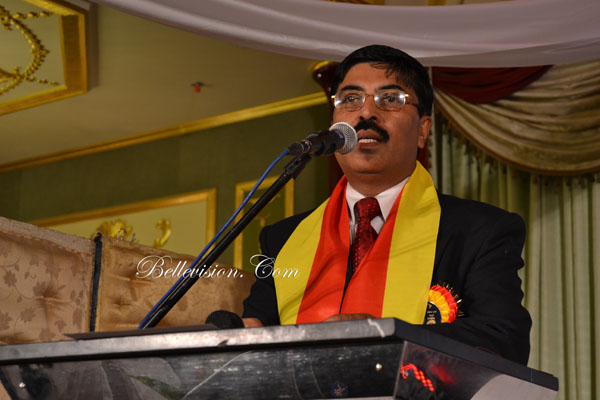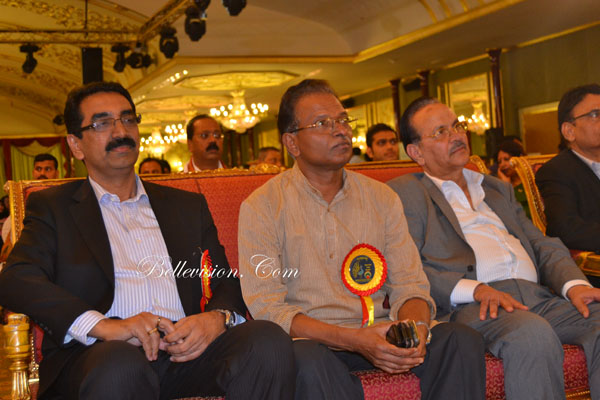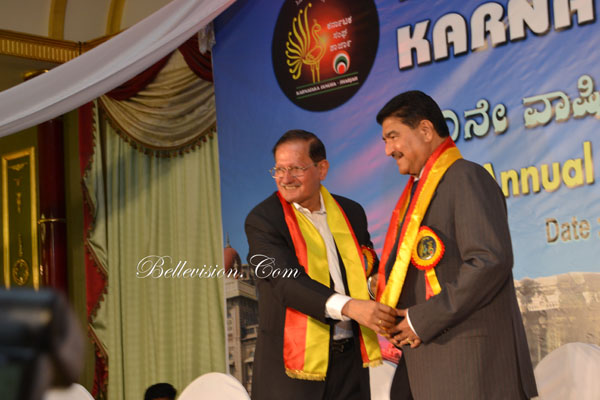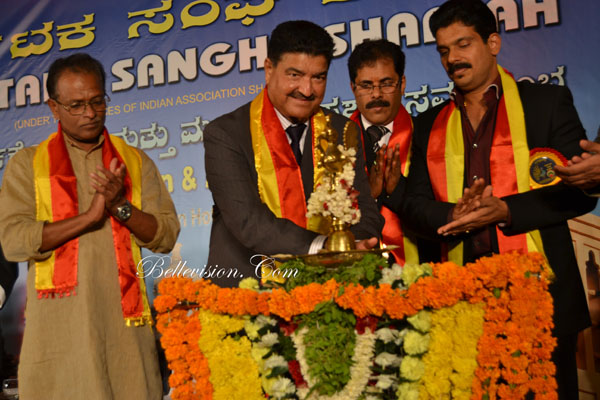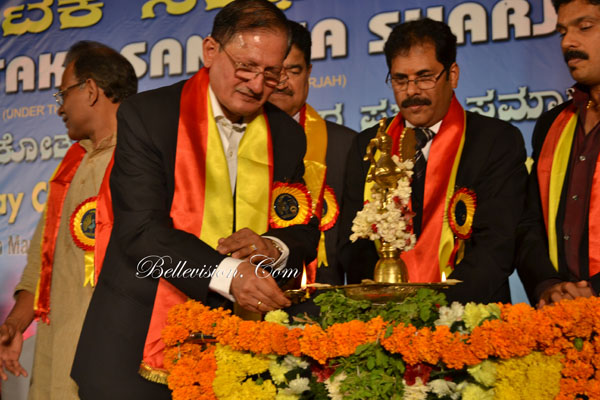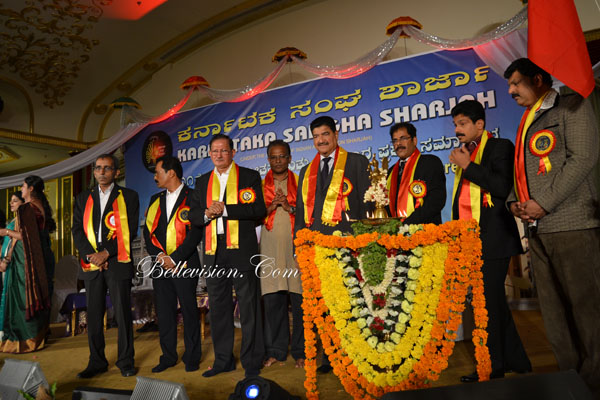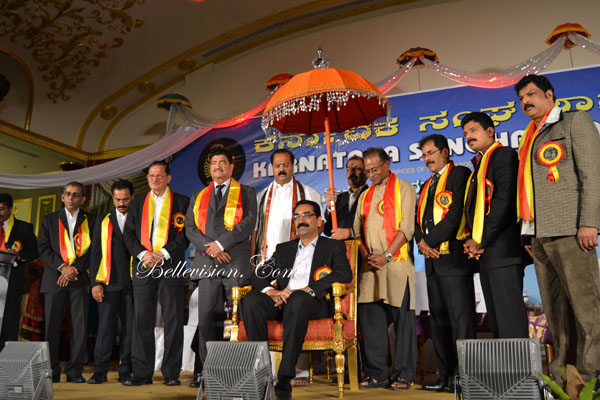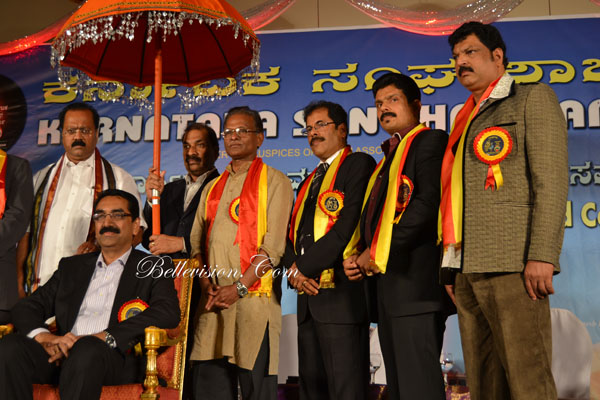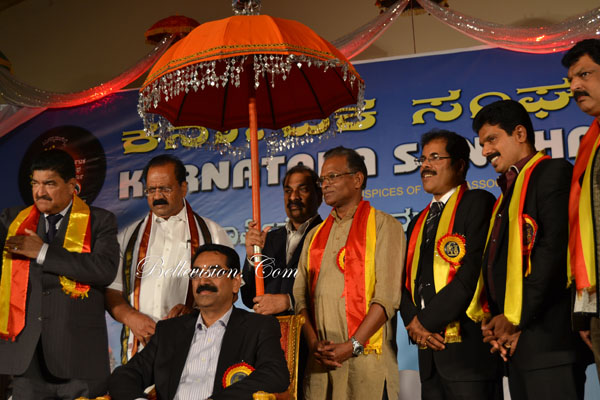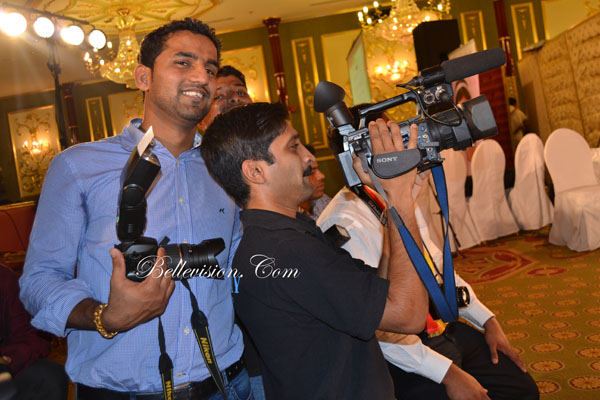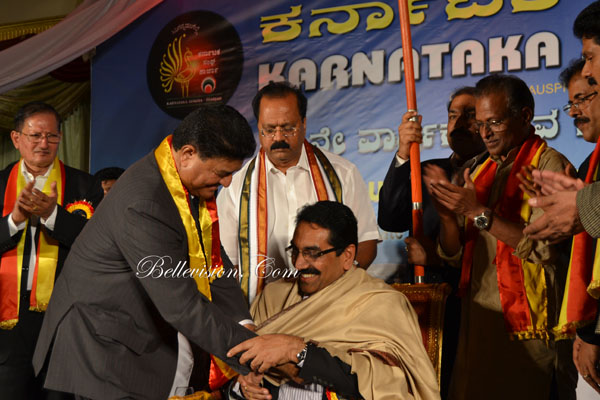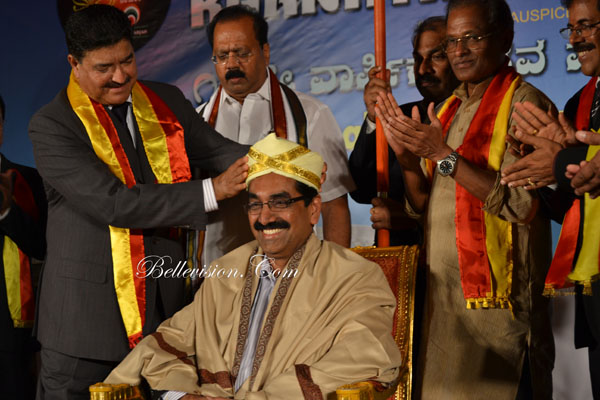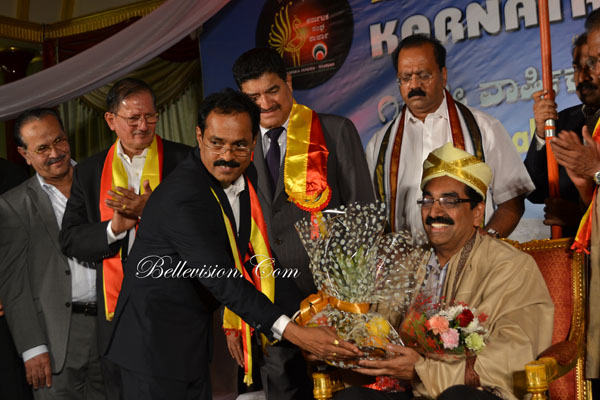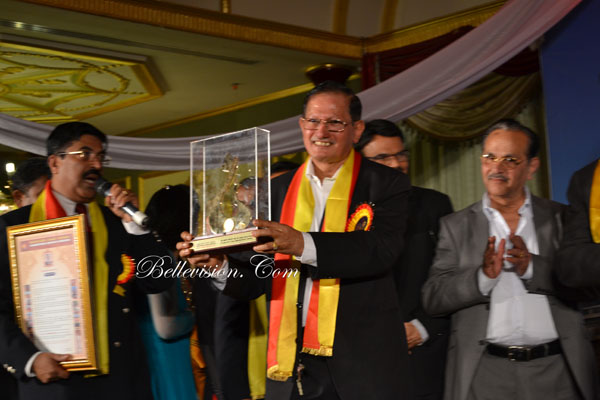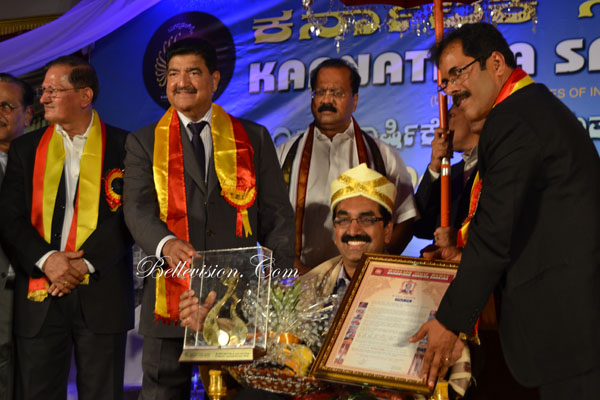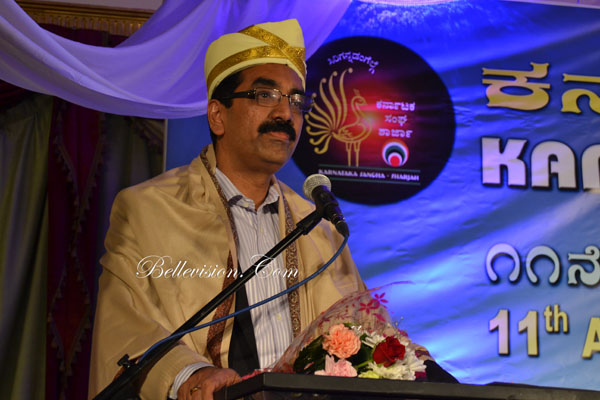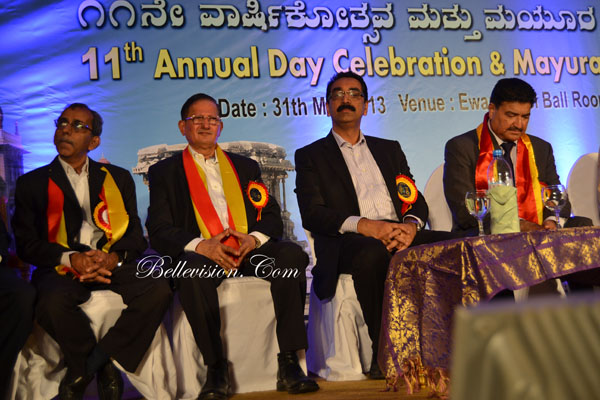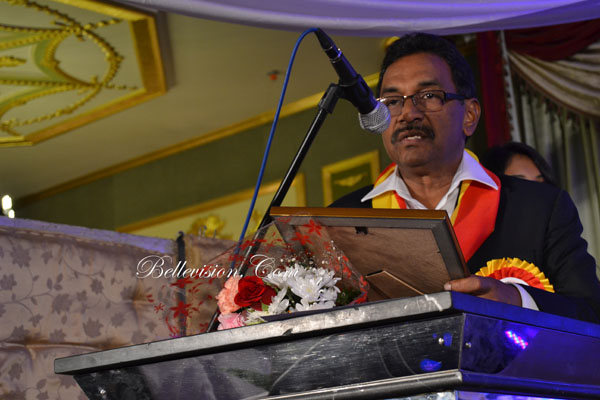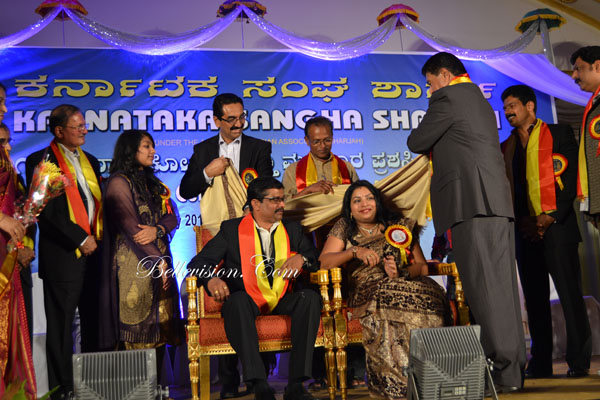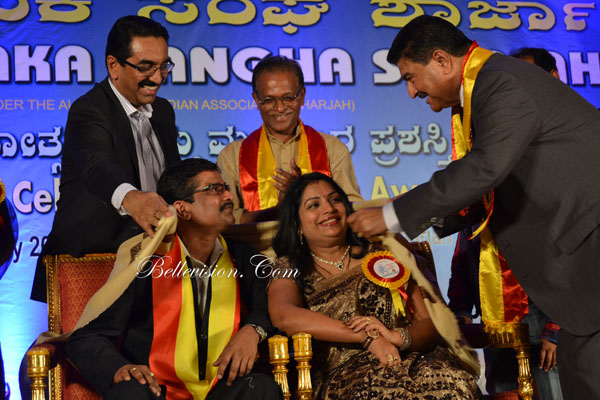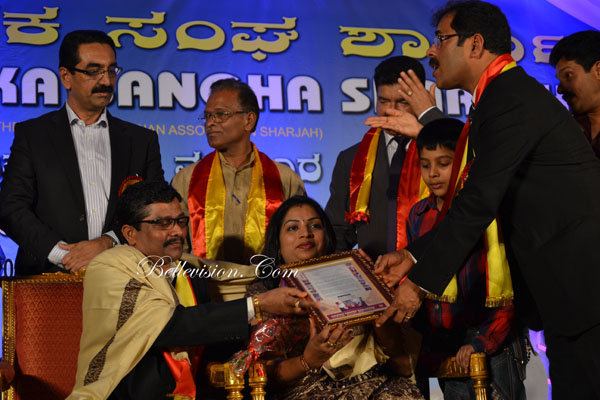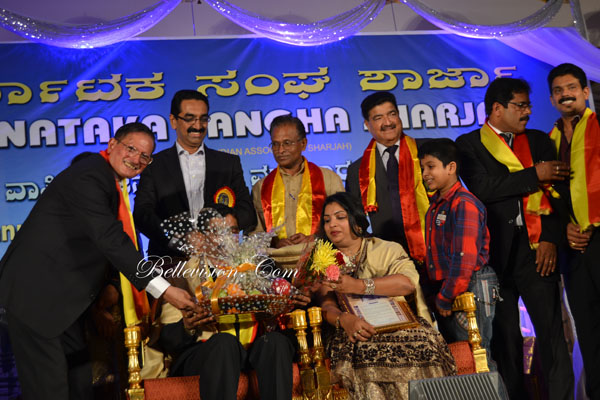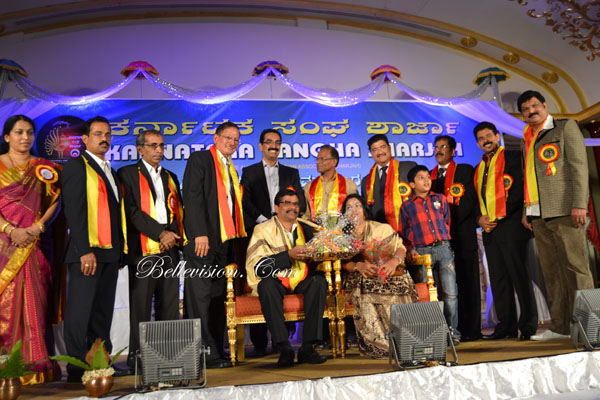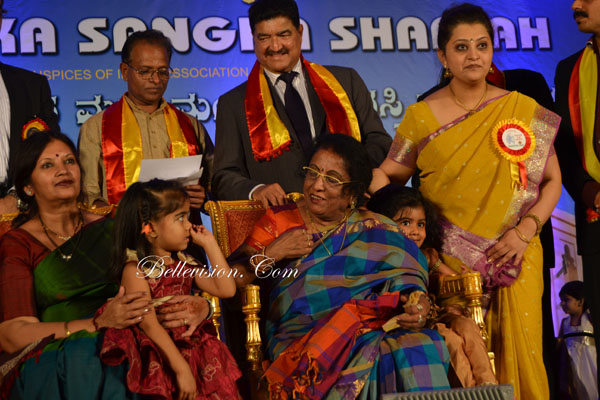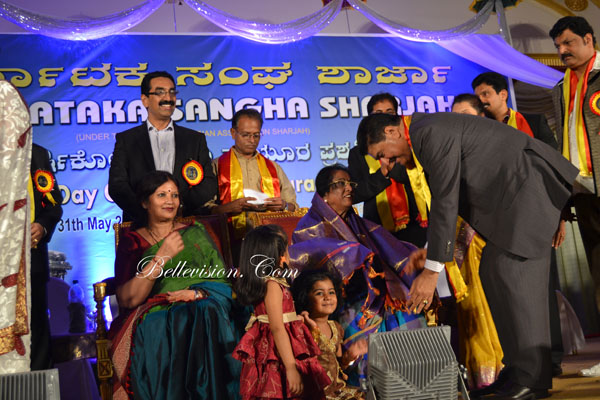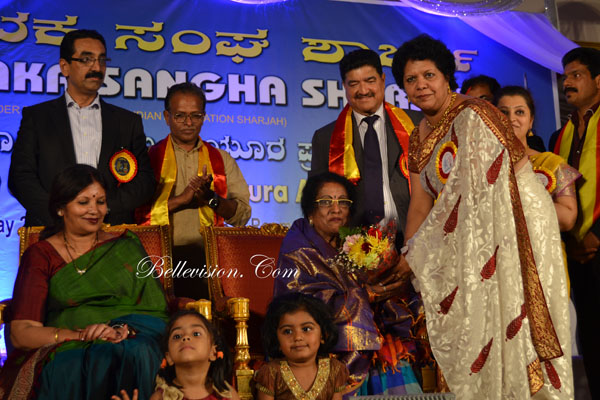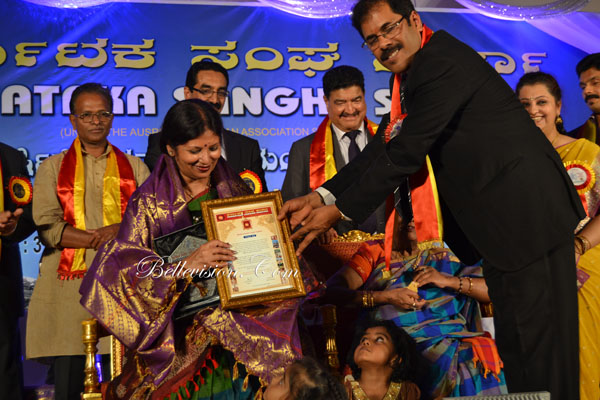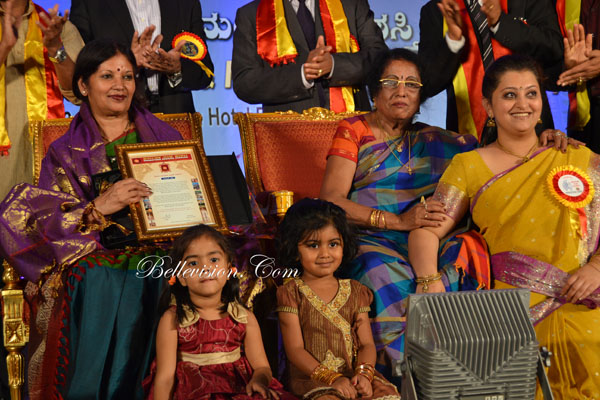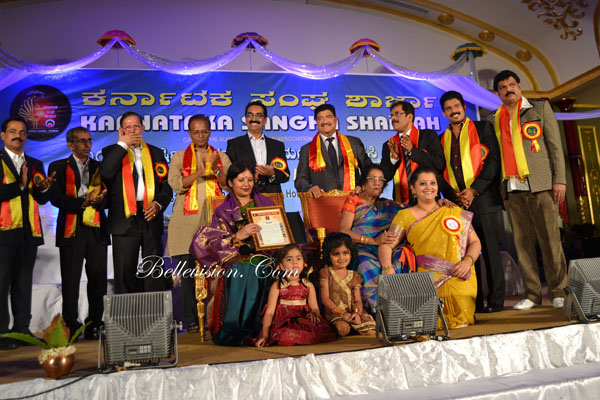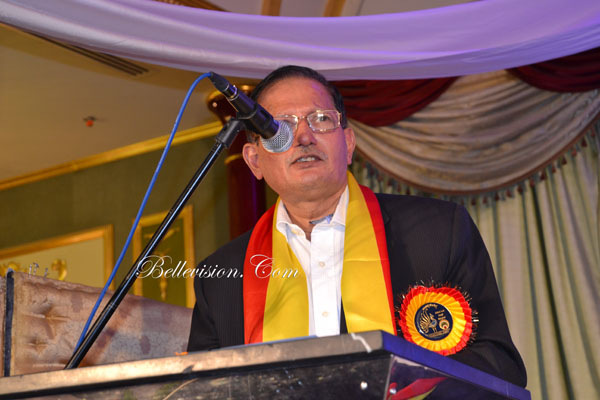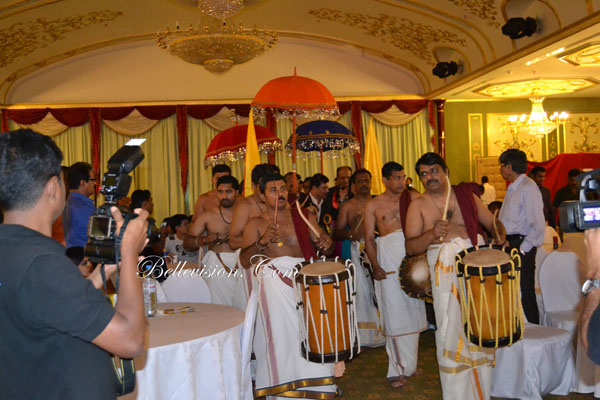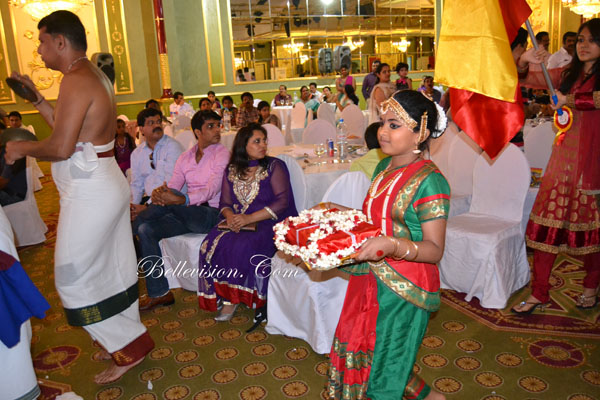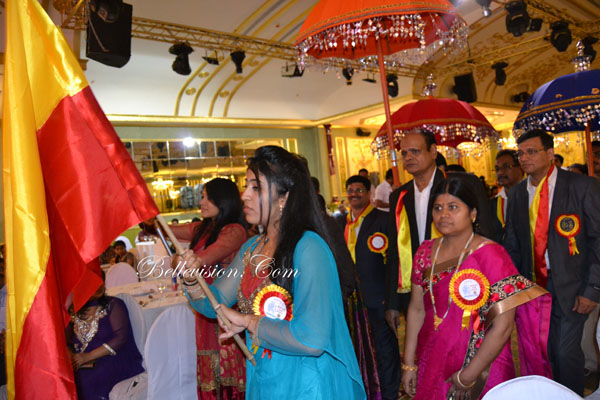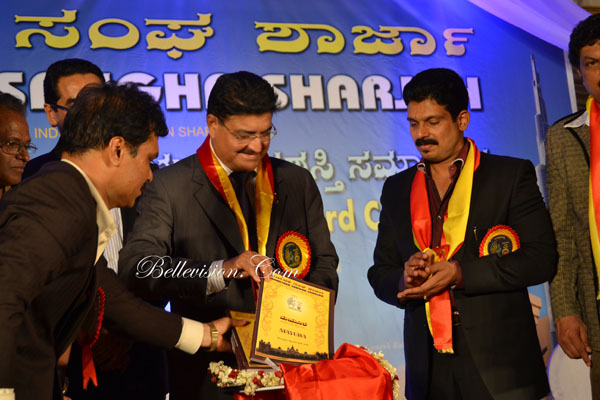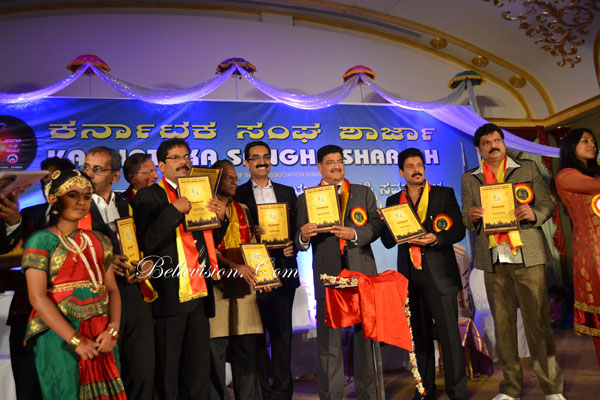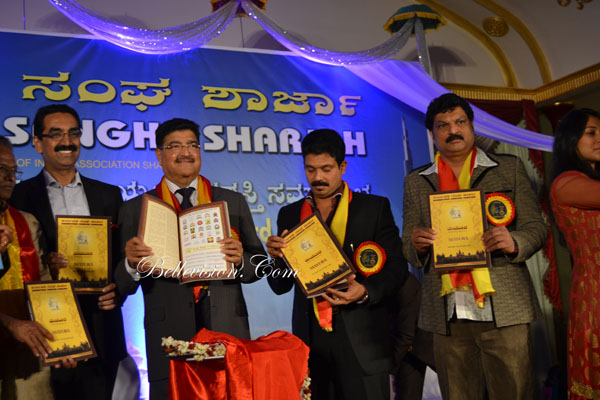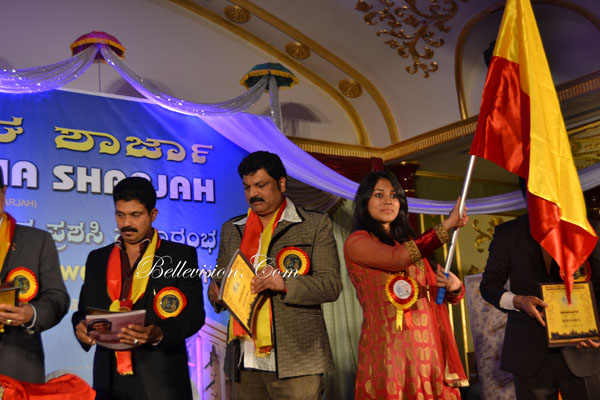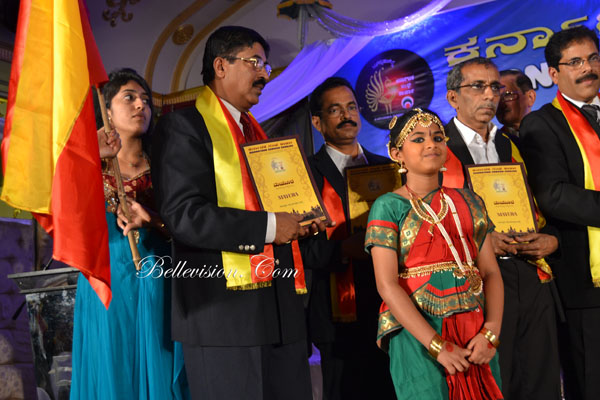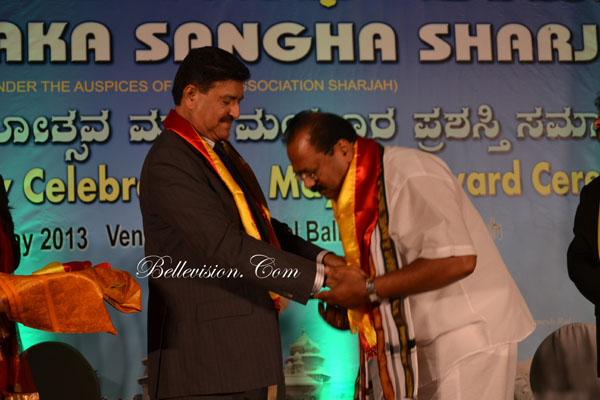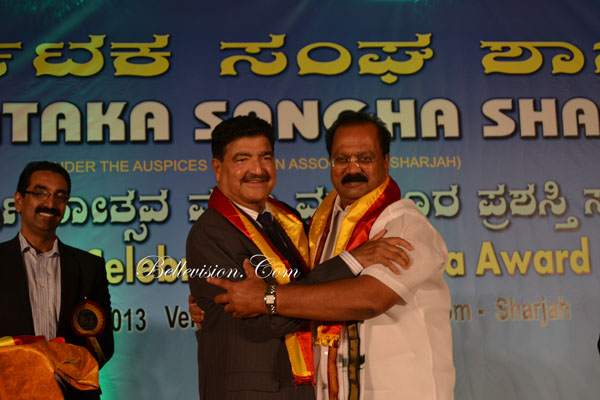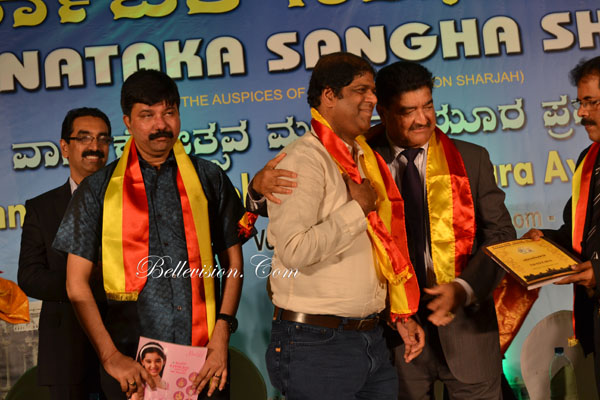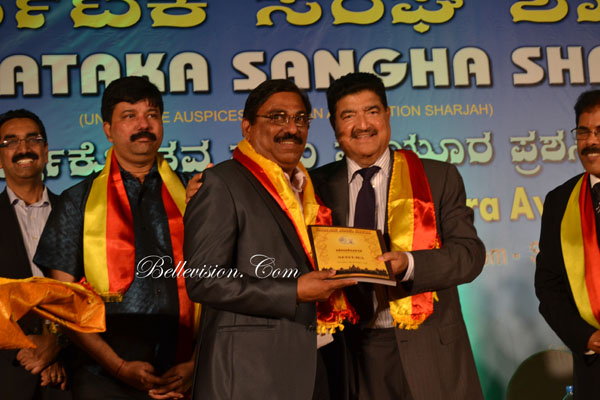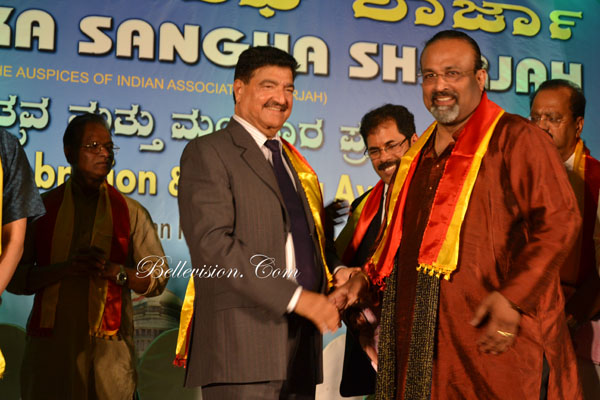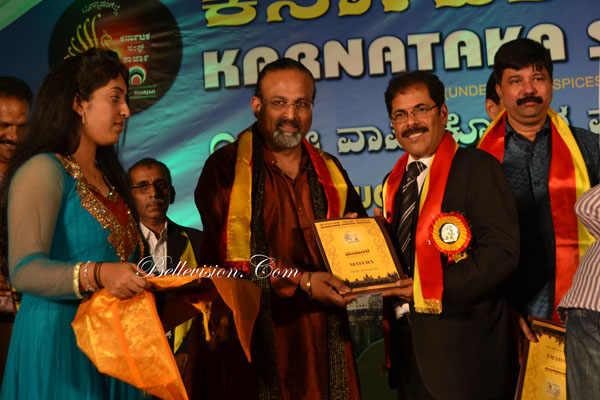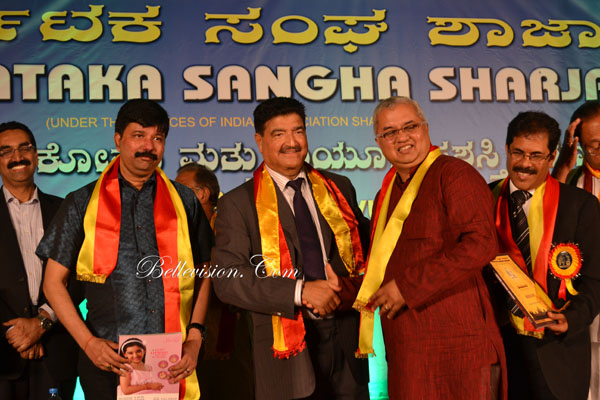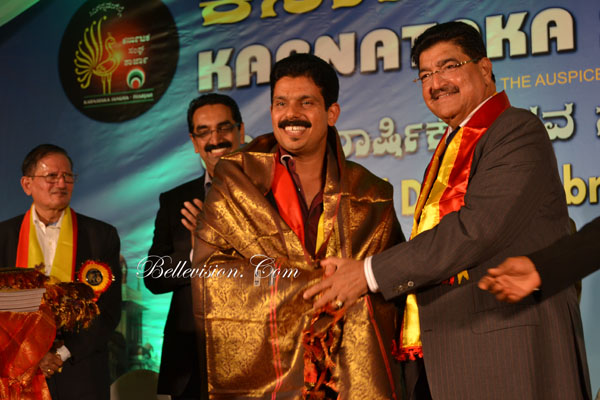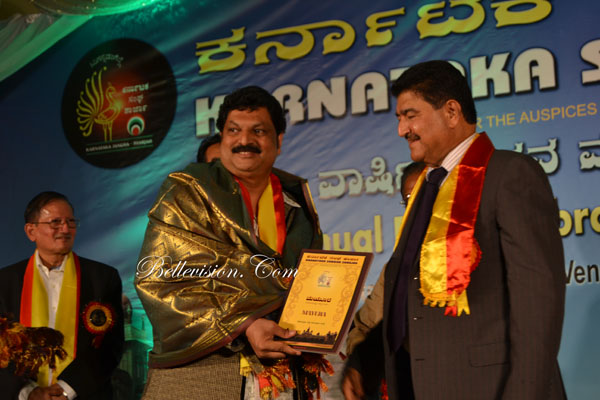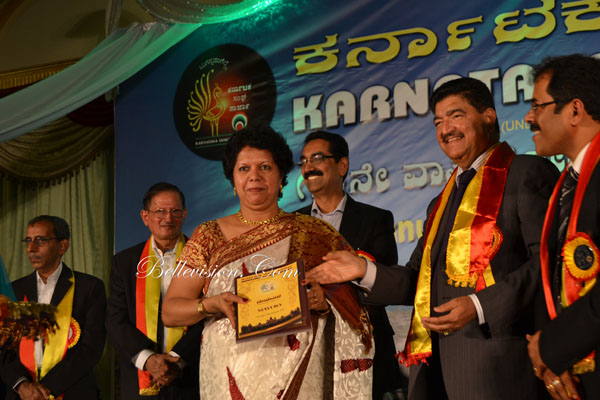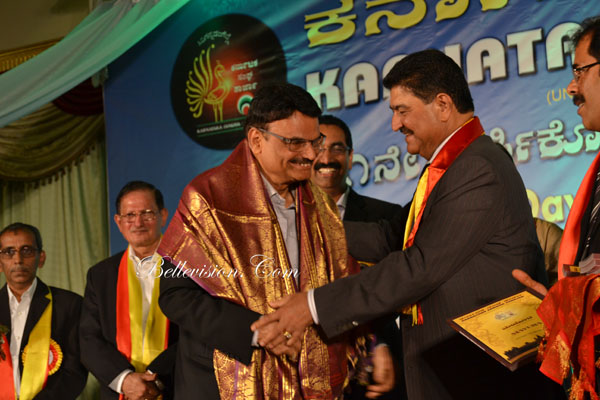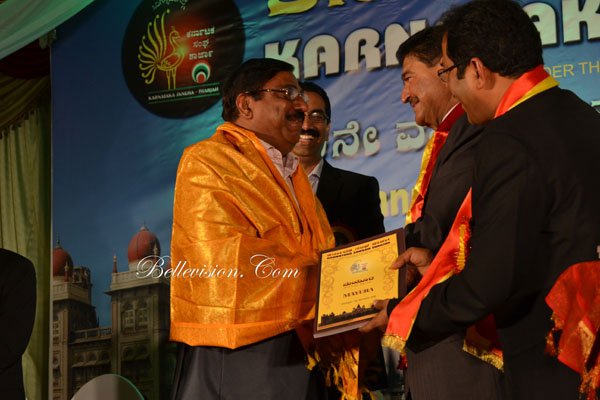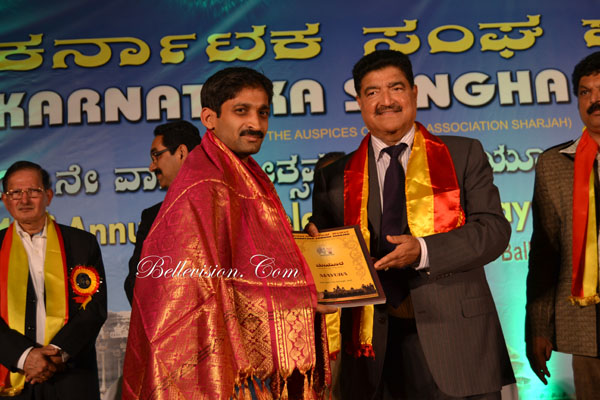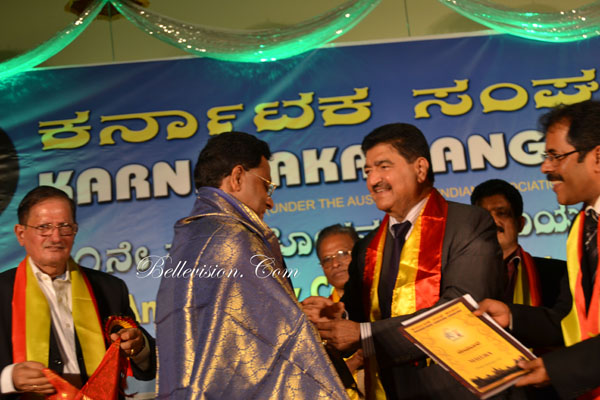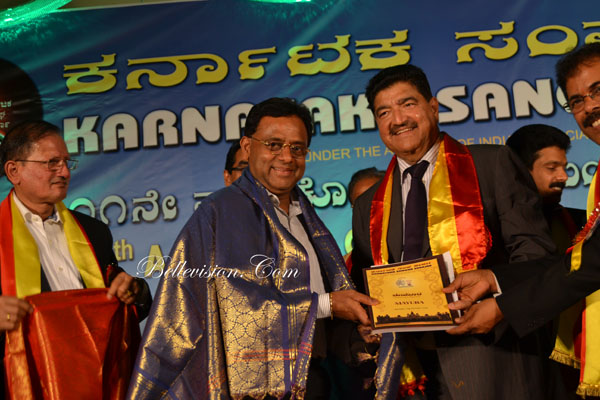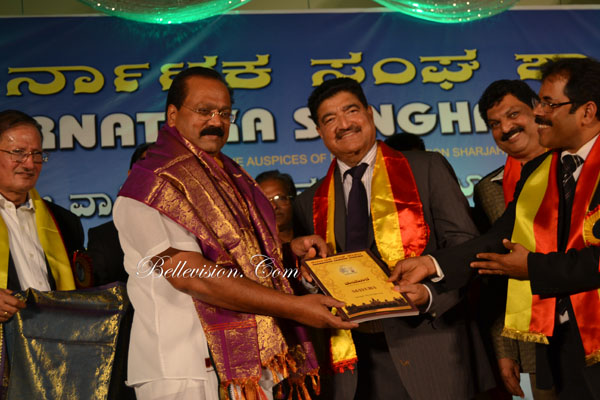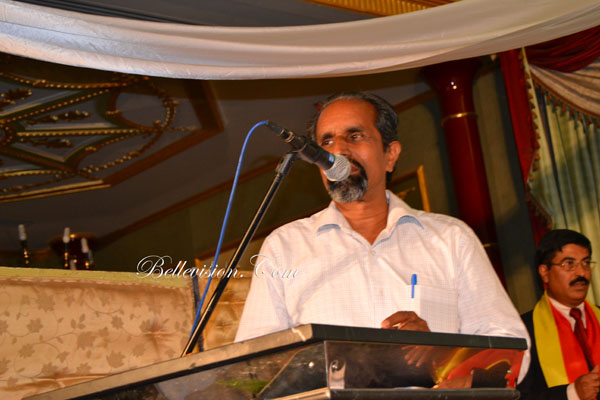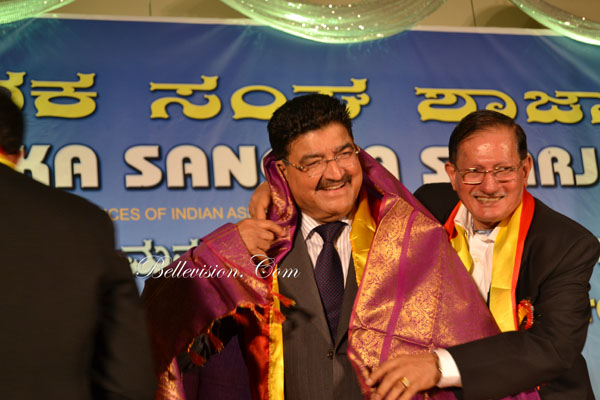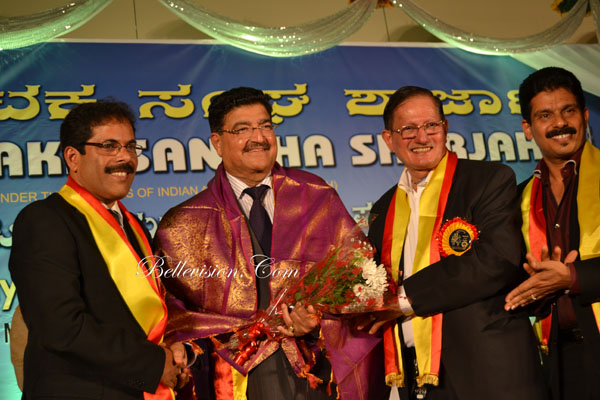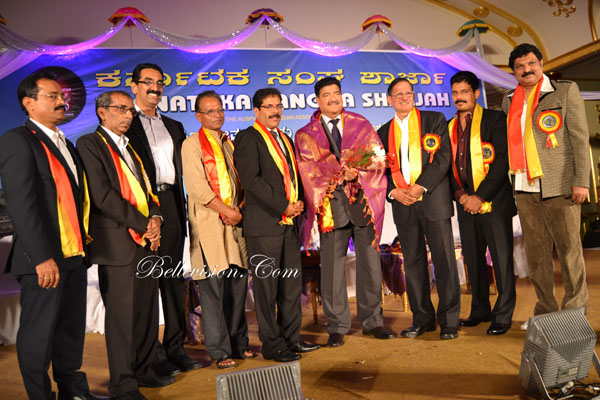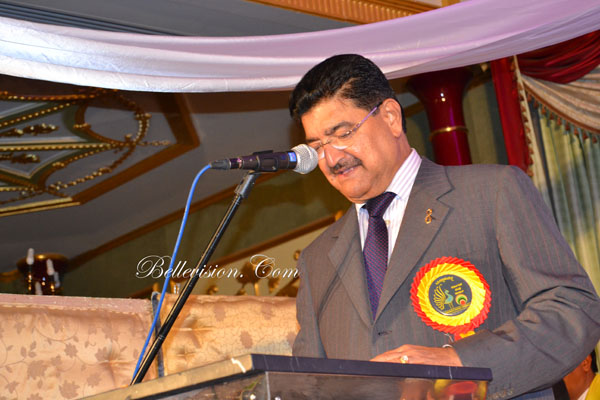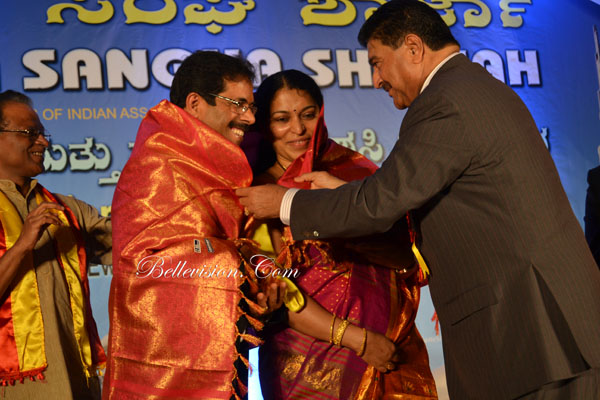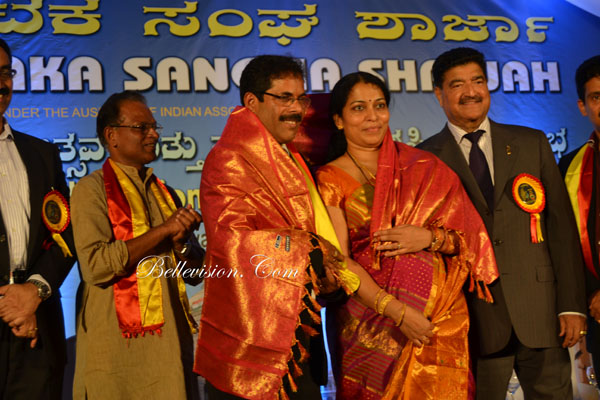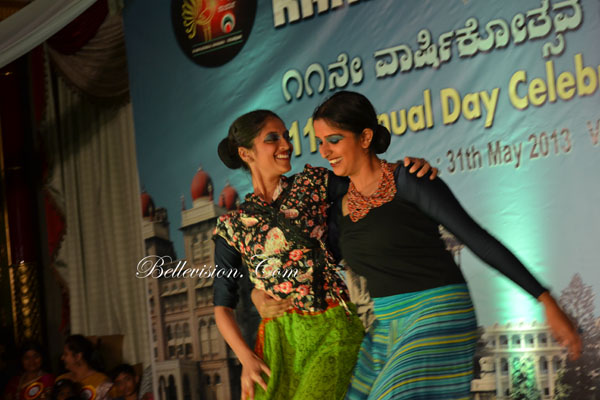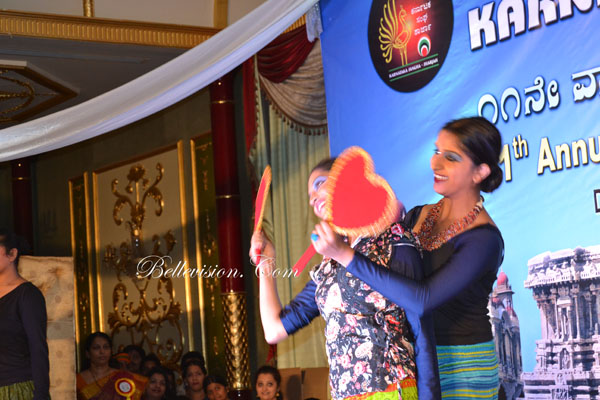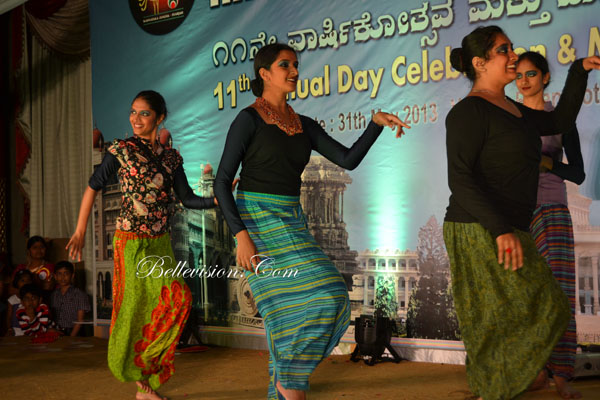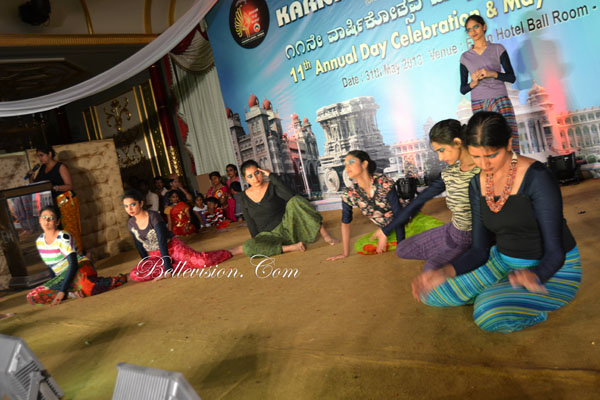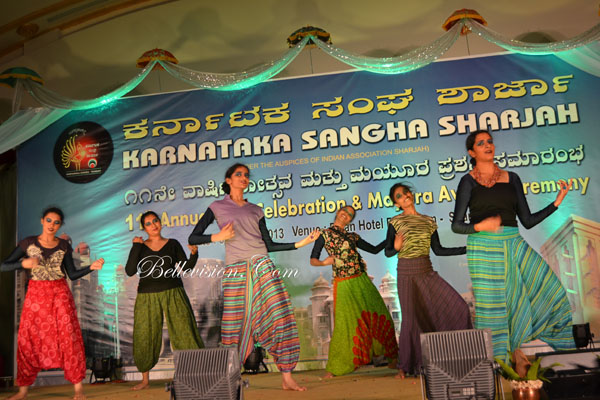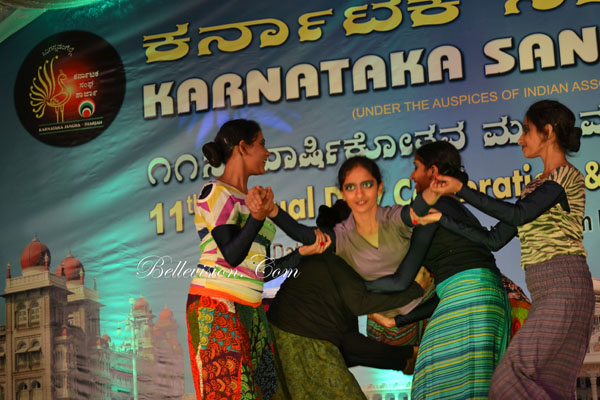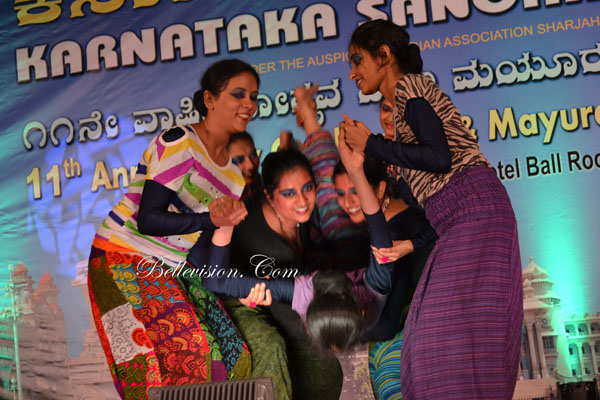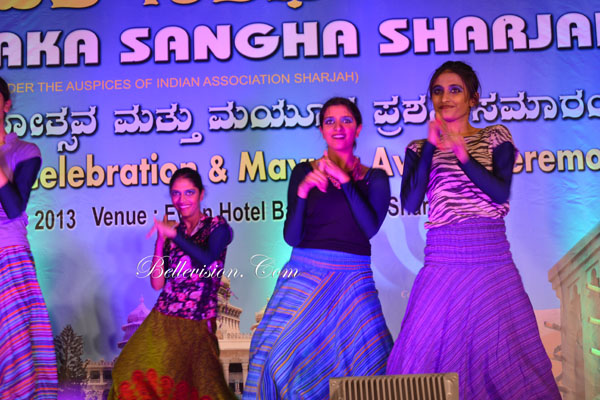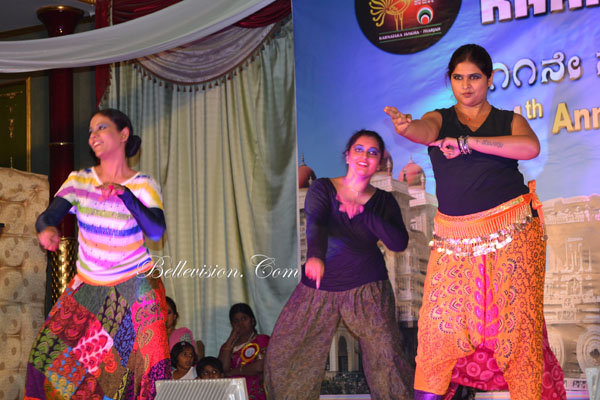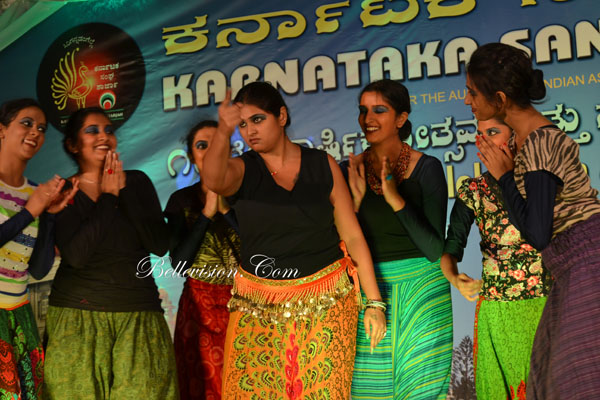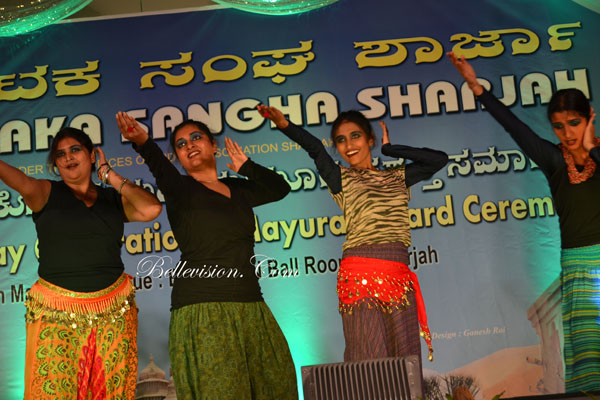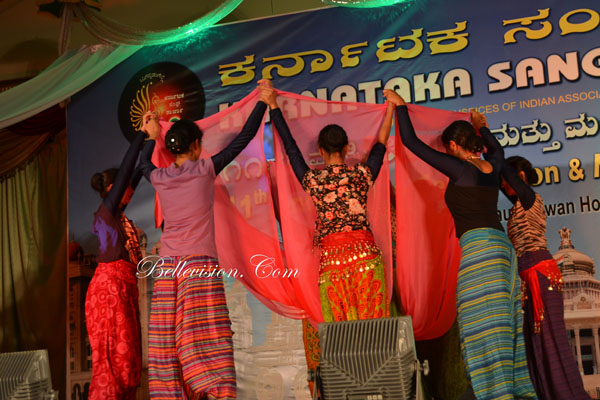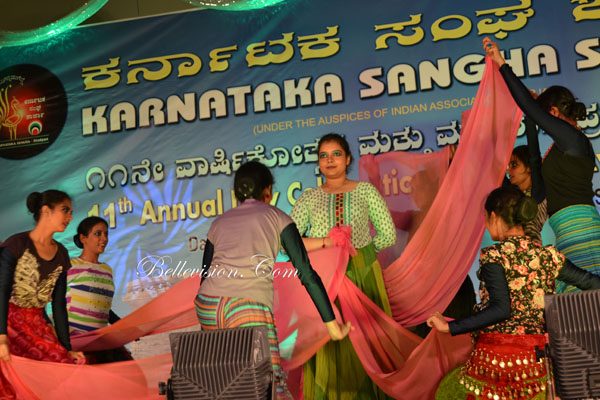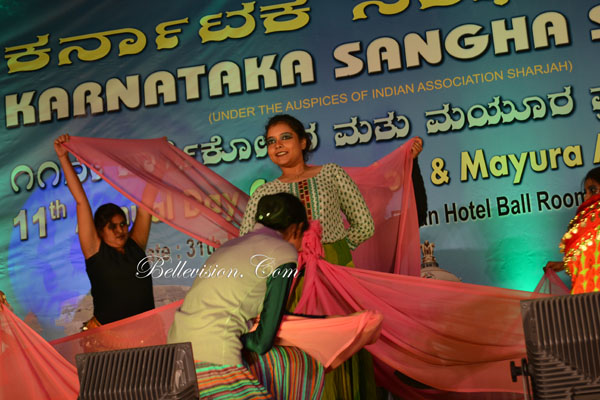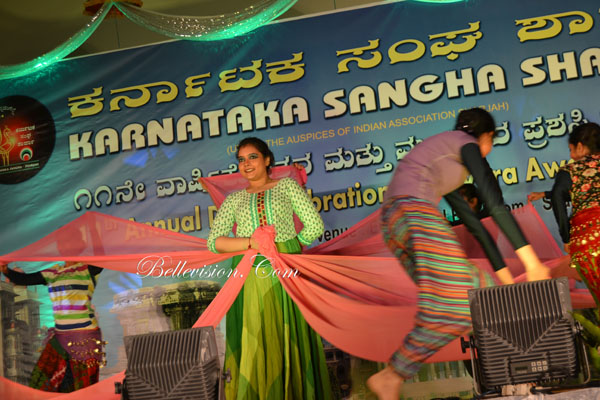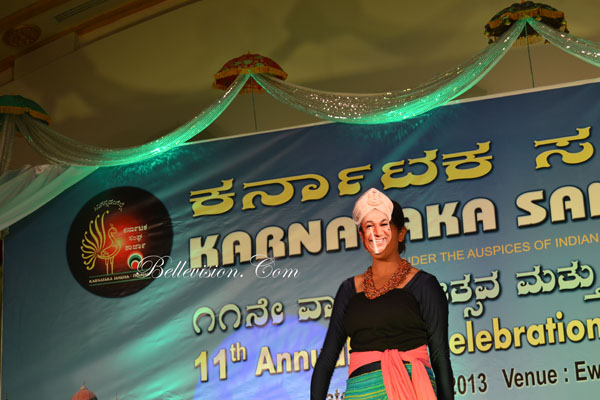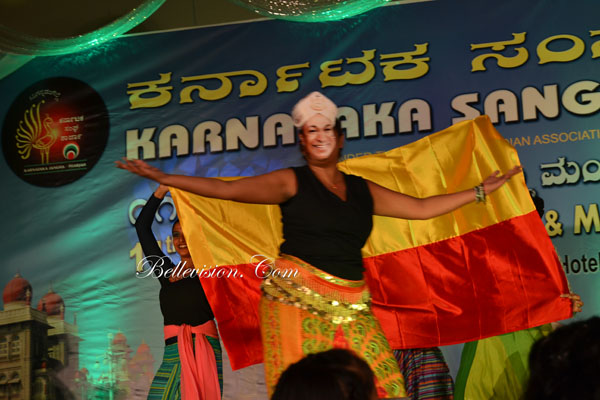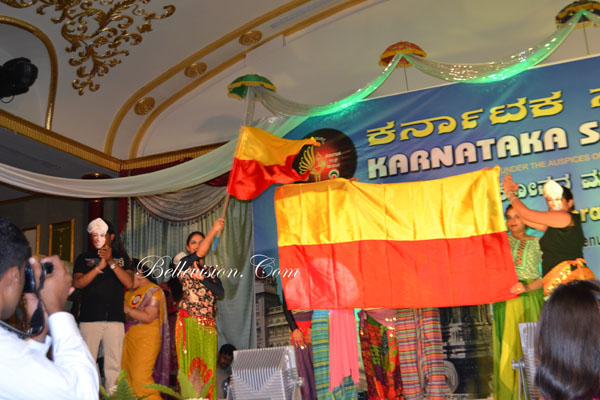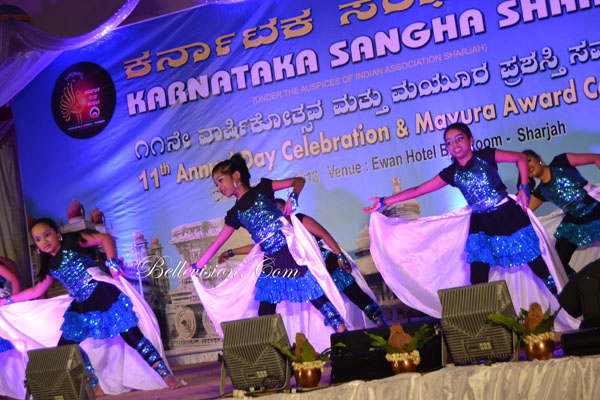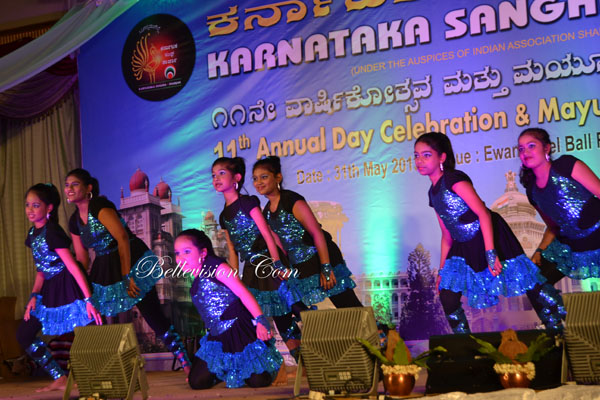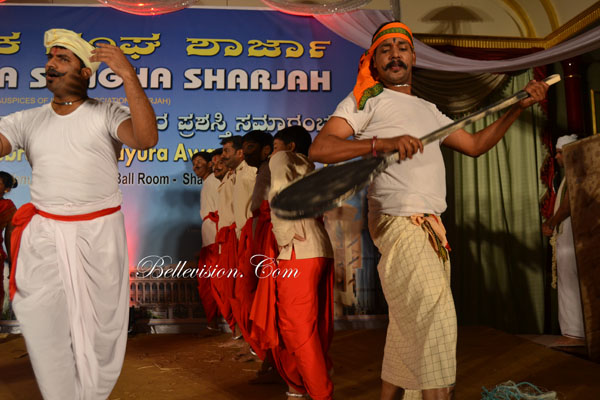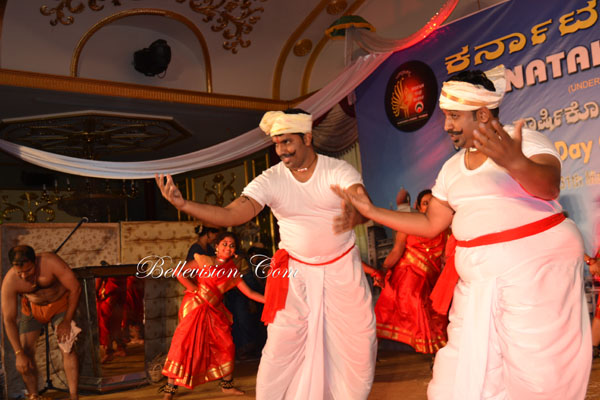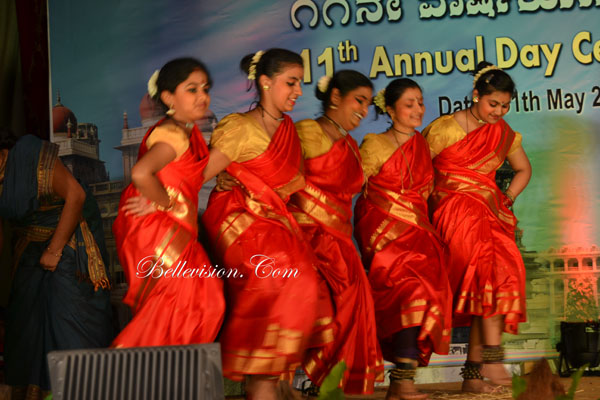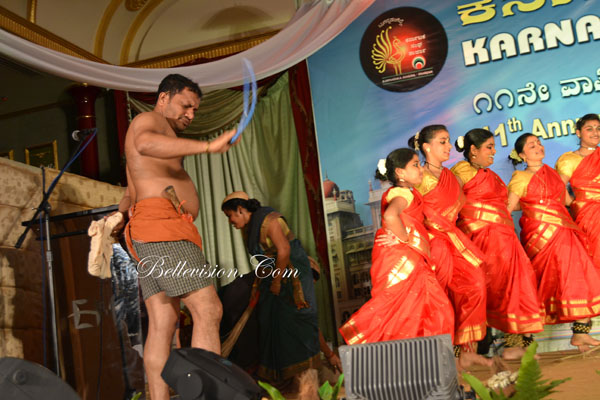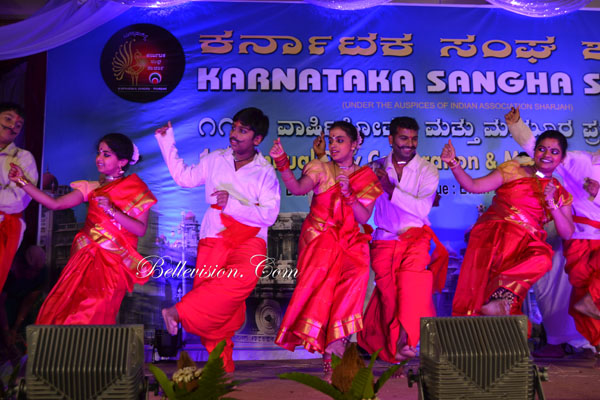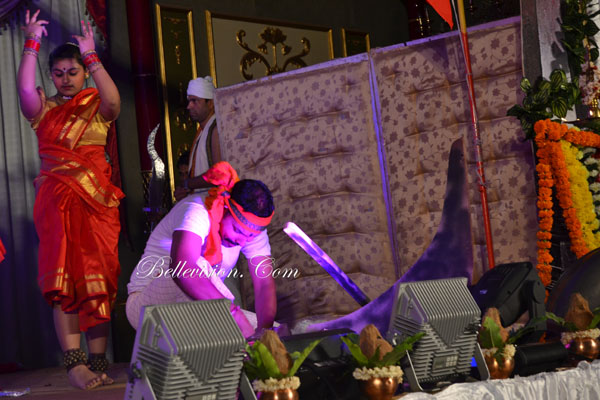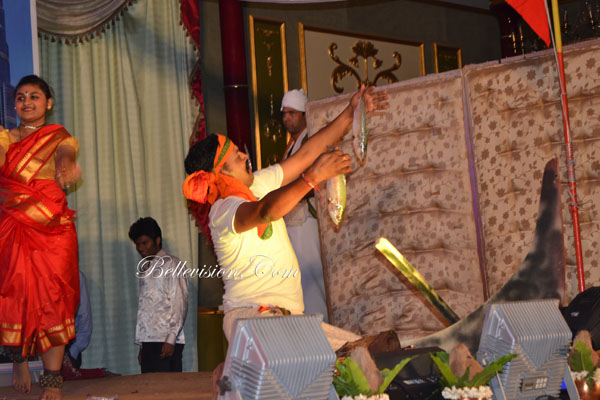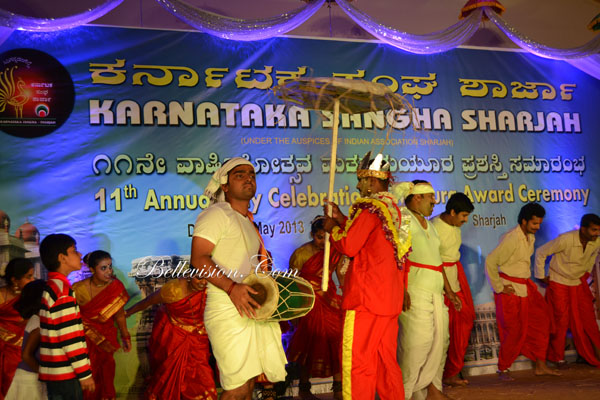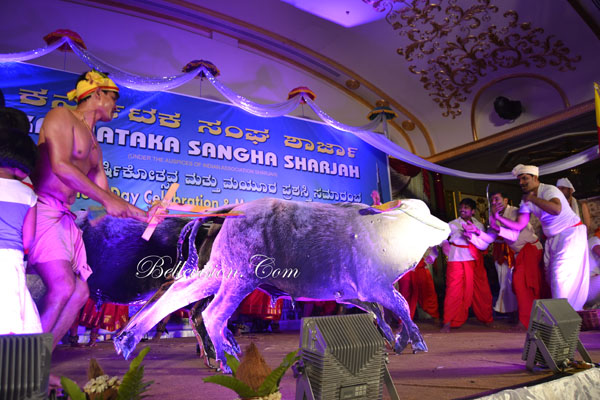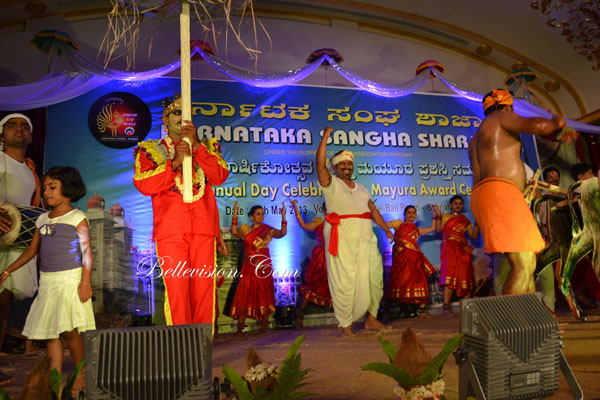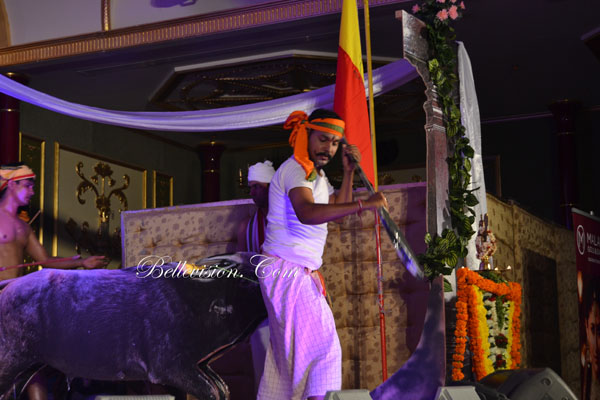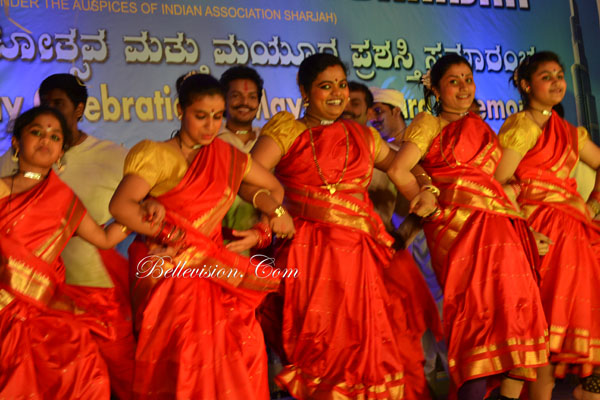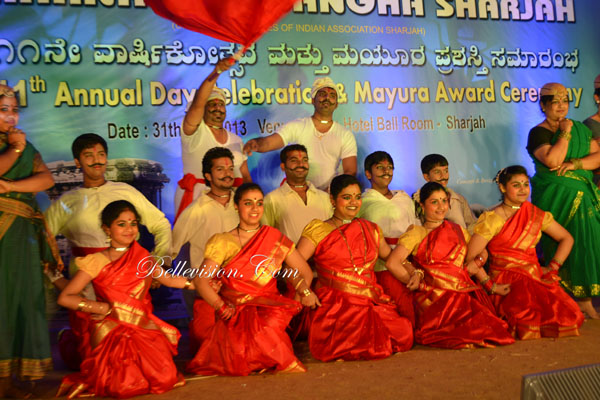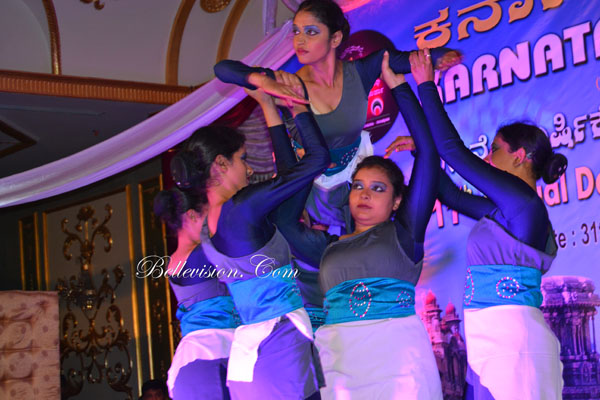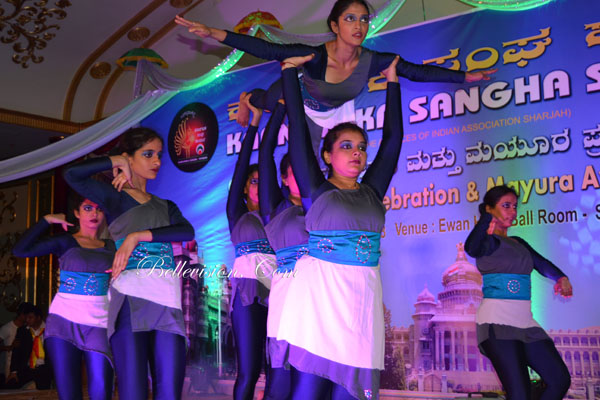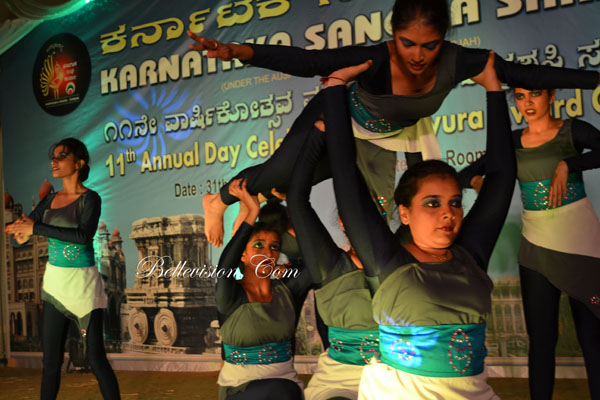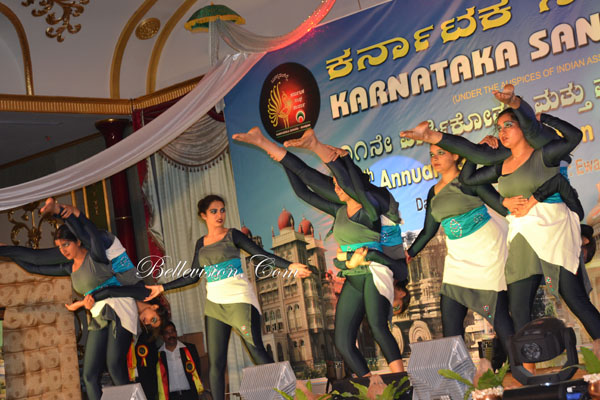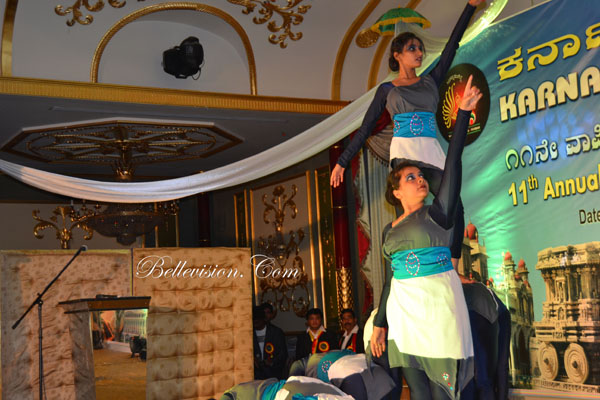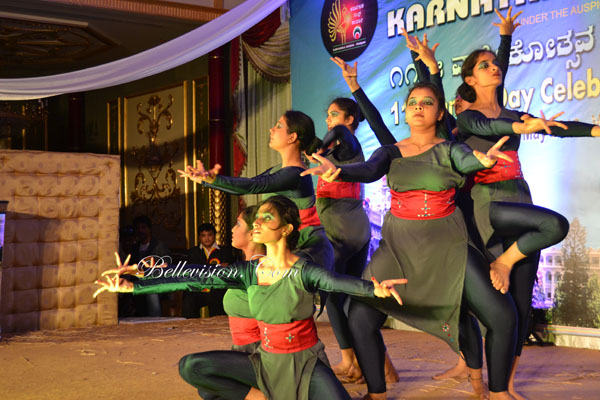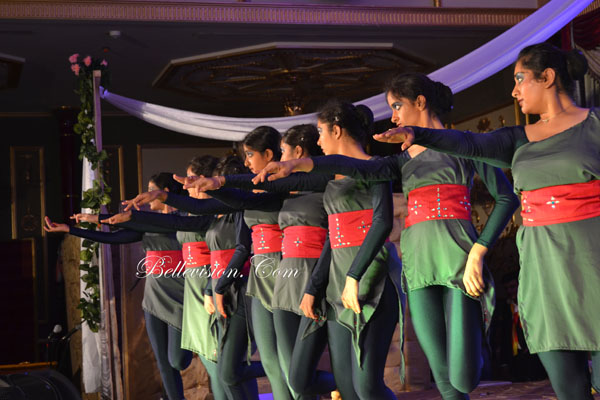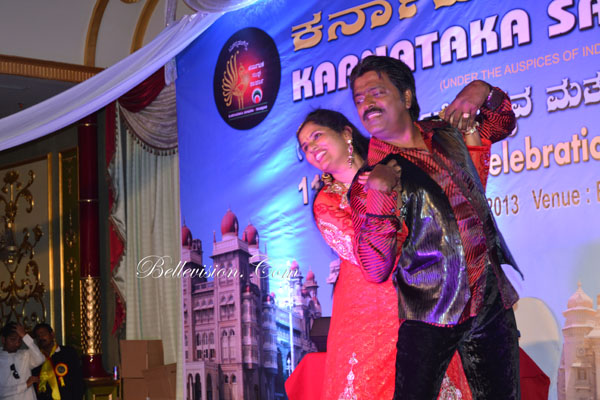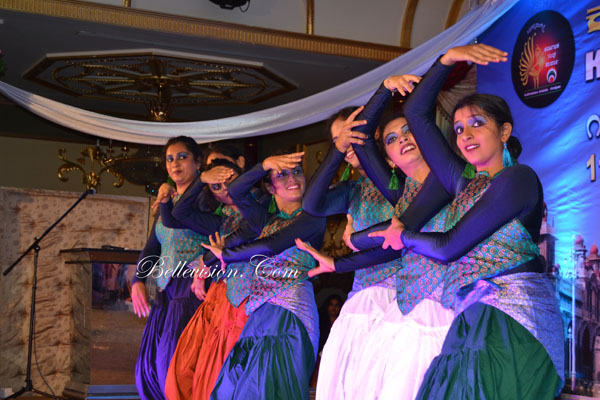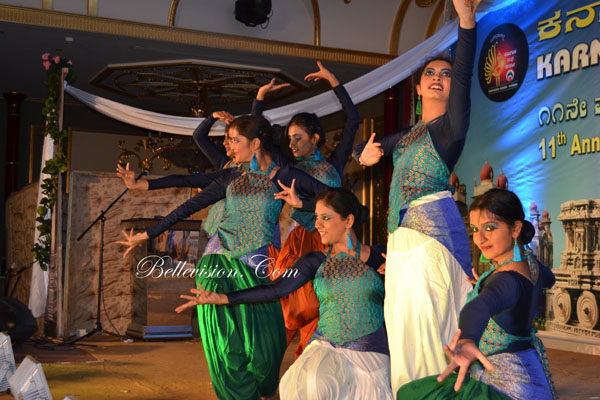 Every year KSS honours one of their dedicated hard working Committee Member with special honour and this year it was Jeevan Kuckian who was invited on to the stage along with his wife Rajani Kuckian and children for the honours. Shantaram Achar read out the 'Sanmana Patra' while B.R. Shetty honoured him with shawl, Suvarna Satish with flower bouquet, Mark Denis with fruits, Satish Poojary with 'Sanmana Patra'. On behalf of Jeevan Kuckian, Ganesh Rai thanked for the felicitation.
Five generation teachers and disciples of the very famous Nataraja Natya Shala who were present during the programme were invited on to the stage and felicitated.
Patron Mark Denis gave a good speech and highlighted on the family attributes and contribution to the society in general. Later was Souvenir book release on the KSS's completion of a decade in this part of the world. The book wrapped in red cloth was brought in with the sounds of drums from the audience on to the stage which was released by Dr. B.R. Shetty in the presence of all the Guest of honours. All the sponsors, media representatives, community leaders were invited on to the stage and honoured with shawls and souvenir in the hands of the Guest of Honours.
Followed was speech by Y.A. Rahim of India Association Sharjah and followed by honour to Paulose of Seon Ashram for disabled and special needs people located in Karnataka. President Satish Poojary presented a cheque of Rupees 1 Lakh to Paulose, a contribution of Karnataka Sangha Sharjah towards this ashram as a communtiy social responsibility.
Dr. B. R. Shetty was felicitated by KSS and he later spoke few words highlighting the good programme of KSS and about awardee Sudhir Kumar Shetty. Ganesh Rai pointed out that incidentally B.R. Shetty was with KSS from the first Mayura Award felicitation function till the current one.
Soon after the formal stage programme the stage got cleared for the cultural programmes to continue. But before that the visiting team of Bangalore were honoured.
Next was a folk dance 'Tulunada Vaibhava' presented by Jasmitha with Sandeep Shetty, Vrishab Jayanth, Rithesh Kumar, Jinesh Narayan, Prapthi Jayanand, Sanmatha Hegde, Divya Prakash, Prateek Jayanand, Prakash Pakkala, Jayalaxmi Jayanand, Nagraj Muddu, Ramesh Suvarna, Nireeksha Suresh, Latha Hegde, Rajashree Rajpal, Shrutha Naveen, Rakesh Hegde, Kishore Shetty, Jayanth Shetty, Balakrishna Shetty, Hariparsad Shetty and Jasmitha.
Mudra Institute's Prasanna Poojary and his team gave a brilliant performance which was very well applauded followed by 'Koon Chala' & 'Jai Ho' two patriotic dance presentation by Nataraja Nritya Shala beautifully choreographed by Vasundhara Sampath. Later was a light couple dance performance by Deepakraj couple presented smoothly for Kannada songs applauded by audience.
All the three MC's, Rohini, Rajesh Kuthar & Shruthi along with Ganesh Rai carried on the programme smoothly.
There were some spot games in between the programme and the daylong celebration ended with 'Lucky Kannadiga' raffle draw and vote of thanks by General Secretary, Shashikanth Kannagi of Karnataka Sangha Sharjah.