Fr. Edwin D'Souza (85), Native of Moodubelle Passes Away in Canada
By Dr. Eugene DSouza

Bellevision Media Network


Udupi, 20 Feb 2022: Fr. Edwin D'Souza (85), a native of Moodubelle passed away in Canada on Saturday, 19 February 2022. This sad news was conveyed by Ronald Saby D'Souza, one of the nephews of late Fr. Edwin D'Souza.
Born on 1 January 1937 as the sixth among thirteen children, nine sons and four daughters of late Immanuel D'Souza (Monnu Master) and Magdalene D'Souza of Kattingeri, Moodubelle, Fr. Edwin had his higher primary education up to seventh standard in the Church Aided Higher Primary School, Moodubelle and acquired secondary education in the Hindu High School, Shirva and completed SSLC in 1955.
Having decided to join the priesthood for the Gorakhpur Prefecture, Edwin went to St. Teresa's Minor Seminary at Mirshali near Ajmer where he spent two years in studying languages such as Latin, English and Hindi as well as humanities. Next, they were sent to St. Paul's Minor Seminary at Lucknow where he studied for one year before undergoing regular training for priesthood in St. Joseph's Seminary at Allahabad.
On completion of the training for priesthood, Br. Edwin was ordained a priest on 22 December 1966 in St. Lawrence Church, Moodubelle by the then Bishop of Amravati Most Rev. Dr. Joseph Albert Rosario along with the then Bishop of Mangalore, Most Rev. Dr. Basil Salvador D'Souza.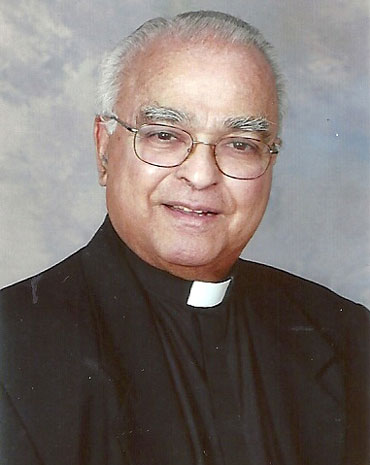 The first assignment of Fr. Edwin was as a teacher in the Amravati Catholic High School. Fr. Edwin served in a number of remote mission centres such as Jalna, Parbani, Purna, Nanded, Ambejogai, Aurangabad, Akot and Rasegaon in Amravati district.
On 21st July 1979, Fr. Edwin left India for Canada with mixed feelings and uncertain future. He had gone to Canada thinking that he would return to India after a year or two. On reaching Canada, Fr. Edwin was sent to St. Patrick's Church where he stayed for a week before being sent as assistant pastor of St. Jude's Parish at Western Ontario for one year.
After completing two years of his tenure in Toronto, Canada, Fr. Edwin was preparing himself to come back to India, Bishop Pierce Lancey-Director of Personnel asked the former whether he would like to stay back in Canada. With the permission from the Bishop of Amaravati, Fr. Edwin stayed back in Canada for two years.
Meanwhile, after two years being in Canada, Fr. Edwin came back to India on vacation of a month. After visiting his home at Kattingeri he went back to Canada and was deputed to St. John's Parish in Toronto. At the same time the Archbishop of Toronto was in correspondence with the Bishop of Amravati and eventually got Fr. Edwin released from his affiliation to the Amravati diocese.
Realising that his destiny lay in serving the Catholic community in Canada, especially in the Toronto Archdiocese, Fr. Edwin continued his priestly work with sincerity and dedication and served in St. John's Parish for six years. Later, he served for another six years in St. Mary's Church at Collingwood, for one year in another St. Mary's Church at Brampton as pastor and for seven years in the church of Immaculate Heart of Mary at Scarborough.
Since 2001, Fr. Edwin has been serving as a pastor in the Sts. Mary and Martha Parish at Mississauga, Ontario and has already completed a decade of his priestly service in this parish.
Fr. Edwin was one among six children of late Immanuel D'Souza (Monnu Master) and Magdalene D'Souza who had dedicated themselves to the service of God and humanity. While Fr. Edwin served in Toronto, Canada, his other brothers-Fr. Mathew D'Souza who had been the Chaplain in the US Navy is presently is retired and serves in the United States, Late Most Rev. Dr. Alphonse D'Souza S.J. was the Bishop of Raiganj in West Bengal and Most Rev. Dr. Albert D'Souza has retired after serving as the Archbishop of Agra. Among two of his sisters, Late Sr. Lucy and Sr. Eugene had joined the Congregation of the Sisters of the Cross of Chavanod. Sr. Eugene was the Superior General of the Congregation based in Geneva, Switzerland.
Also Read: