Mangaluru: KMC Hospital to host 'Women on Walk' for heart health on Sep 17
Bellevision Media Network


Mangaluru, 05 Sep 2023: World Heart Day is observed and celebrated annually on September 29, with the aim of increasing awareness of cardiovascular diseases and how to control them to negate their global impact. To bring awareness on Heart-related illness, on the occasion of 'World Heart Day' KMC Hospital, Dr B R Ambedkar Circle is conducting a variety of educational and activity-based events during the month of September. The month-long campaign is aimed at creating awareness among the public on the causes, symptoms, health risks and other factors related to heart diseases and to educate the public the right way to tackle Heart diseases.
Speaking at the press meet, Dr Narasimha Pai, HOD-cardiology KMC Hospital, Mangaluru said, "Sources reveal that cardiovascular diseases (CVD) are the most common cause of death globally. An estimated 17 million people die from CVD every year. The common misconception is that heart disease is a 'man's problem'. Studies and data from recent years have revealed that women in India are also at significant risk of heart disease. This may be a surprise for many, but heart disease is increasingly becoming a leading cause of death among women in India.
"KMC Hospital, Mangaluru one of the leading healthcare centers in the region is pleased to announce a 2-km Women On Walk (WoW) for heart health; an exclusive walkathon for women on Sunday, September 17 at 6 AM from KMC Hospital, Dr B R Ambedkar Circle to Marena Sports Complex, Kaprigudda, Attavar. The walkathon is aimed as part of upcoming World Heart Day to raise awareness about heart health and spread message that women's heart health too is important for her and her family, since it is a tendency that women's heart health is often neglected. Participants who wish to join the awareness need to register their names via WhatsApp on – 9008167071. The dress theme for the Women On Walk (WoW) for heart health is red color. Transportation facility will be arranged for the participants to return to KMC Hospital Ambedkar/Jyothi Circle," he said.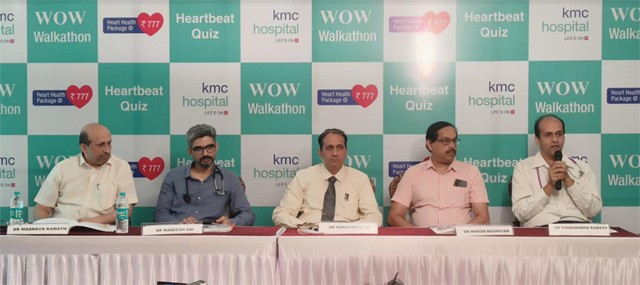 Dr Padamanabha Kamath, senior cardiologist, KMC Hospital, Mangaluru said, "Heart disease can strike at any time, especially with the stressful lifestyle we lead and the prevalence of lifestyle diseases such as diabetes, obesity and hypertension. Fortunately, the main causes of cardiovascular disease are modifiable factors, which include lack of exercise, smoking, and a poor diet. It is high time that we shift our mindset – taking care of our heart health by taking preventive measures instead of leading an unhealthy lifestyle leading to early heart disease. A heart health check package has been announced by KMC Hospital which is valid till September 30. The concessional Heart health package is priced at Rs 777 only which includes tests – hemoglobin, fasting blood sugar, serum creatinine, fasting lipid profile, ECG and a specialist consultation. Those interested in availing the heart health package can call 9448254700 to book an appointment."
Dr Harish Raghavan, senior heart surgeon, KMC Hospital, Mangaluru stated, "The previous year we at KMC Hospital have built awareness in the city by having a CPR activity for public at apartments, corporates, schools and malls. There was a drawing competition conducted at various schools. The message of heart health awareness reached more than 7500+ homes."
Dr Madhav Kamath, senior cardio thoracic & vascular surgeon, KMC Hospital, Mangaluru said, "Heart disease is a growing concern for many Indians, especially young ones and there are several reasons behind it. Factors such as lack of exercise, poor diet choices with lower fiber including processed foods, late night sleep, and less sleep. The need of the hour is to check on maintaining heart health in good condition. We all should take note that a heart attack impacts only those above the age of 50 years is a myth, however, recent and needs to be debunked urgently so that if there are signs, they are not dismissed in the confidence of youth."
Dr Maneesh Rai, cardiac electrophysiologist, KMC Hospital, Mangaluru stated, "We have partnered with Red FM to build awareness amongst public by conducting HEARTBEAT - a unique heart health quiz program. It is one of its kind awareness initiative, which is also circulated in social media. Every week 2 questions would be announced and 2 lucky winners per quiz will be awarded. This quiz will be run for 5 weeks."
Dr M N Bhat and Dr Rajesh Bhat U, interventional cardiologists, Dr Suraj Pai, cardio thoracic & vascular surgeon and Dr Iresh Shetty, cardiac surgeon were also present.
About Manipal Hospitals
As a pioneer in healthcare, Manipal Hospitals is among the top healthcare providers in India serving over 4.5 million patients annually. Its focus is to develop an affordable, high-quality healthcare framework through its multispecialty and tertiary care delivery spectrum and further extend it to out-of-hospital care. With the completion of the acquisition of 100% shareholding in Columbia Asia Hospitals Private Limited and Vikram Hospital (Bengaluru) Private Limited, the integrated network today has a Pan-India footprint of 29 hospitals across 16 cities with 8,300 beds, and a talented pool of 4,000 doctors and an employee strength of over 11,000.
Manipal Hospitals provides comprehensive curative and preventive care for a multitude of patients from around the globe. Manipal Hospitals is NABH, AAHRPP accredited and most of the hospitals in its network are NABL, ER, Blood Bank accredited and recognized for Nursing Excellence. Manipal Hospitals has also been recognized the most respected and patient recommended hospital in India through various consumer surveys.