Udupi grabs CET Ranks in Engineering and Homeopathy
By Snehalatha, Udupi

Bellevision Media Network


Udupi, 06 June 2012: As per the expectations Udupi district has grabbed plenty of ranks in CET this time. Among them Chandana Acharya of Vidyodaya P.U. College has got 2nd rank in Homeopathy, 4th rank in Medical and 115th rank in Engineering excelled in the district. She has achieved this without any tuition or coaching. Kartikeya Hande of Poornaprajna College has got 5th rank in Engineering. And from the same college Sudha Rao Kodikkal has got 118th rank in Engineering and Suhas 126th rank in Engineering.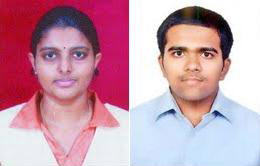 Chandana Karthikeya


Chandana Acharya, daughter of popular doctor couple of Haladi Dr. Padmanabha Acharya and Dr. Shobha Rao has already begun to walk in the footsteps of her parents. Chandana says that her father who opened a hospital in the rural area serving thousands of people has inspired her to take up medicine and hence she wrote the CET exams. Proud of his daughter Dr. Acharya says that they have not given any coaching or tuition, but only got her some guides. Since she has also secured rank in Manipal University, they expect her to get the medical degree there itself. Their other daughter Meghana is studying in 6th standard.


Kartikeya Hande a resident of Udupi Mission compound is the son of Syndicate Bank Officer Bhaskar Hande and Mangala Hande an homemaker, who has always dreamed to be an Engineer which is half complete now. Kartikeya who wrote well in the CET exams was expecting within 10 rank, but have got 5th rank and is happy. His happy parents say that they have not decided on which college to seek admission. There was no pressure on him to study, it was his choice and even in future too we will not pressurize him, they say. Their other son Kumaraswamy is studying in 1st PUC.