MAHE to Host the Think 20 (T20) Side Event Interlinkage of G20 and SDG-The Challenges, Solutions and
- Media Release


Manipal, 18 Mar 2023: The Government of India launched the "Azadi Ka Amrit Mahotsav" initiative to commemorate 75 years of Independence and its achievements, growth, and leadership across sectors over the last seven decades. This celebration of 'India @75' has coincided with India taking over the G20 presidency - one of the powerful international forums where 20-members discuss and deliberate on the pressing issues of the time, prioritizing global economic and developmental parameters. During its tenure as G20 president, India aims to project the agenda of equitable and inclusive development along with a shared future highlighting the principle of "Vasudhaiva Kutumbakam" (One Earth, One Family, One Future).
The Think20 (T20), one of the official Engagement Groups of the G20, will be hosting a series of side event to bring together leading experts and think tanks to discuss policy issues relevant to the G20. In this regard, one of the T20 Side Event is being hosted by the Manipal Academy of Higher Education (MAHE). MAHE has started its enthralling professional journey way back in 1953 by starting India's first-ever non-missionary self-financing private medical college in Manipal followed by Kasturba Medical College in Mangalore in the year 1955. Further, a self-financed engineering college - Manipal Institute of Technology, Manipal was started in the year 1957. MAHE has seen a tremendous growth in last six decades in terms of its diversity as well as in its volume. Currently, MAHE has its main campus in Manipal and Off-Campus Centres in Mangaluru, Bengaluru, and Jamshedpur, and Off-Shore Campuses in Dubai and (Melaka) Malaysia. MAHE is offering nearly 320+ diverse programmes in 36+ disciplines and has 28000+ brightest students from 65+ nations. MAHE has received Deemed to be University status by the Government of India in the year 1993 and conferred an Institution of Eminence Deemed to be University status by the Ministry of Education, Govt. of India in October 2020. MAHE has been accredited by NAAC with 'A++' Grade having CGPA of 3.65 on a 4-point scale and its technical programs are also accredited by NBA. MAHE has occupied many distinguished rankings among universities viz., QS World 2023-751-800, QS Asia 2022-215, THE World 2023-801-1000, NIRF 2022 (ministry of education) University category ranked 7th.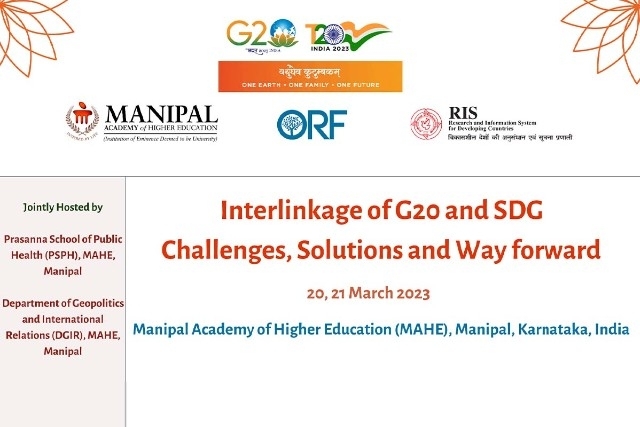 MAHE's ardent commitment to the United Nations (UN) Sustainable Development Goals (SDG) is exemplified in the university's eco-friendly campus being placed the first in India, and 125th in the world by the UI Green Metric World University Rankings. This is due, in large part, to extensive rainwater harvesting and groundwater recharging systems, as well as capturing the solar energy, that the region is copiously endowed with.
The constituent institutions of MAHE the Prasanna School of Public Health (PSPH) and Department of Geopolitics and International Relations (DGIR), in cooperation with T20 secretariat, Observer Research Foundation (ORF), and Research and Information System for Developing Countries (RIS), are co-organizing this event in Manipal, Karnataka, on 20 and 21 March, 2023.
The two-day gathering among invited panelists from across government, think tanks, non-governmental organization (NGO), industries, and academia, will set the stage for driving important conversations on some of the most pressing issues, including Interlinking G20 and SDGs in a Multi-Polar World Order, Pandemic Treaty at the intersection of "One Health" approach, global health governance in the context of conflict, and the dynamics of geopolitics. The event is expected to also hold discussions on Lifestyle for Environment (LiFE) as a panacea for issues relating to global commons, digitalization of health infrastructure, the interlinkage of food security, sustainable food systems and agriculture management, India's views and perspective on Global Wellness Agenda (with special reference to value and supply chain mechanisms), and Beyond 2030 – a template for a sustainable universe.
By fostering meaningful exchange of ideas among key stakeholders, the event aims to address challenges to achieve SDG and other key global health issues, by developing transformative policies through a combination of collective and individual action. The discussions will focus on finding solutions to global challenges and advancing the G20 agenda of promoting equitable and inclusive development. The Leadership of G20 will remain with the India, Brazil, South Africa (IBSA) Troika for the next three years, thus providing an opportunity for India to set the roadmap for collective action by the emerging economies and for effective South-South Cooperation. The deliberations and suggestions given by the experts during this event will be compiled into a policy proceeding which will enable the G20 and T20 priorities.