Skin & Organ donation Campaign at Mount Rosary Church
By P. Archibald Furtado

Pics: Peter Lewis

Bellevision Media Network


Udupi, 28 Aug 2022: Rotary Club Kallianpur in association with pious organisations of the Mount Rosary Parish such as Catholic Sabha, The Stree Sangahtan & Health Commission organised an awareness and information seminar on Organ & Skin Donation in the Mini Hall of the Church on Sunday, 28th August, 2022.
At 9.10 am the session was given a start with invoking Almighty Lords Blessings. The President of Rotary Kallianpur Mrs Shylet Lewis, extended a cordial and homely welcome to all gathered. While acknowledging the whole hearted cooperation and support of various platforms which joined their hands, she also outlined the significance of such socially useful campaigns aimed at humanitarian services in which Rotary is constantly and continually engaged and involved.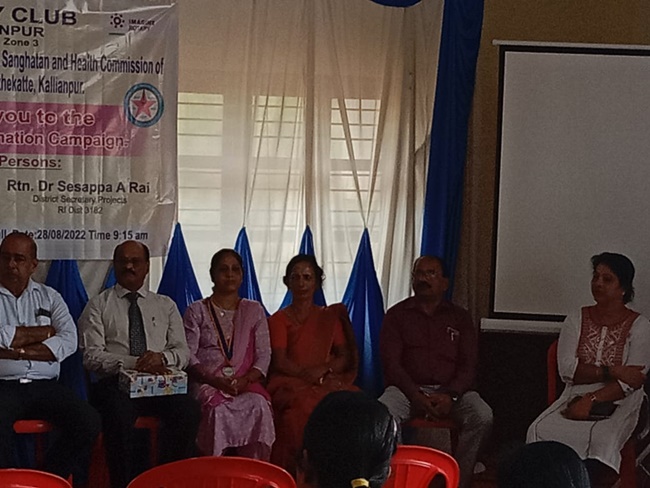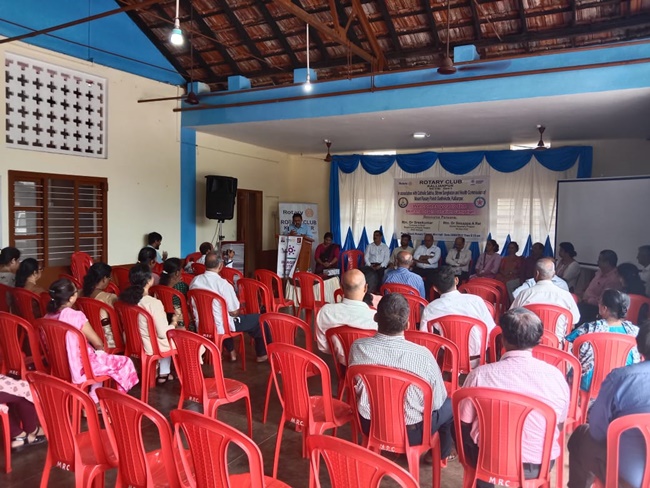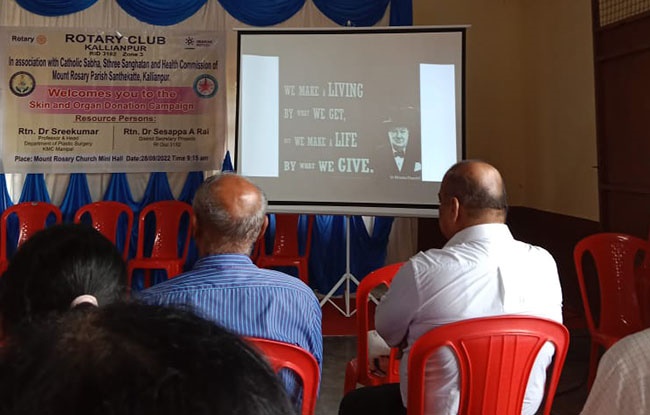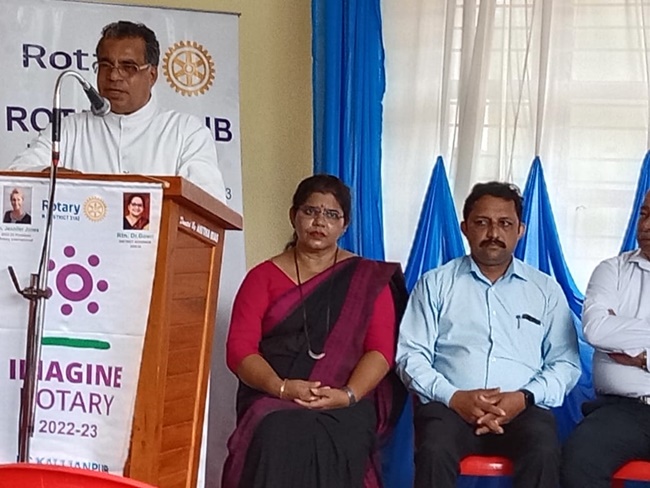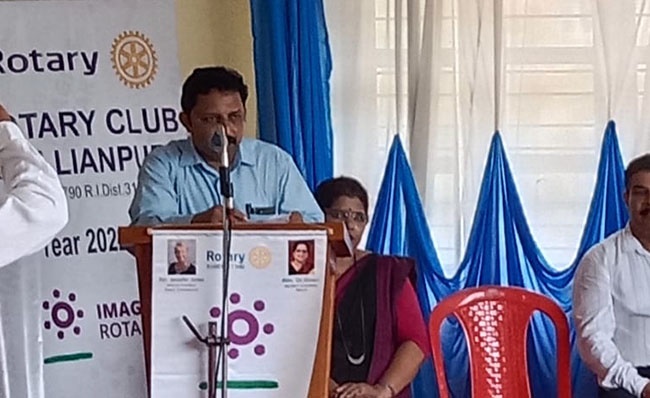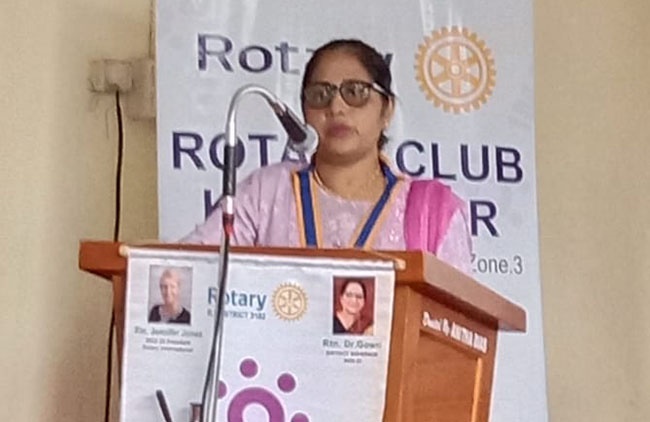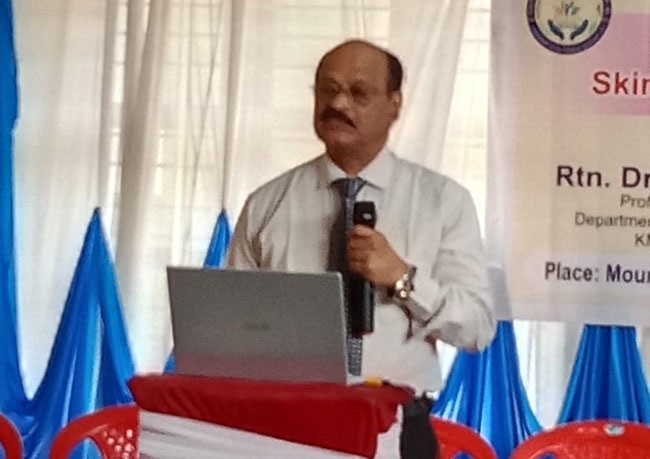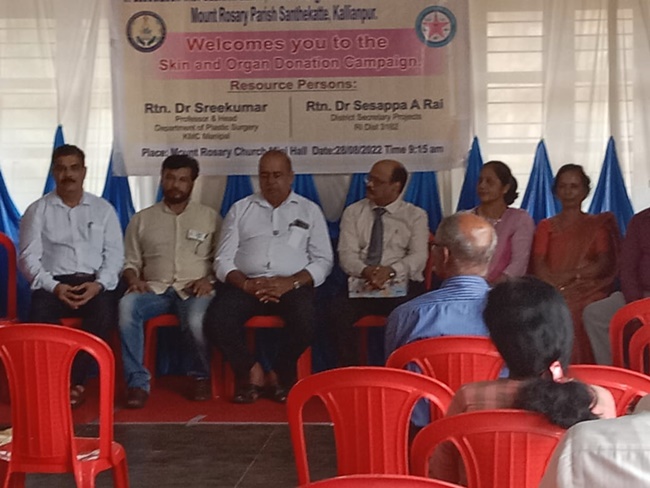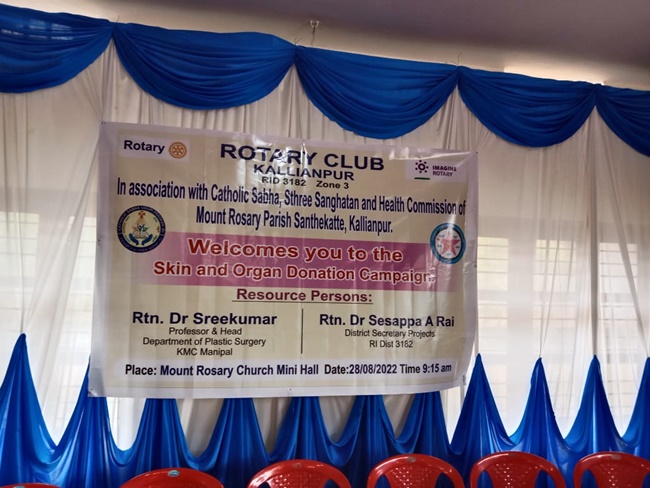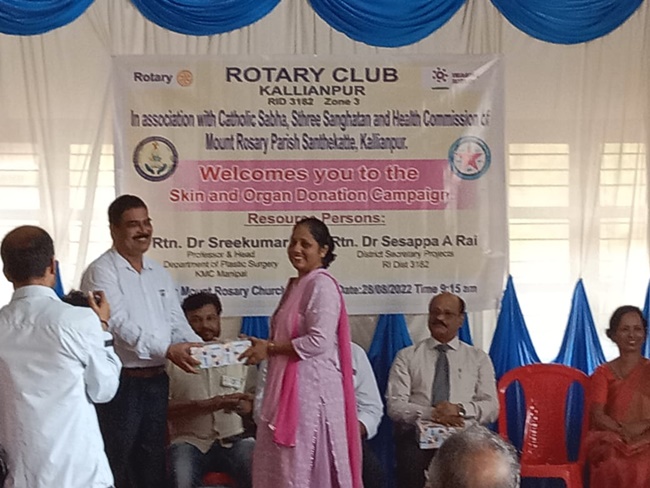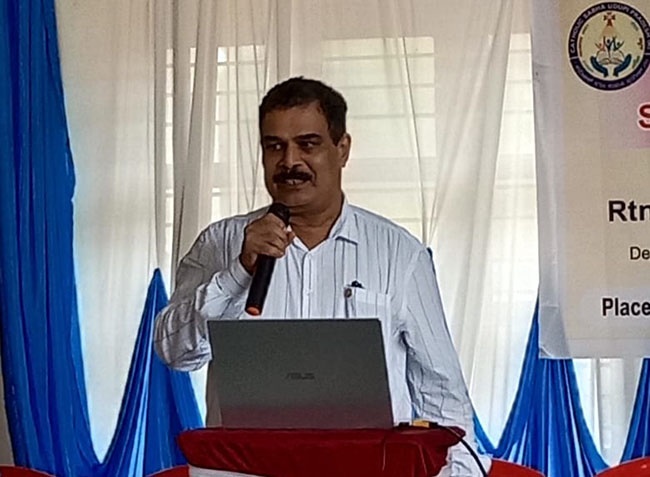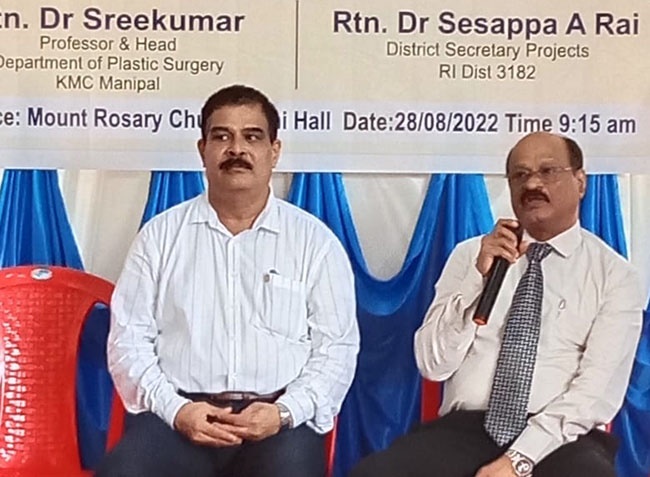 Rev Dr Roque DSouza, the parish priest of the Mount Rosary Church who presided over the seminar, lighted the traditional lamp with other dignitaries on the dais. He lauded the initiatives of Rotary Club and all others to have this program in our Church. 'Donation of blood, or body organs such as kidney etc though a familiar subject in medical circles, donation of organs after one's death is needed more awareness and publicity', he observed.
The main Resource Person Rtn Dr Sreekumar, Professor and Head Dept of Plastic Surgery, KMC Manipal, gave an elaborate and detailed information of Organ donations with PPT presentations and slides show. After one's life on this earth, our organs will save life of others. Eyes, bones, heart, kidneys, pancreas, lungs etc are useful and transplanted in patients who need them. In short he informed 'one can save a life, even after one's death'
Rtn. Dr Sesappa A Rai, emphasised on the topic Skin Donation. 'During fire, accidents, explosion etc thousands of people suffer by the loss and damages to skin may be saved by people who pledge their skin after their life otherwise perish with him by burial or cremation'. It's a new life to the recipient and solace to their dependents and family members. Such donated skin is processed and preserved in the Rotary MAHE Skin Bank in Manipal as at present only 18 such banks are there in India and three in Karnataka viz Bangalore, Belgaum and KMC Manipal.
"Catholic Sabha too has picked up health related campaigns with determined concern and care as their decennial year project", Mr Santhosh Carnelio, the President designate Udupi Pradesh mentioned, while proposing vote of thanks to all who made this campaign very successful.
Along with various office bearers both, Unit and District level and members of the Rotary Club, Mrs Rosy Quadras, President Catholic Sabah, Mount Rosary Church, Mrs Joyce Picardo, President Stree Sanghatan, Louis DSouza Convenor Health Commission, Mr Baptist Dias, Mr Ronald Saldanha, Mr Santhosh Carnelio, the Vice President, Secretary and Coordinator of 20 Commissions respectively, were present on the dais.
To conclude the session there was interactive session with the participants to have more information and to clarify their doubts with the resource team.