Mumbai: Dr Fr Charles Vas SVD, founder of Sangeet Abhinay Academy no more
By Rons Bantwal

Bellevision Media Network


Mumbai, 30 Nov 2021: Dr Fr Charles Vas SVD (77), founder of Sangeet Abhinay Academy Mumbai, Institute of Indian Culture, Ghyan Ashram, Andheri (East), Mumbai, son of the late Jacob Vas and Seraphine Vas of Omzoor Parish (Farangipet, Bantwal) priest of Society of the Divine Word (SVD), passed away on Tuesdasy November 30 at Holy Spirit Hospital, Mahakali Road, Andheri (East), Mumbai. He is survived by his brother advocate Pius Vas Bandra (West), Mumbai, Sr Bernadette AC and family members.
Funeral Mass at Sacred Heart Church, Mahakali Road, Andheri (East), Mumbai on Thursday, December 2 at 10.00am, followed by burial at Sacred Heart Church Cemetery.
Dr Fr Charles Vas SVD, founded Sangeet Abhinay Academy on July 27, 1980 at Bandra (West), Mumbai with the active cooperation of enthusiastic and likeminded collaborators lead by late Arthur Pereira, as an Institute of Music and Dance, to provide a platform for the laity to use their talents and resources to spread the Gospel message of love and peace through the universal language of music and dance. Charlie, as he is fondly known among his friends, was born on 12 February, 1944 in Omzoor parish, (Farangipet, Bantwal taluk of DK district) diocese of Mangalore in Karnataka as the fourth child among their 3 daughters and two sons. Charlie took his first steps towards realizing his childhood dreams when decided to join the Society of the Divine Word (SVD) in 1959 in as far away a place as Mhow in Indore, MP at the early age of 13. He pursued his priestly and religious training in Mhow and Indore in MP and then at the Divine Word Seminary, Pune.
Fr Charles pursued his priestly training and musical studies simultaneously already during his philosophical studies in Pune. After that when he was doing his graduation in English Literature at St Xavier's in Mumbai, he founded the dynamic Theresian Choir at St Theresa's Church in Bandra (West) where he resided and conducted several Theresian Musical Nites during one of which he also won the Best Music Director award! Thus when he was ordained a priest in 1976 he knew exactly how he should proceed in his priestly ministry! From his past experience with the Theresian Choir he had seen the immense potentialities in the youth. And like before he asked WHY NOT use these talents for spreading the Good News of the Kingdom of God and be a missionary with a difference? And he had the active support of a band of like-minded and creative artistes lead by late Arthur Pereira, an accomplished musician and artiste. Thus came into existence Sangeet Abhinay Academy on July 27, 1980, with Fr Charles as the Director and late Arthur Pereira as the manager, with his residential address at Little Flower in Bandra (West) as its own.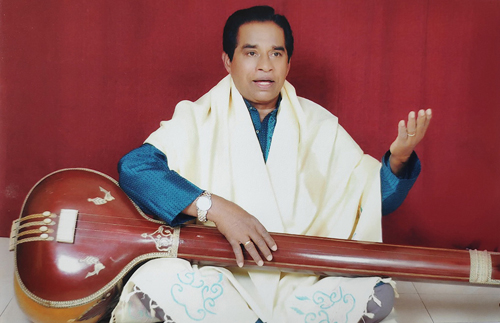 Fr Charles gave concrete expression to his musical aspirations when he started learning guitar and piano professionally during studies in Pune. Soon after, he began his formal training in Indian classical music under Guru Ramakrishna Joshi, a disciple of Pandit Vishnu Digamber, a great exponent of Hindustani Music. He continued his studies in Indian Music after his ordination and he was awarded Doctorate in Indian Music Vocal in 1983 by Akhil Bharatiya Gandharva Music University in Miraj for his doctoral thesis East Meets West. One can see the fusion of eastern and western music in his numerous compositions. He has also graduated in western music from the renowned London Trinity College of Music.
At this Silver Jubilee of the illustrious existence of the now internationally known Sangeet Abhinay Academy, its founder Director Dr Fr Charles Vas SVD can proudly look back at its achievements all over the world through the medium of music and dance. He has shown how we can channelize the creative energies of the youth for the cause of universal peace and harmony through a medium that is very dear to them. He has produced 35 volumes of audio cassettes and CD's in Hindi, Malayalam, Konkani and Telugu as well as instrumental music which have become popular with all people.
He has presented programmes on AIR and Doordarshan, presented prayer dances at various prayer meetings and given workshops on Indian and Western religious and sacred music .And of course he has composed and presented over 25 mega ballets on religious, biblical, social and national themes for different occasions, sometimes involving 1500 performers, elephants, horses, and sheep on the stage. His most popular ballet Prem Ragini 'Melody of Love'' on the love of God has seen over 400 shows in India and abroad. All this has been possible due to the dedicated cooperation and hard work of young boys and girls of all walks of life who gave concrete shape to the dreams and visions of Fr Charles. About a thousand youth have passed through the portals of SAA in the past 25 years and they all fondly remember their association with SAA and Fr Charles Vas, the musician par excellence.
As an accomplished musician of high caliber, Fr Charles gives formal training in both western and Indian music and dance at his College of Music and Dance (SAA) with the help of competent music and dance teachers. Affiliated to Akhil Bharatiya Gandharva Music University of Miraj and London Trinity College of Music, Sangeet Abhinay Academy enables aspiring musicians and dancers both young and not so young to acquire professional degrees. As an accredited exam centre too, SAA has produced 100% results with about 100 students appearing every year in different disciplines of music and dance. This is the fruit of the creative vision and hard work of Fr Charles and the dedication and commitment of his band of teachers and students and performing members and their parents.
We thank God for the gift of such talented and creative artiste like Dr Fr Charles Vas SVD and we wish him many more years of creative and fulfilling ministry through the medium of music and dance. May Sangeet Abhinay Academy, born 40 years ago with the dream and vision of Fr Charles, became a platform for many more youth under his inspiration and guidance, to be messengers of peace, love and harmony through the universal language of music and dance. Interested and talented youth of all castes and creed between the age 0f 16-24 are cordially welcome to join Fr Charles to carry on his vision and mission.