Mangaluru: 'Dance Dance' a new Global Tulu Dance Video Song released
By Shodhan Prasad

Bellevision Media Network


Mangaluru, 14 Oct 2021: In an effort to promote Tulu language to a greater level, a team of likeminded individuals came together to create a 'Tulu Dance Video Song' to the tune of which anybody and everybody could dance for across the globe. A professionally made catchy dance number is expected to go for a global hit and the makers have made with an intention of taking Tulu song to a next level for both the Tulu and non-Tulu speaking audience to enjoy. Song was released in N&N Creations YouTube Channel on October 9at 6:00pm IST.
Tulunadu is the only place in India where people of all folks and religion speak different languages in one place. However, Tulu language is born here and widely spoken in both the districts of Dakshina Kannada & Udupi which is spoken by no less than 2.5 to 3 million people. Many Tulu Movies have hit the screen while Yakshagana an ancient art, Drama, Songs and Videos on the folk are famous here. Karnataka Cultural Ministry, Political Leaders and many Tulu Associations are trying hard to push for Tulu to be added under 8th schedule as a recognized language in the Constitution of India.
The 'Dance Dance' song video features well known Sandalwood and Coastalwood Actor Vineeth of 'Ondhu Motteya Kathe' & 'Birbal' along with Vikas Puthran who plays role of protagonist in the music video.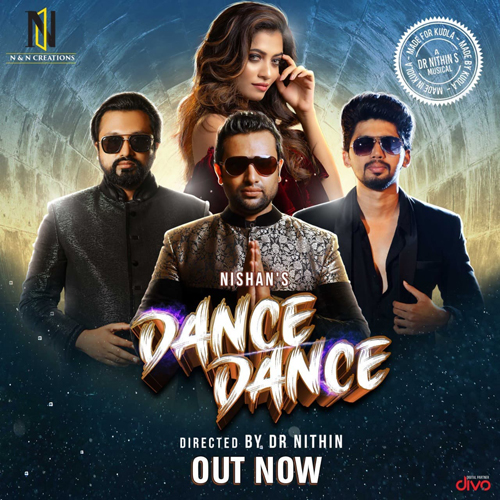 Lead actor is Siddharth Shetty of 'India's Got Talent' finalist in Dance and also Telugu finalist in Karnataka 2020. Lead Actress is "Miss Karnataka 2020" and popular Influencer Ms Vijetha Poojary along with Siddharth have given their best performance to set the Dance Floor on Fire.
Nishan S, a 'India and Asia Book of Record holder' who was also conferred with Honorary doctorate, is the male Vocalist Singer while the female vocal was rendered by Lavita Lobo who is a well-known playback singer in Telugu, Tamil movies and also the singer of 'Dang Dang' song starring Mahesh Babu and Tamanah.
Music is directed by Patson Pereira, who has worked and composed for Arman Malik, Mohit Chauhan and other eminent singers to his record. He is the son of well-known all time Musician Guru Patrick Pereira.
Well Directed by Dr Nithin S, who actually is MD Physician by profession and as a passion is also part of Kannada movie 'Premam Poojyam' involved in film industry.
Released under the banner N&N Creations, this dance song is the first Tulu language dance number with all the elements required to go viral like Hook music and Catchy lyrics, Hook steps, Excellent choreography and screenplay for mass audience.
Since this song carries the essence of Kudla, the team is confident that everyone will enjoy the song and groove to it during the festive season and every forthcoming celebrations.
This Video Song is available on all the leading platforms including InstaMusic, TikTok, Chingari other Musical Apps and Platforms
Here is the official song link of the Video - https://youtu.be/6TkzqPcTMpM
Also listen on your favorite streaming below platforms:-
Gaana - https://bit.ly/3uXYJNT
Apple Music - https://apple.co/3v99cXf
iTunes - https://apple.co/3v99cXf
Spotify - https://prf.hn/l/7AxgmkO
Resso - https://m.resso.app/ZSe8DL5Q8/
YouTube Music - https://bit.ly/3loTGD2
Hungama - https://bit.ly/2YCMXg8
Wynk - https://bit.ly/3anNGV2
Raaga - https://bit.ly/2YryLq1