Sharjah: Kannada literary enthusiasts flock to Shanti Prakashana's stall at 38th Int'l Book Fair
By Shodhan Prasad

Bellevision Media Network


Sharjah, 13 Nov: Representing the Kannada language, Shanti Prakashana of Mangaluru have successfully participated for the 4th consecutive year in the Sharjah 38th International Book Fair at Sharjah Expo Centre which went on for 10 days' period visited by thousands of literature lovers.
Shanti Prakashan is famous publisher operating from Mangaluru in Bibi Alabi Road for more than 25 years. Abdul Salam Belma who represents Shanti Praskashana in Sharjah have been continuously striving hard in not only participating in Sharjah Expo International Book Fair for 4 consecutive years but also bringing Kannadigas together in this occasion.
Under the campaign, 'Shantigaagi Sahitya' (Literature for Peace) Shanti Prakashana have been organizing such events which includes Vision Expo, Book Exhibition, Publisher's Meet, Panel Discussion, Cultural Shows etc., for many years from now. Shanti Prakashana have been delivering Islamic messages to the Kannadigas; initiating towards the welfare of the society culturally, socially, and spiritually. They have been translating books so that individuals understand each other's religions. It is very essential to understand and respect other religions for our nation to live in peace.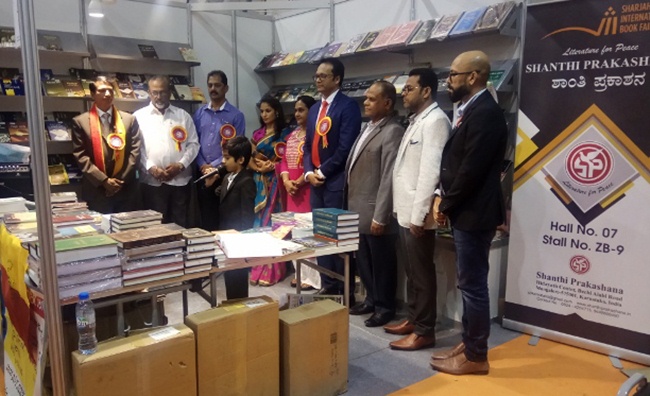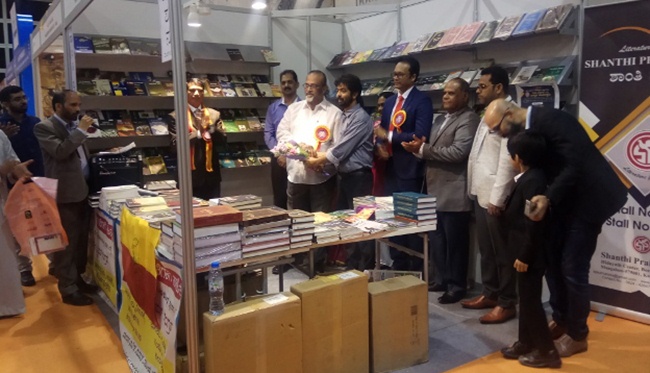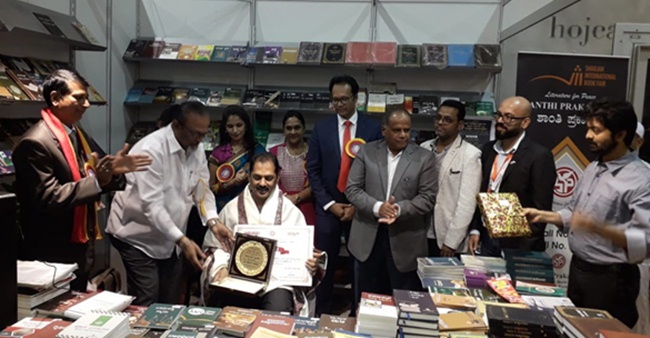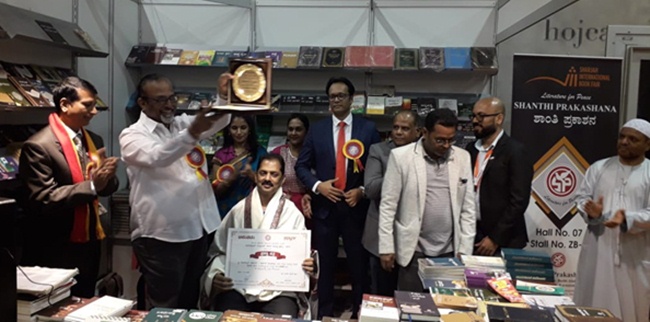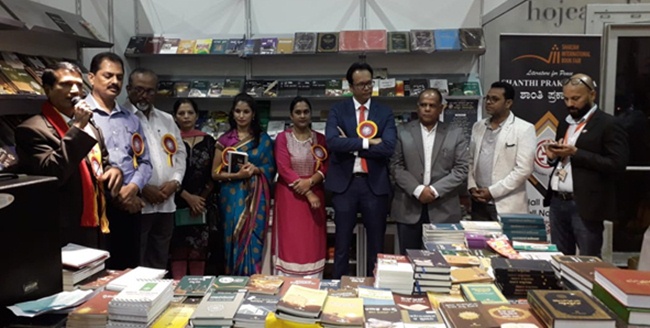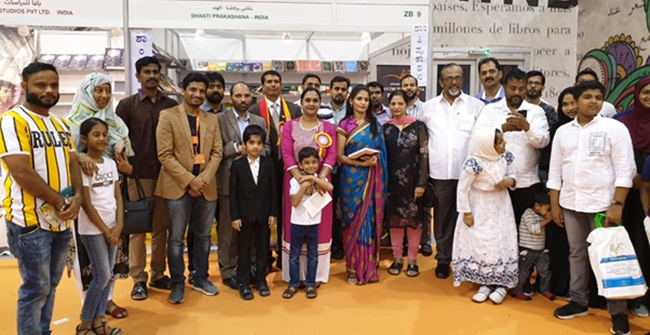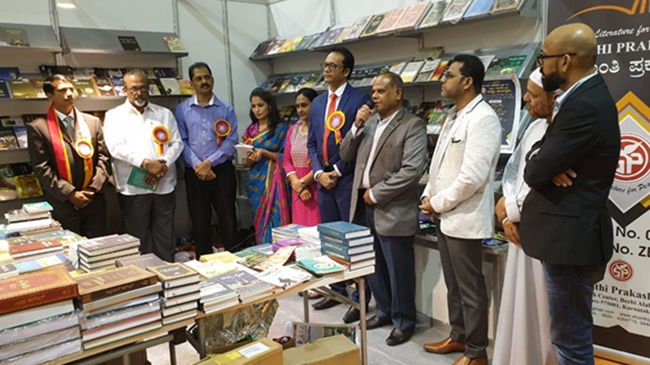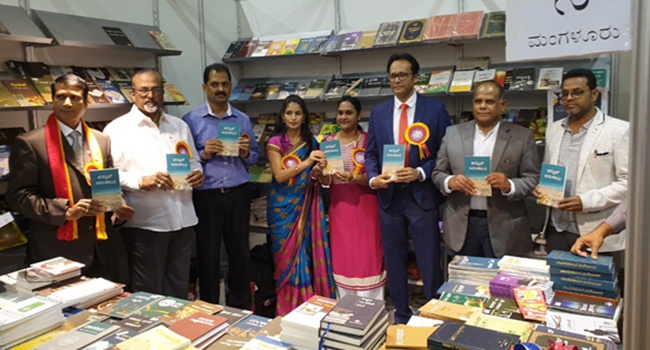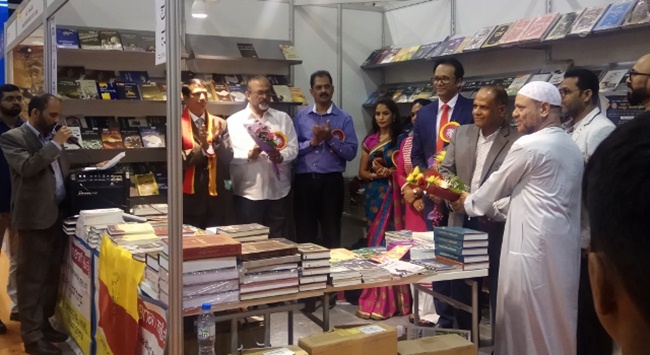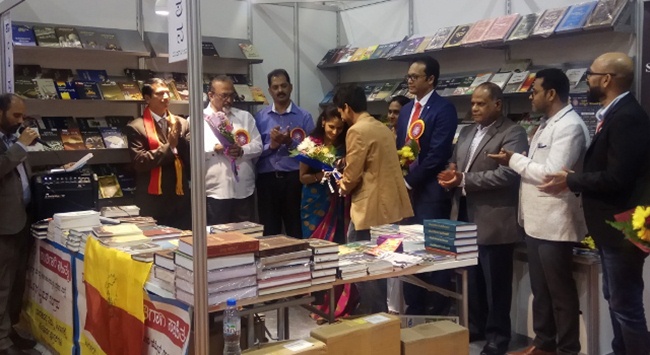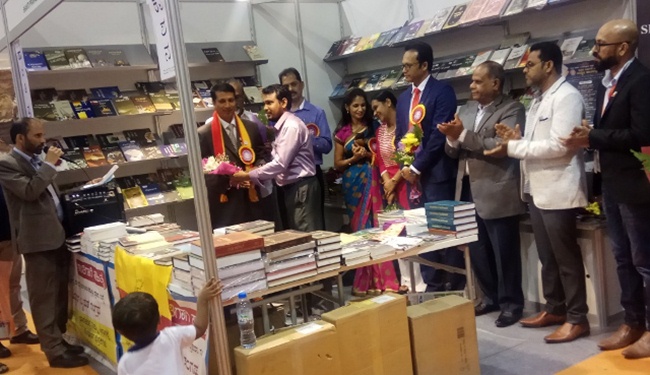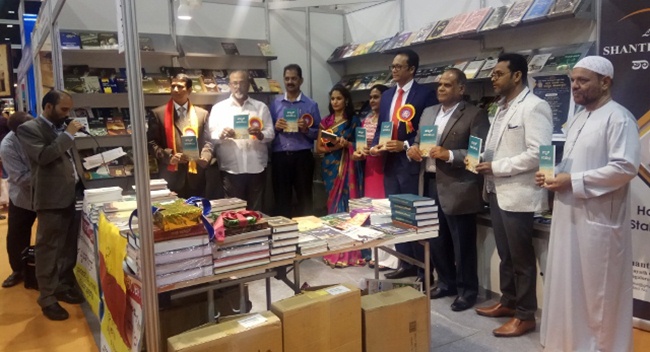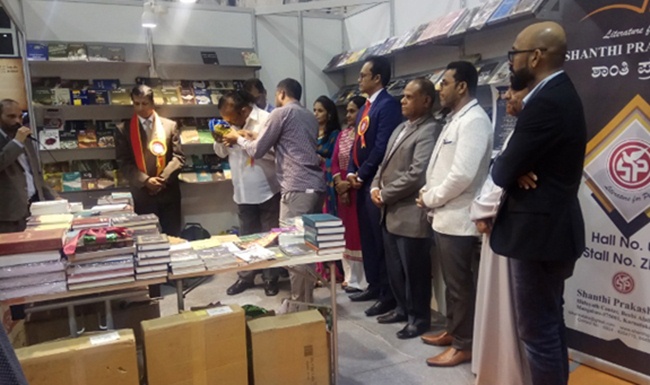 In the beginning Nooh read the selected verses from the Holy Quran and inaugurated the programme. Asif Malpe translated and narrated the same in Kannada later.
Riyaz Puttur welcomed the audience and the guests who then briefed on the occasion about Shanti Prakshana and their effort towards exploring Kannada literature and Prophetical teachings in simple language.
Every year they release some new literature books and this year they have arranged a nice programme wherein various well-known guests arrived to do the honours of releasing the new books and inaugurating the programme. All the Guests were introduced and welcomed with Flower Bouquet.
Power Yoga expert Dr Bhageerathi Kannadathi who is also the convenor of Kannada Kalika Kendra, Bangaluru released the book of Ha Ayisha's Biography which was originally in Urdu by Maayil Khairabadi and translated in Kannada by Misbah Khanum. She expressed her happiness that a Kannada book stall is being organised by Shanti Prakashana in Sharjah successfully for four consecutive years and wished them all success in their future endeavours.
In order to express Prophet Mohammed's (Peace be upon him) Biography in Kannada various well-known writers have come forward to share their poems for Kannadigas and some of the simple and understandable literatures were captured in one book titled 'Manava KuladaShresta Maargadarshaka' and this book was released by social worker and film producer Shodhan Prasad during the event. Whilst speaking he said, 'In midst of the hundreds of stall of various languages, Shanti Prakashana's Kannada stall in Sharjah Book Fair stand tall and noticeable.'
Beary's Welfare Forum president Muhammed Ali Uchil released a book titled 'Pravadi Mohammad Yellarigagi' in Kannada during the occasion and expressed his happiness for Shanti Prakashana's noble work. He wished them good luck for the future and requested support from all Kannadigas.
Beary's Chamber of Commerce & Industries president S M Basheer released a book titled 'Asheerana Kavanagalu' by Asheer Manjanadi and spoke on the event. He stressed that Kannadigas should come forward in promoting such noble works and support more such events.
In fond remembrance of writer and poet Marhoum Ibrahim an Award to non-resident writer poet was bestowed to Irshad Moodbidri in recognition of his service to Kannada literature in this part of the world. Muhammed Uchil felicitated him with shawl and Shodhan Prasad handed over the memento and honoured him. Later, Irshad Moodbidri spoke in return and narrated few short poems he had exclusively written for the event which was appreciated by all.
Businessman Rafiq Krishnapura, Sandhya Shodhan Prasad, Kanadiga Vishnumurthy Mysuru, Rafiq Ali Madikeri, Mamatha Bengaluru, Mohiuddin Sahab Belagavi, Irfan Kaud Bhatkal, Siddique Ullal, Akbar Vittal, Krishna Kumar Brahmavar, V K Rashid, Ansar Hoode, Hassan Hoode, Imran Kudroli, Irfan Kudroli were some of the well-known guests who were present during the ceremony.
Nisar Farangipet conducted and concluded the programme smoothly and conveyed vote of thanks.