Bollywood actor Varsha Usgaonkar & Goa's Prince Jacob to grace premier of Konkani movie, Benddkar
By Shodhan Prasad

Bellevision Media Network


Dubai, 23 Oct: Bollywood actor Varsha Usgaonkar, Goa's well known star Prince Jacob who is also one of the producers along with producers Stany Alvares, Dolphy Rebello, Harry Fernandes (also the director of the movie) and other star casts will grace the much-awaited grand Premier of Konkani movie 'Benddkar at Novo Cinemas, Ibn Batuta Mall on Friday, October 25 at 12.30pm.
A group of Brass Band real Benddkar's playing live on the stage erected within Ibn Batuta Mall in front of the Cinemas will be a special attraction which will add colours to the red carpet welcome inauguration ceremony. This will be a first of its kind to be witnessed by more than 1000 movie fans of Konkani in this part of the world.
Fr Derrick Paul D'Souza, parish priest of St Joseph Church Abu Dhabi will bless the event during inaugural function which will also be graced by well-known community members of Mangaluru and Goa in Dubai and special guests arriving from India and abroad.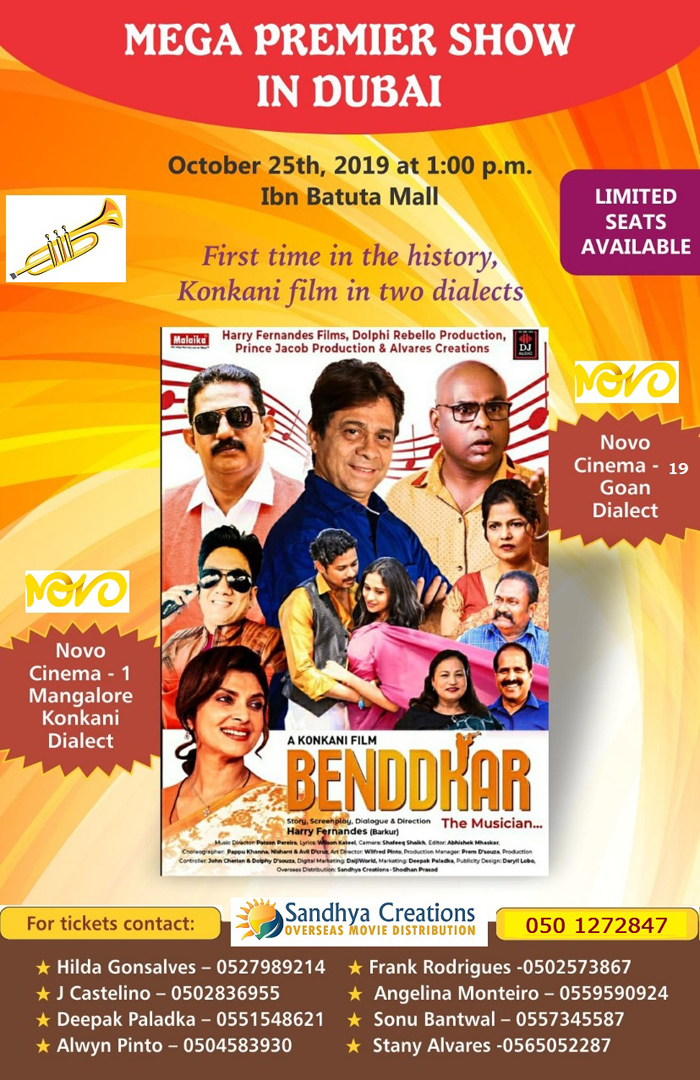 For the first time in the history of Konkani movies, Benddkar which is made in both Mangalurean as well as Goan dialect will be screened separately in different theaters. Many shows have been booked in other Emirates as well and in Abu Dhabi and Sharjah the shows will be on November 1, at 1.30pm.
Benddkar will also be screened in other parts of the world including GCC countries, the details of which will soon be published as said by the producers.
'Benddkar' has some of the well-known stars including Bollywood's Varsha Usgaonkar, Goa's Prince Jacob, John D'Silva, Kevin D'Mello and introducing Naisa Lotlekar with Mangaluru's well known star Stany Alvares, Dubai's stars Deepak Paladka, Joseph Mathias, Sunita Menezes and Claude D'Lima with Cyril Castelino, Sneha Metha, Sujatha Andrade, Alwyn Andrade, Manu Bantwal, Nikita Peries, Dolphy D'Souza, Ivan Furtado, Hannah Furtado, Archibald Furtado, Salomi Alvares, Floyd Cascia and the famous Jolly Brass Band of Perampalli, Udupi.
The technical team comprises of music director Patson Pereira, background music by Manoj Singh, lyrics by Wilson Kateel, choreographer's Pappu Khanna, Nishant and Avil D'Cruz, Cinematographer Shafeeq Shaikh, editor Abhishek Mhaskar, art director Wilfred Pinto, production manager Prem D'Souza, production controller John Cherian and Dolphy D'Souza, publicity design Daryl Lobo, social media co-ordinator Deepak Paladka, live promotions by Suri Online and overseas distribution Shodhan Prasad of Sandhya Creations.
Benddkar's story, screenplay, dialogues and direction is being creatively crafted by Harry Fernandes whose dream is to give importance to and highlight those Benddkar's whom the current generation has completely forgotten with the invasion of modern days DJ's. He has plans to share a percentage of the profit from the screening of Benddkar to those distressed families of brass band artistes.
For Movie Bookings in any part of the world contact:
Harry Fernandes : +91 7738305727
Stany Alvares : +91 9845044983 / 055 9385984
Deepak Paladka : +971 551558621
Prem D'Souza : +91 8296688100
Sandhya Creations Overseas Movies : shodhanprasad1@gmail.com