Manglurean Vibhali Shetty wins coveted Sharjah Award for Excellence in Education
By Shodhan Prasad

Bellevision Media Network


Sharjah, 23 May: Prestigious 'Sharjah Award for Educational Excellence 2018-19', a national award is awarded to the country's highest-rated students every year and this year it has been awarded to Grade IX student Vibhali Shetty of Our Own High School (girls) Sharjah.
Mangalurean Vibhali Shetty is the daughter of businessman Prasad Shetty who runs Rajab Trading Company and mother Suraksha Prasad Shetty is Design Manager & Senior Architect at Semac Consultants, Dubai. Father a native of Udupi and mother from Surathkal are currently residents of Sharjah.
The Sharjah Award for excellence was launched in 1994-95 under the patronage of Sheikh Dr Sultan Bin Mohammed Al Qasimi, member of the Supreme Council and ruler of Sharjah. This Award is the first educational award in the UAE which is focused to honor and recognize outstanding individuals in education field and promote a culture of excellence.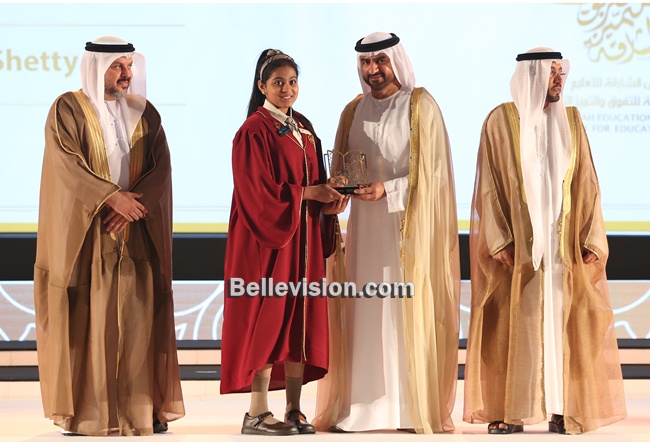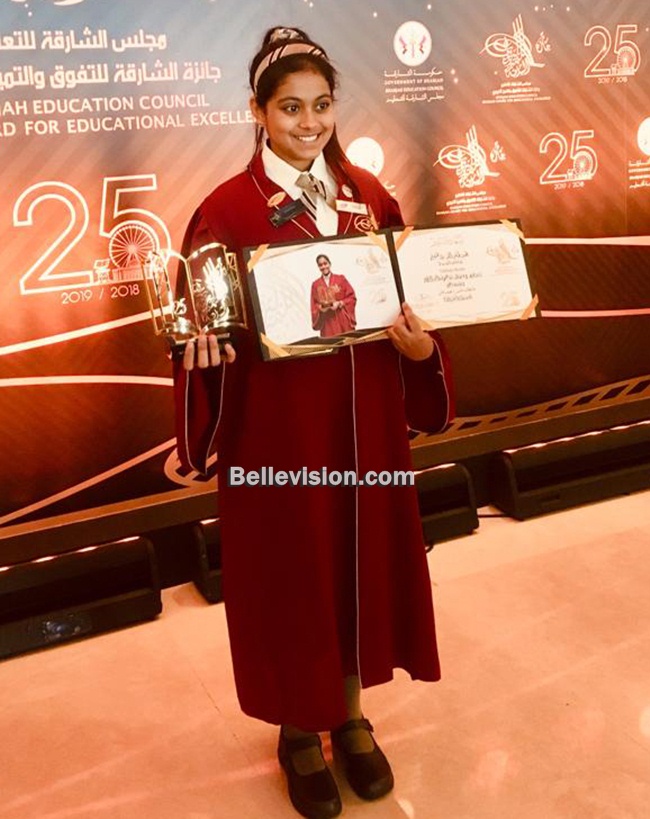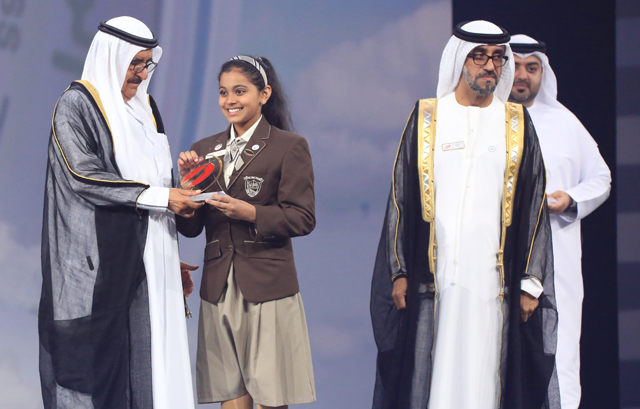 The Award ceremony was held at the Jawaher Reception & Convention Centre, Sharjah on 1st May 2019, presided by the Crown Prince of Sharjah, Sultan bin Mohammad Bin Sultan Al Qasimiwho handed over the award to Vibhali Shetty. The members of the Royal Family and several other dignitaries were also present during the ceremony.
An ecstatic Vibhali said, 'I am excited to receive this award on the 25th year of the award cycle. My hard work made me achieve commendation in academics throughout the years. This has been accompanied by my passion for extracurricular activities such as dancing, singing, drawing and other skills like abacus and public speaking. The award made me realize that excelling in academics is not the only criteria of achievement in a student's life.Sharjah award is a great motivation and a symbol of encouragement. Winning the award gives me great pleasure and satisfaction. I sincerely thank Sheikh Dr Sultan Bin Muhammed Al Qasimi, ruler of Sharjah for sowing the seed into each and every student's mind about excellence in education.'
Vibhali Shetty has several achievements and has won very many accolades some of which are here below:
? Ministry of Education, UAE - Awarded Merit Certificate for scoring 94.6 percent in 2016-17
? Received Commendation Certificate from Our Own English High School, Sharjah 2016-17
? Received Commendation Certificate from Our Own English High School, Sharjah 2015-16
? Received Commendation Certificate from Our Own English High School, Sharjah 2014-15
? Initiated 'Can Collection Campaign 2015' and contributed to environment
? Initiated 'Neighborhood Recycling Campaign 2015 & 2016' and contributed to environment
? Initiated 'Recycle Repeat Reforest 2016-17 Campaign and contributed to environment
? Participated in 'World Environment Day 2016' and contributed to environment
? Received Certificate of Appreciation from Students for the Earth Youth Group UAE
? Participated in 'Treat for the Planet' Drive 2016 and received Certificate of Appreciation
? Participated in 'For Our Emirates We Plant' Ceremony and planted a tree in my name for EEG
? Received 'Certificate of Participation' for achieving 500 kgs. of newspaper for Recycling Project 2015
? Received 'Certificate of Participation' for collecting 502 Kgs. Of newspaper & 50 kg. Aluminum Cans
? Received 'Certificate of Appreciation' for collecting 27.5 Kgs. Of Aluminum Cans during Campaign
? Received 'Certificate of Appreciation' for participation in 'Recycle Reforest Repeat Project 2016'
? Received 'Certificate of Appreciation' for participation in 'Recycle Reforest Repeat Project 2017'
? Received rewards for highest target in newspaper & can collection in the month of August 2016
? Volunteered in 'Earth Hour Celebration' and participated in Walkathon 2016
? Participated in 'Clean-up World' Campaign 2016
? Received 'Certificate of Appreciation' for participation in Recycle-thon 2016
? Received 'Certificate of Appreciation' for organizing the book donation by Indian Association Sharjah
? Appreciated for the fund raising campaign which raised $.110 for buying mosquito nets in Africa, UNO
? Organized 'Giving is living' Event in Karnataka and donated uniforms, books to Madrasa Students
? Mentored a child in neighborhood and helped that student in her studies
? Organized 'Special Deeds for Special Needs' campaign and collected sports items to Manzil
? Received 'Certificate of Appreciation' for 'Back to School' Campaign and noted School Bags/Water Bottles
? Received 'Certificate of Appreciation' for participating in 'Sweet Smile with a Small Gift' campaign
? Received 'Social Soldier Certificate' for volunteering in 'Go Humane' Ifthar distribution
? Received Certificate for volunteering in 'Back to School Edition' of Dubai Cares
? Received Certificate of Appreciation for participating in 'Spread the Taste, Stop the Waste' Campaign
? Received Certificate of Appreciation for participating in 'Hospitality Matters' Charity Campaign
? Member of the School Parliament at Our Own English High School, Sharjah
? Team Leader of Students for the Earth Youth Group 'Students for the Earth'
? Trained in Dance – both Contemporary & Bharatanatyam
? Performed in various stage shows and private functions
? Received 'Certificate of Merit' for the performance in Global Village during 2017
? Received 'Certificate of Merit' for the performance in Global Village during 2016
? Won first in Folk Dance Competition by Santhwanam Youth Fest 2016
? Received 'Certificate' for completing 3rd level UC Dino Art program in 2017
? Received 'Certificate of Achievement' for participating and winning various drawing competitions
? Received 'Certificate of Achievement' for participating & winning in various Public Speaking Competitions
? Received 'Certificate of Achievement' for participating & winning various singing competitions
? Trained in Abacus and completed ten levels at Brainobrain International and received recognitions
? Silver Topper at International Abacus Competitions during 2016
? Received 'Certificate of Appreciation' winning second place in 'My Green Ramandan' Contest 2016
? Received 'Certificate of Appreciation' for participating in UAE National Day Parade
? Received 'Certificate of Appreciation' for participating in Recyclathon Run 2016