Kuwait: ICS to celebrate Theatrical Day with popular English Plays on Oct 26
Bellevision Media Network


Kuwait, 24 Oct: Indian Cultural Society (ICS) to present India's highly acclaimed English plays with comedic and social satire, Two Adorable Losers and That's My Girl at At Kuwait Boy Scouts Association Auditorium, Street 301, Near Telecom Tower, Opposite Mughal Mahal Hawally, here, on Friday, October 26 at 5.30pm and 8.00pm. It was being organized to mark Theatrical Day.
ICS presented Theatrical Week in 2017 and now Theatrical experience with the team of legend actor and director Anant Mahadevan, Bharat Dabolkar, young female actress Shweta Rohira and Ananya Dutta. The highlight of the event will be young iconic actor Darsheel Safary, who became famous in National Award winning Film - Taare Zamen Par and movie actor Darsheel Safary will create laughter riot throughout the play with young director and actor Abhishek Patnaik.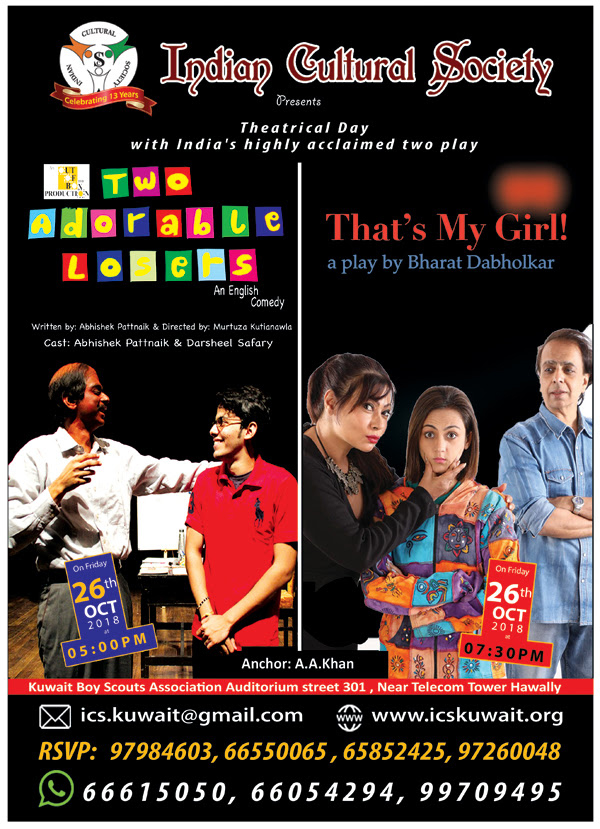 Two Adorable Losers - An English comedy about a professor from Odisha who is weak in his English diction and a student who is weak in his academics. Both suffer from the same problem - an inferiority complex. In an attempt to regain their lost confidence, they approach each other in an unusual alliance.
That's My Girl is a story of a daughter who has come seeking for a role in Hindi Film Industry and meets her father, who had deserted her and her mother 20 years ago. Although the undercurrent of the story is very emotional & sensitive, every line brings smile and laughter on faces.
The interaction between daughter, a wannabe film actress and her father, a veteran film writer will be hilarious, but also choke the heart in some moments.
Ananth Narayan Mahadevan
He is National award winning Media personality in films, television, theater and advertising since 1980.
He acted in over 30 theater production with over 3000 performance in India and abroad. Plays include works by Shakespeare, Arthur Miller, Moliere, Badal Sircar, Vijay Tendulkar, Mohan Rakesh, Neil Simon, Chekov, Ray Cooney, J B Priestley and others in Hindi and English.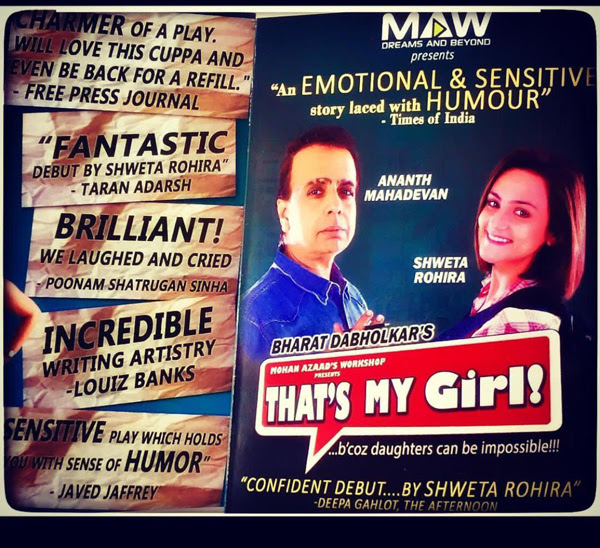 Lead roles in television about 100 serials on prime time on various channels like: Doordarshan, Zee Tv, Sony Entertainment, Star Plus, Metro Channels, and NEPC etc. Major works include lead roles in more than fifty television serials including, The Sword of Tipu Sultan, Ados Pados, Andaz, Kismat, Kanoon, Junoon, Amar Prem, Zabaan Sambhal Ke, Nupoor, Kayar, A Mouthful of Sky, Darpan, Kabhi To Milenge, Marshall, Waqt, Basera, Chingari, Odhni and others.
Anant Mahadevan acted in films featured roles include Khiladi, Chiladi, Chandni, Baazigar, Ishq, Gardish, Kudrat, Kim (English with Peter O Toole), Baadshah, Isabella (Malayalam), Nachnewale Gaanewale, Kyonki Main Jhoot Nahin Bolta, Satta, Sandwich, Pyar To Hona Hi Tha, Staying Alive, The Xpose, Vishwaroopam 2 (Hindi and Tamil), Papanaasam (Tamil) and many more.
Abhishek Pattnaik - The 27-year old Abhishek Pattnaik is one of the co-founders at Out of the Box Production. He has been directing, acting and writing English and Hindi Theatre since the past 7 years. His plays revolve around situational comedies. The role of a 52-year old Professor Jagganath Mahapatra in Two Adorable Losers, earned him popularity in the Theatre circuit, with a 4-star rating from Bombay Times. His premiere Hindi comedy, Last Over, starring Rakesh Bedi also received a 4-Star rating from Bombay Times. He has also done leads in TV shows like - Best of Luck Nikki and The Suite Life of Karan and Kabeer on Disney Channel India, and Yam Kisise Kam Nahin on EPIC Channel.
Darsheel Safary - Darsheel Safary is popularly known for his role with Aamir Khan in 'Taare Zameen Par.' He has also acted in Disney India's Zokkomon, Midnight's Children and Priyadarshan's Bum Bum Bole. He premiered in the field of theatre in the English Comedy Can I Help You, alongside theatre veterans Ananth Mahadevan and Joy Sengupta; and has gained overwhelming responses for his role as Akshay, in his current - Two Adorable Losers.
Bharat Dabholkar - Bharat Dabholkar is an actor and director, known for God Only Knows! (2007), Company (2002) and Veer (2010).
He used his creativity for some of the popular ads for Amul, and he has worn many hats — that of an actor, scriptwriter and director in the theatre and film world. It's been 30 years since Bharat Dabholkar first penned a play & never looked back! The man behind many Amul Butter-ads and billboards. Before he slipped into these roles, Dabholkar, a management graduate who studied law, started his career as a trainee in Philips.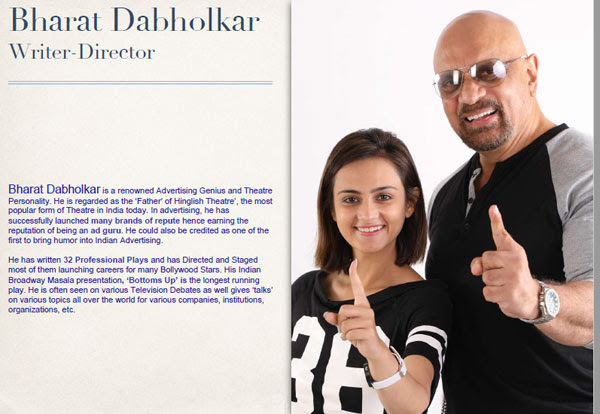 It was in 1985, when Bharat introduced Hinglish to the Theatre which changed the way language was used on the Indian stage. It was the first time we had doyens of Indian theatre from Gujrati and Marathi theatre like Viju Khote, Shobha Khote, Vihang Nayak, Tiku Talsania acting together. The audiences loved it because the language and certain nuances of the play were completely relatable. This 'King of Satire' has written more than 32 play with an exceptional record of having India's longest-running musical play 'Bottoms Up' to his name and not only this the second & the third longest running plays are his too.
Bharat Dabholkar still continues to follow his dreams of making people laugh.
Contacts: ics.kuwait@gmail.com or dial/whats app: 97260048, 66550065, 97428028, 99709495, and 65862425