Nottingham: MUKA celebrates Easter with Konkani Mass, traditional music & laughter unlimited
By Deepak Alvares

Bellevision Media Network


Nottingham/UK, 07 Apr 2018: Mangalorean United Konkani Association (MUKA) celebrated Easter at Bramcote Memorial Hall in Nottingham, UK, on Sunday, April 1. Over 200 Mangaloreans from all corners of the UK joined the celebration which included many members of KCA, UK-Manchester and SKA, London.
The day started with a solemn Eucharist celebrated by Fr Arun Prakash D'Souza SJ in Konkani. The altar that attracted many was beautifully decorated by MUKA members. Deepak Alvares led the melodious choir, supported by the young budding musicians of MUKA: Jesvita Menezes, Hailey Fernandes, Averil Alvares, Erica D'Souza, Alrica Sequeira, Sandrea Lobo and Jennifer Menezes on the keyboard, violin and guitar.
In his homily, Fr Arun invited the congregation to experience the presence of the Risen Lord in the brothers and sisters, or even in strangers by giving life just as Jesus did. Quoting the first Easter homily of Pope Francis, he emphasized the need to pass on the witness that Jesus is alive, which will give hope to the faithful and to the world. Fr Arun further called upon the faithful to share the mission of the Risen Christ to bring peace, joy and light to the world.
The offertory collection during the Mass will be forwarded to Christ the King (Christa Raja) Church at Damruhat in Godda district of Bihar-India for their hostel facilities and work in education of the underprivileged tribal children.
The cultural programme that followed the Mass began with the anchors of the day John Fernandes and Christina D'Souza formally welcoming the audience. Fr Arun along with MUKA president Pius Rasquinha; vice president Anita Menezes and secretary Shalini Pinto were welcomed onto the stage. Pius Rasquinha welcomed the gathering. To show our appreciation, Anitha Menezes and Shalini Pinto presented Fr Arun with a bouquet of flowers and a gift.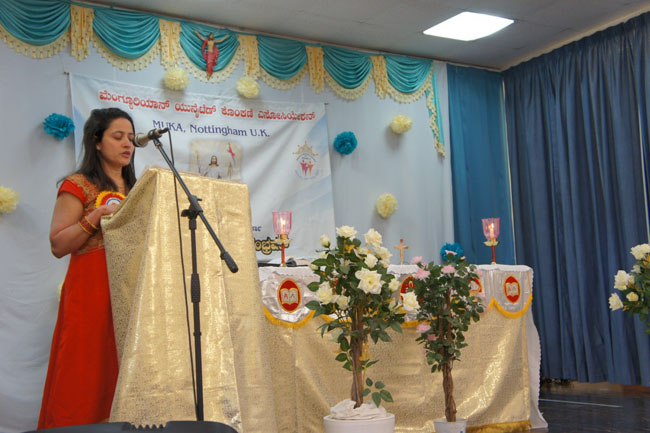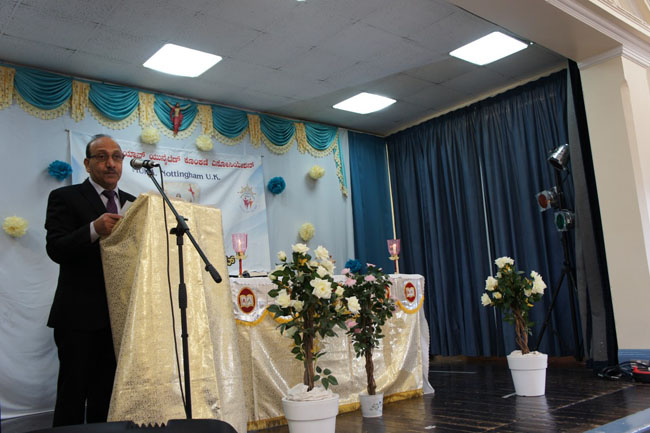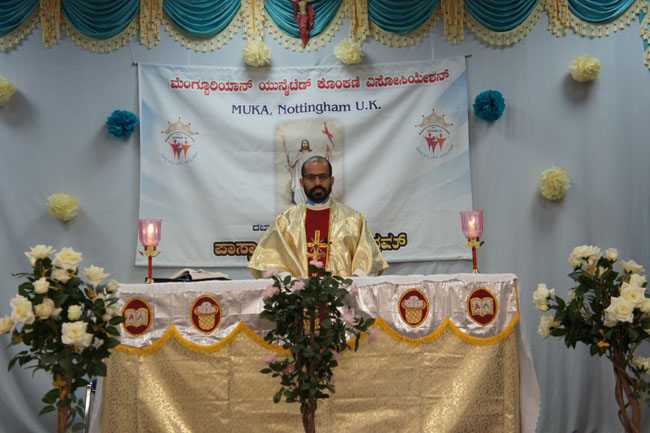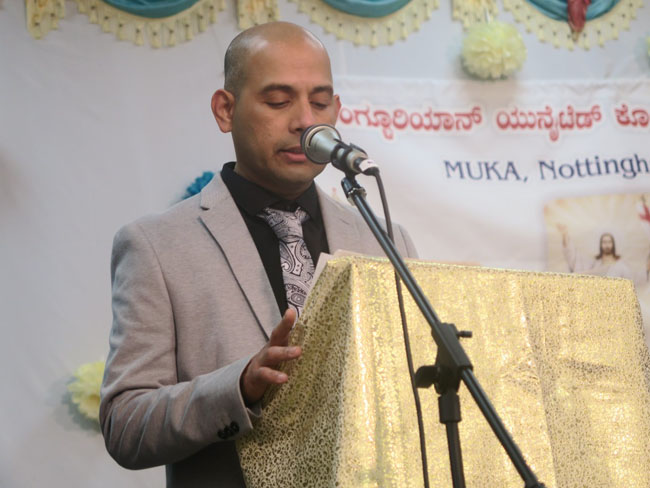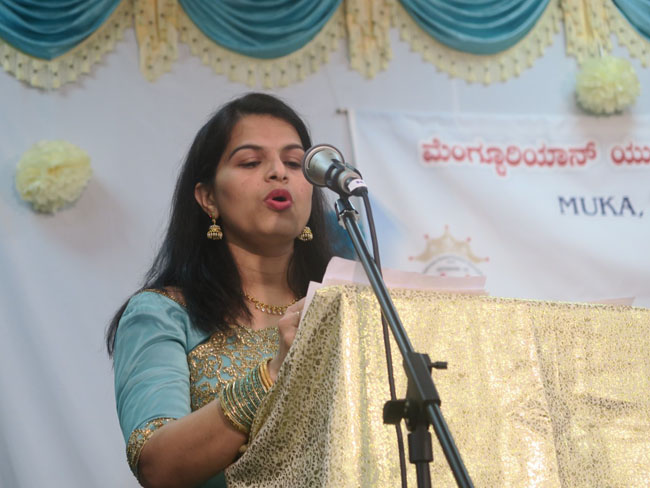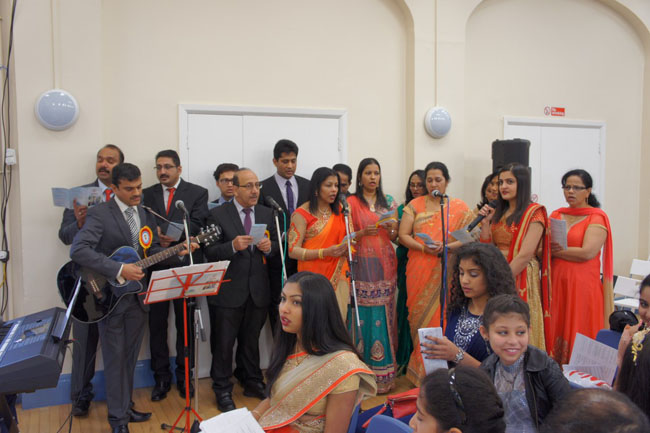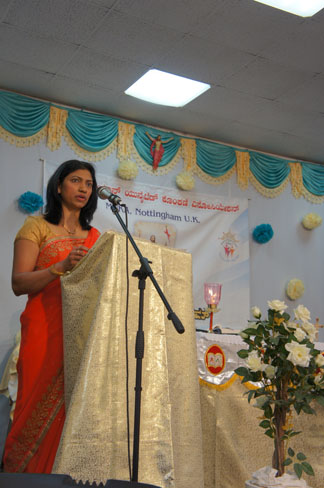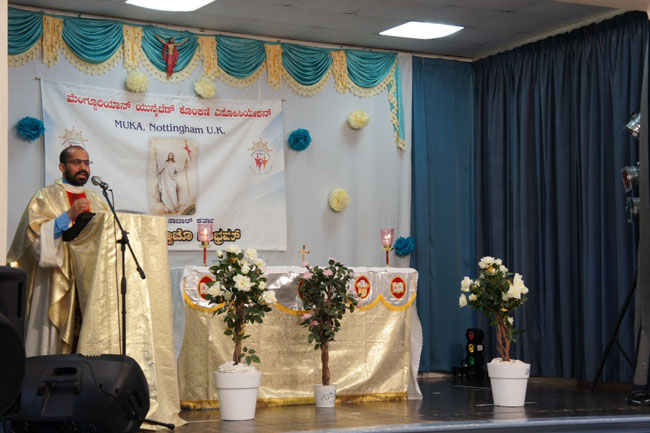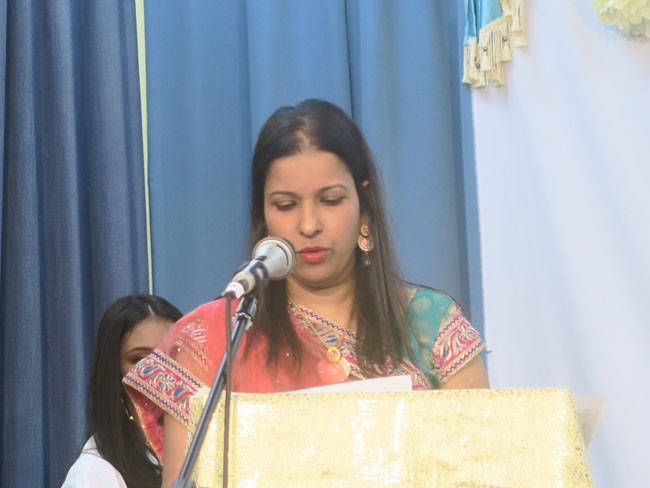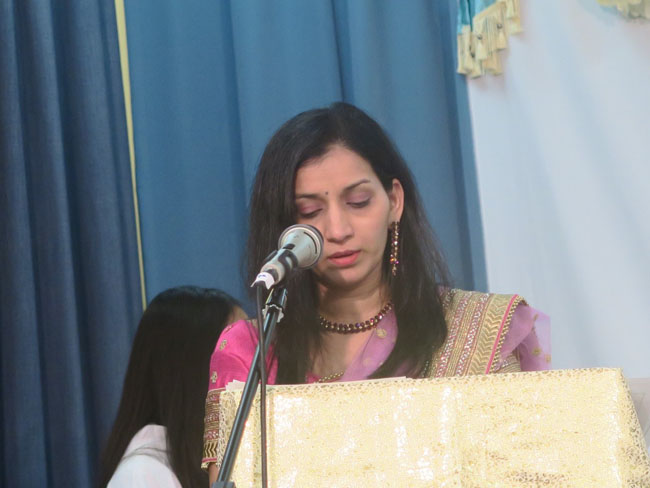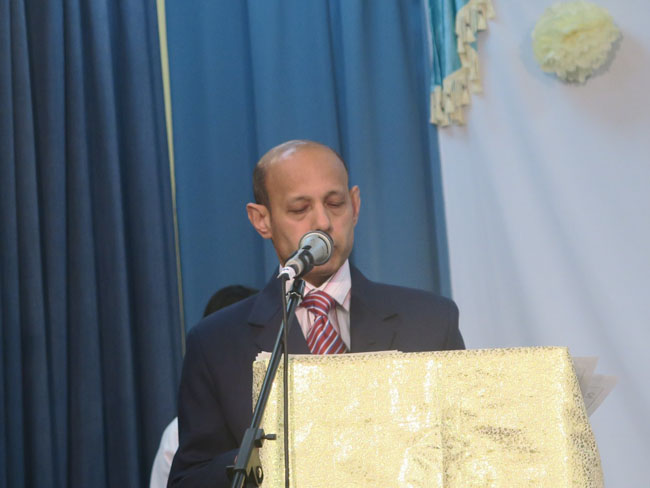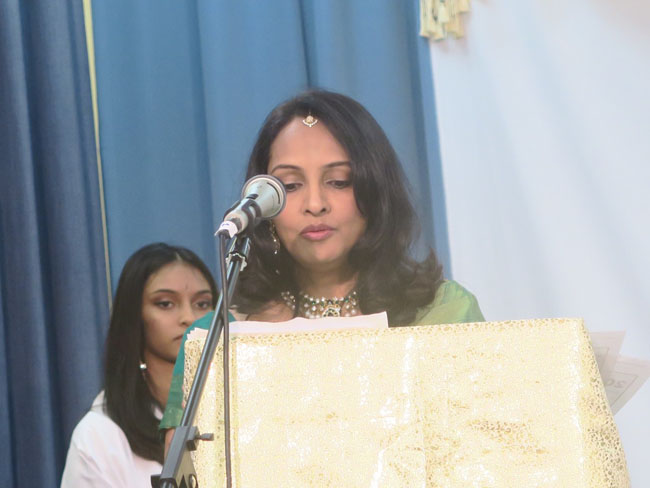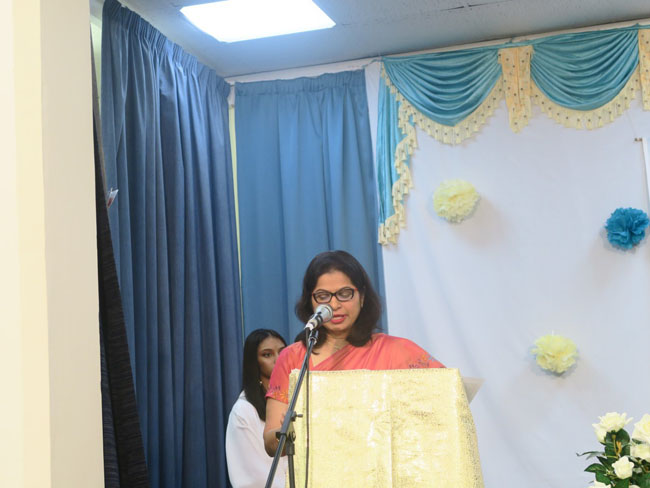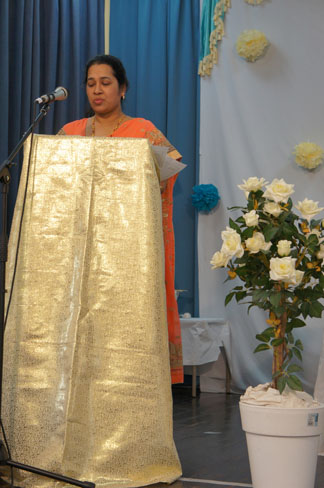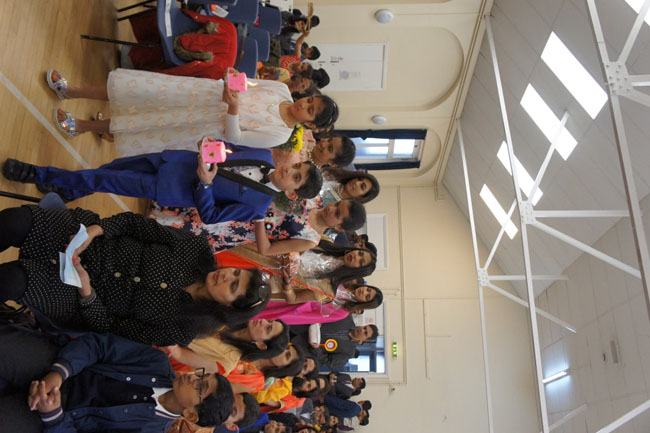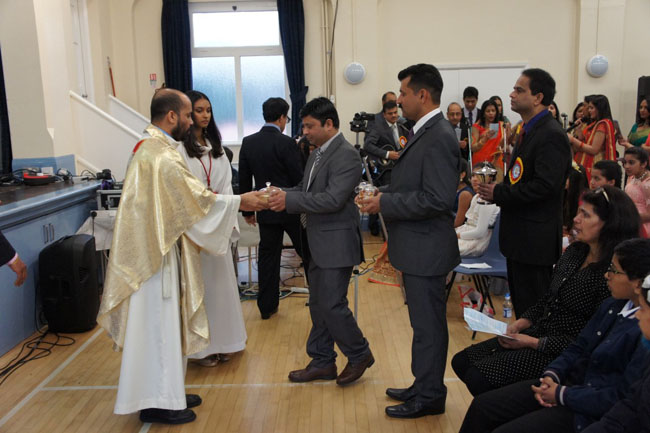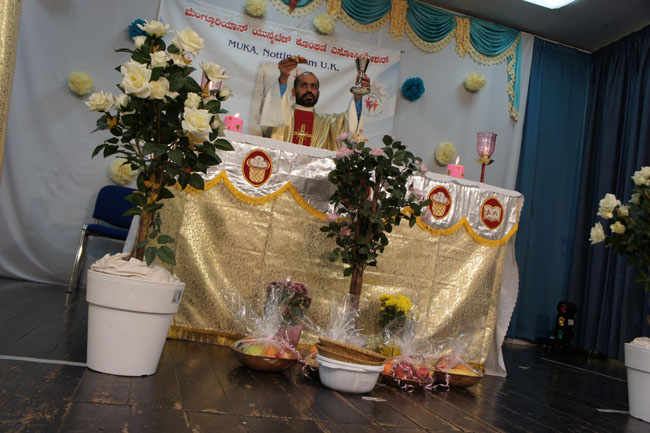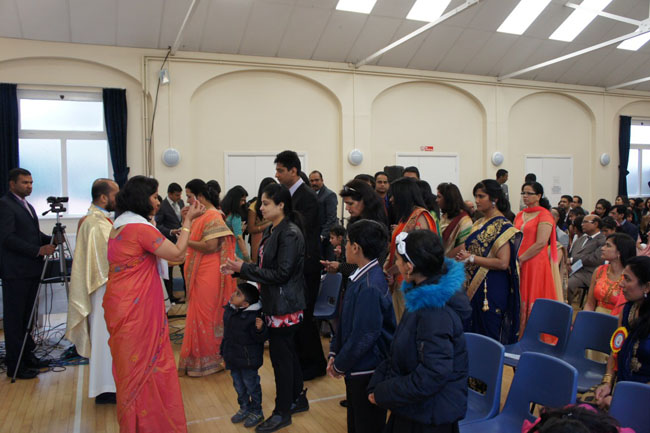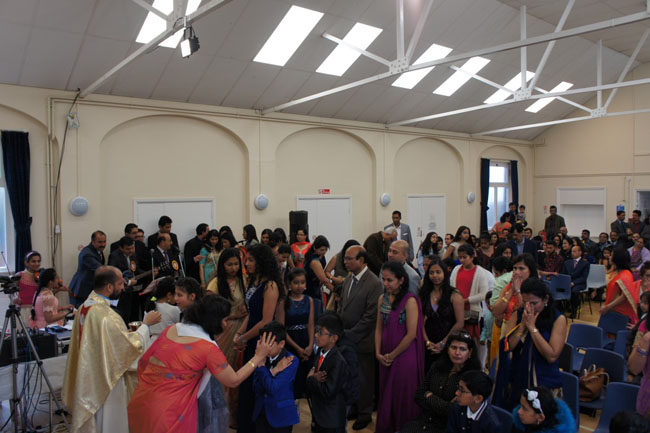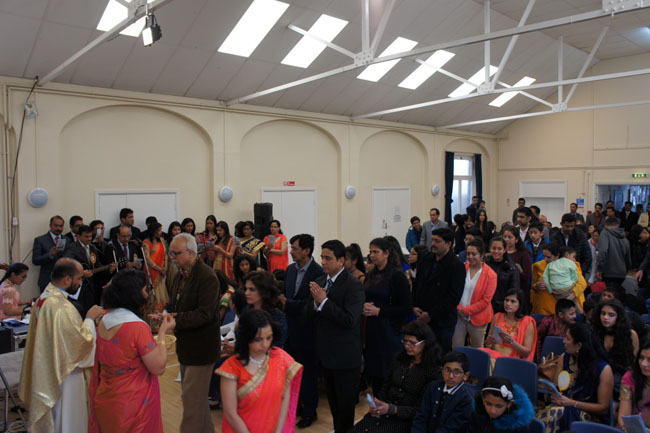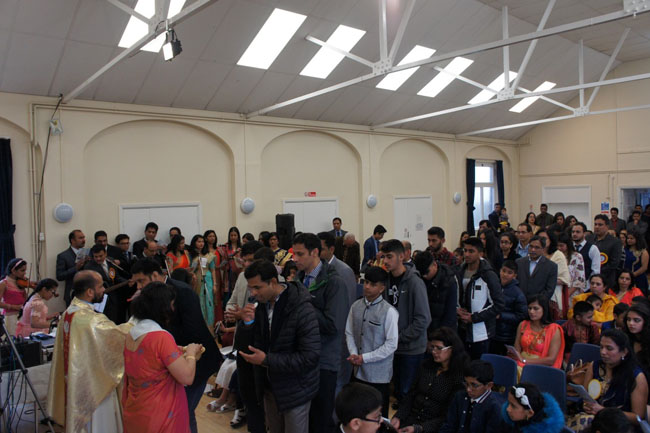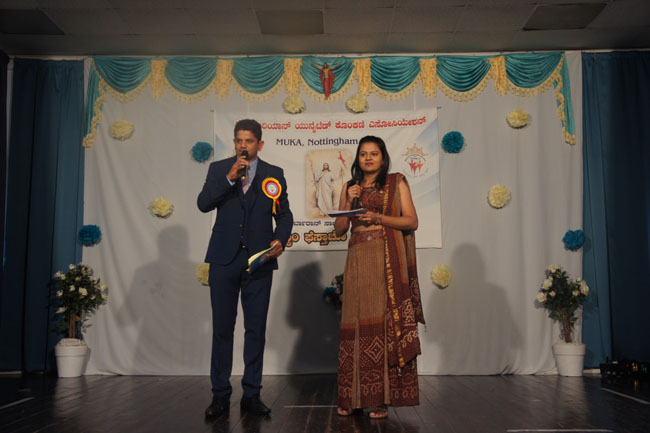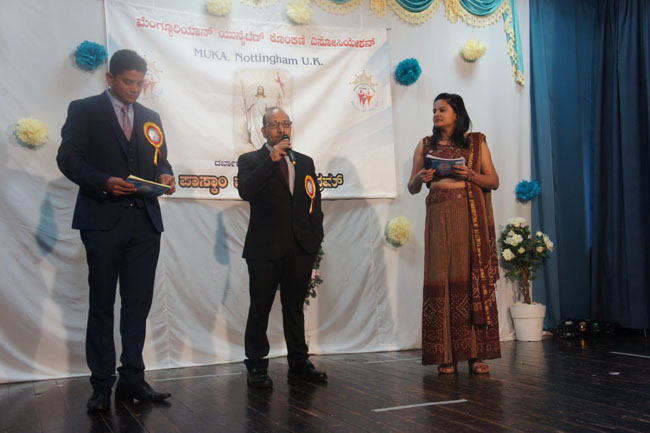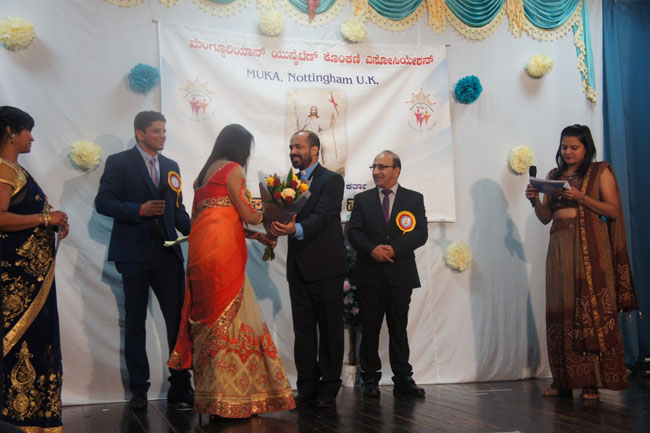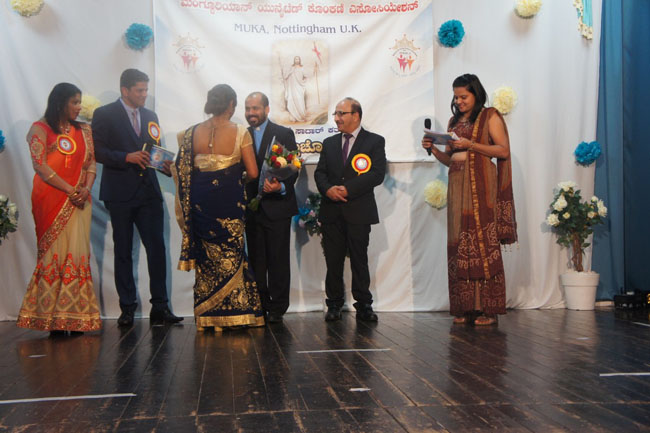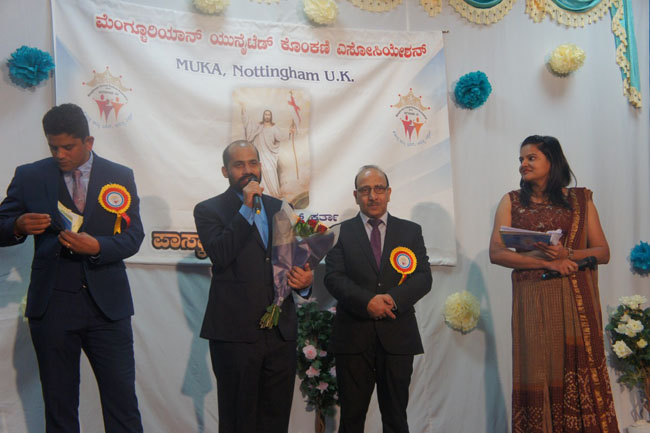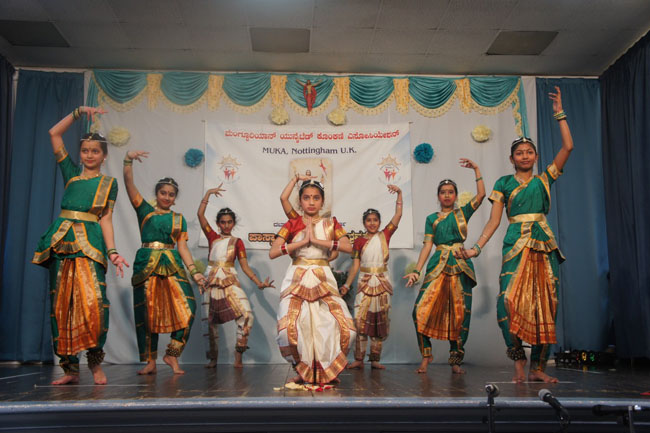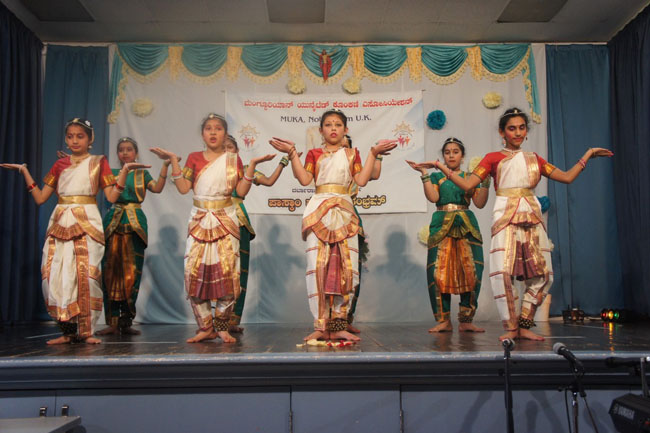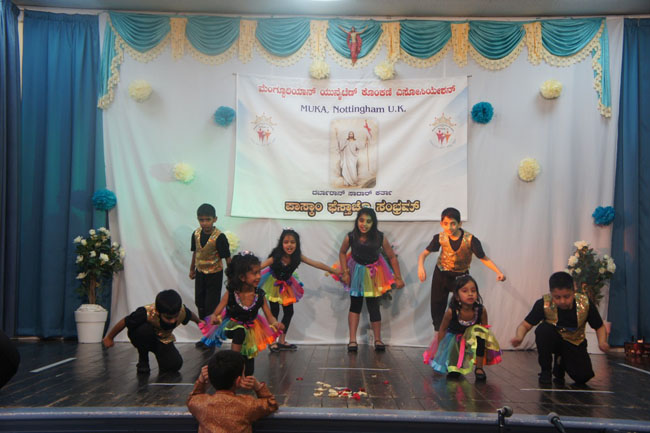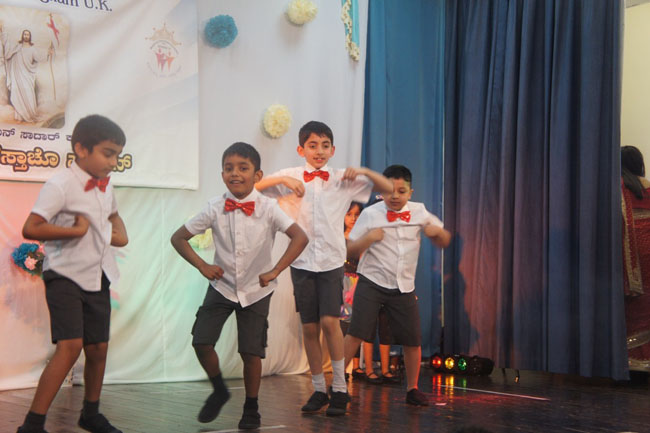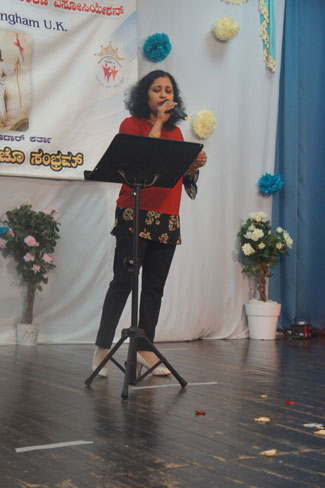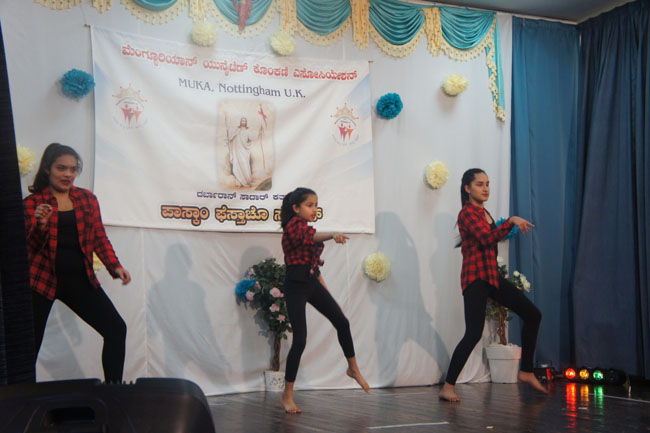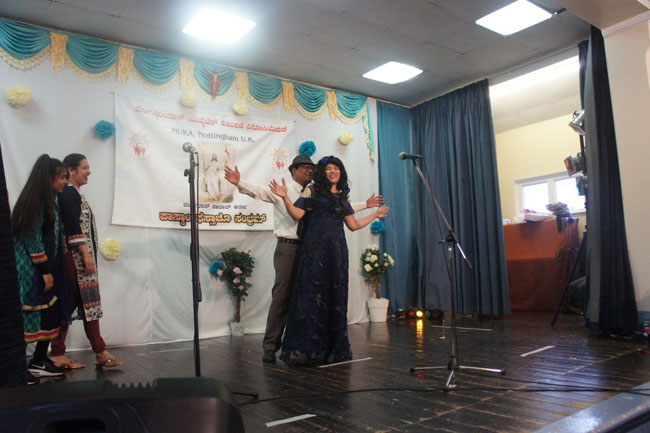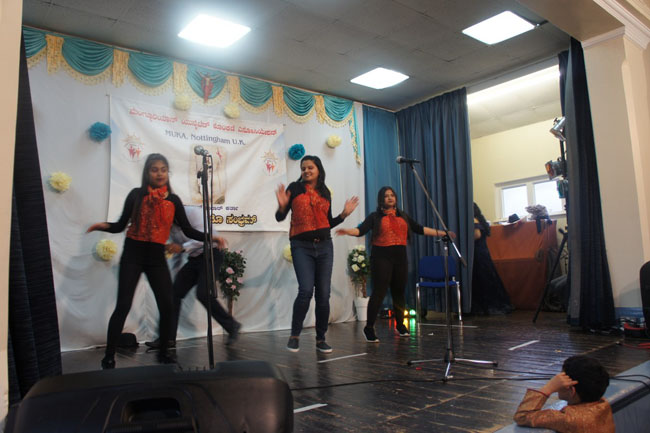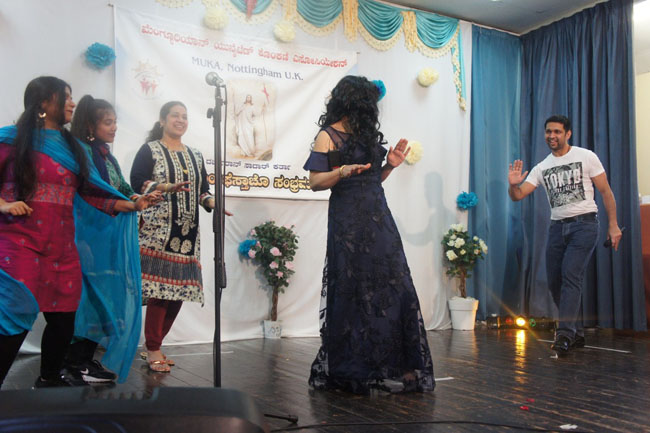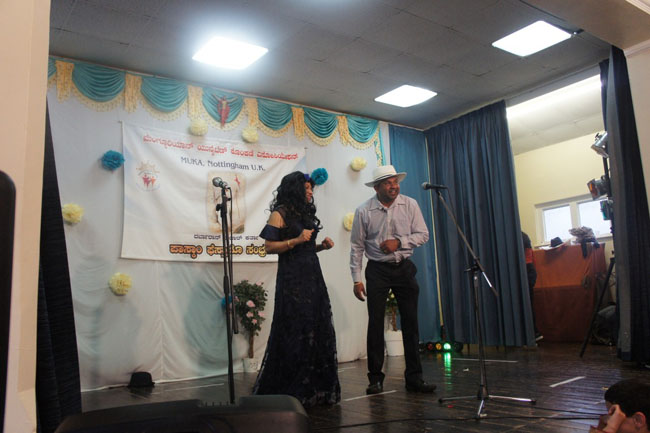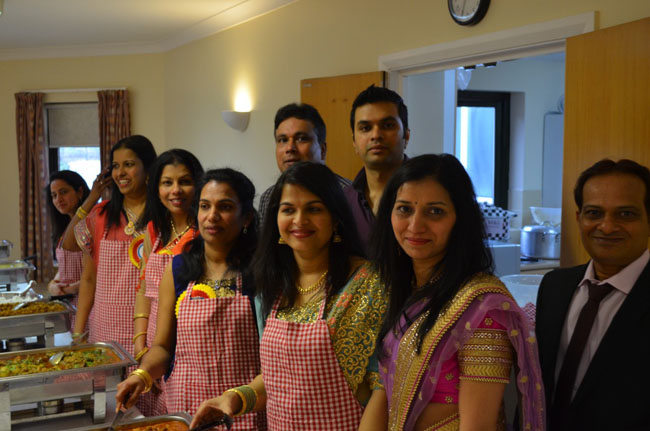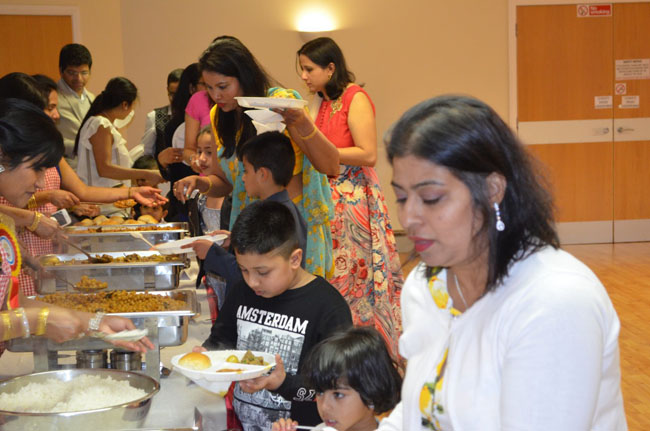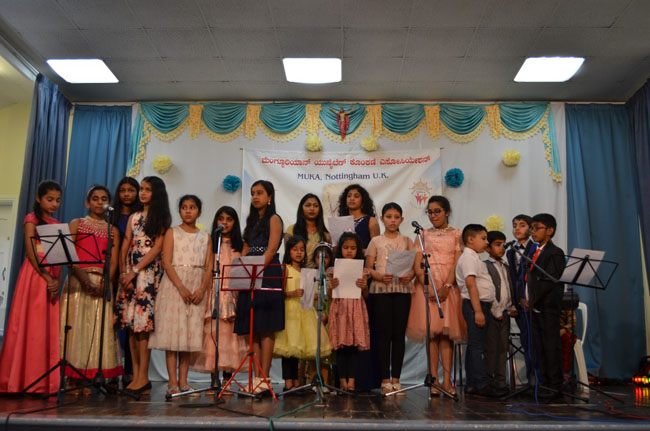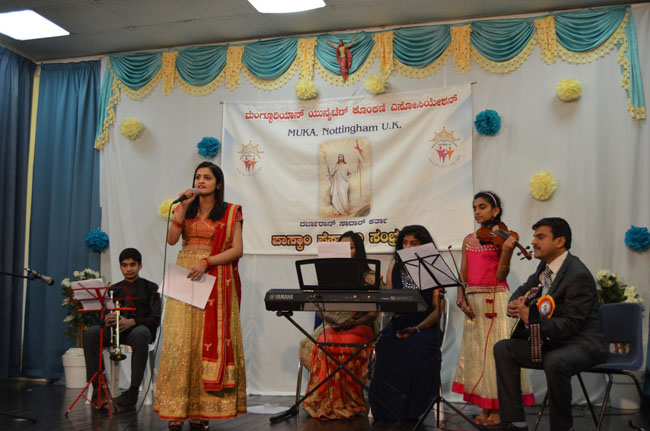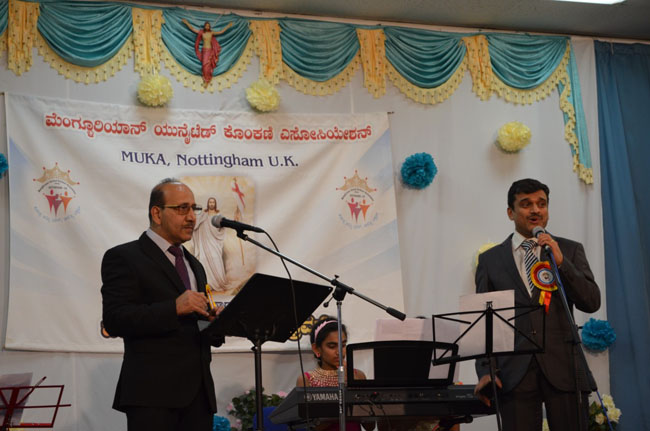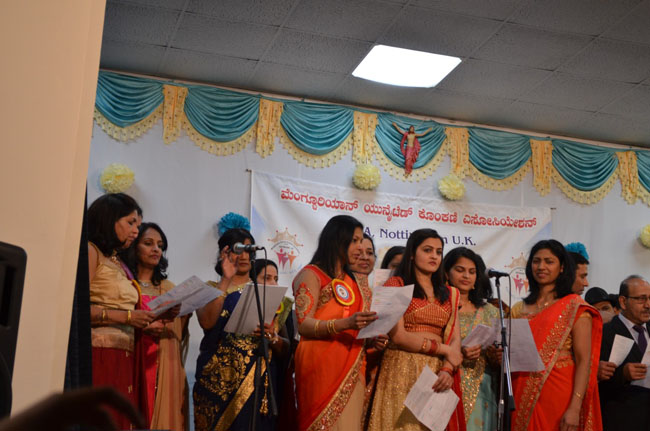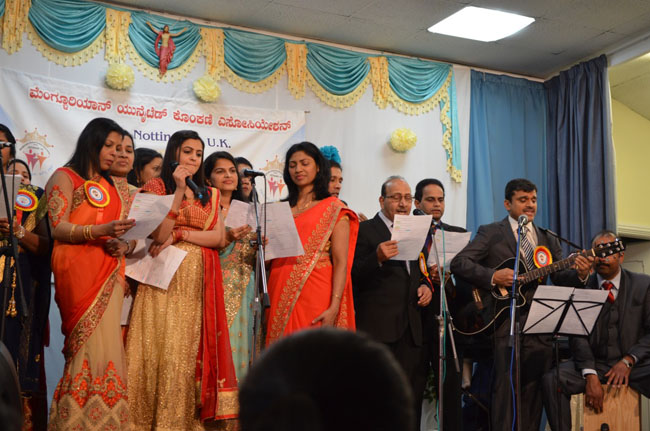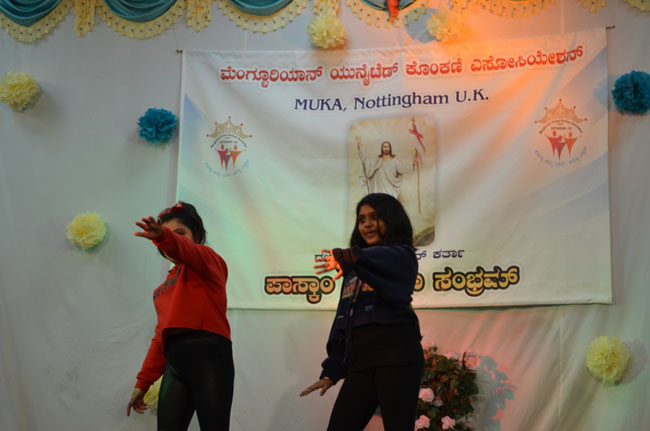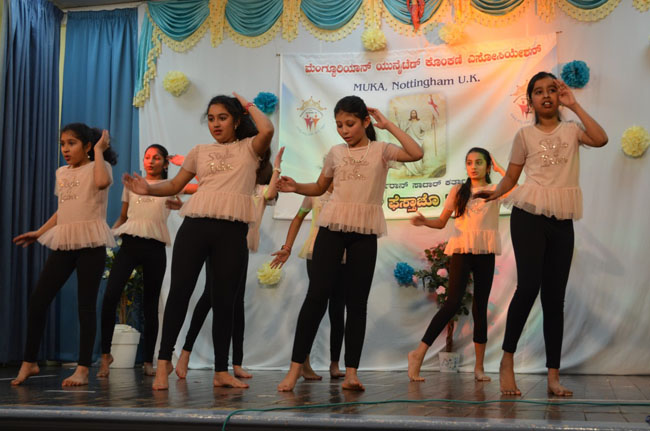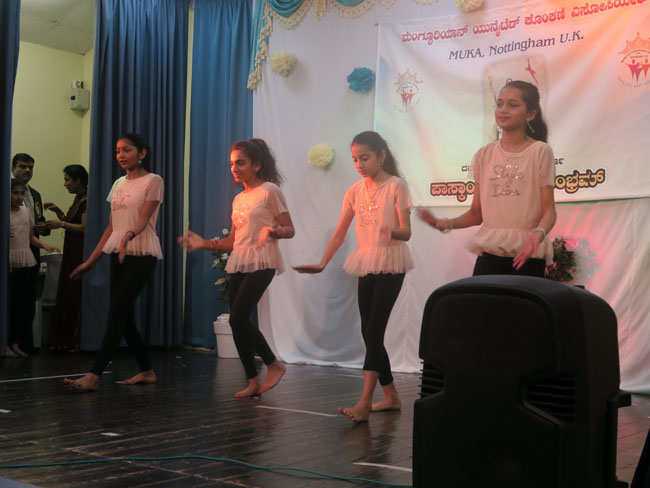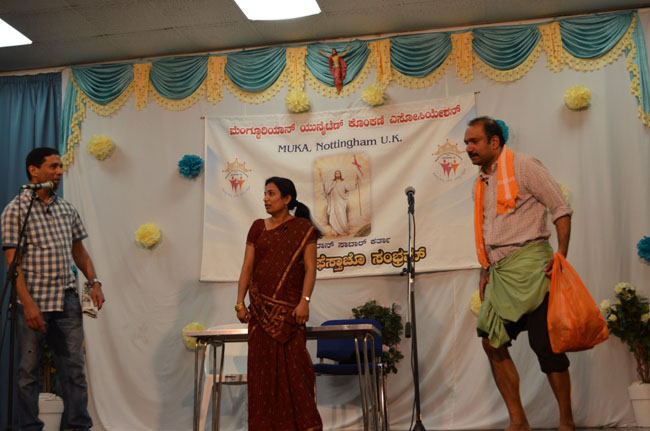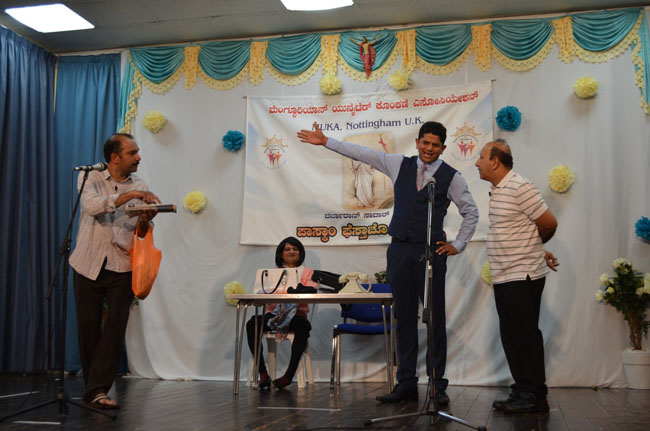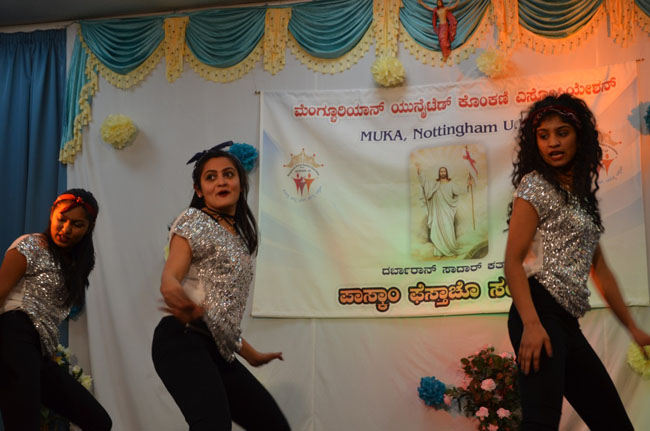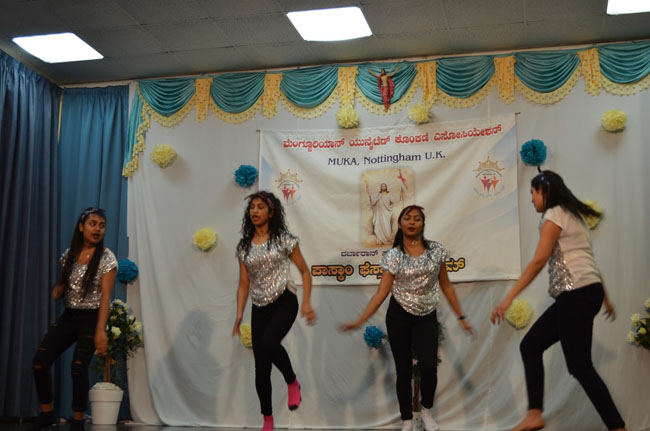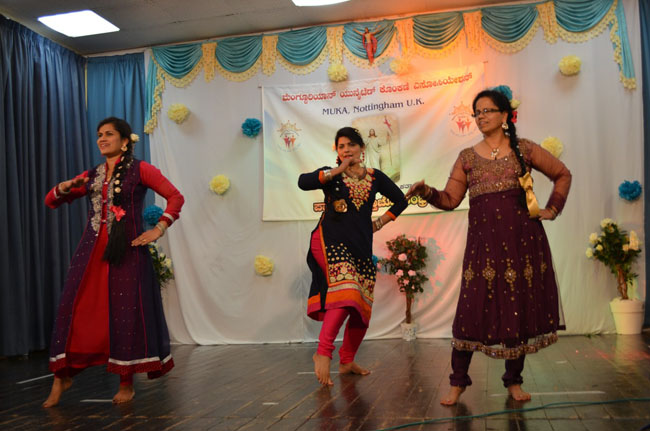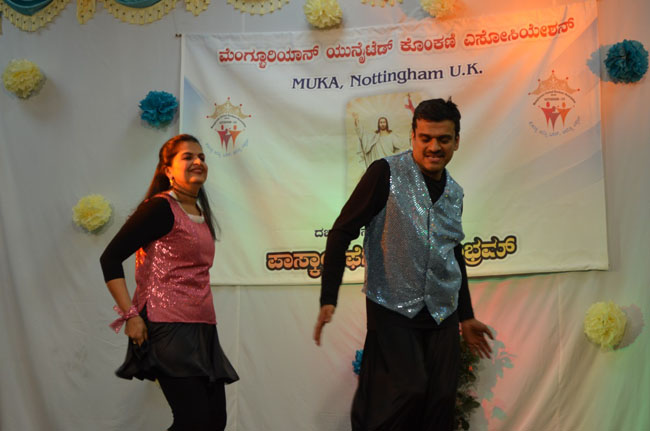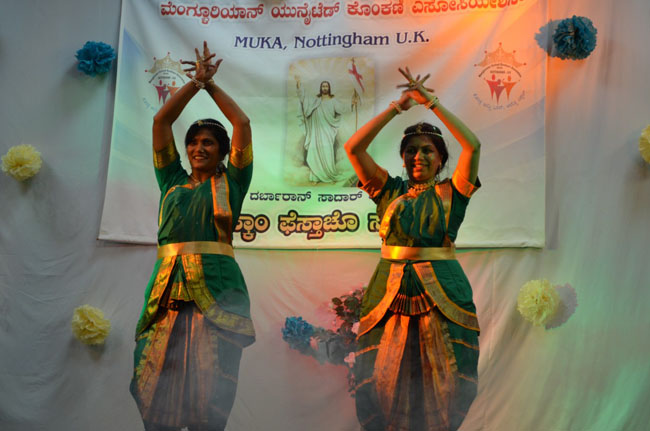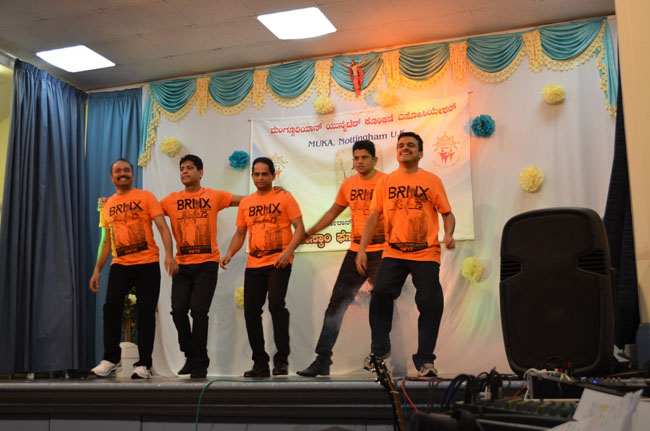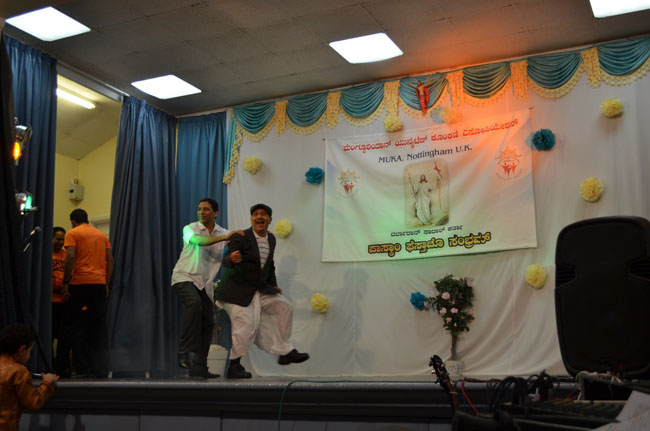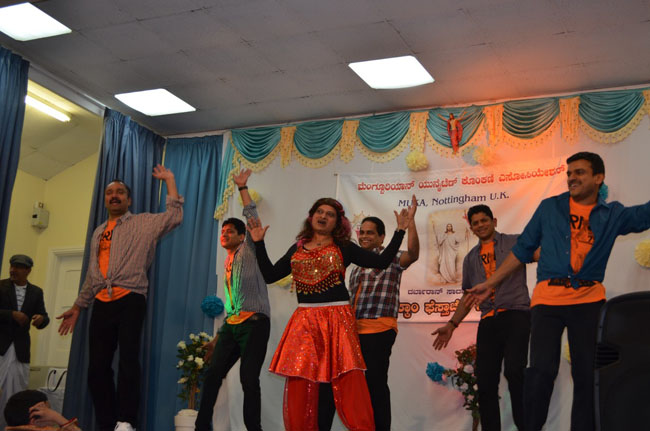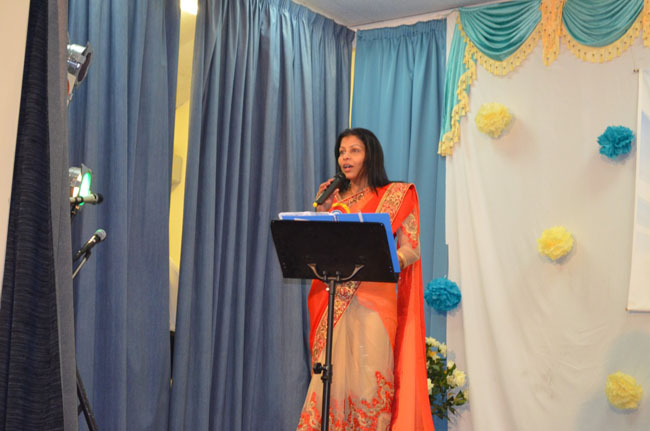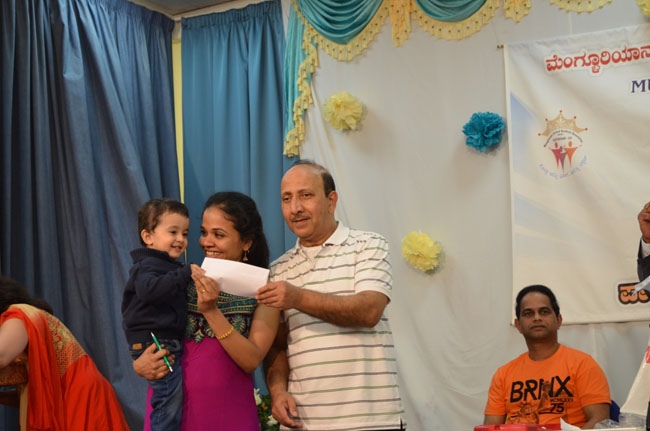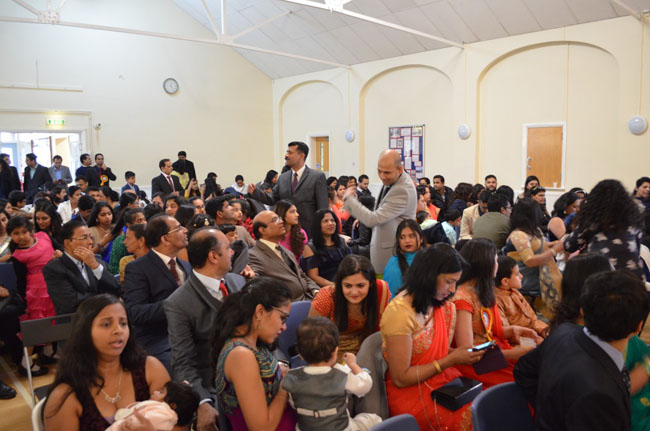 The cultural programme began with a classical dance by Crystal Rodrigues, Jennifer Menezes, Jaelyn Noronha, Erica D'Souza, Alrica Sequeira, Averil Alvares, Sandrea Lobo and Megan D'Souza. Dorothy D'Souza choreographed the dance, which was well appreciated by the audience.
A series of performances followed: First, a dance 'Manglur Amchem' performed by children Calista D'Souza, Aiden Menezes, Ethan Alvares, Daisy D'Souza, Aaron Aranha, Sophia Lobo, Alroy Sequiera and Freya Fernandes. Anita Sequeira, Jessica Aranha and Christina D'Souza worked behind the scenes to guarantee a heart-warming and well-articulated dance. The dance brought out various facets of Mangalore and its rich culture.
Secondly, Ancita D'Souza sang a melodic song 'Ajeeb Dastan Hai Yeh' which was an instant hit with the audience. Next in line was a fusion dance by Arlene, Alvita and Annabelle from Preston which was followed by a ski 'Mogaacho ghut' performed by Lydia Lewis, Vincent Taccode, Evan Lewis, Christiana D'Souza, Godfrey Sequeira, Sunitha D'Souza, Elaine Lewis and Earlyn Lewis. The mini play with a suspense climax had all the elements of a Bollywood blockbuster including a dance sequence.
Between the performances, the anchors kept the audience engaged and entertained with several mini spot games. A sumptuous lunch with signature coastal delicacies brought loud applause and a totally satisfied feeling with vorn being the most loved item on the menu. MUKA members Conrad Aranha, Vincent-Sunitha D'Souza, Jeevan-Anita Menezes, Wilfy-Sunitha Rodrigues, Jerald-Nympha Alvares, Julian Cynthia Noronha, Melvyn Roopa D'Souza, Naveen Precilla Lobo, Stany Anita Sequeira, Joy Shalini Pinto, Maria Mervin Pereira, Harry Precilla D'Souza and Flossy Sequeira joined forces in presenting the delicious lunch.
The afternoon session started with the much awaited orchestra. First in line was the Konkani song 'Ashaa' performed by the MUKA children. Thereafter, our talented singer Lavita Fernandes sang a harmonious tune 'Sopanacha Doscha'. Deepak Alvares and Pius Rasquinha vocalized 'Wah wah mobile'. All songs were well accompanied by veteran musicians Averil Alvares on violin, Christopher Rodrigues on trumpet, Jesvita Menezes and Hailey Fernandes on keyboard, Jeevan Menezes on Cajon and Deepak Alvares on guitar.
The orchestra was soon followed by 'Maando', meticulously planned and arranged by our hard-working singers. Sinol, Steffi, Sarah and Sinai from Manchester performed a Bollywood-English fusion dance that brought the audience to their feet. Later, our young gifted kids Crystal Rodrigues, Jennifer Menezes, Erica D'Souza, Alrica Sequeira, Averil Alvares, Sandrea Lobo, Megan D'Souza and Jaelyn Noronha presented yet another fusion dance that Jennifer Menezes and Dorothy D'Souza choreographed. Next, Jeevan Menezes, Pius Rasquinha, Joy Pinto, Anita Alvares, Stany Sequeria and John Fernandes dramatized a comical skit 'Bebdhyacho Somsar' that was a great hit with the audience.
To continue with the tempo for the day, Nottingham's Teens heroines Lavita Fernandes, Jesvita Menezes, Earlyn Lewis and Hailey Fernandes entertained the audience with their hip hop Bollywood special. The audience went berserk with a much awaited item of the day as Anitha Sequira, Deepak Alvares, Roopa D'Souza, Mary D'Souza, Sunitha Rodrigues, Shalini Pinto and Dorothy D'Souza took control of the stage with a boisterous Bollywood fusion dance to the cheers of the audience. The day was well captured by Vincent D'Souza, Julian Noronha and Jatin Mascarenhas. The day was compered by DJ Edmund D'Souza.
The day's cultural event ended with an extremely amusing and lively series of dances by Deepak Alvares, Jeevan Menezes, Stany Sequeira, Pius Rasquinha, Joy Pinto, Julian Noronha and John Fernandes.
Anitha Menezes proposed a vote of thanks. A housie game was ably conducted by Jeevan Menezes and Naveen Lobo with lots of humour and competitive spirit.
MUKA thanks all who supported and sponsored the day's events specially KCA UK-Manchester and SKA, London for their active participation. The day ended with 'Laudate Dominum' followed by the traditional Baila dance.