Part-2 of a Historical Perspective of our journey
By Philip Mudartha

Bellevision Media Network


Preface:
There have been sixteen governments since independence. The 17th government is in office since May 2019. The next general elections are due before May in 2024.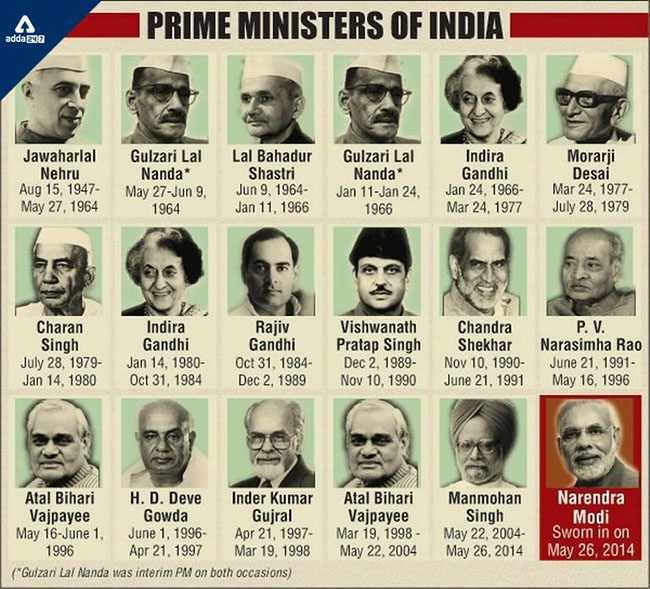 These are the main political events during seventy-five years of our independence.
1. Indian National Congress (INC) won the general elections in 1952 for the FIRST Lok Sabha. INC won 364 of 489 seats. Pandit Jawaharlal Nehru became PM.
2. INC won 371 of 494 seats in 1957 elections for the SECOND Lok Sabha. Nehru continued as the PM.
3. INC won 361 of 494 seats in 1962 elections for the THIRD Lok Sabha. Nehru continued as the PM. China invaded in October 1962 and inflicted an ignominious defeat on us. China's back-stabbing left a deep hurt on our national psyche.
4. Nehru died in office on 27 May 1964. Lal Bahadur Shastri succeeded him as PM but died in office on 11 January 1966. His term was brief. Pakistan invaded us in 1965 during Shastri's tenure as PM. Indian army gained an upper hand. Our national honor stood redeemed due to this military success.
5. Indira Gandhi succeeded Shastri on 24 January 1966. In the 1967 elections for the FOURTH Lok Sabha, INC won only 283 seats of 520. Though weakened, she continued as PM. But she faced intra-party intrigues and revolts from right wing Congressmen led by her deputy Morarji Desai. The genuine right-wing opposition, the Swatantra Party and the left-of center socialists constantly ridiculed her as a dumb doll unfit to be PM. In response, she split the INC and held her office with the support of Soviet-backed communists (CPI). This forced her to take a left turn and deviate from the middle path of center-center of Nehru and Shastri.
6. The elections for the FIFTH Lok Sabha were held a year before they were due in March 1971. Indira's INC (R) won 352 seats of 518. She emerged as an undisputed leader in her own right and was sworn in as PM for the third time.
7. In December 1971, Bangladesh was born. Bangladeshi liberation from West Pakistani hegemony was a crowning glory of Indira's political journey. Indian nationalist pride bruised by the ignominious defeat in 1962 Sino-India war was restored. As a result, Indira Gandhi reached the pinnacle of her power.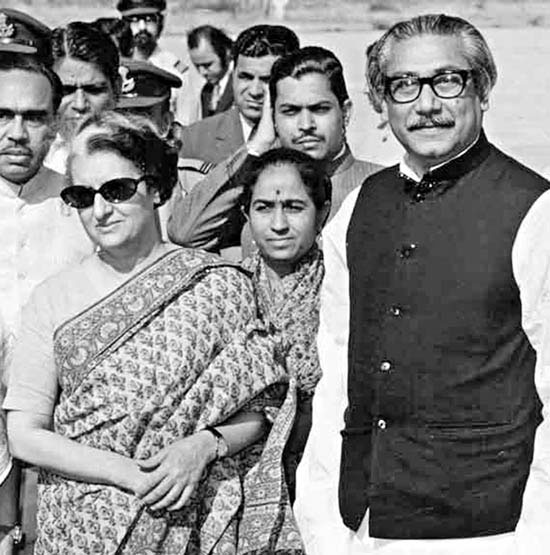 8. OPEC controlled by Gulf Arabs hiked the crude oil prices so high in the aftermath of Yom Kippur War of 1973 between Arab countries and Israel. Moreover, India had to feed over ten million Bangladeshi refugees. Our foodgrains granaries were emptied. Food became scarce, prices skyrocketed, hoarders and smugglers flourished, food riots took place in metro cities. Indira Gandhi's popularity nose-dived. Her political opposition regrouped under the leadership of J. P. Narayan. He called for 'total revolution' and appealed to the Army and the police not to obey the orders of Indira's government.
9. Sensing the opportunity to humiliate Indira Gandhi and with the aim of dislodging her from power, George Fernandes - her arch-enemy and undisputed king of Bombay Trade Unions – hurriedly called for nation-wide strike by Indian Railways and supportive Bharat Bandh by his other trade union followers. He demanded 75% increase in the wages for all railway employees. The strike began on 8th May 1974. Indira's government vehemently put down the strike with the full force of the government. The strikers capitulated on 27 May 1974.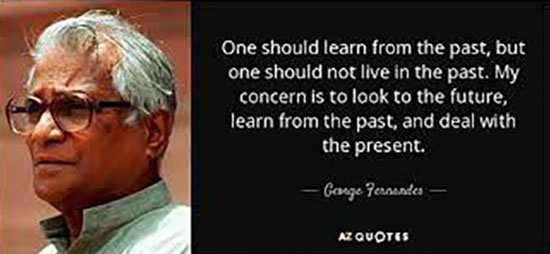 10. Indira's victory was short-lived. On 12 June 1975, her 1971 election victory was declared 'null and void' by a judge of Allahabad High Court. He was hearing the petition filed by her defeated opponent, Raj Narain who belonged to George Fernandes' Socialist Party. To preserve her hold on power, Indira imposed Internal Emergency on the night of 25-26 June 1975. Thousands of opposition leaders were arrested overnight. Only George Fernandes evaded arrest and went underground from where he undertook plots to overthrow Indira and her authoritarian rule. He adopted violent means of sabotage of public properties. Vital railway and road bridges were to be blown off. Sites from where Indira or her son Sanjay were scheduled to address rallies were to be bombed. Even assassinations of Indira and Sanjay were alleged to be on the cards. The infamous conspiracy is known as Baroda Dynamite Case for which George and his co-conspirators were tried as 'common criminals'.
11. On 21 March 1977, unexpectedly and unilaterally, Indira Gandhi lifted the Internal Emergency and called for fresh elections. In the March 1977 elections for the SIXTH Lok Sabha, Janata Party led by Morarji Desai won 295 of 542 seats. The Janata Party consisted of Jan Sangh led by Atal Bihari Vajpayee, socialists of all hues led by George Fernandes, and disgruntled former Congressmen like Morarji Desai, Jagjivan Ram, Y.B. Chavan, Charan Singh and Chandra Shekhar. They were united not to govern but to wreak vendetta against Indira Gandhi and her son Sanjay.
12. Indira Gandhi returned to power in 1980 after the Janata government, riddled with inherent contradictions, unraveled. In the elections for SEVENTH Lok Sabha, Indira Congress won 353 of 529 seats. Indira Congress was recognized as the real congress, the INC.
13. Indira, the left-leaning populist during her earlier terms in power, initiated big- ticket economic reforms in order to secure IMF and WB loans. In essence, she turned right of center. She removed price controls, initiated fiscal reforms, revamped the public sector, reduced import duties, and began de-licensing of the domestic industry by dismantling her infamous License Raj. Her second son and chosen heir-apparent for dynastic succession, Sanjay Gandhi was the behind-the-scenes force of these reforms. In June 1980, Sanjay died in an accident when the small aero plane he was flying for a joyride crashed. Her elder son, Rajiv was inducted into party politics in order to inherit Sanjay's mantle. Sanjay's young widow, Maneka Gandhi rebelled and went on to join anti-Rajiv political forces including the BJP.
14. Indira Gandhi was assassinated by two Sikh members of her inner security at her residence on 31 October 1984 in order to 'avenge' the desecration of Golden Temple. Indira had ordered expulsion of Khalistani separatist terrorists holed up within Golden Temple premises in June 1984. The army operation is known as Operation Bluestar. Following her assassination, anti-Sikh riots took place in New Delhi and the entire country in which several thousands of Sikhs were murdered.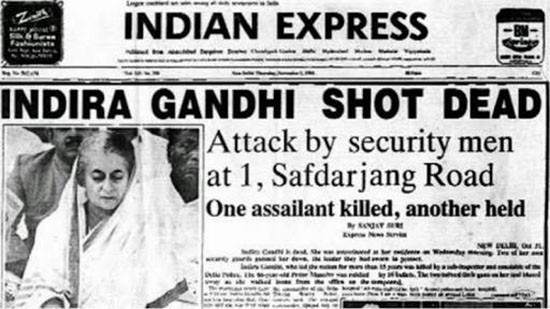 15. Elections for the EIGHTH Lok Sabha were held in 1984. Riding on the 'sympathy wave' created by Indira Gandhi's cold-blooded murder, INC won 414 of 541 seats. Rajiv Gandhi served his full 5-years term and continued the right of center 'tilt' in management of the national economy. He is widely credited for our strong subsequent pole position in the ICE revolution. However, he lost the 1989 elections owing to corruption charges in the procurement of Bofors Guns.
16. Rajiv had fallen out with LTTE, the Sri-Lankan Tamil separatist and terrorist guerilla army which Indian establishment had supported and trained for several years before him. His ill-advised and failed deployment of IPKF in Tamil strongholds in the island nation ultimately led to his assassination. A LTTE suicide bomber blew him into pieces on 21 May 1991 while he was campaigning in Tamil Nadu. At that time, he was projected to return to power and become the PM.
17. he 'Mandal caste politics of V. P. Singh dominated our national discourse during his term in office from 2 December 1989 to 19 November 1990. His bête-noir, Chandrashekhar Singh ran a caretaker government till 21 June 1991. INC won 244 seats of 521 in the 1991 elections to the ELEVENTH Lok Sabha. A congress-led minority government elected P. V. N. Rao as PM on 21 June 1991. Rao ejected all his former socialistic pretensions to herald wide-ranging economic and fiscal reforms which came to be known as Indian Liberalization and Globalization. His was a formidable team with finance minister Manmohan Singh and commerce minister P. Chidambaram. So much is written about this period, I will skip any elaboration.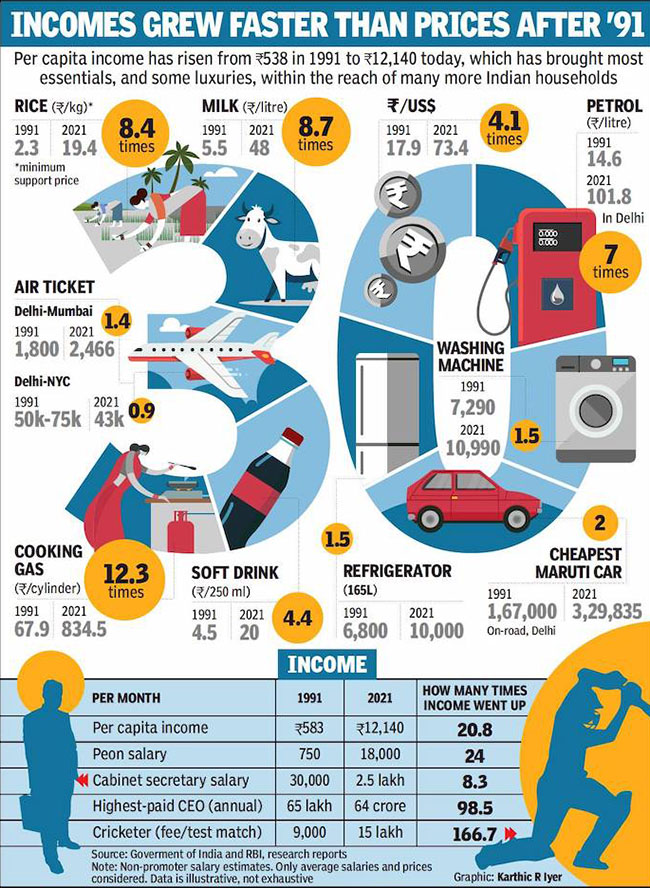 18. Several short-lived coalitions headed by left-leaning former congressmen with socialists as partners or BJP with its regional allies of communal bent-of mind were in office after Rao's defeat in 1996 elections to the ELEVENTH Lok Sabha. The TWELFTH Lok Sabha elected in 1998 lasted only 13 months during which BJP formed a coalition government with Atal Bihari Vajpayee as PM. During his term, Pokhran-II Underground Nuclear Tests were undertaken, signaling to the world that India was the sixth nuclear power. Pakistan conducted tit-for-tat nuclear tests of its own but agreed to receive Vajpayee in Lahore to resume peace negotiations. To scuttle the peace initiative, Pakistan Army General Musharaff launched the Kargil incursion which turned into a mini-war between the nuclear-armed rivals. Vajpayee was a caretaker PM at the time having lost the support of coalition partner, AIADMK.
19. After the 1999 elections to THIRTEENTH Lok Sabha, Vajpayee returned to power at the head of NDA coalition. His term ended in 2004 when elections for the FOURTEENTH Lok Sabha were held. Vajpayee had continued the right-of-center economic reforms of P. V. N. Rao with equal vigor. His re-election campaign under the false narrative that 'India is shining' did not go well with the majority of the electorate. The opposition alliance, UPA led by INC President Sonia Gandhi, had the support of 335 MPs excluding communists and left-leaning regional parties. Sonia Gandhi chose Manmohan Singh to head the UPA-I alliance as PM. She took over as the national convener of UPA with most decision-making in her own hands or in the hands of her advisors in the National Advisory Council (NAC).
20. UPA put further economic reforms on the back burner, tilted to the left-of-center and pursued polices of 'wealth redistribution'. The UPA government termed its policies as reforms with a human face. Right-based policy approach led to enactments of RTW, RTF, RTE, RTI and MGNAREGA statutes which were greatly appreciated by the urban poor and rural voters. UPA was re-elected in the elections to the FIFTEENTH Lok Sabha with a bigger mandate.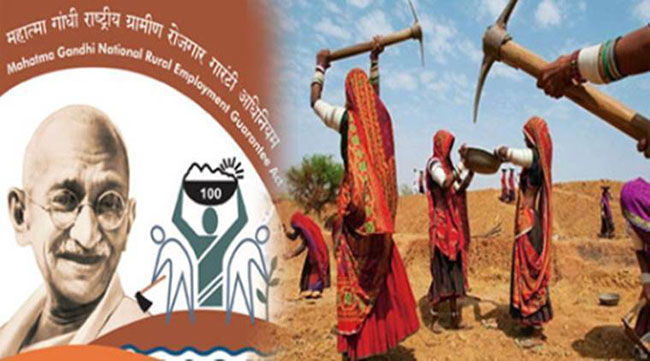 21. Corruption scandals broke out in the open around 2011. On the back of global economic recession and unprecedent high crude oil prices, the fiscal deficits of the government went out of FRBM Act-2003 limits in the subsequent years. Inflation rose and the middle class as well as media controlled by corporate houses were up in arms. A sit-in agitation against corruption by IAC including fast-unto-death by Anna Hazare, sponsored and supported by right wing and BJP/RSS forces in 2013, demanded enactment of Lok Pal Act. The government succumbed to the pressure only after it had lost all credibility for probity.
22. The 2014 elections to the SIXTEENTH Lok Sabha resulted in BJP securing 282 seats of 543. It was the first time since 1984 that a single party had won a simple majority. BJP's prime-ministerial candidate Narendra Modi had led a tech-savvy but highly vitriolic anti-secular, anti-Muslim and anti-dynastic campaign which clicked with the growing upper-middle and middle-middle classes, traders, businessmen, industrialists and corporate houses not to mention the pro-Hindutva revivalists among Hindus. Narendra Modi attempted a few half-hearted economic reforms but did not eject the pro-poor welfare policies of UPA governments. This judiciously populist approach combined with high-pitched nationalist rhetoric won him the second term in office. In the 2019 elections for the SEVENTEENTH Lok Sabha, BJP got a higher mandate by winning 303 of 543 seats.
Now, I turn to the heart of this essay:
I found an interesting summary chart of Economic Performance of All Governments since independence which is self-explanatory. I have attached it here below. However, I will make a few important bulleted points.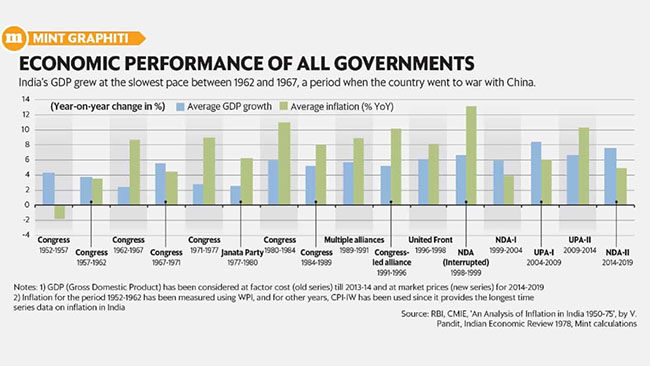 Bulleted Notes:
1. Inflation was negative during 1952-57 due to limited purchasing of our elders in that era. Most households were rural. Every village lived within its means using barter as the main instrument of economic activity.
2. The Sino-India War of 1962 and Second Indo-Pak War of 1965 had negative influence on our GDP growth during 1962-67 period. The GDP growth was the lowest in our history as an independent nation.
3. The Bangladesh Liberation War of 1971 and the financial burden India shouldered to house, feed, relocate or repatriate the Bangla refugees coupled with the first energy crisis caused by Arab-Israeli conflicts had immense effect on our GDP growth. It may be debated that the tilt to the left by both Indira and Janata governments had some share of blame for continued poor GDP growth till 1980. Contrary to popular notion, Janata government was more 'communist' than that of Indira's because of militant ministers like George Fernandes, Madhu Limaye, Madhu Dandavate, Raj Narain.
4. Indira's tilt towards pro-business has shown up in GDP growth during her final term in office. This tilt is indicative of the influence Sanjay and Rajiv exerted on their mother's approach to politics.
5. Despite the rights-based approach to economic management of UPA-1 and its communist allies, the GDP growth is highest during this period. The NDA-II under all the reformist noise of PM Narendra Modi, the GDP growth is insipid.
Why India did not learn from South Korea?
This is question often asked. The neo-liberals blame India's approach of planned economy, public sector enterprises to be 'at the commanding heights of economy' the socialistic fervor of both the leaders and population as well as the explosive population growth. These subject merits a closer examination, which I will attempt in a follow-up essay shortly.