Quad leaders' Summit in Tokyo: a review
By Philip Mudartha

Bellevision Media Network


25 May 2022: Prime Minister (PM) Narendra Modi returned to New Delhi early morning on Wednesday after participating in the Quad Leaders' Summit as part of his two-day tour in Japan and immediately held a Cabinet meeting.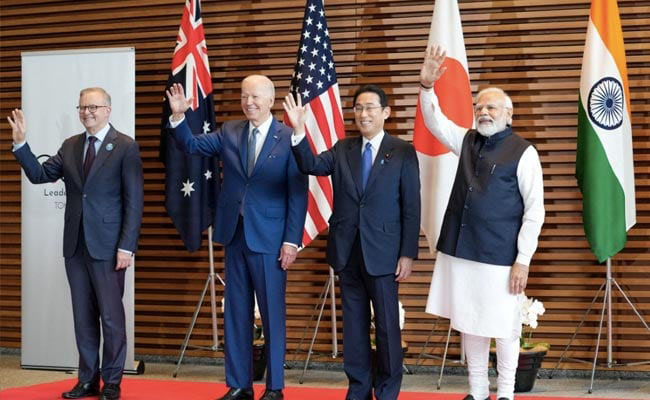 The two new kids on the block:
At this week's meetings of Quad, Japan and Australia were represented by their new PMs, Fumio Kishida of Japan and Anthony Albanese of Australia. Japan and India looked for confirmation that Australia is serious about engaging with Asia. The US reviewed its expectations of what Australia, under a Labor government, is prepared to contribute to both the Quad and AUKUS.
PM Anthony Albanese shares much in common with President Biden and PM Kishida. His presence at the QUAD leaders' summit within hours of being sworn in Canberra on Monday after the Australian Labor Party emerged as the clear winner in the May 2022 federal elections, was appreciated. In his face-to-face meetings this week in Tokyo with the other Quad leaders, PM Albanese reiterated that Australia has changed its government but not its foreign policy of close alliance with the US and deeper commitment to Quad.
Tell me, what is the Quad?
The Quad involves Japan, the United States, Australia and India. These four countries first came together for relief operations after the Indonesia earthquake of December 26, 2004 sent devastating tsunami waves along India's eastern coastline, killing about 230,000 people. In 2007, under US President George W Bush and Australian PM John Howard, the group was conceived. But a year later, then-Australian PM Kevin Rudd of Labor Party backed away from the nascent alliance, not wanting to be part of a group seen as openly challenging China.
Australian PM Malcolm Turnbull revived the arrangement in 2017 as concerns mounted about China's military expansion in the South China Sea. Three years later, the countries formed the Quadrilateral Security Dialogue (Quad). Japan's then PM Shinzo Abe was the driving force in the effort.
On 12 March 2021, at the first-ever leader-level summit?of the Quad, the leaders pledged to strengthen cooperation on the defining challenges of time. "The Spirit of the Quad speaks of a 'rules-based maritime order in the East and South China seas' that supported a Free and Open Indo-Pacific", said the joint statement issued after the meet.
The 25th edition of the Malabar naval exercises were held off the coast of Guam from August 26-29. This is the second edition of the Malabar exercise by the four Quad navies in a row to include Australia. As the hostility between China and the Quad countries increases, the grouping will likely enhance their cooperation.
Earlier, China mocked that Quad is like the foam in the Pacific Ocean and would dissipate on its own. But, as Quad seemed to hold together over the last three years, China had to take serious note of the group. Recently, it has termed Quad as the Asian NATO aimed at encircling it and designed to act against its rightful role in the Asia-Pacific.
Because Quad is seen as an anti-China bloc created by the US and consisting of the US, Japan, Australia and India, in order to sustain US hegemony in the Indian Ocean and Pacific Ocean region, let us examine the nature of individual nation's relationships with China.
The US- China relations:
Under former US President Donald Trump, America launched a bitter trade war with China, imposing tariffs on hundreds of billions of dollars' worth of goods. That sparked a tit-for-tat battle over trade with China, and changed the tone of relations between the two countries.
When the Oval Office changed from the Republican to the Democrats with President Joe Biden's administration coming in on 21 January 2021, China hoped that things might be different. But Biden continued his predecessor's China policy with renewed vigor.
In fact, Biden's administration was more vocal about China's treatment of its Uyghur population in Xinjiang, as well as its approach towards Hong Kong and Taiwan. China didn't like the statements coming out of Washington, D.C.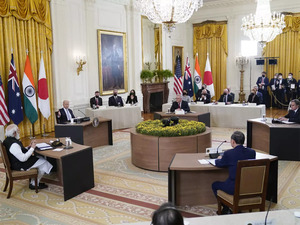 On 24 September 2021, President Biden hosted Australian PM Scott Morrison, Indian PM Narendra Modi, and Japanese PM Yoshihide Suga at the White House for the first-ever in-person Leaders' Summit of the Quad. The leaders put forth ambitious initiatives to deepen ties and advance practical cooperation on 21st-century challenges: ending the COVID-19 pandemic, including by increasing production and access to safe and effective vaccines; promoting high-standards infrastructure; combatting the climate crisis; partnering on emerging technologies, space, and cybersecurity; and cultivating next-generation talent in all four countries.
The Japan- China relations:
Of late, Japan is concerned that China's behavior is inconsistent with the existing international order; presents political, economic, military, and technological challenges to the country and to the international community. China has often made unlawful maritime claims on Japanese-held islands in the East China sea. In addition, Chinese activities in the South China Sea, of creating artificial islands and building military infrastructure on them has alarmed Japan.
Japan has stressed on the need for "peace and stability in the Taiwan Strait", in response to belligerent political rhetoric from Beijing and intensified military provocation against Taiwan. China considers Taiwan as its break-away province and vows to unify it with the mainland "by force if required". Japan has also voiced its concerns on the human rights abuses in Xinjiang and Hong Kong.
China has noticed the pro-US tilt in Japanese foreign policy, and it is not pleased. It considers that Japan is driven by the selfish aim to check China's revitalization and therefore willingly stoops to become a strategic vassal of the United States. In a foreign ministry statement China has deplored the Japanese behavior as far as it is going to break faith, harm relations with China, invite the wolf into the house, and betray the collective interests of the whole region.
"We urge the United States and Japan to immediately stop interfering in China's internal affairs, stop forming the anti-China clique, and stop undermining regional peace and stability," Chinese statement added.
While acknowledging Japan's alliance with the United States, China maintains that "China and Japan have also signed the Japan-China Treaty of Peace and Friendship, so Japan also has the obligation to fulfill the treaty."
China-Japan relations were in a deep freeze throughout PM Shinzo Abe's eight-years in power. China viewed his controversial visit to Yasukuni Shrine in 2013 as historical revisionism. Later, Abe became a champion of the resurrected Quad which Beijing saw as "anti-China". Yet, he initiated tentative warming in relations with Beijing.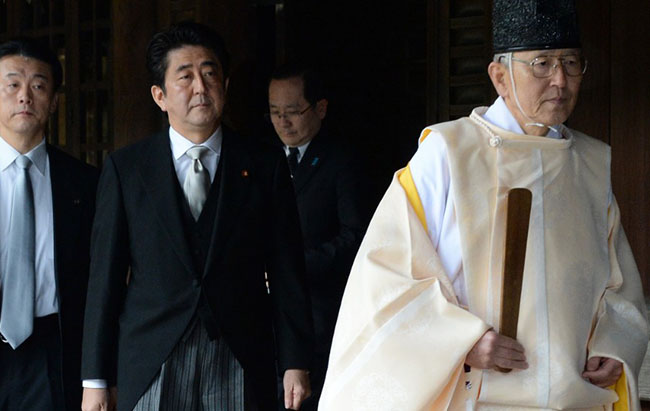 Like much of the Western world, Japan's mood on China soured greatly over the course of 2020, amid an increasing crackdown in Hong Kong and aggressive, even insulting rhetoric from China's diplomats around the world. A state visit by Chinese President Xi Jinping to Japan was intended to thaw the relations; however, the trip has not taken place due to Covid and mutual recriminations.
The India- China relations:
Relations between China and India have been characterized by border disputes, resulting in three military conflicts – the Sino-Indian War of 1962, the border clashes in Nathu La and Cho La in 1967, and the 1987 Sumdorong Chu standoff. However, Former PM Rajiv Gandhi's "ice breaking" state visit to China in 1988 played a very important role in resuming and developing friendship between the two countries. In 2008, China became India's largest trading partner and the two countries have also extended their strategic and military relations.
After Xi Jinping's rise to power in China in 2012, he changed his predecessor Hu Jintao's conciliatory policies to pursue very aggressive approach to international relations. Border disputes with India reemerged to take center stage; in mid-2017, the two armies got engaged in a standoff at the Doklam plateau along the disputed Bhutan-China border. Since mid-2020, armed standoffs and skirmishes at multiple locations along the entire Sino-Indian border escalated. A serious clash occurred in the Galwan Valley in June 2020, resulting in the death of 20 Indian soldiers and four Chinese soldiers.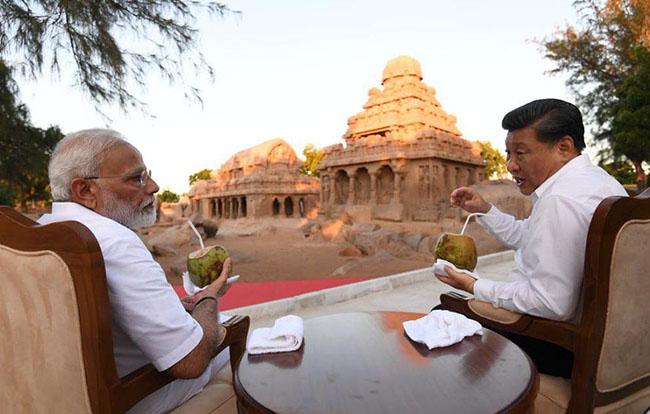 During his first term in power, PM Modi was "bending backwards" to befriend Xi; with his "appeasement policy", he hoped to drive a wedge between China and arch-foe Pakistan. Till the covid pandemic caused suspension of in-person meetings, PM Modi had met Xi 18 times and engaged him in his signature "bromances" with visiting heads of state. Yet, like former PM Vajpayee did not see it coming when Pakistan stabbed him in the back with its Kargil incursions, PM Modi did not see the Chinese incursions along the line of actual control (LAC) coming.
This, despite under PM Modi's watch, China more than doubled its trade surplus with India to $80 billion per year. Xi has chosen to stab Modi in the back with his "salami slicing" military strategy. As a result, India failed in the protection of its borders, and even in 2020, all along the LAC, India had lost land. Seeking to protect his image as a strong leader, Modi has not acknowledged the loss of Indian territories.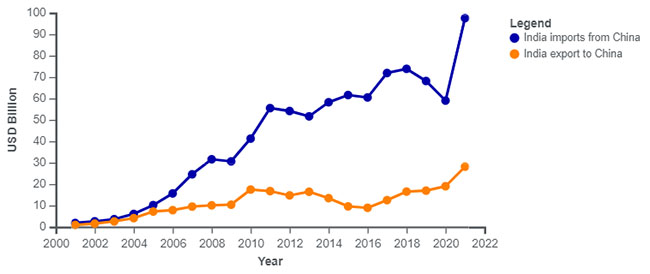 China has continued to alter the Himalayan landscape rapidly and profoundly in its favor, including by establishing 624 militarized border villages and constructing new warfare infrastructure near the frontier. This strategy is similar to its strategy of creating artificial militarized islands in the South China Sea which is aimed at challenging Japan.
The Australia- China relations:
India and Australia have similar concerns vis-à-vis China's coercive behavior. Australia has pushed back on China's aggressive trade barriers, and has called for independent investigation of COVID-19 origins.
The relationship between China and Australia grew considerably after the latter recognized the communist government in Beijing in 1972. Both countries are actively engaged economically, culturally and politically. China is Australia's largest trading partner, and has invested in Australian mining companies.
In 2007, Australian Labor Party won the federal elections and Kevin Rudd was sworn in as PM. Rudd has a university degree majoring in Chinese languages and culture. A sinologist fluent in Mandarin, he sought to engage China with a "pronounced pro-China tilt" in significant departure from Australia's traditional "US ally status". Under his watch, in February 2008, Australia "chastised Taiwan for its renewed push for independence" and "reiterated its support for a one-China policy". Rudd also took an intense anti-India stance and hence withdrew from Quad due to India's membership in the group.
Despite Rudd bending over backwards to befriend China, like PM Modi did in his first term, relations soured in July 2009 when China arrested and jailed of Rio Tinto executive Stern Hu, on charges of stealing commercial secrets and bribing. Later in August 2009, China government protested against the Australian government when it granted a visa to a Uighur human rights activist. Then came the failed bid by Chinese metals major Chinalco to take over Rio Tinto Group, the Australian multi-national mining and metals conglomerate. Despite the souring of relations in August 2009, PetroChina signed an A$50 billion deal with ExxonMobil to purchase liquefied natural gas from Australia.
Despite Chinese provocations, Australia thought it was on the cusp of a beautiful friendship with China: It was opening up its economy to Beijing, wanted to teach Mandarin in schools and invited the Chinese president to address parliament. Fast forward to 2018; the honeymoon is over. These days, Australia is buying nuclear-powered submarines to fend off Beijing, barring the country from key markets and bristling at its relentless attempts to coerce Australian politicians and media.
Relations between the two countries deteriorated due to growing concerns of Chinese political influence in various sectors of Australian society including the Government, universities and media as well as China's stance on the South China Sea dispute.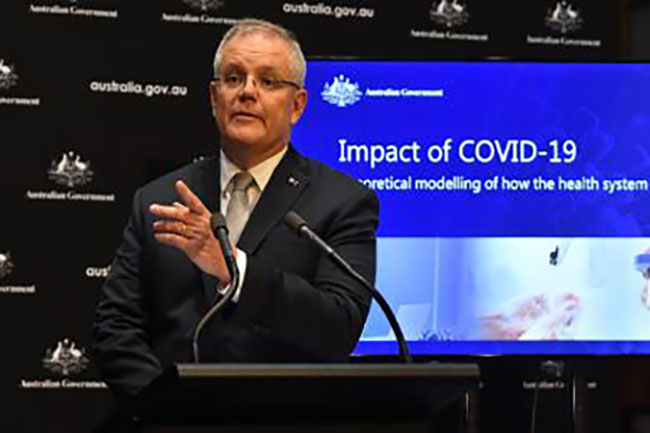 Relations hit the rock-bottom when the Scott Morrison government called for an international, independent inquiry into the origins of the disease. Scot Morrison government also criticized China's human rights record in Uighur; the subjugation of pro-democracy movement in Hong Kong; the militarization of South China Sea; and, threats to Taiwan. China revised its trade policies and banned several key Australian exports, including coal, lobster, beef and wine, which Australia interpreted as political retaliation and economic coercion.
In August 2021, Australia announced a long-range plan to purchase a fleet of powerful American nuclear submarines. China viewed this as Australia firmly allying the US in military terms and termed it as a major blow to Australian-Chinese relationship. China was additionally critical of the formation of AUKUS in September 2021, a trilateral security pact between Australia, the US, and the UK.
A ready-reckoner to Quad deliberations:
1. Lessons from Ukraine: The rise of China and the decline of Russia will be discussed.
2. The experiences of the war in Ukraine, the critical role of logistics, the utility of certain kinds of equipment such as tanks and the impact of organizational culture will be closely studied.
3. There are challenges as well as great opportunities for Quad. It is clear that intelligence, IT and drones have played a critical role in the defense of Ukraine. The Quad has considerable capacity to innovate and develop related critical systems, hardware and technology to the benefit of Quad nations and regional security.
4. Japan and Australia are "close allies of the US" and therefore align their foreign policy stances to that of the US. India, as a "non-aligned regional power", follows an independent foreign policy in international relations and tries to balance its strategic calculations. The Indian policy stances on developments in Myanmar and the Russian invasion of Ukraine, are not in sync with the western policy stances. These differences require to be discussed within the Quad parameters. For India, Myanmar is a neighbor and Russia is a "time-tested friend".
5. Japan, Australia, and India along with others in the developing nations have realized the importance of self-reliance in defense manufacturing and resilient supply chains.
The White House released a statement upon the conclusion of Quad meetings in Tokyo: "Today in Tokyo, we convene for our fourth meeting, and our second in person, to demonstrate, at a time of profound global challenge, that the Quad is a force for good, committed to bringing tangible benefits to the region. In our first year of cooperation, we established the Quad's dedication to a positive and practical agenda; in our second year, we are committed to deliver on this promise, making the region more resilient for the 21st century.
Today, with a shared vision for a free and open Indo-Pacific, we once again emphasize the importance of fundamental values and principles, and commit to work tirelessly to deliver tangible results to the region. In doing so, we will regularize the Quad activities, including regular meetings by the Leaders and Foreign Ministers. We agree to hold our next in-person summit in 2023 hosted by Australia."
The joint statement issued at the conclusion of Quad leaders' summit went on to detail a) Peace and Stability, b) COVID-19 and Global Health Security, c) Infrastructure, d) Climate, e) Cybersecurity, f) Critical & Emerging Technologies, g) Quad Fellowship, h) space and i) Maritime Domain Awareness and Quad Partnership on Humanitarian Assistance and Disaster Relief (HADR) in the Indo-Pacific.
India should be pleased:
The joint statement did not name Pakistan explicitly but left no doubt of its intent: "We condemn unequivocally terrorism and violent extremism in all its forms and manifestations and reiterate that there can be no justification for acts of terror on any grounds whatsoever. We denounce the use of terrorist proxies and emphasize the importance of denying any logistical, financial or military support to terrorist groups which could be used to launch or plan terror attacks, including cross-border attacks. We reiterate our condemnation of terrorist attacks, including 26/11 Mumbai and Pathankot attacks. We also reaffirm UNSC Resolution 2593 (2021), which demands that Afghan territory must never again be used to threaten or attack any country or to shelter or train terrorists, or to plan or finance terrorist attacks. We emphasize the importance of upholding international standards on anti-money laundering and combating the financing of terrorism by all countries, consistent with FATF recommendations. We reaffirm that in our fight against global terrorism, we will take concerted action against all terrorist groups, including those individuals and entities designated pursuant to the UNSC Resolution 1267(1999).