Paanch Saal, Firse Kejriwal
By Philip Mudartha

Bellevision Media Network


12 Feb 2020: In the elections held in Delhi on 8 February 2020 to elect 70 members of the Delhi Legislative Assembly, the voters resoundingly gave a huge mandate to Arvind Kejriwal-led Aam Aadmi Party. AAP won 62 seats. This was an endorsement of the exemplary performance of AAP government installed in February 2015 after the juvenile party swept the polls, winning a record 67 seats. The main opposition in the assembly, the BJP, came a distant second with 8 seats and the other national party, the Congress, scored a duck.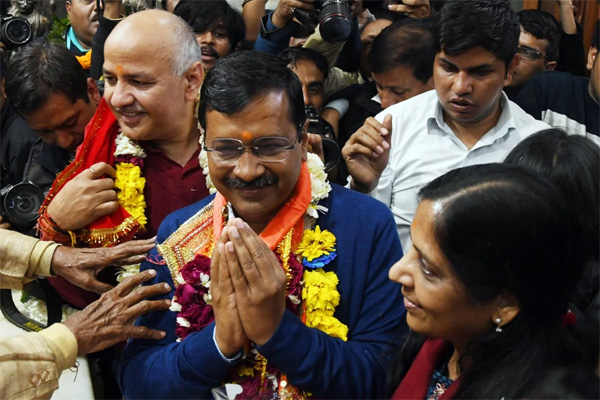 The results were on expected lines. Several media houses had published opinion polls since early January till the last day of the campaign showing AAP will win 50-58 seats. Strategists and opinion-makers had praised Kejriwal for not getting trapped in national issues like Abrogation of Article 370, Triple Talaq Act, NRC, CAA on which the BJP campaign centered. Very cleverly, he kept his focus on the local issues of development aimed at public welfare, well-being and progress of the people of the state. It is not surprising, therefore, when six exit polls predicted that AAP will be winning more than 50 seats.
The campaign was essentially a one-man show: of Arvind Kejriwal. "What dominated the narrative was his model of governance, his campaign blitzkrieg, and even the extent of his Hindutva credentials. Kejriwal would be the last to agree, but wasn't his campaign a déjà vu of the 2014 and 2019 Lok Sabha shows starring Narendra Modi? And just as the BJP asked in the Lok Sabha, 'Modi vs. who?' the AAP asked in Delhi 2020, 'Kejriwal vs. who?' says political analyst Priya Sehgal.
The "quarrelsome" anti-corruption activist Kejriwal
The Kejriwal, we knew when AAP was founded in late 2012, was a 'shoot and scoot' angry man, an 'anarchist' and an 'urban naxalite', epithets his opponents in politics and media had attached to his persona. Then, he held regular press conferences to 'expose corruption' in politics, police and media. He named Robert Vadra (son-in-law of Congress President Sonia Gandhi), Nitin Gadkari (then BJP President), and Mukesh Ambani (India's richest corporate honcho) as the "most corrupt". Then he formed the short-lived first AAP government with outside support of Congress in February 2013 even though BJP was the single largest party in the legislature with the sole intention of enacting the Delhi Lok Pal Bill-2013. When Congress blocked his initiative, he resigned in a fit of anger instead of facing a no-confidence motion in the legislature. Then he dramatically waved the resignation letter from the terrace of his party office instead of submitting it to the Lieutenant Governor!
Then he returned as CM in February 2015 with that historic mandate, having humiliated BJP (the new ruling party) and decimated Congress at the polls. In his second stint, he picked daily quarrels with LG Najeeb Jung and Delhi Police Commissioner B.S. Bassi calling them as 'stooges' of PM Narendra Modi. He ranted that Modi does not let him work, regularly blaming the Centre for his own shortcomings (of administrative inexperience).
The make-over of Kejriwal
The jolt came to him when Delhi rejected his party in the municipal elections held in April 2017. The BJP won the highest number of seats in each of the three corporations. After nearly 12 years of running the MCD this was the fourth consecutive victory for the BJP in local elections. This defeat came on the heels of the loss in Punjab assembly elections held two months before. Then, in the 2019 general elections to the Lok Sabha in May 2019, BJP swept the polls and won all the 7 seats. AAP was relegated to the distant third position, losing deposits in most constituencies.
How did this come about? In Punjab, AAP had four MPs. It had boasted that they will win over 100 seats and form the government in Chandigarh. They only managed to win 20 seats. Congress formed the government. In the Delhi municipal elections, AAP won only 49 seats out of 272. Something went terribly wrong. There was a problem.
Arvind Kejriwal realized that he was the problem
In a 2014 public opinion survey, Kejriwal was voted as the second most popular leader after PM Narendra Modi. Modi realized that Kejriwal was the challenger whom he needs to cut to size. He laid the trap to confine him to Delhi where Kejriwal would keep ranting against Modi and damage himself. Kejriwal unwittingly fell in the trap. Instead of touring the country, explaining his model of governance and building a grass-root party organization throughout the country, he took on Modi, Delhi LG, Delhi Police and the media wasting all his energies on negativism.
He determined that he had to change from a toxic persona to that of an able administrator and began the image makeover. "These Delhi assembly elections are witnessing a new Arvind Kejriwal. He is neither abrasive nor aggressive; in fact, he is sober and mature. It's a transformed Kejriwal. It's not the Kejriwal who was earlier impulsive. This new Kejriwal thinks strategically and is media savvy. He is no longer the activist he was known as, the one who wanted to change politics and society. He is a politician now — cool-headed, calculated and thinking. He is patient" says Ashutosh, former AAP leader and an opinion-maker.
The muscular nationalism and Hindutva politics
Arvind Kejriwal realized that PM Narendra Modi has appropriated these national issues which resonate with a majority of Hindus to himself and he will be a loser if he was to take on Modi on these issues. He was quick to agree with BJP on the abrogation of Article 370 and broke ranks with other opposition parties. When Triple Talaq Act was passed, he kept his counsel to himself. When anti-CAA protests erupted nation-wide, and especially in Shaheen Bagh in Delhi, he did not go and throw his support behind the protests.
Instead, he spent all his energies on building an image of an able administrator, delivering government services to the people of Delhi regardless of ethnicity, religion, caste and class. He knew that the Muslims cannot afford to be angry with him because he did not overtly support anti-CAA protests. Congress was no longer an alternative for Muslims if they wanted to defeat BJP. By doing so, he did not alienate his Hindu voters.
Then an opportunity came his way to show that he is devout Hindu. He was asked if he can recite Hanuman Chalisa. He did that with aplomb, announcing that he is a Hanuman Bhakt. He did this deliberately so that when BJP tried to equate him with 'anti-nationals', 'pakistani' and 'biryani' giver to Shaheen Bagh, the common man would not believe the propaganda. How do you defeat an opponent who ducks every blow in the ring and frustrates the muscular guy?
Lage Reho Kejriwal
All is not about posturing and image makeover. While perception matters in politics, performance counts most. Immediately after forming the government in February 2015, public education and healthcare were given the utmost priority. 25% and 15% of the state budget were allocated to these two sectors.
"Investing heavily in education has helped change the gloomy image - slovenly and badly-run - of state-run schools in a teeming city of nearly 20 million people. The assumption was only poor children go to these schools. The rich and middle class prefer to send their children to private schools. Anything free in India is perceived to be substandard." Reports BBC, none thought that education reforms can be a vote-getting issue.
Mohalla clinics are one of the foremost healthcare initiatives of the AAP. From day 1 until February 6, 2019, it has set up 450 such neighborhood healthcare clinics to provide free health-checkups and medicines, thereby making public healthcare more affordable and accessible. These clinics are set up either in portacabins or in rented properties, and are open from 8 am to 2 pm, Monday to Saturday. Some also work a double shift from 7 am to 7 pm. Each clinic has a staff of four –a doctor, a nurse, a pharmacist and an office assistant.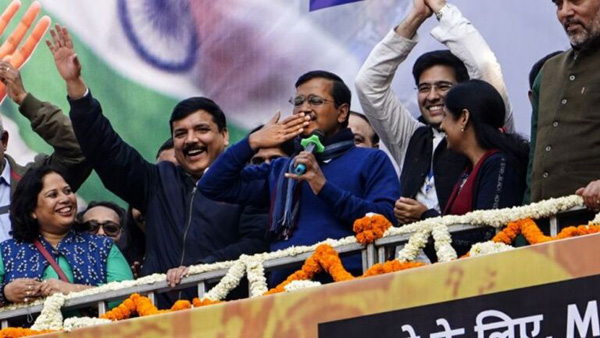 The right-wing economists and politicians have criticized Kejriwal for what they claim are "freebies" to create a vote bank of poor and marginalized people. However, since coming to power, Kejriwal has streamlined both the electricity transmission and generation so that electricity is supplied round the clock, transmission losses as well as theft have been cut down to minimum. The generated surpluses are shared with the people with lower tariff on consumption at different slabs. Even the middle classes have benefitted from these lower tariffs.
Before he came to power, water was supplied to many slum colonies in tankers. The infamous tanker war was a major source of corruption. By laying pipeline networks, all households are now guaranteed clean piped water and free upto consumption of 20,000 liters per day.
Women security was a priority for AAP. To encourage them to travel by public transport networks, the AAP government announced the scheme of free travel for women and students. Even in developed western countries, there are free zones for travel on public transport systems. Critics may harp but AAP claims to have only passed on the benefits of corruption free government with the people.
Love you, Kejriwal
54% of Delhi voters have given a huge mandate to Kejriwal rewarding him and AAP for the performance. The record-breaking pro-incumbency mandate is rare in history. Now, he has his job cut-out for him: to keep delivering. Lage reho, Kejriwal and I love you, Kejriwal are going to be the hymns in Delhi alongwith Hanuman Chalisa.