Back to Bellevision: A journey through diabetes, and neuro-illnesses
By Philip Mudartha

Bellevision Media Network


02 May 2019: If you had heard about my ill-health, you had heard correctly. I was suffering from hard breathing, and breathlessness while walking daily in the morning in the nearby garden. I could not climb stairs at all. I was worried that I may die soon. Driven by worry, my fasting blood sugar skyrocketed to above 300 mg/dl. I constantly thought of the killer disease. The more I worried, the more it pushed me deeper into depression. I couldn't sleep; I used to wake up in the middle of the night and cold sweat would run down my spine because my blood sugar was plummeting to below 60 mg/dl, a condition known as hypoglycemia.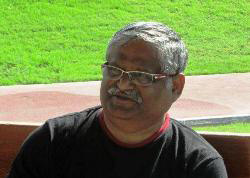 I sought help from a reputed diabetes specialist in Ghatkopar who prescribed very strong imported medicines to be taken before meals three times a day but stopped short of insulin doses. Because, I could not fall asleep, I went to a US-trained neuropsychiatric doctor in Chembur for treatment. Then, I went for spiritual counseling to the Parish Priest at the Holy Cross Church, Kurla, and to learn how not to fear death. I prayed regularly, attended Bible sharing sessions and participated in the early morning mass. I appealed to the leader of our Small Christian Community (SCC) to find me a good neuropsychiatric specialist in Mumbai in order to cool my nerves and get my neurons to function as they should: carry positive messages from my brain to each limb. However, neither help nor understanding came from the SCC or the priests at the church.
My neuropsychiatric doctor prescribed me a week's prescription and asked to take the nightly dose with a glass of warm milk and go to bed exactly at 10:00 p.m. whether I felt sleepy or not. That night, I switched on the air-conditioner in my bedroom and fell asleep immediately.
The next I know is my daughter and a doctor hovering over me as I lay in bed. Apparently, I had sleep-walked into the washroom to pee but had collapsed on the floor, in the process hitting the granite wash basin. My blood sugar was measured to be 20 mg/dl. It was a very severe case of hypoglycemia. I was immediately rushed to Kohinoor Hospital, which is only a 200 meters away from my home. It was 3:30 a.m. but the emergency ward of the hospital mobilized a cardiologist, my diabetes specialist from Ghatkopar and a neurologist to attend to me. I was sedated and made to sleep as long as it took to flush out the medicines prescribed by my neuropsychiatric doctor from Chembur. It took approximately 36 hours.
After I woke up, they removed the catheter and I was told to use the toilet as and when required. I also ate for the first time in 48 hours, a frugal meal consisting of steamed vegetables and three dry chapattis. I felt somewhat strong after the meal and could sit up on the bed and chat with friends who gathered around my bed.
On the next day, I went through a series of tests including an angiogram. Seven of my arteries and veins leading to and from my heart had clogged nearly 90% and above. The cardiologist and the cardio-surgeon suggested that I should undergo bypass surgical procedure known as Cardiac Artery Bypass Graft (CABG) immediately without any further delay. Meanwhile, they gave me a hospitalization plan with a price quote for 6 days of stay in an ICU, followed by hospitalization for 4 days in a private room, served by dedicated nurses round the clock and a ward boy to look after me.
My daughter checked the client reviews of the cardiac surgeon and was not impressed. A mutual friend, a cardiac surgeon himself, recommended that my complex case be managed by Dr. Ramakant Panda at Asian Heart Institute (AHI) in BKC. He arranged an urgent meeting with Dr. Panda late in the evening where he saw the angiogram and opined that I should be operated within a week, during which time, I should be under constant medical care. He prescribed about 25 medicines and a sedative to fall asleep at 9:00 p.m. daily and to be watched over in order not to repeat the fall in the washroom.
Dr. Panda advised that five arteries and veins should be grafted with bypasses and mentioned that it will take about 12 hours for his team to complete the CABG and wheel me out into the ICU. It should take about 24 hours for the anesthesia to wear out and I could begin to recognize people. However, only my wife, son and daughter were allowed for five minutes each to see me in the ICU, each day.
Ten days later, I was discharged with a chest belt, a breathing machine, a few vials of anti-septic hand wash, a few breathing masks, and a big list of medical prescription. I came home after ten days of hospitalization and went through a rehabilitation program of six months under the care of my daughter and wife. But, I could not bear the construction noise and the general filth of the neighborhood. I suffered a mild brain stroke within two months of coming home and was hospitalized again under Dr. Panda at AHI for another three days. My speech was gone. I could remember only the oldest events but short term memory was blank.
As I was in the ICU for a day, PM Modi announced his demonetization scheme, leaving us with only Rs 500 in Rs 100 bills which was the only highest denomination legal tender now. My family had no time to stand in line at my branch ATM in Vakola for a daily quota of Rs 2000 in 100 rupee bills. So, our cleaning lady lent us Rs 2000/- to tide over the three days to buy lunch or dinner at AHI canteen. My branch manager remitted through net banking the hospital dues, as he had done during my penta CABG in September. He was very kind and generous; he did not seek any instruction from me knowing that I was unable to speak or write. Point to be noted is that none of my relatives living in Mumbai volunteered to offer any assistance during the three difficult months from September to November 2016. Our cleaning lady, a stranger, came to our assistance with Rs 2,000 in Rs 100 bills. Also, my bank branch manager brought to my bed at home Rs 18,000 in cash 100 rupee bills as permitted amount for December 2016.
I was discharged with more medications and an advice to walk slowly on level ground for 40 minutes each day and every day. I found it impossible to do so in Kurla. So, we moved to our home in Nerul, situated amidst lush greenery and where air pollution was very low. It was easier for me to go out and walk in the gardens which were safer than the by lanes of Kurla.
It is at this time, Theresa Almeida and her family came visiting and I deeply appreciated their coming. My muscles were stiff and I could not speak, but make signs. I could not write also more than three alphabets together. Once we were settled in Nerul, we found a new cardiologist at Apollo Hospital, a new and reputed neuro-psychiatrist and my original diabetes specialist.
It took me a year to recover fully from the CABG and side effects of the brain stroke. My family guided me through this year helping me sort out medications, to take them at the right time, and replenish them as required. My diabetes came under control with fasting blood sugar falling below 120 mg/dl and I did never experience hypoglycemia even once
My blood pressure was stable and normal at 130/70 and my sternum had healed. Travel restrictions were lifted and I flew into Bajpe for the first time in a year and a half in October 2017. My new neuro-psychiatrist prescribed only three medications in order to strengthen my neurotransmitter function. I was off all kinds of fish, except lean fish like King Fish and only egg whites for a year. With strict vegetarian meals without salt, and tea without sugar, I lost 17 kilos to weigh 60 kilos in a year. But, I felt good and healthy.
In October 2017, 13 months after my surgery, I flew to my native place to see my sister who was very worried about what had befallen on me. She had always prayed for me at the Attur Basilica and sought the intercession of St. Lawrence, our patron saint for ages. She and I visited Attur, gave thanks to St. Lawrence, and God for healing me of my troubles. The devotion of my sister strengthened after seeing my recovery from a state of a vegetable.
In July 2018, I flew with my family to New York City to attend the wedding ceremonies of the only son of my closest friend, Michael Sequeira, of Pambur. I spent 70 days touring the US from New York City all the way to Ithaca Falls, Niagara Falls, Buffalo City, Pittsburg, Blacksburg and Charlotte in the Mountains and East Coast .At opportune time, I will write an unusual travelogue exclusively for the readers of Bellevision.
Now, 30 months after my CABG and 28 months after the brain stroke, I am fit like a fiddle. I have flown to Mangalore and back four times in this year. I still keep to my diet, occasionally having a glass of red wine or a glass of wheat beer over dinner. I sleep very well without any sedative. I have only three medicines, one for my diabetes control, and one for my blood thinning and one for my neurons function. I see my diabetes specialist, cardiologist and neuropsychiatric specialist once every three months and share with each of them the medications I am using and the dosage. My latest C-Scan of the brain is normal showing only age related atrophy.
Meanwhile, I have begun construction of a 5-story residential building for lower middle class on Airport Road in Mangalore, about 3 miles from both downtown and Bajpe International Airport, in a Joint Venture with a local Civil Engineer. The price for a 1 BHK will be Rs 17 lakhs, Rs 30 lakhs for a 2 BHK and Rs 50 lakhs for a 3 BHK. The complex will have individual car parking in the basement, a gym, TT and other indoor games and a swimming pool on the ground floor. I have personally vetted the specifications of each and every item that goes into the construction.
Not a single rupee was paid in bribes, so it took 36 months to get all permissions and approvals. So much, for Modi's slogan of ease of doing business! Nothing has changed on the ground. By the onset of monsoon, a 3 BHK model flat will be ready at the site for inspection by potential customers. I will buy and install all home appliances in the kitchen, living room, toilet and bedrooms for the convenience of my customers. They will be transferred to the flat owners at actual cost. The client will have to move in with only his car or bike and personal belongings and start living from day one. So, you can see, for yourselves, I am fit like a fiddle. The brain functions are normal and healthy as if I am a 50-year old man, ready to live a useful and meaningful life.
A big tank you to some of my former colleagues who made enquiring phone calls from Qatar, Kerala, and Mumbai. Many prayed for me in their churches, temples and mosques. They have the satisfaction that their prayers were heard. So, I flew to Kerala and Mangalore and visited each of their homes for thanksgiving. We could not visit Theresa because she was out of the country with her husband. We have a thanksgiving visit planned to Qatar later this year to visit at least a dozen people who often called to enquire after me. For them, I am like a father, so my article "Honor thy father and mother". For those I was generous and kind, they reciprocated with fullness!