Social Environment as the Nursery of a Person's Upbringing….
By Philip Mudartha

Bellevision Media Network


Mumbai, 11 March 2019: Every human being is born in a family. Traditionally, a family meant husband and wife, at least, besides parents, in-laws, siblings, children and so on. Now-a-days, even though the traditional sense is retained to a certain extent, situations like single parents and separations have become common.
Despite all this, it still makes sense to say that every human being is born in a family. This family not only brings up the child into existence, but also nurtures him or her physically, socially, mentally, emotionally, and spiritually. This nurture is vital since it shapes the child to face life and its challenges. The socio-cultural-religious character of the family plays a big, though unpronounced role in the character development of the child. The family in a certain sese makes or breaks a person.
Take for instance a person born in a family of alcoholics. The child is likely to become depressed or violet, scared or brutish. Though, this may not universally be true, it turns out to be in most situations. In India, we had the case of caste system which was rigorously practiced. Even today, vestiges of it exist. This was simply a socio-religious construct designed to facilitate the division of labor in society but it ultimately turned out to become an instrument of domination and discrimination. People with a lower birth, that is, those placed low in the caste hierarchy were deprived of certain privileges and even sometimes considered little less human than people born in higher castes. This, however, was not endemic to India alone!
Within every culture, there exists at least in vestige, a concept of fatalism. In India, it is the caste, elsewhere it could be religion. Class, race, or even gender, whereby a person's life is determined by his or her birth in a specific context. You can imagine the gossip if a laborers' child aspires to become a doctor, engineer or if the municipal worker decided to educate himself or herself and get a better job, say as a clerk in a bank or an accounts officer.
I have hired a working lady to sweep the floors and swab them with water laced with soap and an anti-septic liquid, which is done every day. She would not clean the washrooms because there are commodes in them. Recently, I found a Scheduled Tribe (ST) young man to do this chore along with wiping the internal walls, doors, windows, sliding windows, fans, air—conditioners and all furniture and home appliances. The cleaning lady insisted that he should come after she is gone, and not while she is doing her job. She, an OBC, would simply not share same space with a person of lower birth than hers!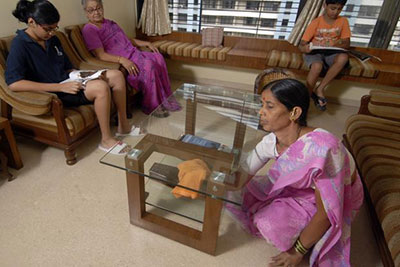 The situation in Jesus' time was pretty much like this. He came from a family of laborers. Joseph was a carpenter. Mary was a housewife, to cook, clean, and run the house. Because, Joseph was the only bread-earner, they were poor. Jesus helped his father in his work till he was thirty, and then embarked on his ministry. He went about in Judea, preaching the good news, healing the sick, raising dead to life, anointing the lame, casting away evil spirits, and working out miracles, details of which we read in the Gospels. Therefore, it is no wonder that when He came home, people began to talk behind his back. He came from a simple family, but when He began to preach in the synagogues with erudition, they were surprised and exclaimed: "How did this come to him? What kind of wisdom has been given o him? How does he perform miracles?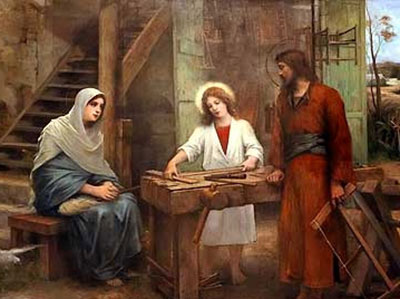 The skepticism of the people is quite natural. For 30 years, He ate, played, danced, and worked among them and all of a sudden, He begins to wield supernatural wisdom! They just couldn't get their heads around this fact. Who is he but the carpenter? Is he not son of Joseph, the carpenter? The fatalism of the culture comes to the fore here. It is clearly visible that they did not expect from a carpenter stock. If priest's son did things like these, then they could have accepted. One day, He was sawing and chiseling wood and the next day He was cleansing lepers and raising the dead to life. It was simply fatalistic and unthinkable. A prophet will be least accepted in his native village, Jesus said of His situation. Jesus did not point fingers at them and accuse them of rejecting God's salvation. Aren't we guilty of playing down people or stereotyping them? It is easy to brand people of Jesus' time as being people of little faith and wisdom, but aren't we quite the same in our own time? Don't we judge people and pigeon-hole them?
Jesus rises up to the criticism and challenges the people to change their mindset and attitudes but their apathy were so repulsive that He was shocked at their disbelief. He would not perform miracles for them but only heal the sick by laying his hands on them. Jesus confronts our attitudes and mindset. He wants us. Such a change of attitude, mindset and behavior is needed in order to become inclusive and become apostles of peace and unity, for such are the spirit of God!
As we approach the general elections in India, later next month, we will be tempted to vote for fatalism embraced by the ruling party, the BJP and its leaders who matter. There will be opposite views, of inclusiveness, of development shared by everyone, the rich and poor, the upper and lower classes, the Brahmin and SC/ST, the EAC and OBC, the men and women, the industrial workers and farmers, of religious majority and minorities, of the haves and have nots. We are called upon to make our choice and avoid being guided by the fatalistic view of caste, religion, language, gender and ideology. The choice is ours, to drive change. For when we change, the world changes!