Rupee free fall: RBI limits overseas investments by Indians, bans gold coin import
Mumbai/Delhi, 14 Aug 2013 (PTI): Amid continuing pressure on the rupee, the RBI on Wednesday announced stern measures, including curbs on Indian firms investing abroad and a reduction of outward remittances, to restrict the outflow of foreign currency.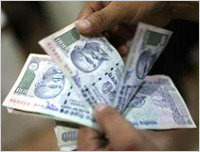 The central bank reduced the limit for overseas direct investment (ODI) by domestic companies, other than oil PSUs, under the automatic route from 400 per cent of net worth to 100 per cent. Oil India and ONGC Videsh are exempt from this limitation.
"This reduced limit would also apply to remittances made under the ODI scheme by Indian companies for setting up unincorporated entities outside India in the energy and natural resources sectors," the apex bank said.
The RBI reduced the limit for remittances made by resident individuals under the liberalized remittances scheme (LRS) from $2 lakh to USD 75,000 a year. Resident individuals are, however, allowed to set up joint ventures or wholly owned subsidiaries outside under the ODI route within the revised LRS limit.
The measures are aimed at restricting the outflow of foreign currency, thus reducing pressure on the rupee. The rupee fell 24 paise to an all-time closing low of 61.43 against the dollar.
The RBI also notified that incremental non-resident deposits (FCNR and NRE) with a maturity of three years and above will be exempt from maintenance of statutory balance with the central bank.
In New Delhi, economic affairs secretary Arvind Mayaram said more steps would be taken to stabilise the rupee, while finance minister P Chidambaram said a free fall of the rupee would not be allowed.
"We are reviewing the possibility for different kind of instruments to be made available to the investors...this is not the last time that we are coming up with measures. As and when it is required, we will step in with measures, more policy measures to ensure a stable rupee," Mayaram said.
RBI prohibits import of gold coins, medallions
Seeking to reduce the import of gold, the Reserve Bank Wednesday prohibited inward shipment of gold coins, medallions and dores without license. "From now onwards, import of gold in the form of coins and medallions is prohibited and henceforth all import of gold in any form or purity shall be subject to a licence issued by DGFT prescribing 20-80 scheme," economic affairs secretary Arvind Mayaram told reporters here.
The latest measures are part of the series of steps taken to curb gold import, the single biggest contributor to the widening current account deficit (CAD). After a dip in June, gold imports again surged in July with 47 tonnes of inward shipments compared to 31 tonnes in the previous month. Import of gold in April-July rose 87 per cent to 383 tonnes.
He said it shall be incumbent on all nominated banks, agencies and other entities to ensure that at least one-fifth, or 20 per cent, of every lot of import of gold is exclusively made available for the purpose of exports and the balance for domestic use.
It has further stipulated that nominate banks, agencies and other entities shall make available gold for domestic use only to the entities engaged in jewellery business, bullion dealers and banks authorised to administer the gold deposit scheme against whole upfront payment. Also importers will be required to make full upfront payment for the shipments.
"Gold dore imported will also be subjected to the discipline and it would be monitored at the refinery level.
"The gold which is extracted by refining gold dore, only 80 per cent of that would be provided for domestic use, 20 per cent has to be exported and similarly proof of export has to be shown before the next consignment is imported," Mayaram said quoting RBI notification.
Under the scheme, any gold that is imported will have to be imported into custom bonded warehouse. Out of the imported gold, 80 per cent can be given to domestic users of the designated kind and 20 per cent must go to exporter.
"The refinery shall make available for domestic use only to the entities engaged in jewellery business/bullion dealers and to the banks authorised to administer the Gold Deposit Scheme against full upfront payment and sale of gold against any other form of payment shall not be permitted.
"Further, the import of gold dore is permitted only against a licence issued by DGFT," the RBI said.
'Look at derivatives as hedge against interest rates risks'
Reserve Bank deputy governor Anand Sinha on Wednesday asked banks, particularly state-run lenders, to look at derivative products as hedge against risks emanating from interest rate fluctuations.
"Banks, particularly public sector banks are not there in that domain (of using derivatives). In fact, I seriously urge them to look at derivatives to mitigate their interest rate risks," said Sinha, while speaking on the sidelines of banking summit FIBAC 2013.
According to Sinha, several products are being launched to help deal with credit risks, but unfortunately none of them has taken off.
"For example, credit default swaps (CDS), which is another measure of shedding risks for a very long-term project. But that also has not really taken off," he said.
Sinha said asset liability management (ALM) is an important issue which arises at the time of dealing with long-term projects.
"One way to handle this kind of situation is to promote take-out finance as you know several things are being done in that direction," he said.
"On ALM, my perception is that so far the liquidity part has not been a constraint but going forward it might, because of the fact that majority of the banking sector is into retail.
"So you fund yourself from retail deposits and while the composition of retail deposits may change from short-term to long-term or from long-term to short-term, but essentially it remains as a pool," said Sinha.
Sinha feels that apart from the take-out financing route, the seeking of credit risks, securitization markets, derivative markets need to take care of other aspects of risks.
"We have to see what measures we take. From RBI side, a number of measures have been put into the market. But we have to seriously examine how to stimulate them further," said Sinha.
Sinha is of the view that PSBs, who form about 70 per cent of the banking system, have to play a more active role in these markets if these markets are to become vibrant and provide risk mitigation tools.
He agreed that asset quality has taken a hit among Indian banks, adding that there could be many reasons for that.
"One could be, the exuberance of the good times which is now coming home, at least in some cases, the longer term projects. The second of course is the macroeconomic and domestic slowing down. So all these factors are responsible.
"But that does not absolve from our own home work and that is credit management. That also needed to be substantially toned up," Sinha added.
RBI deregulates rates on NRI deposit, exempts it from CRR, SLR
In a bid to attract foreign currency, the Reserve Bank on Wednesday deregulated interest rates on NRI fixed deposit schemes and exempted such term deposits from CRR and SLR requirement.
"... it has been decided to give banks the freedom to offer interest rates on such (FCNR, NRE) deposits without any ceiling. The extant ceiling on NRO accounts shall continue," RBI said in a notification.
"These instructions will be valid up to November 30, 2013, subject to review," it said.
In a separate notification it said: "Banks are advised that with effect from fortnight beginning August 24, 2013, incremental FCNR (B) deposits as also NRE deposits with reference base date of July 26, 2013, and having maturity of three years and above, mobilized by banks will be exempt from maintenance of CRR and SLR."
The move will help in providing more foreign currency cash for banking operation.
These announcements were made by finance minister P Chidambaram earlier this week as one of the measures to stabilise rupee.
Cash reserve ratio (CRR) is the portion of total deposits of banks to be kept with RBI while statutory liquidity ratio (SLR) is the portion of total deposit invested in government securities.
Currently, CRR requirement is 4 per cent and SLR is at 23 per cent.
At present, banks are required to include all foreign currency non-resident bank [FCNR (B)] and non-resident (external) rupee (NRE) deposit liabilities for maintenance of CRR and SLR, it said.
The notification further said, if a bank had a total FCNR (B) deposit base of say USD 100 as on the base date, and mobilises an incremental deposit of say USD 20, that portion of USD 20 which has a maturity of 3 years and above will not be part of total deposits and will qualify for CRR and SLR exemption.
The same principle will apply for calculation of NRE deposits for exemption from maintenance of CRR/SLR requirements, it said.
However, it said any transfer from non-resident (ordinary) (NRO) accounts to NRE accounts shall not qualify for such exemptions.
Further, advances extended in India against the incremental FCNR (B) or NRE deposits will also be excluded from computation of priority sector lending targets, it added.